Where the world gathers for
plating, anodizing, & finishing Q&As since 1989
-----
Alkaline zinc plating problem: Black dots/spots that grow with time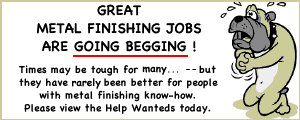 Nov. 13: PRI (Nadcap) Chemical Processing Auditor
Aug. 11: Process Engineer / Chemist [Denver, CO]
June 29: Electrochemist [Niagara Falls NY]
June 2: Laboratory Technician [Albuquerque, NM]
Current postings:
Q. Hello everyone ,
We are running alkaline zinc plating on some parts. The parts are coming out bright and plated perfectly. 2 days later, they are spotting and rusting like there is chemical leaching out. Any suggestions on how to stop this or fix it?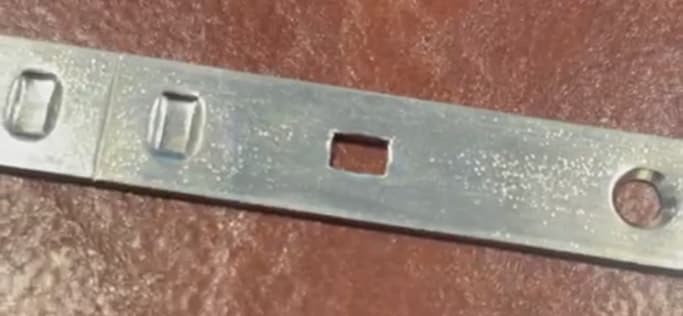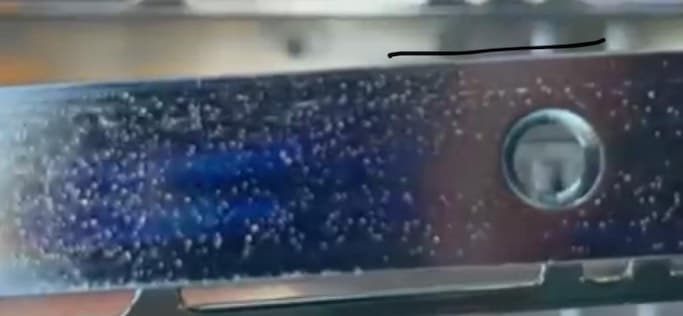 Amir reza jafari
- istanbul gebze, Turkey
May 28, 2022



---
Q. Dear Sir,

Good Morning, we are doing Alkaline zinc plating with yellow passivation - Material - EN1- A. Problem observed black spot issue after 3 days. How to solve the issue?
Kindly suggest me the ways of correct it.
P. Anand
- Chennai, Tamilnadu, India
September 11, 2022
----
Ed. note: Hi Anand. We appended your question to a thread already addressing this subject. and which may help you. But if you send photos to mooney@finishing.com, and offer some facts specific to your problem, readers will usually try to help.
---
---
---
Closely related historical posts, oldest first ...
Q. We have recently started making a part Dia. 2.5" X 0.5" thick, which requires zinc electroplating with yellow passivation in bulk quantities . The part is for automotive application and requires minimum 8 micron thickness of plating . The part is cold forged and is made out of low alloy steel (carbon 0.17%). The part is not hardened.
We are carrying out Cyanide Zinc plating on the parts in a polypropylene tank 100 at a time through a manual process and process cycle is as under:
1) Alkaline Degreasing at Temp 50 / 60 °C for 1 / 2 minutes . Concentration 50 / 60 Gram / litre.
2) Multiple cold water swilling
3) 50% dilute HCl Dip for 20 / 30 sec at room temperature.
4) Multiple cold water swill
5) Anodic Cleaning at 6 Volt: 50 / 60 gm / lit metal cleaner powder ; Temp 60 / 70 °C; Time : 1 minute.
6) Multiple cold water swill
7) Mild Cyanide dip ( Conc. 20 gm / lit ) at room temp for 5 seconds
8) Water swill
9) Zinc Plating in Cyanide bath (35-40 gm/lit zinc metal ; 95-100 gm/lit NaCN; 80-85 gm/lit NaOH) for 25 minutes at room temperature; Current density 3-4 Amp/ sq . Dm.
10) Multiple cold water swill
11) Hot Demineralized water swill at temp 90 degree C.
12) cold water swill.
13) Mild Nitric Acid Dip. ( 5-10 ml/ lit ) at room temp
14) Multiple cold water swill
15) Clear Passivation Dip ( powder Conc 3-4 gm / lit & Nitric Acid 10 ml/lit ) at room temp
16) Water Swill
17) Yellow Passivation dip (Conc 12 ml /lit & Nitric Acid 4 ml / lit) Time 30 sec
18) Multiple cold water swill
19) Demineralized water swill
20) Hot air drying with blower and put in oven at 45 / 50 °C.
The parts were packed in corrugated boxes and were kept ready for dispatch in our store for two months. At the time of packing the condition of the parts were ok. Recently when we opened the boxes to recheck the parts, we were shocked to find that irregular black patches / spots had developed on the parts. We are attaching herewith photographs of the parts.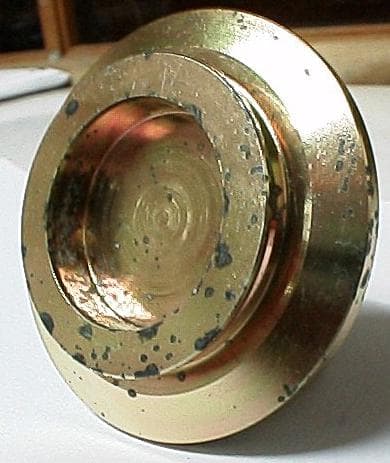 We request your help in this matter to inform us what the problem is, how it could have occurred and how it could be solved . Should you need more details to understand the problem, please let me know. Any information you could provide on the matter is highly appreciated.
Thank you.
Deven Nandwana
1st tier automotive - Rajkot, Gujarat, India
2003
---
A. Dear Mr Deven,
You are embrittling the part way too badly by using a cyanide zinc bath, which is not the way to go whilst plating cold forgings. I also do not see a Hydrogen de-embrittlement anywhere in your process. This causes the delayed discolouration. Use Chloride (Acid) zinc baths and interchange step 3 and 5.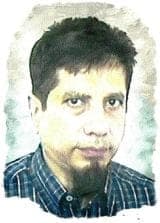 Khozem Vahaanwala
Saify Ind

Bengaluru, Karnataka, India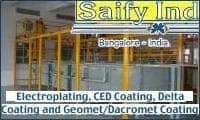 ---
Q. Dear Sir,
Thanks for your help. We are not carrying out hydrogen de-embrittlement since we understand that this treatment is not necessary for parts with tensile strength less than 1000N/sq mm. The parts are not hardened. Do you think this is still necessary. Please advise.
Thank you,
Deven Nandwana
[returning]
Automotive Tier 1 - Rajkot, India
---
A. Dear Mr Devan,
It may not be necessary once you shift to Chloride Zinc. But if I wanted to avoid future spotting out, I would do it in between plating and passivation positively.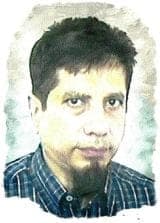 Khozem Vahaanwala
Saify Ind

Bengaluru, Karnataka, India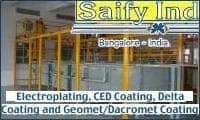 ---

That was certainly a very specific, direct, and confident answer, Mr. Vahanwala. Thanks!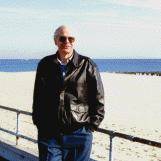 Ted Mooney
, P.E.
Striving to live Aloha
finishing.com - Pine Beach, New Jersey
---
A. Dear Deven,
The black spots are corrosion sites.
Packing in cardboard boxes and storing in a very humid environment is not a safe way to store any plated parts. We have experienced many similar problems on many different finishes here in China.
These problems always happen in the summer, when the humidity is always over 80%.
We have advised some large customers to store the finished articles in an air-conditioned area.
Also some types of cardboard are not suitable for storage, as they get saturated in high humidity, and if you check the pH of the wet material you will find it can be strongly acid. You should be able to find suppliers of suitable packaging materials.
Jonathan Timms
- Hong Kong
---
---
To minimize searching & thrashing, multiple threads were merged; please forgive repetition, chronology errors, or disrespect of other responses (they probably weren't there) :-)
---
---
<- Ed. note: Please describe your situation rather than posting in the abstract What? Huh?
Q. Dear sir,

I have some questions about zinc plating:
1. What is black dot
2. How it appear
3. How to detect/check
4. How to prevent
Thanks in advance for your answer
Julian Toro
Plating shop employee - Batam, Indonesia
June 16, 2010
---
A. Hi, Julian. There are 3 broad categories of zinc plating processes, i.e., cyanide, alkaline non-cyanide, & acid zinc, and different application methods: rack plating & barrel plating. Also, problems that have existed since start-up & transient problems.
But if we guess that you are barrel plating with an acid zinc process, our first theory would be that this is an iron contamination problem as discussed in our on-line article "Improving your Chloride Zinc Plating Operation" by Stephen Schneider.
Please give the particulars about your situation. Thanks!
Regards,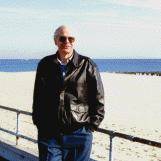 Ted Mooney
, P.E.
Striving to live Aloha
finishing.com - Pine Beach, New Jersey
---
A. Sounds to me like barrel 'print-out' which is more than likely Iron contamination requiring removal with a dilute Hydrogen Peroxide solution to convert all iron present into its respective ferric hydroxide which will be trapped in your filter cartridges. I would aim for a 5 micron cartridge and if it is indeed Acid Zinc solution note solution will visibly darken from golden/honey coloured to a dark brown/coffee colour upon adding peroxide. NOTE: Take extreme care when handling Hydrogen Peroxide as it is a rather potent oxidising agent and causes severe burns.
Nigel Gill
, BSc CSci CChem MRSC MIMF
- Glasgow, Scotland
---
Q. Thanks for your advise Mr. Ted & Mr. Nigel.
Our process is alkaline zinc with rack method, with solution already used for 5 years with top-up treatment (additional brightener & additive) and also we install filter pump to minimize contaminant. the problem after 2 or 3 day after plating the black dot (actually from microscope is brown colour) look like grow. our zinc content controlled at supplier recommendation 5.5 - 18 gr/lt. Our soda also is kept in the range. We don't know where the contaminant comes from, but my suspect :
1. Fe contaminant in zinc solution
2. Chromating
Do you have any suggestion and recommendation to solve this problem?
Thanks in advance for your assistance.
Julian Toro
[returning]
Plating shop employee - Batam, Indonesia
A. Dear Julian,

You did not tell what is your raw material? mild steel? cast iron? heat treated steel?

How about your pretreatment sequences?

Where is the location of the black spot?

Your filter is not for eliminating any contamination but only to prevent roughness, unless you put carbon or zinc dust in the filter.

So, Fe contamination on rack line, we could not see directly but you can see if your blue chromating turn to be yellowish, and Copper contamination we can see immediately after blue passivation the colour turn to be dark blue to black mostly at low CD area.

If you could give more info maybe we can help you more details.

Good luck

Best regards,

Tony Chandra
- Jakarta, Indonesia
---
Q. Thanks Mr. Tony
The material is SPCC SD. The pretreatment : 1. Soak clean, 2. rinsing 2x 3. Electrodegreasing 4. rinsing 3x 5. Acid Dipping (HCl 5%) 6. rinsing 3x 7. Neutralisation (Soda) 8. Alkaline zinc.
Black dot on surface of part facing to the anode
Thanks
Julian Toro
[returning]
- Batam, Indonesia
---
A. Dear Julian,

I guess that maybe you have corrosion problem at the HCD area (facing anode)- black spot sign of starting corrosion problem.

Seems to me you got burning problem then thickness become less due to big grain was built up (burning) and eating up during HNO3 dip, then the chromating film was thinner compare with other area.

So, please reduce your current density or make new design of rack that less distance facing anode, beside that control your Zn and Caustic with narrow range instead of very wide range, check the Carrier and Brightener level with HullCell and check the throwing power (ratio between HCD and LCD)

Good luck.
Best regards,
TONY L. CHANDRA
- Jakarta, Indonesia
---
---
Q. We Observe Black Spots in Alkaline Zinc Plating.

These Were not Observed Immediately after Plating, and these Black Spots are Increasing with Time after Zinc Plating. Majority of these are observed in Trivalent Passivated parts rather than Hexavalent Parts.

Can the Reason be Exposure to Caustic Fumes . . . we run the Alkaline Blackening Process nearby the Zinc Plating, along with a Manganese Phosphating Process.
Prakash Kosireddy
Sr Manager Quality - Visakhapatnam, Andhraparadesh, India
July 24, 2013
---
---
Q. Hello. I hope you can help us with our problem. Black Spots in Alkaline Zinc Plating Rack process with Blue Trivalent Passivation.

Please see the enclosed pictures, black spots appear randomly, some very small, some much bigger, sometimes they go away with no reason.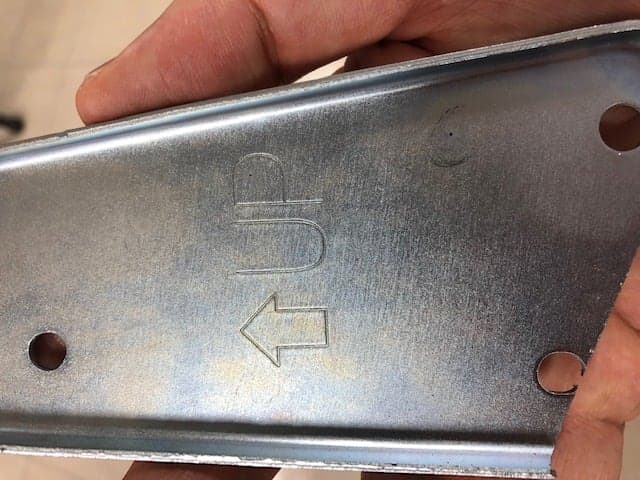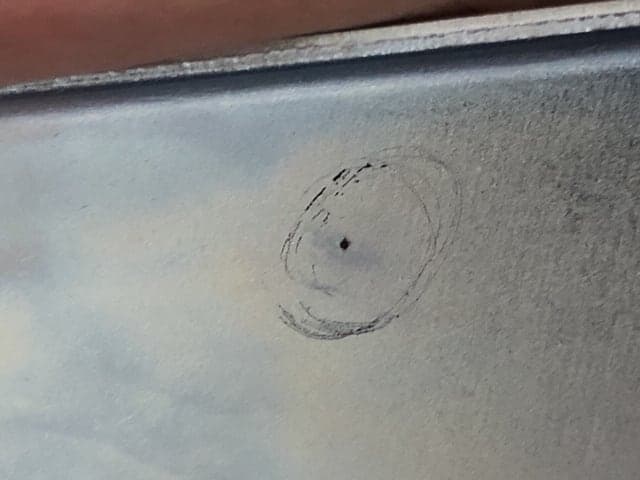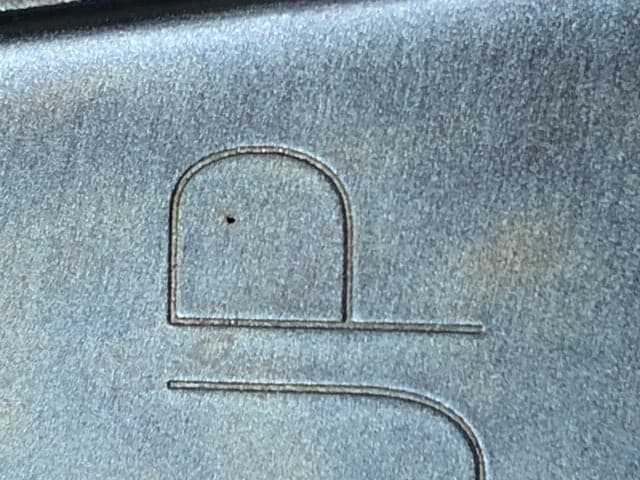 process:
1.- Immersion cleaner
2.- Electrolytic cleaner
3.- Rinses
4.- Acid Pickle
5.- Rinses
6.- Alkaline activation/neutralization
7.- Alkaline zinc Plating 8 µ min.
8.- Rinses
9.- Bright Dip
10.- Blue Trivalent Passivation
11.- Rinses
12.- Drying

Thank you in advance for your help.
Sergio Hernandez
plating job shop - guadalajara, Mexico
February 23, 2019
---
---
Q. We have problems with very similar if not the same black spots as Mr. Hernandez posted.
The process is rack non-cyanide alkaline zinc.

We have observed the spots to appear right after the alkaline zinc bath. Before that bath we have not noticed them.

There is nothing to be seen on base material beforehand.

Any ideas how to eliminate those black spots?


Thank you,

Robert
Robert Kandare
- Loz, Slovenia
June 3, 2021
Readers: please see also related topic 30399, "Black spots on zinc plated parts with trivalent chromate"