Where the world gathers for
plating, anodizing, & finishing Q&As since 1989
-----
Finished color for MIL-A-8625 Type III anodize on 7075-T6
October 12, 2021
Q. Extreme discoloration of 7075-T6, Type III, C1 Hard Anodize from new supplier
Hello ... Mechanical Engineer here investigating Quality rejections of a new Aerospace Vendor. New parts have come in a very light pale & creamy grey color.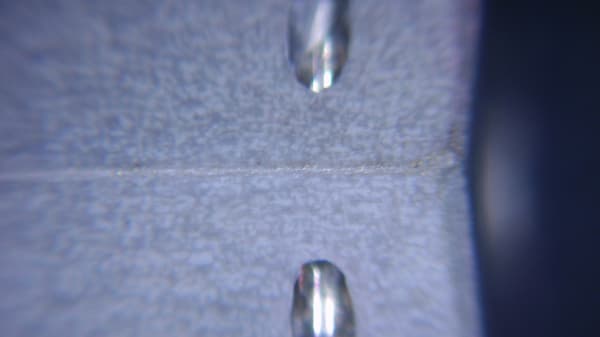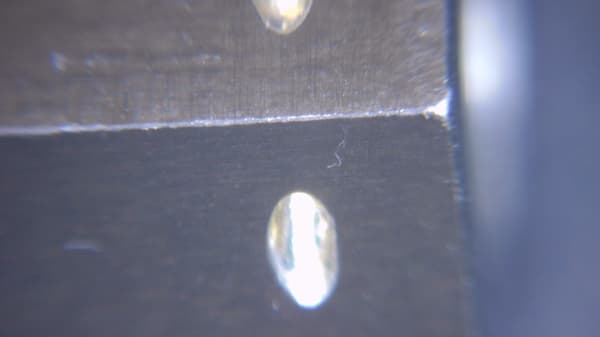 The machine shop material certs are 7075-T651, but the familiar dark bronze color is now a light marbled mess. The plating vendors shows a hot deionization water seal for 15-20 minutes on the process router which we did not specify on the Engineering drawing or PO. Would like to use them if the discoloration can be explained without impacting abrasion resistance. A simple file test appears to be equal between the old and new. Any help appreciated to understand what I have in hand.
Scott Toews
- Wichita, Kansas
---
October 2021
A. Hi Scott. Hopefully experienced anodizers will chime in with what they have found to be a usual range of color, but the first thing I would do is check the anodizing thickness on both parts.
Luck & Regards,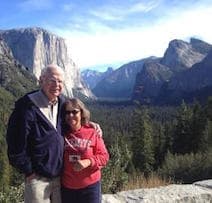 Ted Mooney
, P.E. RET
Striving to live Aloha
finishing.com - Pine Beach, New Jersey
---
October 13, 2021
A. Scott,
The top two pics look to be in the typical color range for 7075 material. There may be lighting issues with the two bottom pics but the one on the left could resemble the charcoal brown color of 6061. The one on the right really looks as though it may have been dyed black but again, it may all be related to the lighting in the pics. i would also contribute that the parts having been treated with a hot de-ionized water dip; depending on the duration and the temp may have lost a little with regard to the hardness/abrasion properties that hard coated parts would normally provide.
Philip J. Verzal
supervisor - Cicero, Illinois
Saporito Finishing Co.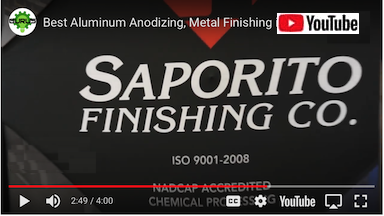 ---
October 13, 2021
A. Sealing of hard coat converts the aluminum oxide to hydrated aluminum oxide which is softer, hence reducing the abrasion resistance.

Robert H Probert
Robert H Probert Technical Services

Garner, North Carolina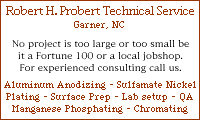 ---
October 15, 2021
A. Scott

The new supplier's parts look characteristic of 3-4 mil thick anodize from a conventional hard anodize operation. As mentioned, consider having the thickness verified.

I agree with Phillip that your original supplier's parts appear to be dyed black.

With respect to the hot water immersion / seal, MIL-A-8625 / MIL-PRF-8625 [affil link or DLA] requires hard anodize to be rinsed in cold water and dried.
Willie Alexander
- Green Mountain Falls, Colorado
---
October 19, 2021
A. The parts supplied by the legacy provider appear to be either sixty series alloy or black dyed. The new supplier's parts look more like hardcoat on seventy series alloy. However, sealing of type III hardcoat is only permitted if called out on the PO or drawing. Sealing results in lighter appearing coatings on seventy series. Coating thickness and/or electrolyte temperature could also explain some of the color difference from the new supplier.
Chris Jurey
, Past-President IHAA
Luke Engineering & Mfg. Co. Inc.

Wadsworth, Ohio

---
October 20, 2021

Chris... Thanks for the reply. There was a 3rd comparison part from our legacy supplier that is 6061-T6.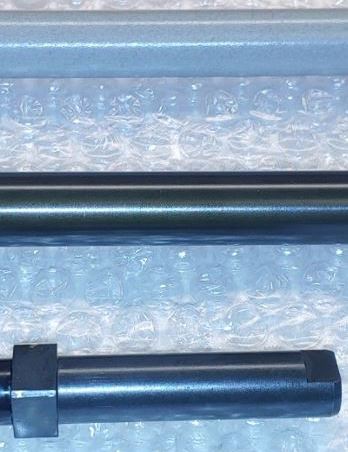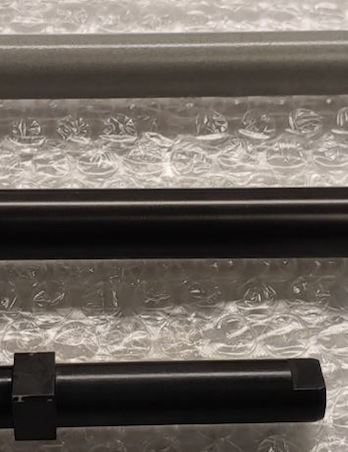 As you can see by my new pictures the 6061 does indeed turn out more towards the black shade. None of these parts are dyed.
Scott Toews
[returning]
Mechanical Engineer - Wichita, Kansas
---
October 21, 2021
A. It has been my experience with 6061, 6082 and 7075, that none of them turn completely jet black when hard anodized (I had achieved max 70 micron thickness), 6082 would be the darkest of them all, dark brown, but certainly not jet black like in the picture

I suspect that your legacy vendors were dyeing those parts to avoid color variation and possible rejection, this way they always supply black part regardless of how that particular batch of 7075 came out of the mill.

Standard for Type III as far as I remember allows for color variation, but QC people may follow their own beliefs regardless, even if you try to wave the printed out standard in front of them ... and perhaps that has led to the legacy vendor choosing to dye the parts (I'm 99,99999% convinced they are dyed, judging from the photos).
Janis Ziemelis
- Riga, Latvia
---
December 24, 2021
A. Hi Scott,

Please have your supplier provide 2 4x4" test coupons ~.042" with a quarter inch center hole, run documented on a parts load, to send for abrasion testing to confirm they are meeting requirements. If your supplier agreement includes right of access to documentation, you may ask for relevant recent test reports. If the P.O. calls out abrasion resistance, and they can hit it, they have fulfilled the P.O.

I have lots of conversations with customers about spec requirements vs aesthetics... That being said, I would bet my weekly coffee money that they aren't meeting spec running 7xxx hardcoat through a HWS.

I would also bet that your previous supplier was giving you some dyed parts. I'd like to see Taber test results from them, as well! Yikes. Taber abrasion on TyIII Cl2 is so unusual that my Nadcap shop has never been asked to do it in 20 years, because... it's not normally a Thing. Corrosion? Sure! Every month, baybeee! Abrasion? Scuse me, WHY? That will be a fun chat between their QM and your purchaser. Get your oldest grumpiest engineer in on that call.

My big advice here is to lay down the law in your purchase orders. If you have to spell out, "parts shall be capable of passing [test] and test reports shall be provided upon shipment", it is totally within your authority as the paying customer to do so. It will come with a cost, which you will include in your evaluation of the quote. If you add, "parts shall pass test and conform to a visual standard ", provide a specimen and work with your supplier to see if they can match it and meet spec.

I hope this helps... I think you have gotten two funky deals back to back, and it's complicating your approach.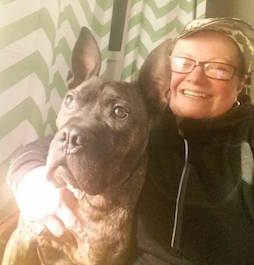 Rachel Mackintosh
- Greenfield, Vermont
---
December 28, 2021
A. Abrasion resistance and color are functions of anodizing temp, concentration and current density. Almost every shop has a different result. The darker color was probably lower temp and or lower concentration and or higher current density and certainly has better abrasion resistance. One additive vendor touts hard coat at 70 °F, but the colder the harder. Max abrasion resistance is at 32 °F, but I have one client who does hard coat at 20 °F on cylinder heads.

Robert H Probert
Robert H Probert Technical Services

Garner, North Carolina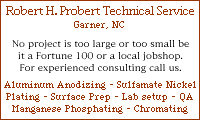 ---
---
↓ Closely related postings, oldest first ↓
---
---
March 16, 2008
Q. What's the color of 7075-T6 Al anodization per MIL-A-8625 TYPE III Class 1?
Gong Kearny
Production Engineer - Shanghai ,China
---
March 19, 2008
A. Type III will be a light to dark gray.
James Watts
- Navarre, Florida
---
March 21, 2008

Thank you so much.
According to your opinion, I made several experiments, and the result is below:
the cosmetic appearance is light yellow when coating thickness is less than 80 µm, but gray when more than 120 um
Gong Kearny
[returning]
Production Engineer - Shanghai ,China
---
---
Multiple threads were merged: please forgive repetition, chronology errors, or disrespect towards other postings [they weren't on the same page] :-)
---
---
May 5, 2010
Q. My company manufactures a light business jet aircraft. We have some baggage compartment tiedown fittings made by a supplier from 7075-T651 aluminum. Our drawing specifies anodize per MIL-A-8625F Type III, class 2, dyed to a specific color chip per Fed Std 595. The color is supposed to be a medium-dark grey (Fed Std 595 #36118). A shipment of parts we just received included certification documents from the anodizer that states they complied with our drawing requirements. However the parts are black in color rather than the gray (way darker than the specified paint chip). My research indicates the normal undyed color will vary based on the type of alloy. I'm wondering if we are asking the anodizer to produce a lighter color that is impossible for him to achieve. If the undyed parts would normally come out black, is it indeed possible to dye the parts a lighter, gray color?
Craig Coleman
Quality Engineer - San Antonio, Texas, USA
---
May 7, 2010
A. The color before dyeing is a function of alloy, heat treat, free acid concentration, dissolved aluminum, current density, temperature, and thickness (which was not mentioned). In most cases it is dark gray right out of the anodizing tank without dye. Type III, hardcoat, is not normally dyed ANY color, because the pore is too small to adsorb the dye; however, many shops get around this problem with varying temperature and other parameters. Your color CAN be matched, but it is not a first day thing, it is a Research and Development project. NO, you cannot dye it gray and make it lighter color.

Robert H Probert
Robert H Probert Technical Services

Garner, North Carolina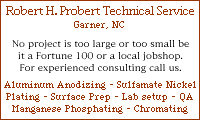 ---
May 10, 2010
A. Yes, you are correct. The Mil-Spec default is .002" as specified. The alloy will be a near black at that thickness and cannot be dyed a lighter color. 7000 series is a greenish color at thinner thicknesses, if you want a grey color resulting from the Hard Anodize process a 6000 series might be advised.
Bill Grayson
Metal Finishing - San Jose, California, USA