60,000 Q&A topics -- Education, Aloha, & Fun
topic 52477
Stripping of titanium oxide layer
2004
Q. I am working in an aluminum anodizing shop and we mainly use titanium racks.
Our racks are used quite frequently and are building up an oxide.
Due to this we tend to get quite a bit of burning on the aluminum parts and I was wondering if anyone knows a good and somewhat safe titanium stripping solution to remove this oxide. This oxide has been quite a problem. If anyone knows of a good bath solution, would they be able to tell me, it would be GREATLY appreciated.
Thanks.
Travis Thomsen
- Burnaby, BC, Canada
---
2004
A. When racks do require cleaning, this can be accomplished using either mechanical or chemical methods.
The mechanical cleaning consists of bead blasting to remove any oxide or scale followed by wire brushing or filing, if necessary, of contact points.
The fastest method for chemical cleaning is immersion in a solution of hydrofluoric acid or ammonium bifluoride until gassing occurs, usually within 15 seconds. The rack should be pulled from the solution as soon as gassing begins and rinsed. Hydrochloric acid can also be used, but is much slower. In this case, the racks are immersed for 2 hours or more, with periodic inspections to visually determine when the oxide is removed. The rack is then rinsed.
Another easy and inexpensive cleaning method utilizes the anodizing tank with the current off. This is conducted overnight. The racks are then rinsed and returned to service the following morning.
Terry Ciszewski
titanium rack manufacturer - Northbrook, Illinois U.S.A.
---
2004
Q. We can try glass beading them since we have a glass beader at our shop, but don't really want to do that since it will wear the racks down quickly; and since we have a few hundred round racks and small and large spikes, it could take awhile. Right now we are leaving them in acid overnight. doesn't necessarily work every time. As far as using hydrofluoric, safety is a bit of an issue not to mention space for extra tanks is limited. If you happen to know of anything we can use as a fume suppressant for the hydrofluoric, we might consider trying that. Thanks for the help.
Travis Thomsen
[returning]
- Burnaby, BC, Canada
---
2004
A. What about treating titanium racks cathodically in spent sulphuric acid anodizing bath using aluminum as anode?
Leeleongtee
- Malacca, Malaysia
---
2004
A. The best answer is the chemical cleaning as described by Mr. Terry Ciszewski.
Vanajambika Jeyakumar
titanium anode fabrication - Chennai, India
---
2005
In regards to this question I had, our chemist has found a solution in a book to strip our rack and I thought I would share it with anyone else who may be looking for it:


2% ammonium bifluoride in 15% sulphuric acid


Will start reacting in about 10 seconds and titanium will be stripped in about 15 seconds.
Travis Thomsen
[returning]
- Burnaby, BC, Canada
---
---
To minimize search efforts and to offer multiple viewpoints, we combined previously separate threads onto this page. Please forgive any resultant repetition, failures of chronological order, or what may look like readers disrespecting previous responses -- those other responses may not have been on the page at the time :-)
---
---
Need titanium stripping bath for anodizing racks
2007
Q. I am working as a production Engineer for an anodizing plant for past 5 years.To avoid stripping of aluminium bus bars after anodizing, looking for an alternate, so wanted to know whether titanium bars can be used to jig aluminium profiles for anodizing and electrocolouring; if yes how to strip the anodic layer of titanium bars?
Masood khan
anodizer - Riyadh , K.S.A.
---
2007
A. Hello, Masood. The reason for using titanium racks rather than aluminum racks is that they don't need to be stripped. The anodized layer on the titanium is thin and does not interfere with getting current from the racks to the parts.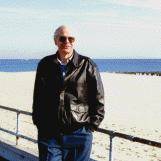 Ted Mooney, P.E.
finishing.com - Pine Beach, New Jersey
Striving to live Aloha
---
2007
A. Hello,

While what Ted says is correct, every once in a while something screwy can happen and you do end up having to strip it. Not entirely sure why; but I do know that it occasionally happens. See letter 22422, "Loss of amperage and glowing parts".

Soak your cylinders/racks overnight in a weak sulfuric solution with no electricity and you should be okay. If that isn't sufficient for you, look up recipes for a titanium etch - be forewarned; don't do either process too often, it WILL mess up your titanium over time. See the letter I referenced above for more info -- it is from when I had a similar issue.

Good luck!
Jim Gorsich
Accurate Anodizing Inc.

Compton, California, USA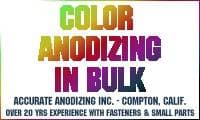 ---
2007
A. Like stated in letter 22422, we used a quick dip in a nitric-fluoride tank. the secret is a minimum time in the tank based on the tips, not the main body. The oxide is blue, so it is very easy to tell when it is removed. We probably stripped once a week. This was a total hand operated line. Our philosophy was quality. A rerun of several parts is rather costly. A few arced parts was very costly. So, replacing fingers every couple of years was actually the cheaper option and helped keep turnaround times to a minimum.
James Watts
- Navarre, Florida
---
2007
A. I agree with everything stated in the previous answers but keep in mind that titanium will not work for electrocolouring, for this process you need to use aluminum racks.
Guillermo Luna
- Mexico City, Mexico
---
---
Stripping titanium racks without fluoride
June 22, 2009
Q. How to remove the oxide layer from titanium without using a fluoride base solution?
Actually we are doing aluminium anodizing with black dye. We are using titanium jigs to hold the parts. Every cycle we are using the same jig. So the titanium will form its oxide layer. Currently, we are using ammonium bifluoride to remove the oxide layer from the titanium. But after the long period of time, the fluoride solution may etch the titanium jig. So, we are looking for the alternative solution to replace the ammonium bifluoride.
I need your favor sir.
Thanks for your kind consideration. Hope a reply from you.
Kavitha Selvaraja
engineer - Malaysia
---
July 27, 2009
A. I don't think you're going to find a much more effective anion than fluoride. Titanium dioxide is not easy to remove, chemically. If you are seeking an effective alternative, I would think an electropolishing process would be your best bet, but that seems a bit expensive for cleaning your anodizing racks.

What is the desire for removing this jig. Titanium Dioxide is an n-type semiconductor, so your should still conduct electricity while anodizing.

Titanium is a preferred material for anode baskets over steel for this very reason. It conducts electricity and it won't leach into the bath.
Robert H Kinner
- Toledo, Ohio, United States
---
July 30, 2009
A. Kavitha,

Dipping the Titanium Rack in Sulfuric Acid electrolyte for 1 day can remove TiO2.

As Robert says it is conductive even if you don't remove the oxide layer.

Hope this helps
Keshava Prasad M
- Chennai, India
---
July 30, 2009
A. It is very true that you do not need to strip Ti racks before each plating run, but periodic stripping reduces anodize problems.
You need some acid with the bifluoride. Make a solution of about 10% nitric acid and 1% bifluoride. It will work much faster and have far less of a problem with the F ion.
James Watts
- Navarre, Florida
---
---
When calculating the surface area for aluminum anodizing, do we include the area of the titanium racks?
March 27, 2014
Dear Friends,
I use Aluminum jigs to rack the parts (Aluminium 7075 T6) for hard anodizing, we consider 250 Amps/m2. We calculate and include the surface area for jigs while anodizing.
If I use titanium jigs then do I need to include the surface area of titanium jigs?
Aijazullah Tajir
- Abu Dhabi, UAE
adv.