topic 5218
Release properties of passivated or electropolished type 304 stainless steel
(2000)
Q. Dear Colleagues in the St Steel industry.
Our company produces equipment for the cheese industry worldwide. We have an application in the US whereby the friction between the cheese and the stainless steel is too great and causing poor flow of the product. The St Steel surface is polished (I am not sure of the grit) but it is smooth. The equipment is subjected to daily cleaning using Caustic (1.5%) and a Nitric wash (1%) and is basically clean.
Our customer has suggested that passivation of the stainless steel will reduce the friction between the cheese and the stainless steel. Does anyone have any experience of the effect of passivation on measured surface roughness or release characteristics?
Thank you for your feedback.
Andrew Lockyer
- Greenwood, Indiana, USA
---
(2000)
A. Hi Anderew. Your customer may be confusing passivation with electropolishing. Electropolishing is very frequently done on FDA and other processing equipment to enhance cleanability. Basically, you electrolytically dissolve all the asperities and furrows that mechanical polishing creates. Electropolishing is covered in ASM Metals Handbook Volume 5: Surface Engineering, The Electroplating Engineering Handbook, and the Metal Finishing Guidebook. Good luck.
Ted Mooney, P.E.
finishing.com
Pine Beach, New Jersey
---
(2000)
A. Andrew: Ted is correct in that passivation addresses more of a corrosion issue and electropolishing addresses non-stick issues. We do passivation and electropolishing almost always for the reasons mentioned above. As a matter of fact we electropolished several thin film evaporators form the cheese industry a few years ago.
Bruce Newsome
- Houston, Texas
---
(2000)
A. Andrew:
Electropolish will improve the surface finish dramatically. How to maintain that surface in production is very important however. I agree with Ted that passivation alone is not the answer and improper passivation can actually etch the surface and exacerbate the problem.
Dan Weaver
- Toccoa, Georgia
---
---
March 14, 2013
Q. I have various release coatings that I had applied on stainless steel test coupons. I am looking for test standards that could be performed on these coatings samples to put some type of quantifiable number so that I can rank them against each other and/or know when the coating needs to be replaced.
Davis Nguyen
- St. Paul, Minnesota, USA
---
July 16, 2013
A. TAPPI T558 [link by ed. to spec at TechStreet] "Surface Wettability And Absorbancy Of Sheeted Materials" or ASTM D5725 [link by ed. to spec at TechStreet] which has a similar title/description.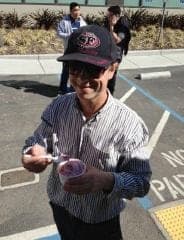 Blake Kneedler
Feather Hollow Eng.
Stockton, California


This public forum has 60,000 threads. If you have a question in mind which seems off topic to this thread, you might prefer to Search the Site