Where the world gathers for
plating, anodizing, & finishing Q&As since 1989
-----
Root cause for Hard Chromium plating defects
Q. Hello dear M Z Nadeem,
I am John, I work in the same industry you are working in. Have you had an answer about the precautions that must be taken before the plating process, because I am encountering a lot of problems. The problem is really bad adhesion and not shiny product.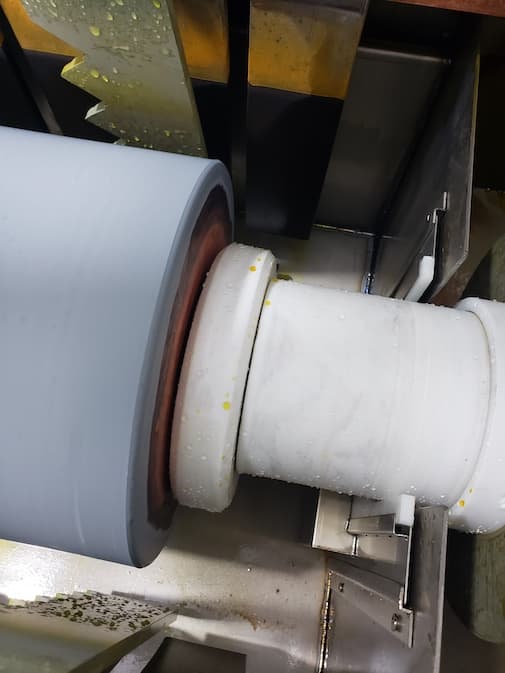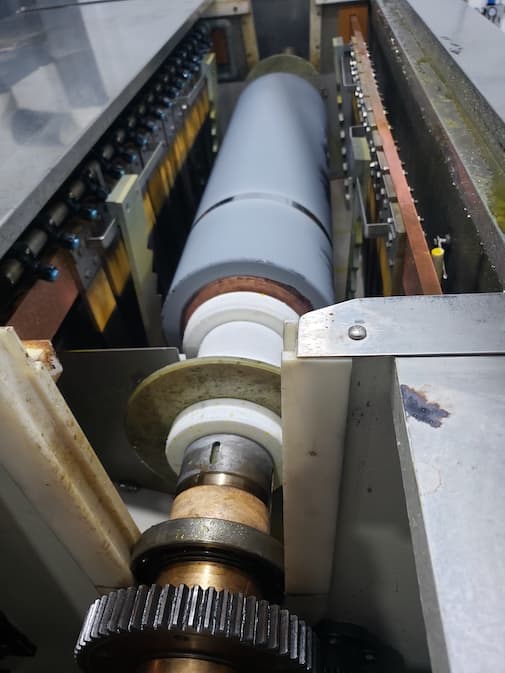 Hope we help each other to get perfect result to continue in my career happily.
John K. Salah
- Aden, Yemen
July 19, 2022
---
A. Hi John. I know that Guffie's book is hard to find anywhere, let alone Aden, but if somehow you can get a library loan of it or borrow it from another shop I think it would help you a lot. It's 18-page troubleshooting guide is perfect. But one of the first things it mentions is the importance of a Hull Cell for testing. Are you doing Hull Cell testing? If so, please comment on the results you get from it. Do you have good evidence that as this shaft rotates there is no current interruption? Thanks.
So far you have not told us what type of solution you are using, the current density, the temperature, the analysis, or anything, so there is little to go by yet. As we told Nadeem, "... if you would please describe ... the operational parameters you are employing, we will do our best ...". Thanks.
Luck & Regards,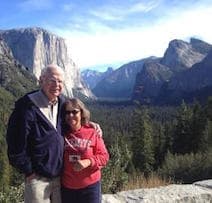 Ted Mooney
, P.E. RET
Striving to live Aloha
finishing.com - Pine Beach, New Jersey
---
"A Chromium Plating Bath With The Fluoride Ion"
by Alfred Perlenfein
from Abe Books
or

Affil. Link
Your purchases make finishing.com possible
You are doing two mistakes:
1- Working at low temperature
2- Using only SO4 catalyst.
Follow under shown steps you should get perfect result
# 1 Work at above 50 °C temperature.
# 2 Do not use only sulphuric acid catalyst, use non-etching Atotech HEEF 25 catalyst like Sulfonic acid/Fluoride catalyst.
Shrikant Limbachia
- West Orange, New Jersey
September 14, 2022
---
A. Hi Shrikant. I'd be surprised if proprietary chrome catalysts are available in Yemen, but maybe they are.
Luck & Regards,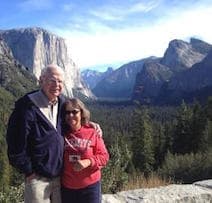 Ted Mooney
, P.E. RET
Striving to live Aloha
finishing.com - Pine Beach, New Jersey
---
---
---
Closely related historical posts, oldest first ...
Q. I have a hard chrome plating problem. Pits are found on a half inch dia. rod (tool steel) after the plating process. The density of the pitting holes is about 1 in every mm. They are not uniformly distributed around the rod. The pitting is about 200 micron in diameter at the chrome surface and they reduces the size to about 10 micron in diameter near the steel surface.
The thickness of the plating is about 300 micron. I am not sure the pit extends to the steel substrate, but it may be close (so the shape of the pit looks like looking at tornado(or bath tub or sink water drain vortex) in cross section).
Can any one experience this type of chrome plating defect and what can be the cause?This defect is too costly to me and not listed in books that I looked.
Don Bai
- Bloomington, Indiana
2000
---
A. Dear Mr.Bai,
There are several possibilities to solve this problem, but to be able to help you I would like to know a few things.
1. What current density was used?
2. What was the pretreatment of the substrate?
3. Do you use a wetting agent in your bath?


If the problem was caused by poor grinding, there is a trick that goes like this:
Take the part out of the bath after 5 minutes plating time, rinse it and polish the part with waterproof sandpaper 240, until you feel that the part is very smooth.
Rinse again and put the part back in the bath. Wait 5 minutes to be sure the part has the same temperature as the catalyst and than start plating again by slowly increasing the current.(start at 0 V.) Good luck,
Roel Jaarsma
- Netherlands
---
(You're unlikely to find this book for sale ... but a few copies are in select libraries)

"Chrome Plating Simplified"
by Clarence H. Peger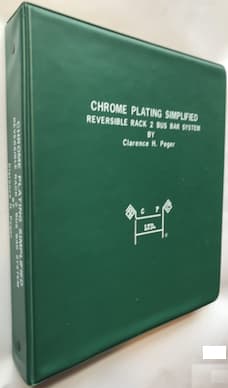 from Abe Books
or

Affil. Link
Your purchases make finishing.com possible
A. A person can not really tell without seeing the part, but it sure sounds like gas bubbles .
Is the part really clean?
Have you tried using Pumice

[affil link]

on a part as a cleanliness check?Have you over etched the part before plating?
Did you activate the part before plating?
Are you using a high enough voltage for the anode cathode distance so that it generates massive amounts of gas bubbles which tend to be self scrubbing?
Have you racked the part vertically?
Are your leads and contacts adequate for the total load?
As you can see, there is no obvious answer, buts lots of possibilities to check.
James Watts
- Navarre, Florida
---
A. Robert Guffie's Hard Chromium Plating suggests poor basis metal, improper cleaning, incorrect catalyst concentration, or incorrect fume suppressant. The Canning Handbook suggests particles of grease or stop-off wax or entrapped gas bubbles. Good luck with the troubleshooting!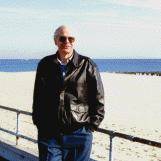 Ted Mooney
, P.E.
Striving to live Aloha
finishing.com - Pine Beach, New Jersey
---
A. Small pitting may be because of high reverse (etching) current or duration is high. Please review etching process.
ABHAYKIRTI T PAIKRAO
- India
September 14, 2011
---
A. This can be solved easily by giving agitation to cathode (means Rod to be plated),; another solution is give agitation to plating solution during plating time. Take a trial. Let us know what catalyst are you using & temperature?
Shrikant Limbachia
- West Orange New Jerse
September 14, 2022
---
Q. I am working as a chemist & metallurgical assistant in DLW (Diesel locomotive works) here in a hard chrome plating unit of cylinder liners. What type of precautions should be taken for good quality hard chrome plating?
M Z Nadeem
plating shop employee - Varanasi, U.P, INDIA
2007
---
A. Hi, MZ! If you cannot retain a consultant to guide you, see if you can get a supplier of the plating process chemistry to visit you and go over your situation. If that is not possible either, try to at least get hold of the previously mentioned books. Many people, like Robert Guffie, spent their entire careers trying to answer that question of yours, and it simply isn't possible to even lightly touch on all of the things that you must do correctly for good quality chrome plating in the paragraph or two appropriate for a public forum. :-)
But if you would please describe in detail a specific defect that you are encountering, and the operational parameters you are employing, we will do our best.
Good luck.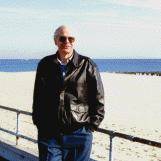 Ted Mooney
, P.E.
Striving to live Aloha
finishing.com - Pine Beach, New Jersey
---
DEAR NADEEM,

FOR INTERNAL PLATING MOST IMPORTANT TO MAINTAIN ANODE CENTRE DISTANCE FOR UNIFORM PLATING AS WELL AS TO AVOID DEFECT IN THE CHROME PLATING. SECOND THING IS TO MAINTAIN TAPER IN ANODE FOR UNIFORM CURRENT DENSITY DISTRIBUTION.
DEAR RAJESH,
PLEASE EXPLAIN WHAT TYPE OF DEFECT IN PLATING. WE THINK THAT MS PLATING IS MOST EASY PROCESS IF TAKE PROPER PRECAUTION. IF ANY PROBLEM PLEASE VERIFY BATH CONSTANT, CURRENT CARRYING FIXTURE. MOST PROBABLY IRON CONTENT OF YOUR TANK IS HIGH; PLS CHECK
ABHAYKIRTI T PAIKRAO
- MUMBAI, INDIA
September 14, 2011
---
Q. Dear Sir,

We have facing the problem of hard chrome plating on MS pipe.
Whether chemical composition of base material affects plating process.

We are awaiting for your reply.

Regards,
RAJESH SANGAONKAR
QA ENGINEER - KOLHAPUR
September 21, 2009
---
A. Yes, Rajesh, it surely can. However, it is only one of a dozen factors that affect the plating, and I personally think that the odds of it being the principal problem are low. Please try to explain your situation because people here would like to help you but cannot do so until you tell us what is going on. Thanks.
Regards,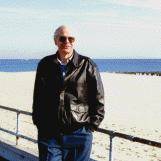 Ted Mooney
, P.E.
Striving to live Aloha
finishing.com - Pine Beach, New Jersey
---
---
Q. We are one of the leading industry to support MNC's for their maintenance works like cement industry.
Recently cylindrical piston of 400 mm dia. X 500 mm of 12 nos. was given to a leading hard chrome plater.
They have cleaned the surface to be free from surface defects like marks, pits and etc. (Roughly around 1.2 mm, that is around 2.4 mm on dia.) Then they have hard chrome plated and ground for the required size, during the grinding in steps, the grinder found some tiny black dots and as a pin holes. Even after every removal of 10 to 15 mic. on dia. they are not disappearing.
Kindly let me know the reason for the same.

SECONDLY, when we pack them after applying ANTI - RUST solution and after drying, covering with corrugated rust preventive paper, over a period we have noticed at different places the corrugated rust preventive paper was stuck to the surface and when we try to remove the stuck corrugated sheet, we have noticed that flakes of surface comes along with the corrugated sheet, roughly around 20 mm x 10 mm x 1 mm (max- depth)
It is understood that the customer was checked for the sizes and repacked and kept in open space at a height of roughly 40 Mts.
We need your valuable suggestions to solve the above said two problems at the earliest.

An early reply in any manner is highly acknowledged and appreciated.


CHUKKALA MUNI SAMPATH KUMAR
MECHANICAL ENGINEER (RETIRED) - CHENNAI, TAMILNADU, SOUTH INDIA
November 16, 2011
---
A. Guess one is there is trash in the chrome solution.
Guess two is that they are using air agitation in the chrome tank.
Guess 3 is that the plater is not correctly activating the roll before plating it.
Guess 4 is that the roll is cold when it is going into the chrome tank and expanding as it warms up.
James Watts
- Navarre, Florida
---
---
Q. Sir
Can we avoid etching process in hard chrome plating?
Please tell effects.
I want to know about types of hard chrome plating defects.
A guideline book if available.
We are major hard chrome user on alloy steel round parts.
Dhananjay Patil
- india, Maharashtra,Kolhapur
July 11, 2012
---
A. Hi Dhanjay.
I do not believe it is practical to avoid the etching process in hard chrome plating because this will result in insufficient adhesion. However, you could try it, and then test the adhesion with the modified Ollard apparatus (see letter 18002).
Keep your eyes open for affordable copies of Guffie's book as it is out of print and hard to find, but it is what you asking for .


Regards,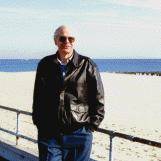 Ted Mooney
, P.E.
Striving to live Aloha
finishing.com - Pine Beach, New Jersey
---
---
Dislodged chrome on chamfered surface
Q. Hi,

After chrome plating a cylinder, chamfered surface shows dislodged chrome. I need advice on this?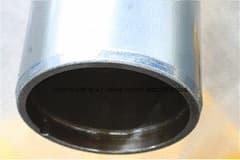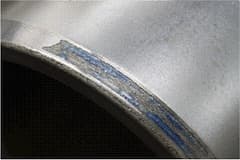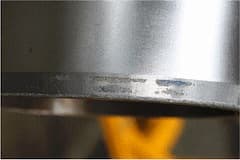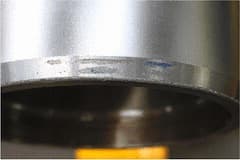 Cheers
Kabilan Chandra
- Singapore
January 2, 2014
---
---
Avoiding pre-plating and post-plating dents and damage to chrome plated piston rods
<- Ed. note: Please describe your situation rather than posting in the abstract What? Huh?
Q. Dear sirs
Can anyone suggest how to avoid dent and damages in piston rods before & after plating process completed?
Please kindly suggest your comments.

Regards,
Asvin kumar
- Chennai, India
June 7, 2014
---
Hi Asvin. One thing I would say is that parts that are damaged or dented before they get to the plating step obviously should not be plated. So if you are seeing damaged parts being plated you need pre-plating inspection closer to the plating step. Obviously, individual handling and excellent packaging will prevent damage after plating.

But please give us some info about your own situation. To simply brainstorm about the many ways that the piston rods of the world, ranging from model airplane pistons, to those of mighty ships could be damaged or dented before or after plating, and to suggest tactics to avoid it doesn't sound practical. Let's start with your piston rods and how they get damaged in your case rather than listing every possible way hypothetical pistons could get damaged. Please get back to us on that.
Good luck.
Regards,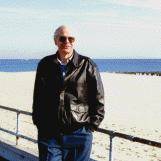 Ted Mooney
, P.E.
Striving to live Aloha
finishing.com - Pine Beach, New Jersey
---
---
Is this defect from chrome plating or from casting/heat treatment?
Q. We are seeing a defect returned from our plater as "customer defect". These parts are cast low alloy steel and receive a quench and temper. We run these parts in large lot sizes and have a great level of control in the foundry. Each lot is heat treated by itself, in house. I am wondering if anyone has seen this type of defect before and if you could point me in a direction to nail the root cause. At the plater they see a 3 hour acid vibe before hard chrome plating. We have not changed the process on the casting side since last year and run a couple thousand a year. This issue seems to be affecting only a percentage of the lots - but not every lot. This is leading me to believe that it may be occurring during plating - which runs in smaller lot sizes than what we produce them in. The parts are racked for plating on two holes - one on either side of the picture just outside the frame - we do not generally see the defects in this area.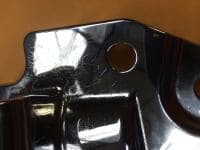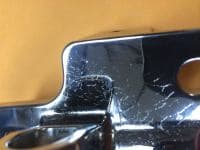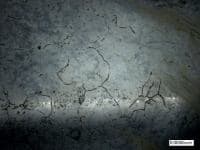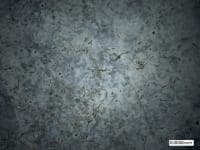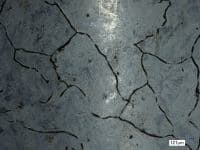 (Click on thumbnails to see high resolution photos)
The last pictures are after the the parts have been stripped and polished and under magnification.
Sean Marek
Process Engineer - Wisconsin, USA
August 8, 2014
A. First things first, let me qualify what I'm about to type here before I get started. I am not a metal caster, nor am I a chrome plater. I'm an anodizer with almost 30 years of experience. With that being said, from the pictures it does look like a substrate issue.

The reason I'm replying in this unfamiliar section is something that you typed in your question:

"We have not changed the process"

If I were a part of a set of triplets, all 3 of us together would not have enough fingers and toes to count up the amount of times I've heard this phrase. Hell, I've even used it myself.

Sure, it very may well be that you have not changed the process, but what you need to be asking/saying to your self, has something IN my process changed? And you answer that question by starting at step one, and verifying all of the parameters that you process by, are indeed meeting your internal specifications, all the way through the last step. During this step by step trouble shooting process you may find that yes, you are operating within parameters, but for some reason, perhaps one of your steps is operating at the higher, or lower limit of your process parameters..and you will learn a lesson that your specs need to be tightened up.

Unfortunately there is a lot of this (finger pointing) that will go on between coaters, and manufacturers. And you will hear the phrase I quoted quite often. It's a shame, as both of you have the same end goal....a quality product. If both sides sit down and take a hard, detailed look at their process, a reason for the process shift/defect can normally be found.

Diatribe complete, thank you for your time. Now, perhaps someone in this forum with experience in casting and/or chrome plating may be able to point you toward a cause of the defect you are seeing. :)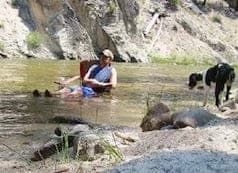 Marc Green
anodizer - Boise, Idaho
---
Q. I say we have not changed the process because the first question asked otherwise is:"If this hasn't happened in any of the previous lots then what changed in the processing of this lot?" I have access to a large amount of data throughout the processing of the part on my end, I have spent hours sifting through the information I have, observing microstructure, and digging into anything we believe may have resulted in this defect. Nothing stands out. That said, I have taken the time to go to my supplier and sit down with them. The end goal for both of us is getting quality parts out of the door, but we need to figure out the root cause of this defect. Has anyone seen anything similar to this?

Thanks in advance.
Sean Marek
[returning]
- Milwaukee, Wisconsin, USA
August 12, 2014
---
A. I'm not sure if 3 hour acid vibe is a typo or not. I've never heard that term.

However, looking at the pictures, it almost looks like you have inter granular attack occurring on the surface. Chrome plating is a negative leveler so the more chrome that is plated onto the surface, the more pronounced your defect will be.

If a 3 hour acid vibe is actually a 3 hour acid soak, the acid may be too strong or not inhibited and is causing an attack on the surface material.
Justin Brooks
- Rock Island, Illinois
---
---
ACRONYMS:

CGL = continuous galvanizing line
CRM = cold rolling mill
Q. Dear sir,
I'm working in hard chrome coating for solid rolls and hollow rolls that is used in Steel Line (CGL, CRM). Now we are facing so many problems during coating: like rust after chrome coating; coating speed as compared to previous speed is 50% down; some portions cannot be coated on work piece.

Please give me valuable result for this problem.
VISHAL PATIL
STEEL - Maharashtra, INDIA
August 25, 2015



---
"Trouble in Your Tank: Handbook for Solving Plating Problems"
by Larry Durney
from Abe Books
or

Affil. Link
Your purchases make finishing.com possible
A. Hi Vishal. The Hitchhiker's Guide to the Galaxy says "Don't Panic" -- it's a pretty universal rule, also the first one in Larry Durney's "Trouble in Your Tank, Handbook for Solving Plating Problems": never flail around changing things because you'll not only make it worse, but you'll quickly lose all the good stuff that experience taught you :-)
When there are a whole host of problems, experience counts and I would strongly urge you to locate a chrome plating consultant in your area. Often just a few minutes of his/her walking the line to spot what is obviously wrong, and doing a couple of quick titrations, can quickly solve the problem. But if you want to try to fight your way through these issues, it's possible that all of the problems you mentioned could be due to a simple solution imbalance ... so please tell us what you can about the solution analysis. Thanks!
Regards,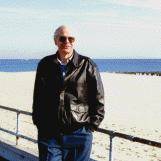 Ted Mooney
, P.E.
Striving to live Aloha
finishing.com - Pine Beach, New Jersey
---
---
Q. We are facing below problems during chroming on melamine mold (High carbon steel metal):
1. Create scratch on mold metals
2. Create rough surface
3. Chrome lasting for short time.
Mahbubur Rahman
- Sylhet, Bangladesh.
March 10, 2018
---
? Hi Mahbubur. Your descriptions of the problems you are encountering are very brief and subject to misunderstanding. Each of those three problems probably deserves a paragraph of detail :-)
Have you been successfully chroming for a long time now and suddenly these things went wrong ... or have you never successfully plated the molds ... or is it somewhere in between? When you say the chrome is only lasting a short time, what are you comparing it to? Thanks!
Regards,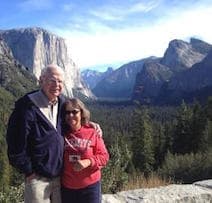 Ted Mooney
, P.E. RET
Striving to live Aloha
finishing.com - Pine Beach, New Jersey
---
---
Q. We are facing problem in fork pipes continuously from hard chrome tank as a powder layer on the fork pipes after hard chrome plating, and when the pipe is buffed then it is seems to peel off.
Then what we do is: a quantity of chrome is taken out of the tank and a quantity of fresh chrome is added into the tank and the rest level is made up with DM water and the problem gets solved temporarily … and then the problem appears again. Can anyone suggest why this fault is coming and its permanent remedy?
Manish kumar sharma
- Haridwar, utrakhand, India
May 22, 2018
---
Q. We are Chrome coating on steel line Roll. Nowadays we are suffering coating problem like black spots on material after coating. We are trying to solve this problem but we did not get causes of this problem. We changed all anodes and checked all parameters of bath solution. It is CrO3 is 245 gm/l and H2SO4 is 1.4 gm/l. Current density is 10500 Amps, and work piece diameter is 498 mm * 2100 L. Please give us valuable suggestion for solving this problem as soon as possible..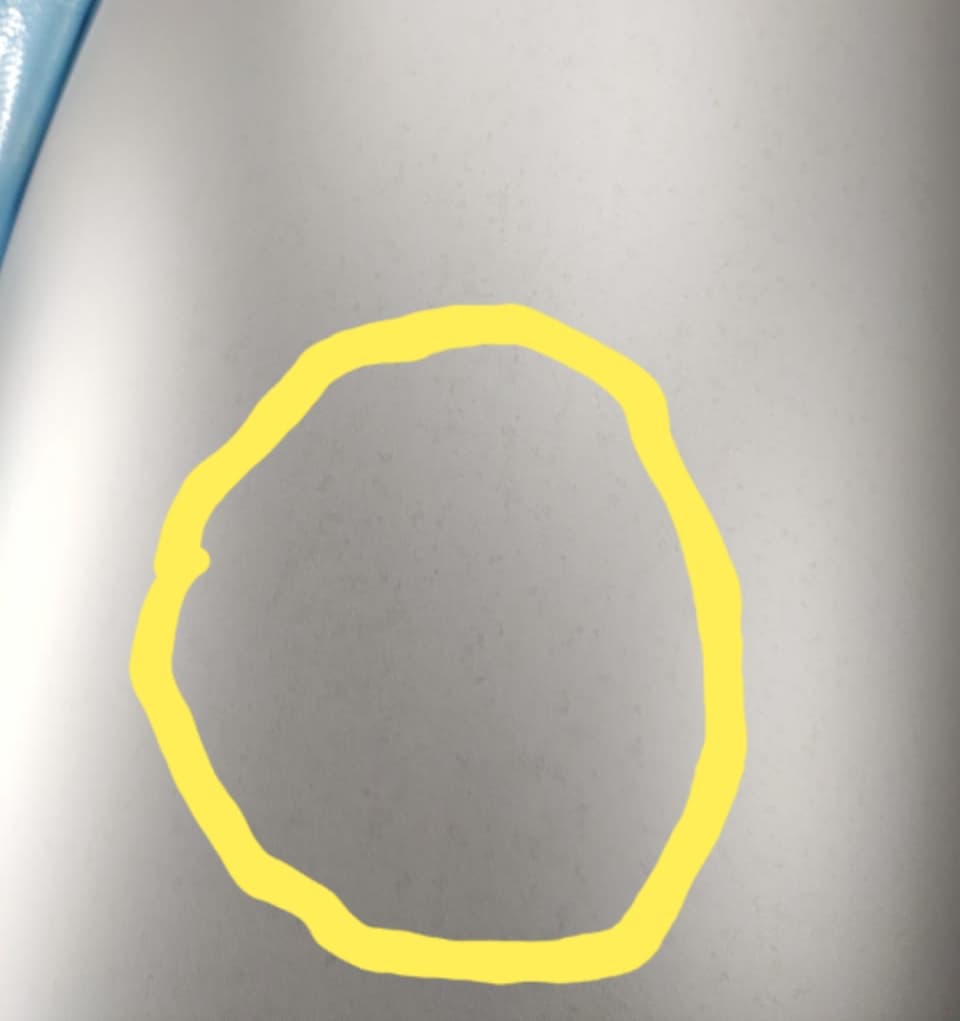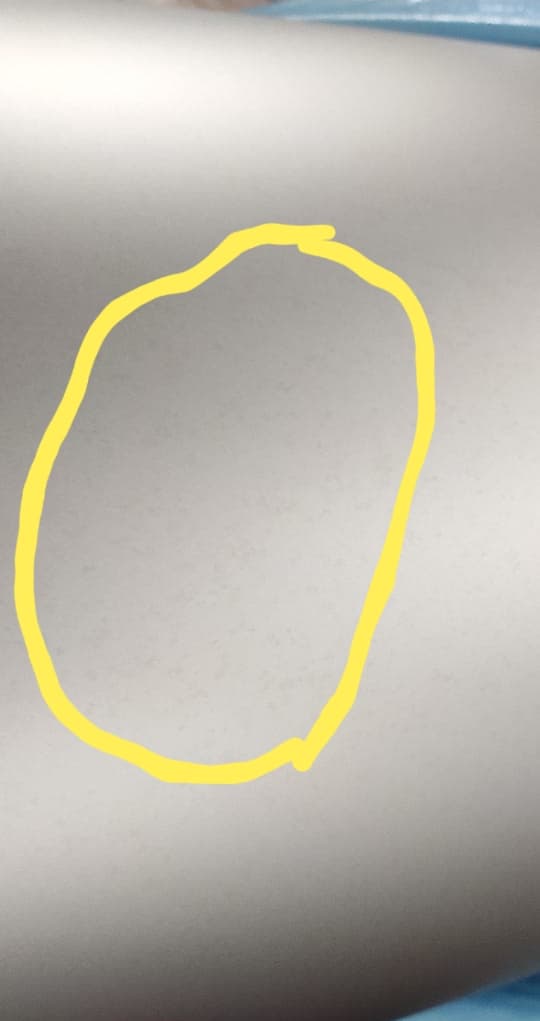 Thank you sir..
Your suggestions are very much valuable, please help us.
Vishal Patil
- India. Maharashtra
July 27, 2020
A. Hi Vishal. Obviously 245:1.4 is not even close to the required 100:1 ratio, so I assume you are running a fluoride catalyst bath like SRHS rather than a conventional Sergeant bath?

Your current is 10500 Amps, but that's not your current density; your current density is 296 Amps/sq ft in English units if fully submerged.
I don't know the magnification of your photos, but I can't see anything in the 2nd photo, and in the first I see only a very vague splotchiness. Whether it's a staining or is actually pitted areas, the photo doesn't tell me. I'd suggest looking with a 10X loupe. If you send more photos, please include some common object like a coin, stamp, or tape measure in them to help us judge the size, color, and texture of what you're trying to show us. Thanks.
Luck & Regards,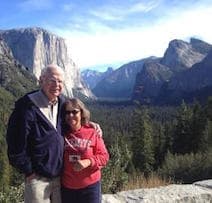 Ted Mooney
, P.E. RET
Striving to live Aloha
finishing.com - Pine Beach, New Jersey