topic 4732
Solutions for stripping silver from brass
(2000)
Hi All:
We have a company that needs to strip silver from brass. The silver was deposited from a typical silver cyanide process. They have had poor luck with the immersion 95%sulfuric/5%nitric/heated process discussed in various metal finishing guides, and wish to stay away from electrostrips (although will set one up, if necessary). Are there any other effective immersion strips? If not, can you recommend a good electrostrip?
Thanks in advance for any help!
Chris Ford
TURI - Lowell, Massachusetts
---
(2000)
The sulfuric -nitric works, but is a little slow.
Guess one is that their temp was low when they added cold parts to it.
Guess two is that the parts were wet when they put them in.
Guess three is that the nitric acid content decreased because it had been standing -hot- for a long time.
James Watts
- Navarre, Florida
---
(2000)
Hi Chris.
If you like to use a electrolytic stripp instead for a chemical stripp. you can try concentrate sulfuric acid and 30 g/l sodiumnitric acid 21-50 degrease celcius anodic 3 voltage with lead cathode. But your recipe with sulfuricacid and nitric acid should woork, and remowe the silver fast.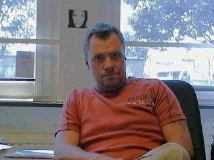 Anders Sundman
3rd Generation in Plating
Consultant - Arvika, Sweden
---
(2000)
On copper I have always used a 90% Sulfuric / 10% Nitric mixture (unheated). It should work equally well on brass.
Phil Pace
- Tulsa, Oklahoma
---
June 13, 2012

-- this entry appended to this thread by editor in lieu of spawning a duplicative thread
Q. A vendor that applies and removes silver plating for me is having difficulty removing silver plate from a brass or bronze material substrate. The silver plate thickness is approximately .002 inch thick. The vendor is using an acid strip process but I'm not sure of the details. Are there other methods for removing silver plate such as electropolishing or ultrasound?
Michael Ward
mfg. engineer - Whittier, California, USA


This public forum has 60,000 threads. If you have a question in mind which seems off topic to this thread, you might prefer to Search the Site