60,000 Q&A topics -- Education, Aloha, & Fun
topic 44569p3
F.B. Rogers Tea Set -- Is It Silver Plate or Sterling Silver? p3
---
< Prev. page (You're on the last page of the thread)
---
A discussion started in 2007 but continuing through 2020
August 24, 2014
Q. My tray also has a red sticker that say F.B. Rogers silver company Taunton, Mass. Does this give it a time?
Lee VanHouten
- grand junction Colorado usa
---
August 2014
A. Hello Lee. Rogers moved to Taunton in 1866, so it doesn't mean anything except that the piece is not from before 1866. Unless it is stamped "Sterling", it isn't. And if it isn't, it's value is almost surely nothing. Sorry, nobody wants this stuff, and there is an awful lot of it available. My wife has several such silver plated trays in the attic. In fact I don't think I know anyone "of a certain age" who doesn't because it was a popular wedding gift for a couple of decades :-(
Regards,
Ted Mooney, P.E.
finishing.com - Pine Beach, New Jersey
Striving to live Aloha
---
October 23, 2014
Q. Following the discussion of FB Rogers silverplate I have a small oval footed dish with "Made in Denmark"" stamped on it. It appears to have an anodized green surface in the bowl. It reminds me of the anodized aluminum containers from the 1950's. My question: is that the process they used to make the color in the bowl, or is it a coating of green glass? And is there any significance that it was made in Denmark?
Carol Self
- Port Hadlock, Washington
---
January 9, 2015
Q. I have a silver tea set with FB Rogers stamped on the bottom, in the middle, but that's it; no other markings, block letters. Also had a small inspection tag. It's not magnetic and there is copper underneath, I can tell. Currently it needs polishing, was purchased in the mid 70's. Can you help? Was this an actual FB Rogers stamp?
Norris Harward
- Dublin, California
---
January 2015
A. Hi Norris. Sorry, but that stuff is silverplate and it's worth almost nothing. Simply, there are many more people with this stuff in their attic than there are people who want it. Don't shoot the messenger please :-)
Regards,
Ted Mooney, P.E.
finishing.com - Pine Beach, New Jersey
Striving to live Aloha
---
March 31, 2015
Q. I now possess a bowl with Paul Revere BF Rogers Silver Co.
6 Reproduction. Do I have something that I need to get an insurance appraisal on? It also has the 1883 on it yet I found that is when the company started. Thank you for answering this question for me.
Sue Rinehart-Schulz
- Ford, Washington USA
---
April 15, 2015
Q. Hi,
I have a silverplate teapot with the markings F.B. Rogers Silver Co.
Above, the words TRADE MARK are on either side of a cross in an arch above a crown with 18 and 63 on either side. Does the age of this teapot, add to its' value, or is still $15-$30? What is the best way to clean silver plate, including darkened areas? Thanks for your patience in answering all of our questions.
Erika Burke
- San Francisco, California
---
April 2015

Hi folks. Sure, there's a chance that one in a million of these items is worth something, and people have referred you to sources and routes that you can study if you want to invest the time. I don't want to be rude, but simply, the odds are overwhelming that the pieces are worth nothing.
The best way to clean silver plate is with aluminum foil or an aluminum "silver cleaning plate" and washing soda as explained in letter 4785. You may need to finish up with silver polish, but don't do the heavy cleaning with polish because it removes silver whereas the aluminum cleaning plate converts silver tarnish back to silver.
Regards,
Ted Mooney, P.E. RET
finishing.com - Pine Beach, New Jersey
Striving to live Aloha
---
---
April 4, 2016
! If you have 1883 F B ROGERS SILVER with crown hallmark you should be able to make out the word quadruple. Which meant it was silver plated 4 times. After the early 1900's they stopped plating in quadruple silver. And went to just silver plated which has considerably less silver on it.
Olivia McGuire
- New haven, Connecticut USA
---
April 24, 2016
A. Quadruple plate contained 8 tr.oz. of silver plate per gross (144 pieces) of teaspoons. The plating was about 1.2 mils thick (.0012"). In 1975, quadruple plate was still being produced, mainly for places like hotel restaurants.
Chris Owen
- Nevada, Missouri, USA
---
---
October 27, 2016
Q. I have a question for you guys. I have a creamer and sugar set that has the crown and all the markings like it should. However my set says 12 oz and 13 oz on each. Mean anything?
Ria ott
- sun prairie, Wisconsin
---
Hi Ria. I'll bet the one holds 12 liquid ounces and the other 13 liquid ounces.
Regards,
Ted Mooney, P.E. RET
finishing.com - Pine Beach, New Jersey
Striving to live Aloha
---
January 14, 2017
"Jackson's Hallmarks"
English, Scottish, Irish
Silver & Gold Marks
from Abe Books
or

Q. F B ROGERS STERLING SILVER TRAY WITH 18 TO LEFT AND 83 TO RIGHT OF CROWN. WHAT IS THE VALUE OF SUCH AN ITEM. IT IS IN VERY GOOD CONDITION BUT IT NEEDS POLISHING.
NAY DAUD
COLLECTOR - PHOENIX, ARIZONA, USA
---
January 2017
A. Hi Nay. Any "We buy gold" store will test that it is sterling (which is very unlikely unless it is so marked), weigh it, and give you the current value of the melted down silver. If you are sure that it is sterling, you could list it on e-bay ... but remember that the prices you see on e-bay are primarily what stuff is not selling for, rather than what it is selling for :-)
Regards,
Ted Mooney, P.E. RET
finishing.com - Pine Beach, New Jersey
Striving to live Aloha
---
---
November 5, 2017
Q. Hi. I am a resident of the UK, Ashton Under Lyne near Manchester in Lancashire. I have in my possession a FB Rogers Creamer and Sugar Bowl with lid that I purchased from a charity shop a few years ago. I have just decided to look up the stamp. FB ROGERS intaglio stamp. And then in a fainter stamp FB ROGERS, Silverplated. USA on the creamer and vice verser on the sugar bowl.

I chanced upon this thread and read through whether or not I would be quids in. Alas it seems this be not the case. It would be interesting to find out when exactly it was made to give a clear view of their period.

Regardless of their worthlessness, if what I read here is correct, there is no doubt I have a couple of bonny trinkets for the old den!

Kind regards
Andrew Craven
- Ashton Under Lyne, Lancashire, UK
---
November 2017
A. Hi Andrew. There's nothing wrong with liking what you like and proudly displaying it. So good :-)
The problems only arise when ...
1. people assume that silverplate must be a valuable rarity because they rarely see it ... when the actual situation is more like such items are stored in attics because this once popular look is out of fashion.
2. they assume that silverplate must have significant intrinsic metal value because, after all, there is silver in the plating ... not recognizing that the plating is very very thin and recovering the silver is more costly than its value.

Liking it is fine; expecting to make money selling it, not so much :-)
Regards,
Ted Mooney, P.E. RET
finishing.com - Pine Beach, New Jersey
Striving to live Aloha
---
---
F.B. ROGERS ITALY F.B.R.-EP. ZINC Trivet
November 26, 2017
Q. About 20 yrs ago a friend gave me a heart shaped trivet with scrolling in the center. On the back it says:F.B.ROGERS ITALY (on the top left) On the top right it says:F.B.ROGERS-E.P. ZINC. I've read the threads and have not seen one addressing zinc. HELP!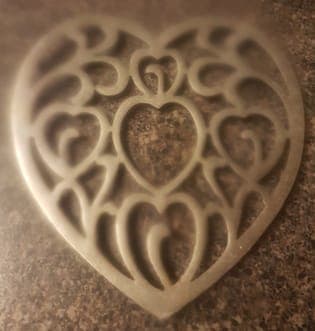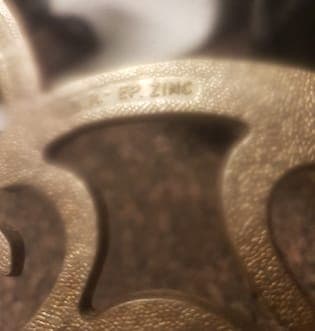 Carrie Vance
- Potsdam, New York USA
---
November 2017
A. Hi Carrie. If you search for "zinc trivet" on Ebay you will see dozens of rather similar items with asking prices of $3 to $20. By all means enjoy it, but it has no metal value or collector value.
Regards,
Ted Mooney, P.E. RET
finishing.com - Pine Beach, New Jersey
Striving to live Aloha
---
---
March 22, 2018
Q. We just picked up an F.B. Rogers Silver Company item in the box with the title: THE LOG
It's a heavy trinket box shaped like a log and the cover is removable. Looks silver plate which is expected. However, there are absolutely no markings at all on the piece. Was this typical at some point for the company? Any info is appreciated.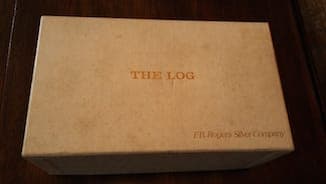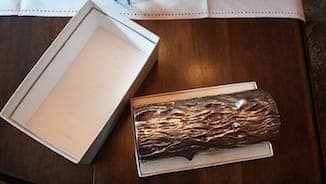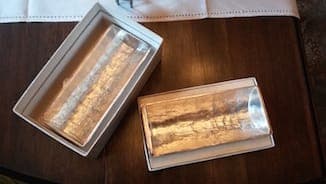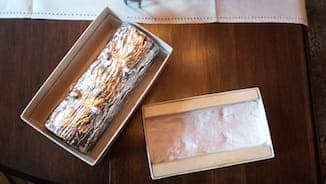 Thank you
Mitch Silverstein
- Nyack, New York USA
---
---
July 2, 2018
Q. I have a Silver Revere Bowl (not sure if it's Sterling or plated -- will have to look and add that info later) that says Ford 75th anniversary on it. I cannot locate another anywhere online and I'm trying to determine its value.
William T
- GREENWOOD, Indiana
---
July 2018
Hi William. This site is about the technology of finishes, not antiquing or valuations. Although I see no silver bowls commemorating Ford's 75th Anniversary on E-bay, there are dozens of other items which tell us that the date was 1978; and most of those items are listed quite cheap. So it's not old, it's not silver unless it's marked 'Sterling', and few people use silver bowls anymore, so I doubt that there is much of a market for it … but good luck.
Regards,
Ted Mooney, P.E. RET
finishing.com - Pine Beach, New Jersey
Striving to live Aloha
---
---
November 1, 2018
! Hello,
I am from Belgium. I had a Dutch girl friend who is experienced in "treasure hunting".

She once found a large set of silver cutlery from the famous Christoffle in a garage sale.

They asked 15 euro for the 10-person set.
She even had the nerve to offer 13 euro for it :-)

So go out and find yourself a nice treasure. Some people really don't know what they've got.
Roel van bael
- Turnhout, Belgium
---
March 11, 2019
I have a F. B Rogers Silver Co.
1883 silver plate tea set

And just wanted to know there is a number on the bottom of one of the items and it says "1211" can you tell me what these markings mean for further identification of other items as well?
I am starting to get back into silver items again but I don't know much about any of the markings and symbols.
Reese Woods
- Grove, Oklahoma, Usa
---
March 2019
A. Hi Reese. This is just a public forum for discussing such things. Unfortunately, people posting the markings on their pieces has mostly led only to long lists of unanswered questions rather than discussion :-(
But there are links on this thread to books on the topic, to helpful pages of hallmarks, to suggestions that you check ebay for similar items, plus some general hints that silverplate probably has no value. So I'd suggest reading the previous entries rather than waiting for someone to answer your question :-(
Luck & Regards,
Ted Mooney, P.E. RET
finishing.com - Pine Beach, New Jersey
Striving to live Aloha
---
---
June 12, 2019
Q. How much is a tea pot from F.B. Rogers silver company really worth with the trademark and date stamped on the bottom worth? I was helping a couple move about 2 weeks ago and she said here you can have this and so I took it because I didn't want to upset her seeing I didn't want anything for helping them out.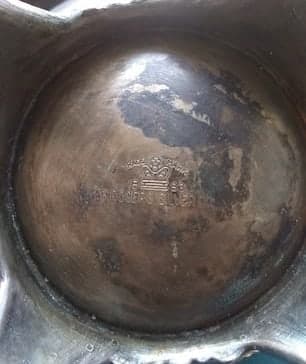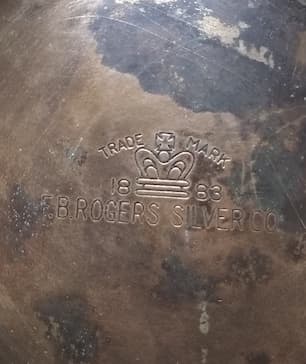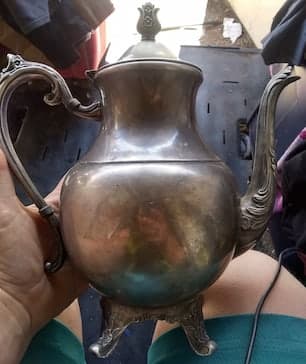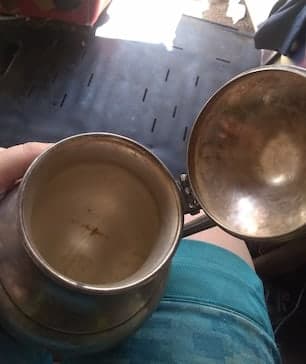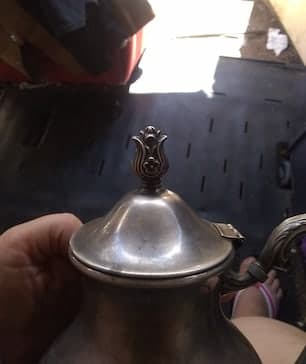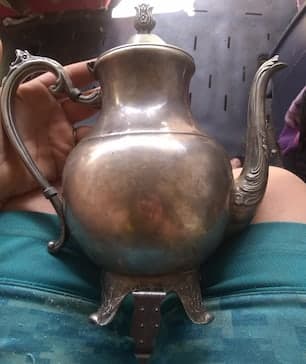 I can tell it's silver but what I don't know is how much it's really worth.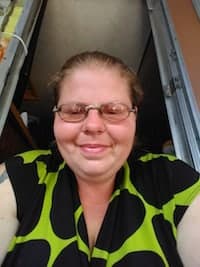 Robyn Davis
- NINE MILE FALLS WASHINGTON
---
June 2019
A. Hi Robyn. It's almost surely silverplate with no intrinsic (melted) value; it's only worth what people are willing to pay for it, and that's probably nothing because it's not in style and similar stuff is in a lot of attics and basements. Sorry :-(
But if you like it, that's what matters :-)
Regards,
Ted Mooney, P.E. RET
finishing.com - Pine Beach, New Jersey
Striving to live Aloha
---
---
December 4, 2019
Q. I bought a glass Tea pot on a stand w/candle under it, listed as F. B. RODGERS.
The white box is beside it w/"F B Rodgers" printed on the bottom of the box. Merchant sold it to me as OLD and listed as Sterling Silver.
What year did F B Rodgers print on their own white boxes?

Lynna Karanutsos
- Albany Oregon
---
---
February 19, 2020
Q. I have a tea set and some platters that are FB Rogers silver on copper... Dynasty 3002 ... worth anything? If not, how should I dispose of them?
Cheryl Dabrow
- Havertown, Pennsylvania USA
---
February 2020
A. Hi Cheryl. All we can say is:
1. Silverplate is generally essentially worthless.
2. You can hunt for comparison pricing for similar stuff on E-bay or Craigslist or Facebook Marketplace or Freecycle if you think we're overly pessimistic.
3. There are sites which will evaluate stuff for a fee, but for silverplate the fee will probably exceed its value.

Sorry, but there is nobody here to do research for you, and odds are strong that every one of the next 100 people posting here will be looking for an evaluation of their own stuff rather than offering an evaluation of yours :-(

You can try donating it to a church auction, or to Goodwill, or try selling or giving it away through one of the sites I mentioned. Good luck.
Regards,
Ted Mooney, P.E. RET
finishing.com - Pine Beach, New Jersey
Striving to live Aloha