Serious Education ... plus the most fun you can have in metal finishing.

Platinum, Palladium or Rhodium?
(2007)
Q. Hi, I need help with identifying a rock I have found. I'm no rock expert by any means, just a weekend metal detector guy. I've found a sample that fits the description of all 3 and my local jewelers say they have no idea. Accept it ain't gold or silver or aluminum. Can't seem to find any good pics online or anyone who can tell me how to test this thing. Would be glad to send some pics if needed. The best description I can give is that it is flat, silvery dark grey in color. & very heavy, it weighs in at 3.185 ounces.
Any help would be appreciated.
Charles Helms
hobbyist - Riegelwood, North Carolina
---
(2007)
A. Charles,

Why don't you go to a local Assayer ... presuming/hoping that you have one in your neck of the woods.

An 'assayer' is nothing more than a mining chemist ... but would have/should have all the testing equipment to determine what you sample might be.

... and if it's solid Platinum, please contact me IMMEDIATELY! I'd like to get some shares!
Freeman Newton
White Rock, British Columbia, Canada
(It is our sad duty to
advise that Freeman passed away
April 21, 2012. R.I.P. old friend).
---
(2007)
A. Look for a metallurgy lab around, they will analyze it for a decent price.
Guillermo Marrufo
Monterrey, NL, Mexico
---
(2007)
A. It will cost you a good bit of money to have it analyzed by spectroscopic methods.
While anything is possible, I doubt if you found a "chunk" of any of the precious metals that you mentioned. If it is, I would be looking for more, before someone else finds it.
My guess is nickel or cobalt. Put a drop on pure nitric acid on the brightest spot. If it turns green it might be nickel. If it turns a blue or purple, it probably is cobalt.
You might put the whole rock or part of the rock in swimming pool acid to see what happens. Some kinds of rock dissolve and others do not. Some metals will dissolve and others will not. Save the solids in a vial and the acid in a plastic container for possible later analyses.
James Watts
- Navarre, Florida
---
(2007)
A. Avoir du pois ounces?

Probably all three or else none if it's truly natural. Description of native metallic platinum:
"Platinum is usually alloyed with several percent Fe and with smaller amounts of Ir, Os, Rh, Pd; also, Cu, Au, Ni...[Specific Gravity] 21.45 when pure, 14-19 when native. Malleable and Ductile. Color steel-gray, with bright luster. Magnetic when rich in iron."
-- Manual of Mineralogy, 21st Edn., page 340, ISBN 0-471-57452-X.

1) Hang by a string and check with a strong magnet for attraction. A very weak attraction is good.
2) Determine the specific gravity. One method is the Jolly balance (ibid., p. 257): Hang the specimen by a fine wire from a spring balance. Weigh in air and then submersed in room temperature water. The difference gives the weight of water displaced and hence the specimen volume. Higher weight is better.

3) Heat with an ordinary propane burner. Nothing should happen (oxygen is also required for melting). Poisonous fumes or burning are not-so-good. Possibly, a jeweler friend familiar with casting can try melting in a ceramic crucible. The higher the melting point the better; Pt & Rh have considerably higher melting points than the cheaper Pd, but expect alloying to lower the m.p. by as much as 200 °C.

4) Have a laboratory analyze the composition using an SEM equipped with EDS analyzer (EDAX). Ask for at least 5 points on each of 2 sides, plus photographs of elemental distributions, and a signature on the report. Nice to know; necessary for selling.

The wet chemistry & pyrometallurgy of assaying and refining the platinum group metals involves strong acids, including aqua regia, and thermal decompositions giving off toxic gases such as SO3. Just a hint: Nitric acid will dissolve only Pd and the less noble impurities, aqua regia will dissolve both Pd & Pt, while the residue after aqua regia leaching can be fused in molten anhydrous sodium bisulfate ca. 315 C to form rhodium sulfate. Solubilize, filter, precipitate, dissolve, precipitate...thermal decompose. Several such purifications give finely divided metal powders which can then be melted by electron beam in vacuum. So, skip the chemistry -- you might take it apart, but not be able to put it back together (in separate parts).

High hardness is expected, multiple alloying components may raise the hardness by 3x. Can't say much except soft is bad (unless have a nearly pure metal), maybe a sign of lead, silver or mercury.

5) With results 1-4, you can fill out a request to quote from a reputable company to whom you would mail the material, and receive payment after the assaying and refining costs are subtracted. Use an established company listed on a stock exchange (NY, London or Toronto).

Good luck.
Ken Vlach
- Goleta, California
Finishing.com honored Ken for his countless carefully
researched responses. He passed away May 14, 2015.
Rest in peace, Ken. Thank you for your hard work
which the finishing world continues to benefit from.
---
---
February 16, 2010
Q. Rhodium plating chemicals: I want to make Rhodium Sulfate. I have the metal with me can any one help me in making this chemical.
nikhil d
plating - Bangalore, Karnataka, India
---
February 16, 2010
A. Hi, Nikkil. Ken Vlatch's step 4 and letter 37685 seem to imply that the only way to do it is with molten salt baths. It doesn't sound easy! Good luck.
Regards,
Ted Mooney, P.E. RET
finishing.com
Pine Beach, New Jersey
---
May 16, 2013
-- this entry appended to this thread by editor in lieu of spawning a duplicative thread
Q. Hello, Can anyone tell me where to refine PGM in Thailand ? I have 1kg of raw platinum ore with 48 percent platinum and other platinum group metals in this ore , can I know how much amount of rhodium and iridium are present in this ore?

With regards,
Ai Chang
- Thailand, Bangkok
---
---
February 25, 2015
Q. I have rocks that creates its own sulfur what kind of rocks do this? I would like to know what kind of rocks create its own sulfur. I also believe it to hold platinum does this sound familiar
Danielle Moore
student - USA
---
---
Have I found Platinum?
November 21, 2016
Q. I found this piece of molten metal sticking out of a riverbed behind my house at first I thought it was lead that somebody had spilled Out Of The Crucible but when I brought it home I put a propane torch to it on high and it took almost 5 minutes to even get it hot it never turned red a magnet does not stick to it it's very dense and very hard it does not throw Sparks on a grinder and has the patina like silver let me know if you have any helpful info .thank you.
Billy Gilmer
Plumber and artist - HUACHUCA CITY ARIZONA USA
---
November 2016
A. Hi Billy. The easiest first step is to determine its density or specific gravity. Weigh it, then immerse it in water and weigh the water it displaces. The specific gravity is the weight of the item divided by the weight of the water it displaces. Alternately, Ken Vlach offered a good method of weighing on a spring balance in air and then in water. Good luck.
Regards,
Ted Mooney, P.E. RET
finishing.com
Pine Beach, New Jersey
---
November 26, 2016
A. Hi Billy
Platinum melts at 1770 °C - way hotter than any other common metal. You might just be able to melt a small piece with oxy/propane but oxy/hydrogen or an induction furnace is more usual.
My second point is that platinum is very high value. People don't just lose pieces in a river.
Natural alluvial platinum occurs in Colombia and the Ural mountains of Russia. Finding a piece in Arizona seems unlikely.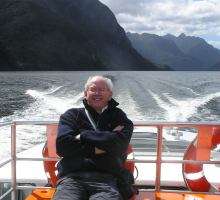 Geoff Smith
Hampshire,
England
---
November 26, 2016
Q. I did the specific gravity test and got 6.32 so it's looking like I have a piece of melted crap unless somebody knows otherwise because I couldn't find those numbers on the chart I downloaded ..
Billy Gilmer
[returning]
Plumber and artist - HUACHUCA CITY ARIZONA USA
---
November 2016
A. Hi. It's not platinum because that would be more than three times heavier. It's quite unlikely, but perhaps not impossible, that it's a silver alloy -- which you could test with a relatively inexpensive kit. It could be tin. But if I was forced to bet on a guess, mine would be that it's discarded zinc, which would be pretty cheap. It still might be worth bringing to a scrap dealer if one is local.
Regards,
Ted Mooney, P.E. RET
finishing.com
Pine Beach, New Jersey
---
November 26, 2016

Thank you Ted. Ya I cut a small slice off of it and tried to bend it and it broke like pot metal -- so at this point I'm throwing in the towel, lol. Thank you for the info; I did get some knowledge from asking questions here, I appreciate your reply .
billy gilmer
[returning]
Plumber and artist - HUACHUCA CITY ARIZONA USA