Where the world gathers for
plating, anodizing, & finishing Q&As since 1989
-----
Galvanized "Tin" Kitchen Countertops
2002
Q. I recently installed some galvanized sheet metal counter tops. Unfortunately, my wife spilled some vinegar [adv: item on eBay & Amazon] on them which reacted with the coating and gave it a cloudy, milky haze. What can I do to restore the original finish and shiny luster? Thanks,
Gregg Halladay
---
February 6, 2009
Q. I TOO HAVE THE SAME PROBLEM, i.e., I BUILT A SPORTS BAR AND FABRICATED A (40') GALVANIZED BAR TOP THAT HAS BEEN USED FOR ONE WEEK NOW AND HAS THE SAME WHITE STAINS ALL OVER IT ... HOW DO I REMOVE THESE AND PREVENT IT FROM HAPPENING IN THE FUTURE? THANK YOU FOR YOUR HELP ANYONE.
WAYNE MORRIS
---
Aging and protection of galvanized sheet metal countertops
2003
Q. I am a contractor and have a client that wants galvanized countertops in their laundry. They want them to appear old at the same time not oxidize. How do I antique galvanized sheet metal and then protect it. Thanks Jim
Jim Siffert
---
2006
Q. I too am a contractor and have a customer that wants galvanized counter tops that looks old. does any one know how to age galvanized metal.
Greg Smith
---
Black Patina for Zinc
on eBay or


(as an Amazon Associate
& eBay Partner, finishing.com earns from qualifying purchases)

June 2017
A. Hi. The zinc countertops of the old days, and of higher end kitchens today, are solid zinc sheet sample [affil link], not galvanized. Galvanized sheet metal has a thin coating of zinc on steel sheet.
Unfortunately, there isn't much leeway either to patina or repair the thin galvanized layer as opposed to a solid sheet. But there are patinas for zinc that you could try.
Clearcoats may not stick. But I guess trying to clearcoat it is the best approach anyway. Good luck.
Regards,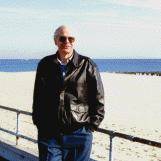 Ted Mooney
, P.E.
Striving to live Aloha
finishing.com - Pine Beach, New Jersey
---
---
2005
Q. My agency has a new state-of-the art facility that has galvanized steel counter tops in the restrooms. During my last building inspection, I noted that there is a heavy mineral buildup around the sink edge and the soap dispensers. The cleaning contractor has reported that they cannot remove the buildup and that products that have been tried tend to discolor the galvanized steel surface. What can be used to remove the buildup and not discolor the galvanized steel surface?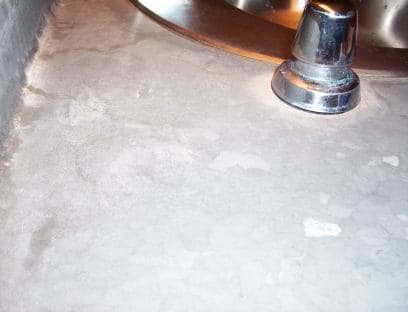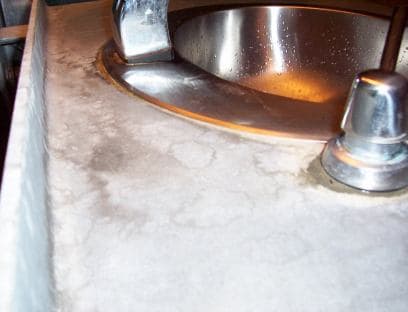 Sylvia Young
---
2005
A. Perhaps dilute acetic acid (vinegar) would clean the hot dip galvanizing coating. From the photos the water could be "hard" or perhaps the soap is particularly prone to form a lot of "scum." At my home with very "hard" water we use a liquid baby soap and the sinks stay a lot cleaner. You cannot use many "hard" water cleaners because they contain the strong acid, Hydrochloric Acid, (HCl) and they will dissolve the zinc coating.
Regards,
Dr. Thomas H. Cook
---
A. Hi Sylvia. As Dr. Cook says, a portion of the zinc coating can probably dissolve in cleaners that are made to remove calcium deposits like Lime Away or CLR, but they may be pretty much necessary. Also I don't think I'd try to read into Dr. Cook's reply any implication that full strength vinegar is harmless to the galvanized coating. So I think it would be a matter of trying careful timing followed by neutralization with baking soda.
Compounding the problem is that, unfortunately, what people perceive as a calcium buildup is not always a calcium buildup -- sometimes it's corrosion products of the zinc. You can (maybe) remove the corrosion byproducts the same way you remove calcium buildups, but you can't repair the corrosion.
I don't like saying much in the possible event of contract disputes, but I would not want to use galvanized metal as a sink surface in general unless the owner accepted the dull old country farmhouse look, rather than a clean sparkly look -- because galvanizing is not a decorative finish, it is a functional finish. It happens to be shiny when new but is not intended to retain the shine at all; galvanizing is just not the same thing as a decorative finish like nickel plating, chrome plating or lacquered brass plating. While your agency restrooms may be upscale from roadside restrooms, I've been to enough public restrooms to know that unlike private bathrooms, water will constantly be splashed all over the countertops, never wiped dry by the user, and they'll constantly be left a wet, sloppy mess. As a matter of personal opinion I don't think galvanized metal is appropriate for a public restroom.

Regards,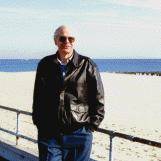 Ted Mooney
, P.E.
Striving to live Aloha
finishing.com - Pine Beach, New Jersey
---
---
2005
Q. I too need help and cannot get it to this point. My builder installed what he called galvanized metal counter tops in our new country home. They have spots and streaks all over them and I can find nothing that will remove these spots. Any help will be most appreciated. Thank you.
Betsy Burke
---
April 4, 2008
A. What you see in the photo and in your country home is what galvanized steel naturally does over time; the zinc oxide surfaces protect the ferrous metal below the zinc layer. You cannot really stop or remove the layer you will simply continue to alter it's appearance temporarily. Naptha or turpentine [affil link] will affect a change in the surface appearance, however, it will not 'remove' the layer you find offensive.

Best,
G. Butler
---
June 6, 2013
Q. We have a kitchen counter top of galvanized steel. Keeping clean is easy but a black film comes off on your hand if you rub across the top and on dishcloth. What is this? Is it healthy? Is it preventable?
Thank you for your time.
Beverly Arevalo
---
June 10, 2013
A. Hi Beverly. This is the zinc surface very slowly wearing away and corroding away over time. Microscopically fine metal powders usually appear to be black rather than metal colored or white because their shapes tend to not reflect any light. Zinc is an essential nutrient rather than a toxin (one multivitamin claims it has "everything from A to Zinc") so I wouldn't be concerned about such tiny quantities. But you could see if a [adv: item on eBay & Amazon] with diluted vinegar can stop the black for a week or two.
Regards,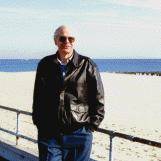 Ted Mooney
, P.E.
Striving to live Aloha
finishing.com - Pine Beach, New Jersey
---
---
2006
Q. I would like to know if Galvanized Tin is food safe? If so, what thickness is best for use on counter tops? What is the best way to attach the tin to a 1-1/2" smooth grade plywood? How should seams be handled? Thanks so much
Sarah K
[last name deleted for privacy by Editor]
---
2006
A. Hi, Sarah. I'd say it's reasonably likely that what you are thinking of is NOT food-safe. But the confusion comes from the fact that people use the word 'tin' in a colloquial fashion that has nothing to do with its real definition :-)

Tin [link is to Wikipedia] is a metallic element, one of the 94 naturally occurring elements. The element tin is food-safe. In fact, for years, foods cans were tin plated, and tin is one of few metals that is not regulated in water and wastewater.

If what you have in mind were actually pure tin metal, it would be food-safe.

But people also use the word "tin" as shorthand for "sheet metal"; the sheet metal is rarely actually tin, it is usually steel, and the coating on it, probably zinc, may not be food safe.

Galvanized sheet metal, which is what I suspect you are actually thinking of, is steel that has been zinc (not tin) coated by dipping into a vat of molten zinc. Although zinc is generally "safe" (it's an essential nutrient, not a toxin), it's not considered "food-safe" because it dissolves in acidic foods too readily. Also the zinc is very prone to white corrosion staining, and to deter that, it is often dipped in chromate. Chromate is NOT food-safe.

I think the right rule of thumb is if the metal was intended to be used as a countertop it is safe, if it was not made for that purpose it is not safe to use it as a food surface.

Contact cement will probably work for fastening it to the plywood. The only good way to join pieces is probably a rolled seam: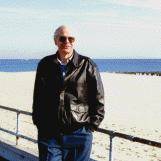 Ted Mooney
, P.E.
Striving to live Aloha
finishing.com - Pine Beach, New Jersey
---
2006
A. I have had galvanized countertops in the kitchen of our ranch house for 6 years. I like the look and have found them to be maintenance free. I never have prepared food directly on the countertop so I haven't had a problem there, but many foods, especially foods high in acidity, will discolor the tin [Ed. note: actually it's "zinc" not tin.]. The discoloration can be unsightly.
Gail Smith
---
2006
Q. I also have thought about this solution for a countertop, but I'll accept that it wouldn't be food-safe. However,I've been considering using galvanized tin (duct-type metal sheets, anyway) for a backsplash in my RV. I wonder if it would rust, or if it needs to be coated in something? I want the metal effect and don't want it painted.
Paddie Carter
---
A. Nothing is forever, Paddie, but the purpose of the zinc coating is to deter the underlying sheet metal from rusting, so, yes, it sounds okay to me. Galvanized sheet metal is most resistant to rust when it is out in the open so it can "breathe" -- carbon dioxide in the air very slowly reacting with the zinc surface to form a hard, glassy, zinc carbonate surface.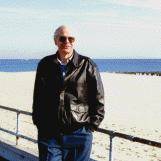 Ted Mooney
, P.E.
Striving to live Aloha
finishing.com - Pine Beach, New Jersey
---
2006
Q. I, too, have considered tin counter tops for my kitchen. Has anyone found the answer to what is exactly food safe? Could they possibly be painted with some sort of coating to make them food safe?
Sue Rice
---
March 2014
A. Hi Sue. Tin is 100% food-safe, but if you keep calling steel sheet metal that is galvanized with zinc "tin", it will remain hard to get a clear answer :-)
Odds are 100:1 that you mean galvanized steel sheet metal.
Zinc is not a toxin, it's an essential nutrient, but it dissolves too readily in acidic foods, leading to potential over consumption, to be considered food safe. Further, it may have received a final dip in chromate (hexavalent chrome), which is certainly not food safe. In my own personal assessment it's not likely to be a serious hazard, but we live in a squeamish age, and I can't recommend galvanized sheet steel for food service countertops.

Paint and clearcoats stick very poorly to galvanized metal, so I don't like that answer either. Getting proper adhesion involves pretreatments that would cause the galvanizing to lose any decorative value :-(

Regards,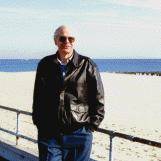 Ted Mooney
, P.E.
Striving to live Aloha
finishing.com - Pine Beach, New Jersey
---
Stonetech Sealer

(as an Amazon Associate
& eBay Partner, finishing.com earns from qualifying purchases)

2007
A. I HAVE JUST INSTALLED GALVANIZED COUNTERTOPS IN MY KITCHEN.
I HAVE SOME "SPOTS" FROM SOAPS OR ACIDS I SUPPOSE, BUT THE LOOK FOR MY RANCH KITCHEN IS A GOOD ONE. I HAVE 6 INCH BACKSPLASH AND VENT HOOD IN THE SAME MATERIAL. MY DISSATISFACTION WAS THAT THEY WERE TOO SHINY AT FIRST BUT THEY ARE DULLING WITH TIME. AS FAR AS FOOD SAFETY ... WHO PUTS THEIR FOOD DIRECTLY ON THE COUNTERTOP?
MY IDEA WAS FOR THE TOPS TO AGE AND THEN I WANT TO BUFF AND SEAL THEM. I HAD READ IN THIS COLUMN ABOUT SOMEONE USING PASTE WAX. I SAW A TABLE WITH THE SAME TOP THAT HAD BEEN STAINED, DISTRESSED, AND THEN SEALED AND IT WAS A GOOD LOOK. AT ITS WORST I LIKE IT MORE THAN GRANITE WHICH HAS BECOME AS COMMON AS FORMICA. AND SURELY THERE WILL BE A SHORTAGE SOON BECAUSE EVERYONE IS USING IT.
I WOULD LOVE ANY TIPS ON FINISHING THE GALVANIZED TIN.
REBECCA M HARRISON
---
2007
Q. We have used galvanized tin to finish the walls in our bathroom, and as a ceiling finish throughout the house. I love it, although it does have a rustic look with some "white" areas on it. In the bathroom, there are a few water spots that have developed. Is there any way to safely remove the spots and clean the tin without affecting the zinc finish on it? Margie S
Margie Singleton
---
A. Hi Margie. 5% phosphoric acid is used to remove the white rust (assuming yet again that you mean zinc galvanized steel sheet metal rather than actual tin). My assumption is that diluted vinegar could be substituted with passable results. Good luck.
Regards,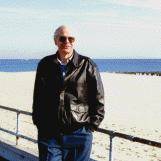 Ted Mooney
, P.E.
Striving to live Aloha
finishing.com - Pine Beach, New Jersey
---
---
March 20, 2014
Q. I found in a large home improvement store's plumbing section 16"x36" flat sheets that they tell me are galvanized aluminum sheets. Is this the same that others are referring to as "tin". They also sell galvanized steel sheets. I want to use the aluminum sheets as a countertop, but told not to due to food concerns....but who puts food directly on it anyway? How do you adhere the sheet metal to the countertop...contact cement? Thanks
Marie Blackburn
March 2014
A. Hi Marie. Yes, people call sheet metal "tin", but slang means whatever people want it to mean, so we can't put a fine point on it and say whether it implies or doesn't imply that the steel sheet has a galvanized zinc coating. BTW, I don't think that "galvanized aluminum" , i.e., aluminum dipped in molten zinc, exists. But the store may sell plain aluminum sheet. A magnet should tell you whether it's aluminum sheet (non-magnetic) vs. galvanized steel sheet.
I think contact cement will work.

Regards,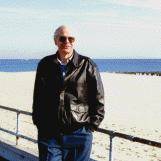 Ted Mooney
, P.E.
Striving to live Aloha
finishing.com - Pine Beach, New Jersey
---
---
September 2, 2016
Q. I have been researching this topic for HOURS! Thank goodness I finally found some information. I've read the past posts, but maybe since 2007 there is a way to be able to have aluminum countertops safely? Could I possibly use the method used for bars? I believe its a "thick pour epoxy? I know just enough about this to get me in trouble which means I know nothing at all about it. I have unlimited access to aluminum sheets & couldn't help but think it was a great idea. Beginning to rethink it. But thank you so much for enlighten me because this site is the ONLY one that has informed me of most of the questions I was asking myself.
Marisa Sullens
September 2016
A. Hi Marisa. Hundreds of millions of people, maybe even you, have been cooking in aluminum pots and pans for their whole lives. So, as a countertop material, aluminum doesn't concern me in the least.
But since you liked this thread you may also like Letter 22551 "Is There a Danger in Cast Aluminum Cookware?" and Letter 12362, "Coating tables and bar tops with thick clear pourable plastic".
Regards,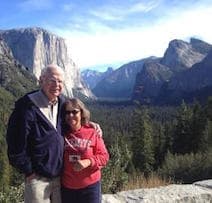 Ted Mooney
, P.E. RET
Striving to live Aloha
finishing.com - Pine Beach, New Jersey
---
September 2, 2016

You are a knight in shining armor! Thank you so much for the info/link. AND for answering me period, much less same day! Your patience with people is amazing. You should be awarded for answering redundant questions with such patience. Thank you again!
Marisa Sullens
[returning]
---
September 2016
Thanks for the kind thoughts, Marisa. I have the world's best job, so I do try to be patient enough to not blow this gig :-)
(Response time is just luck of the draw. I check for new e-mail every few hours and have no choice but to do "last in / first out" because I can't get them all done and would otherwise just get further & further behind every day).
Regards,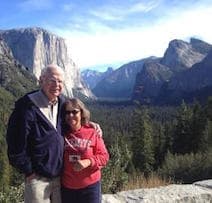 Ted Mooney
, P.E. RET
Striving to live Aloha
finishing.com - Pine Beach, New Jersey
---
---
Galvanise & Food Safety
September 19, 2016
Q. Hello, I am currently restoring an old trailer into a food truck. I have been doing a lot of reading up on sheet metal, the majority opinion seems to be bar contact with acidic foods, galvanised metal is food safe.
I have studded the trailer out and am looking for a cost effective metal sheeting to clad the internal walls with. Naturally, I am drawn to galvanise sheeting as it is relatively inexpensive. No food will come into contact with it in the sense that if your meal hit the wall in the restaurant it would be unlikely that you ate it! My only slight issue is I am installing a large grill in the trailer which will sit roughly six inches off the galvanise sheeting, will the heat, smoke steam have any dangerous effects? Is galvanised sheeting a good solution to my cladding issue?
William Thompson
---
---
June 14, 2017
Q. I have a kitchen countertop that is rusting in areas. When I bought it it had a sealer on it because you could see scratches through it with age but now the rust is a problem because it smells bad in the kitchen especially when it gets wet.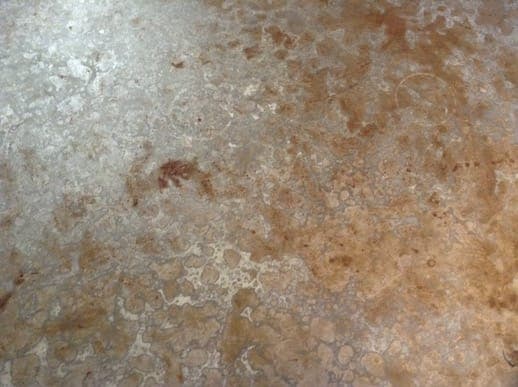 Is there anything I can do to clean it and maybe seal it again?
Paula birkes