60,000 Q&A topics -- Education, Aloha, & Fun
topic 39252
Treeing (dendrites) in Ni Sulfamate Electroforming
2006
I am a student attempting to create an electroformed Ni plate that is 4 x 10 cm and 1 cm thick. To do this I have created an acrylic frame to cover a Cu cathode, allowing plating only in a 4x10 area. At thicknesses over 1mm, I have been getting severe treeing around the inside edges of the frame and large nodules on the plated surface.

I am using a chloride free Ni sulfamate bath (Ni-speed) at 50 degrees C, using a magnetic stir bar for agitation. I filter my bath at 0.22 microns before each attempt. My surface tension is about 35dynes/cm and I have tried a current density of 10 and 18A/dm2 with no change in dendrite formation.

I have added 0.2g/L of butyne diol. The plate became very shiny, but the dendrites still formed.

Any suggestions to at least decrease dendrite formation?
Ben Poquette
Student, Virginia Tech - Blacksburg, Virginia
---
First of two simultaneous responses -- 2006
In reality you are putting down one hell of a lot of nickel! The treeing and nodules are caused by microscopic asperities on the electroforming surface and these generate localised high current density spots; - once that happens the process starts to run out of control and produce unwanted growths. The art in electroforming is to try to prevent this happening. The science in electroforming is to get it right! Having looked at your conditions, they seem pretty good, although you don't give much detail of the bath composition. You may want to increase the temperature to the upper 50's or low 60's, but DO NOT exceed 70C. The asperities can be reduced by having a high filtration rate - I reckon on 10-12 tank turnovers per hour, but others will say less because filtration can take out additives. Nevertheless, my way has been quite successful. You will also get build up at the edges of the frame as this is an area of high current density - you may want top consider using a robber framework to help reduce it and divert the current back to the centre of the plate. I think that whilst you are trying to achieve such high thicknesses, you are bound to get surface asperities, so one way is to take out the electroform on a regular basis and machine the surface back to a smooth one. Then reactivate the nickel and continue electroforming. another alternative is to use pulse plating - this may well reduce the effects of the asperities, but it should be used with high filtration rates. Good luck.

Trevor Crichton
R&D practical scientist
Chesham, Bucks, UK
---
Second of two simultaneous responses -- 2006
Your best chance will be to turn the cathode to a vertical position and increase the anode to cathode distance to 4 inches.
Then rig an air agitation sparger directly under the part. A good way to do this is to use a fish tank air pump. Do not use the "air rock" as it will dissolve in the acid. Use some vinyl tubing, heat the end and pinch it with pliers. Then, heat up an unbent paperclip to red hot and make a hole in the tubing. Put holes about 1/4" apart in the required area. You can use a fine stainless wire to tie the tube to a heavy SS rod.
Next, your amperage is too high. 50 amps per sq ft would be better and that may be high. That is about equal to 5 amps per sq Dm.
Finally, you may have to put a wire "thief" or "robber" around the outside of your frame, just outside of the slit to knock down the high current density area of the part. This has to be hooked up to the negative terminal also. change the wire size as required.
James Watts
- Navarre, Florida
---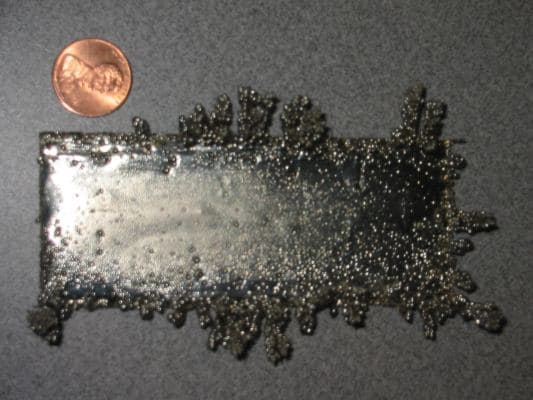 ---
2006
Ben, I misread your current density - it is way too high. I would recommend you run at 30-35 ASF (3-3.5 A/dm2), or even less. I presume the photograph is provided by yourself - it strikes me that one end is much worse than the other and the bad end shows a lot of "burning". There is something wrong with your anode-cathode relationship - either the electrodes are not parallel, there is a faulty contact somewhere, or there is electrolyte shielding. Good luck.

Trevor Crichton
R&D practical scientist
Chesham, Bucks, UK
---
2006
As for my bath composition:

600g/L Ni sulfamate
16.5g/L Ni Chloride (I added this since my orig. post)
35g/L Boric acid
0.2g/L SDS (surfactant)
50 degrees C
pH 3.6

In the meantime I have carbon treated my bath and discontinued the use of organic levelers. I have also decreased my current density to 8 A/dm2. This has left me with a fairly nodule free surface at thicknesses up to 2mm, except at the edges (high current density areas).

I will try the air agitation and a current density between 3-5A/dm2. My cathode position is vertical, sorry for the misleading picture. I cannot however filter my bath during plating as I plan to eventually add ceramic particles which I hope will become embedded in my Ni plate to serve as a reinforcement in the electroform.

I will experiment with a robber system, but today I tried adding a plexiglass shield between the anode and cathode. This shield has a rectangular hole in it, just smaller than the area to be plated.

Thanks guys,
Ben Poquette
- Blacksburg, Virginia
---
2006
If you can't filter at high tank turnovers, you may well find further problems. The purpose of the high rate is to take out anything that may case asperities, as well as reduce the effects of ion depletion on the workpiece. You may want to consider setting up a very clean bath that has been highly filtered for some days prior to use and then add refined monospherical ceramics - any fines in it will cause you problems. You must also keep the tank form getting contaminated, so keep it covered.

You can still increase the solution movement by using a high pumping rate but not through a filter. Further benefit can be got from using adductors. These are available from Serfilco and have had lots of good things said about them.

Electroforming composites is very difficult and you will need to pull your ccd right back to (probably) about 20ASF (2A/dm2) or even less, irrespective of your using a high speed plating bath.

Trevor Crichton
R&D practical scientist
Chesham, Bucks, UK
---
2006
Trevor and James,

Thank you so much for all of the help. I have been filtering the bath to o0.22micron prior to use and this has helped a lot.

One more question: Since I may need to use a ccd as low as 2A/dm2, would it help to use a bath of lower Ni sulfamate concentration? Could this act to level my bath by making it easier for the solution to become depleted at the tips of nodules and dendrites, thus slowing them down?

Also, as a side note, are there any electroforming classes and/or internships that you could suggest?
Ben Poquette
- Blacksburg, Virginia
---
2006
Ben, In response to your questions, firstly, I am based in the UK (can't you guess by my "funny" spelling?!), so can only honestly suggest contacts here, but I know the AESF runs workshops in the USA. they are based in Florida, so have a look there. Alternatively, Ted may be able to suggest a few ideas.

Secondly, I would not advocate depleting the bath's nickel content as this may only cause more problems. You need to keep the ion concentration up in the immediate vicinity of the cathode. This is known as the Helmholtz Double Layer and its chemistry is critical to successful plating. The reason the high speed baths have such high nickel content is so they do not deplete this layer - you can only do so much with agitation! Lower ccd's do not need this sort of concentration, but then it is a matter of economics, not science. Good luck.

Trevor Crichton
R&D practical scientist
Chesham, Bucks, UK
finishing.com is possible thanks to our supporting advertisers, including this shop: