topic 3999
Sorting Zinc Plated from Cadmium Plated Hardware Lots.
A discussion started in 1999 & continuing through 2017 . . .
(1999)
Q. We are looking for a positive, yet quick means to separate cadmium plated hardware from zinc plated hardware. First cut might be a clear delineation of expected color ranges for each type, but a more definitive check such as a continuity tester may prove necessary. Please advise any suggestions. We are a distribution facility with no Manufacturing.
P.M. S.
[last name deleted for privacy by Editor]
- Vineland New Jersey
---
(1999)
A. I can certainly appreciate your problem, and I agree that you need a definitive non-destructive test (you are in trouble if you put cad plate in a food environment; you are in trouble if an important piece of machinery jams because of zinc plated hardware that should have been cad).
Step 1 is to not further lose track of which lot was which; Step 2 is to not intermix the lots, so you only need to check a few items rather than each individual one; Step 3 is to investigate the practicality and differentiability of real instrumentation such as XRF or beta backscatter machines. Readers who actually use these machines will be able to tell you their limits, speed, and practicality.
I hate to say it, but if this is inexpensive hardware and it's completely mixed up into salad, it might be a total loss unless you can sell it as "zinc or cadmium" plated hardware.
Ted Mooney, P.E.
finishing.com
Pine Beach, New Jersey
---
(1999)
A. Hey P.M. Sweet,
Ted's right about maintaining lots. Remember you can't sort anything 100% correct. As for a simple test rub the clear zinc or clear cad parts on a sheet of white paper. The clear cad part will (almost always) leave a black mark on the paper. XRF works because you can see the unique fingerprint (spectral lines) of the metal (5 sec each reading + handling time). Beta backscatter will only "tell" you the thickness of the metals and you may be guessing if the metals are thin (with beta a bare steel part will give a very small zinc or cad reading).
Regards,
Fred Mueller, CEF
- Royersford, Pennsylvania
---
(1999)
A. The 1999 Metal Finishing Guidebook and Directory Issue; Identification of Deposits, Charles Rosenstein, page 607, has a simple spot test to distinguish cadmium from zinc plating. You will need dropping bottles, a watch glass, perhaps a white and black spot plate, 50% acids, sodium sulfide, safety glasses, and a careful person who is interested. Keep a notebook of your findings, date, time, lot number, analyst. It is an important test.
Best Wishes,
Tom Pullizzi
Falls Township,
Pennsylvania
---
---
How to distinguish between zinc and cadmium metals?
November 13, 2016
-- this entry appended to this thread by editor in lieu of spawning a duplicative thread
Q. I want an immediate help for differentiating between cadmium and zinc metals practically in the lab.
Fahad Hashim
- UAE
---
November 2016

Hi Fahad. For your requested immediate help, we appended your inquiry to an earlier thread with good answers. If you can detail your situation, perhaps more highly targeted help will be available. Please take careful note of Fred Mueller's comment that you can't sort anything 100% correct.
Regards,
Ted Mooney, P.E. RET
finishing.com
Pine Beach, New Jersey
Striving to live "Aloha"
---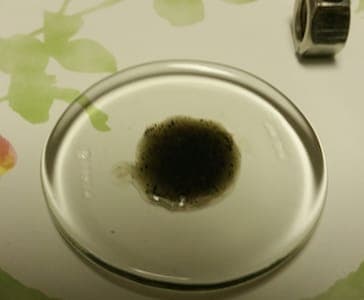 Iron sample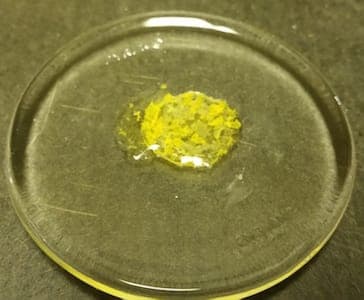 Cadmium sample
March 24, 2017
A. Salutations,

As a cross reference to Tom's comment up top, on Letter 31938 Jan Soroka placed some details regarding a quick cadmium spot test.

"A spot test is: place one drop of conc. nitric acid on surface, after 1 min. one drop 10M sodium hydroxide to neutralize. Add one drop ammonium sulfide solution, deep orange precipitate indicates Cd."

For a slightly more detailed explanation,
Acid attacks and frees up the Cd forming Cd(NO3)2, the acidity is neutralized with excess NaOH, a white precipitate may form which suggests adding more NaOH until dissolved. Once dissolved, (NH4)2S is introduced to form CdS which is a yellow precipitate.

A black residue is likely an Iron impurity on the surface. Zinc would not generate the definitive yellow - orange spectrum.

Attached are photos of an Iron sample tested and a Cadmium tested part.
Erick Leong
Vapor Bus International - Buffalo Grove, Illinois


This public forum has 60,000 threads. If you have a question in mind which seems off topic to this thread, you might prefer to Search the Site