Live! From beautiful Pine Beach New Jersey: Welcome to the world's most popular metal finishing website
topic 38448
Chrome Plating on Wood
A discussion started in 2005 but continuing through 2018
2005
Q. I've heard about this technique that allows a piece of wood to be chrome plated, but I'm having a lot of problems to effectively do it. Most of the suppliers that I've asked to do it said it is not possible. One of them told me that the problem is not the chrome itself, but the preceding process that is not known. After that preparation of the piece, it could be done normally. But he won't tell me the process, and has asked me 600% of the usual price per area of chrome, just for the preparation of the piece, and would ask more money for the chrome plating itself.

I'm going to the U.S. in January, and would be very thankful to know some place that could do it for me. I would take the piece. But I have no idea where to start looking for addresses.

If someone could please help me . . .

Thank you, very much.
Leonardo Patat
student and hobbyist - Sao Paulo, SP - Brasil
---
2005
A. Hi Leonardo. You haven't fully explained your needs yet. Virtually anything can be plated with anything, but whether that plating will meet your needs is something no one can tell you until we understand your needs. For example, when you say "plated", do you imply that it must actually be electroplated, or will any application method suffice?
If you're just looking for a decorative effect and interior exposure, very good "chrome-like" paints are now available, and would probably be my first choice. But if you actually need real electroplating, is it industrial hard chrome for a severe wear situation, or is it decorative nickel-chrome plating? If decorative, does it really have to be chrome instead of nickel plated? Please tell us what kind of component it is, why you want it to be chromed and what you are trying to do, so that we can better help you. Good luck!
Ted Mooney, P.E.
finishing.com
Pine Beach, New Jersey
---
2005
A. The wood must first be painted with a conductive paint, and then copper plated using acid copper. You can then plate the part with bright nickel followed by chromium, or with chromium over the copper.

Why would you want to do this?
Daryl P. Spindler, Sr.,
CEF
- Greenbrier, Tennessee
---
2005
A. The piece of wood should be sealed with an epoxy paint. Then a conductive paint applied. Since the wood is light you will have to figure out a way to weight it down and also make contact. Then the piece would have to be copper plated very heavy. Since it will come out of the copper very rough it will have to be polished out to a bright finish. This can be very tricky if you get it too hot it will blister and peel. Not hot enough and the copper won't flow out to a smooth finish. After all that you can nickel chrome plate it.
Sounds easy. Well it isn't :-)
Good luck, Frank
Frank DeGuire
- St. Louis, Missouri, USA
---
---
March 14, 2011
Q. I'm wondering the same question. Here's WHY: I am refinishing an old guitar of my grandpa's, which has a large chrome soundboard in the center. I've seen guitars where the body is all CHROME (or nickel).

I don't know if it's plated or what, but I'd LOVE to do that to the guitar! How would I do it? Here's a picture: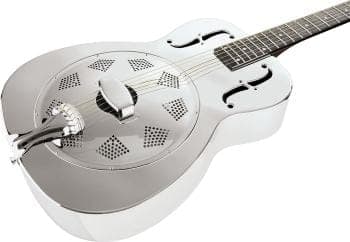 Curt Peters
- Bismarck, North Dakota USA
---
March 14, 2011
A. Hi, Curt.
That center soundboard appears to be nickel or chrome plated metal, not wood. The picture doesn't tell us whether the guitar body itself is wood, but if it is, then the plating shop would have to do what Daryl and Frank have described.
Regards,
Ted Mooney, P.E.
finishing.com
Pine Beach, New Jersey
---
April 8, 2014
Q. I need to chrome plate a solid wood duck that is 16" L x 6" H.

Can this be done? If so, how?

I have contacted four plating companies in my area, and only two have replied so far. One told me that it cannot be done. The second one told me that it is possible, but the duck would need to be metallized first.

After reading the comments on this thread, it seems that it can be done if I get the duck bronzed first and then get it chrome plated. If I go this route, will the process take long to do and do you think it will get expensive?

This project I am working on is for charity and I only have a month to get it done.

Or if I choose to paint the duck with a chrome-like paint, which paint do you recommend. Does it have to be sprayed with an air brush or is there can spray paint that I can purchase at a local hobby store?

Your feedback will be greatly appreciated. Thank you.
Cindy Zamora
- Chicago, Illinois, USA
---
April 2014
A. Hi Cindy. Anything can be done, but it depends on exactly how chrome-like you need the duck to be. Yes, you can buy a single spray can of shiny paint, but I don't think it's really going to look like chrome. You can certainly try it but I think you'll find that you want a 3-step process like the one in the video for a more realistic chrome-like look. I would not go for real chrome plating for such a project.
Regards,
Ted Mooney, P.E.
finishing.com
Pine Beach, New Jersey
---
---
Silver plating of wood
December 15, 2018
Q. Having just read that wood could be electroplated via the use of a conductive paint, I was wondering whether this process could be used to silver plate wood. I am looking at ways to get a small (say 1" by 5") and thin (1/16" - 1/32") piece of wood coated on one or two sides with silver (or gold). Of course the wood will flex quite a bit.
Gabriel Horvath
hobbyist - Lausanne, Switzerland
---
December 2018
A. Hi Gabriel. The procedure you describe will work to get the wood plated, but I suspect it will not have sufficient adhesion for your " ... flex quite a bit ..." requirement. If you can explain what you are trying to do & why, a better answer may be possible.
Regards,
Ted Mooney, P.E. RET
finishing.com
Pine Beach, New Jersey
Striving to live "Aloha"


If you have a question in mind which seems off topic, please Search the Site