Live! From Pine Beach NJ: The world's most popular metal finishing website, and the internet's friendliest corner
topic 3892
Titanium-Cadmium Plating -- What is its Purpose?
A discussion started in 1999 but continuing through 2018
1999
Q. Does anyone know the benefit of using a titanium-cadmium coating in place of a cadmium coating? If possible I would like references to actual data. We are in the process of eliminating the majority of cadmium plating requirements from our parts. Unfortunately we have several parts which require a titanium-cadmium coating. Before we eliminate this coating we are trying to understand why it was specified over cadmium in the first place. Any help that can be provided will be appreciated. Thank you.
Blair Smith
aerospace - Windsor Locks, Connecticut
---
1999
? Could you be referring to chemical vapor deposition of titanium carbide or some other of the new coatings being touted as a replacement for Cd plating?
Best regards,
Tom Pullizzi
Falls Township,
Pennsylvania
---
1999
Q. Tom: I actually mean cadmium-titanium plating. This coating is covered by AMS2419 [link by ed. to spec at TechStreet]. Thank you for your response.
Blair Smith
aerospace - Windsor Locks, Connecticut
---
1999
A. Hi Blair
Titanium - Cadmium plating was developed by Boeing , as an alternative to many other coatings that supposedly offer no hydrogen embrittlement . For the real inside info call Dave Kelly at ASCO products in Seattle; he has a bath and often installs baths and trains operators and as far as I am aware he is the ONLY approved source of the Titanium additive .
regards
John Tenison - Woods
- Victoria Australia
---
1999
A. Letter #3575 mentions TiCd plating and another specification number."We have been TiCad plating per BAC5804 and Cad plating per QQ-P-416 [link by ed. to spec at Defense Logistics Agency, dla.mil] for years at this site.", so it might be worth your while to pop over and read the whole thing.
Tom Pullizzi
Falls Township, Pennsylvania
---
1999
A. I believe the primary benefit of Cad-Ti over Cad is lower susceptibility to hydrogen embrittlement. Apparently Titanium affects the grain size of the plate and thus the ability for hydrogen to escape in post plating baking operations. I am not aware of any data to support this, although I believe people in the Boeing Materials Group did a lot of the pioneering work in the 1960's. We have performed Cad and TiCad plating in this facility for about 10 years.
I am curious what process you are changing to and the data you have to support those changes. The aircraft industry has historically been reluctant to remove cadmium plate, but we would entertain moving away from it also.
John Pease
aerospace - Shelby, North Carolina
---
---
Shops that do Ti-Cad plating
1999
Q. Please provide any information on vendors (job shops) that perform Titanium-Cadmium plating per MIL-STD-1500.
Phil DeMauro
actuation systems - Whippany, New Jersey
---
1999
The following are Boeing approved subtier suppliers who perform Ti/Cad for aerospace applications.

USA California CROWN CHROME PLATING INC
USA California DRILUBE COMPANY
USA California EMBEE INCORPORATED
USA Kansas AIR CAPITOL PLATING INCORPORATED
USA Michigan DIAMOND CHROME PLATING INCORPORATED
USA North Carolina CURTISS WRIGHT FLIGHT SYSTEMS
USA New York LAWRENCE RIPAK COMPANY
USA OH BFGOODRICH
USA Ohio NUCLEAR PLATING INC
USA Oklahoma SOUTHWEST UNITED INDUSTRIES INC
USA Texas MENASCO AEROSPACE TEXAS
USA Washington ASKO PROCESSING
USA Washington HYTEK FINISHES COMPANY
Ward Barcafer, CEF
aerospace - Wichita, Kansas
---
---
White spots under Ti-Cad plating
September 28, 2009
After a Ti-Cad treatment we received back some parts with some white "spots" under the surface. I read on Letter 26828 that the Ti-Cad plating "keeps the deposit from being continuous and allows the substrate to "breathe" to reduce hydrogen embrittlement".
Is there the possibility for which the more "porous" surface permits the humidity air penetration and this phenomena leads to some white spots "underskin"? May this be considered corrosion?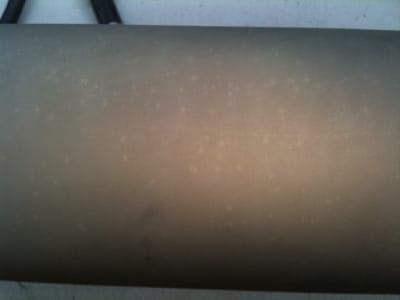 Or could it be a bad surface preparing process during the plating?
Thank you
Camilla Chianella
Plating shop employee - Italy
---
---
Can filtering cause hydrogen embrittlement in cadmium plating?
March 21, 2016
Q. Can a filtering issue in a cad tank contribute to hydrogen embrittlement? Or, will changing/cleaning the tank filter substantially change embrittlement testing results? I can see how filtering may impact adhesion, but I'm not certain how hydrogen embrittlement may be affected. Thanks.
Rob Ogden
- Jamestown New York USA
---
March 2016
A. Hi Rob. I don't see why filtering a straight cadmium plating bath should reduce hydrogen embrittlement. On the chance that you have a Ti-Cad bath, though, we appended your inquiry to a thread on that subject. (In Ti-Cad plating, a slurry of small titanium particles is used in the cadmium plating bath. My understanding is that they are occluded into the deposit in a similar fashion to the way diamond particles are occluded into the nickel plating of tools; they offer an improved "ventilation" so that hydrogen can escape better. If you were to filter out the titanium particles, presumably you could cause a hydrogen embrittlement issue).
Please try your best to describe the situation confronting you? As you see, "what if" questions pull in too many ifs, ands, & buts.
Regards,
Ted Mooney, P.E. RET
finishing.com
Pine Beach, New Jersey
We need "Aloha" now more than ever
---
March 22, 2016
Q. We use a sodium cyanide cadmium process, not ti-Cad. We test for hydrogen embrittlement monthly, per ASTM F519-17A [link by ed. to spec at TechStreet] , recently had a cad plated hydrogen embrittlement test specimen fail at over 100 hrs into the test. The remaining three specimens all passed the 200 hrs requirement, and were then subjected to the additional step load test. One additional specimen failed .1 hours after reaching the 90% NFS threshold. Specimens from the same specimen lot, from our other processes, went through the bake with the cad specimens and these all passed the 200 hr embrittlement test. The operator suggested after the fact that the tank filter was dirty, and needed changing. Hence, my original question: Could/Would a dirty filter/clogged impact hydrogen embrittlement. Thanks

Rob Ogden
[returning]
- Jamestown New York USA
---
April 15, 2016
A. Hi Rob,

Just going to ask for a couple of clarifications: the test pieces went through de-embrittlement (also called embrittlement relief) at the same time and temperature as the other test pieces? 1 off failed the load test at 100 hours and a further 1 failed at the higher load?

So places to look, as I don't think filtration of the cadmium plating tank is the problem (but don't discount it completely).
1. Are the test pieces flaw free? I had a problem a number of years ago where the test pieces suddenly started to fail and it turned out a new person was machining them, but was machining in a flaw, causing premature failure.
2. Check your de-embrittlement time and temperature and also the delay between plating and getting the test pieces in the oven. Again, mystery failure of a one off bath load a few years ago turned out that the operator missed the maximum delay time to get the parts in the oven and the embrittlement damage was already done, part failure was very rapid I must admit (less than 24 hours).
3. Check all of the pre-treatments. An electrolytic cleaner can actually cause test failures. Look at immersion times, chemistry, voltage (for electro-cleaners) etc.
4.Check your cadmium plating tank chemistry, plating rate, times and temperatures.

That should get you started in trying to identify the source of the failure.
Brian Terry
Aerospace - Yeovil, Somerset, UK
---
---
October 27, 2018
Q. Help please CAD gurus!

For TI-CAD plating on HSS (Aircraft MLG) ... is there a rule of thumb for permissible (localised) damage to cad plate ? E.g., size /area ratios /duration?

Due to size and location (and crap OEM design/ with clashing so damage will reoccur if touchup surface) localised touchup using LHE brush cad is not practicable.

Concern is possible hydrogen re-embrittlememt at the exposed base metal (HSS). CAD plate is sacrificial but at expense of H creation at base metal (there is a Cranfield paper about this )...I suspect this is not a big deal if we keep base metal protected from moisture (i.e., source of H).
Doug Jeffries
Aerospace maintenance support (engineering) - Queensland Australia


If you have a question in mind which seems off topic, please Search the Site