Serious Education ... plus the most fun you can have in metal finishing.
Electropolishing of 202 and 304 grade stainless steel
A discussion started in 2005 and continuing through 2017 . . .
(2005)
Q. Can both 202 and 304 grade stainless steels be electropolished with the same mixture in the polishing tank?

If yes, what mixture to be used ? What are process parameters to be controlled (like what is the current to be passed, duration for which the current to be passed, temperature of the mixture in the tank

If not, why? and what are two mixtures to be used?

We tried 304 and 202 in Phosphoric Acid + Sulphuric acid (proportion) 80:20 but are getting whitish layers in some of the area.
Dilip Bhagavant Joshi
Manufacturer of kitchen Trolley drawers in 202 and 304 grades - Nashik, Maharashtra, India
---
(2005)
A. Both 202 and 304 stainless steels can be processed with the same electrolyte, which should be based on a mixture of sulphuric and ortho-phosphoric acids. Your mixture of 80/20 should be OK if they are the correct grade of acids and if you have the correct operating conditions. You do not give your process details, so we can only guess you are using the optimum ones. In the long run, it may be better to use a proprietary solution, as they contain other additives that prolong the life of the solution; they also provide detailed operating conditions, which will vary as the amount of dissolved metal in the bath increases. Making your own solutions is very good for one-off jobs, but to do it on a commercial basis is often a false economy.

Trevor Crichton
R&D practical scientist
Chesham, Bucks, UK
---
(2005)
A. Your solution should work, for best working results your tank temperature should be between 130-150 °F.
Now your 'whiteish layers' maybe be caused by an imbalance of your specific gravity which should be between 1.70 and 1.78. Don't forget to make sure that you have good electrical contacts on all racks and cathodes.
Dustin Colina
electropolishing - Clearwater, Florida, U.S.A.
---
(2007)
Q. What is the difference between grade 202 and grade 304 Stainless Steel?
Laura Dunkley
Buyer - Nashville, Tennessee
---
A. Hi Laura. As Trevor says, no difference in terms of how to electropolish them. For more basic differences not related to this electropolishing thread, please see letter 50226, "Difference between Stainless Steel grade 304 and 202". Good luck.
Regards,
Ted Mooney, P.E. RET
finishing.com
Pine Beach, New Jersey
---
---
February 16, 2017
Q. Sir
I am using electropolishing stainless steel 202 grade using chemical of phosphoric and sulphuric.70:30 ratio. Wire of 5 mm gives good shine but wire of 6-8 mm does not give shine and has whitish layer. I am very confused and tried a lot but always fails. I am using lead cathode.

Anything to change? Please guide me
Amit poddar
- Ludhiana india
---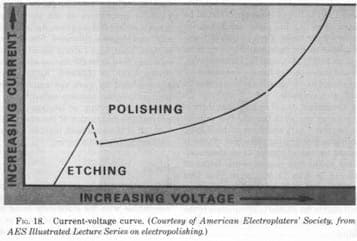 February 2017
A. Hi Amit. If you can find no difference in the material, the problem is probably insufficient current density. You need sufficient current to move from the etching range to the electropolishing range. You can't make up for it with longer processing time. Good luck.
Regards,
Ted Mooney, P.E. RET
finishing.com
Pine Beach, New Jersey
---
February 16, 2017
Q. We electropolish SS steel scooter accessories in solution containing phosphoric acid and sulphuric in 1:1 ratio by 90 weight of solution and balance 10 percent water. After using solution for 10-15 [loads? hours?]specific gravity starts to increase.
And solution working capacity is not as before as iron is dissolved. Guide me How to maintain specific gravity or in which ratio which acid is to be added. And how can we find iron concentration in the acid
Amit poddar
[returning]
- Ludhiana,Indua
---
February 2017
A. Hi Amit. You didn't continue the discussion of wire electropolishing, but moved on to other issues. Please respond to the original discussion before moving on. But see letter 44029, "Analysis of metals & acids in Electropolishing Baths for stainless steel". Good luck.
Regards,
Ted Mooney, P.E. RET
finishing.com
Pine Beach, New Jersey