topic 36387
Vermeil Plating Q & A's. Satin or Matte Vermeil?
(2004)
Q. I bought a small DC gold plating kit. I have an old inkwell made of brass that was originally gold plated. I want to replate it, but want a finish that is flat (dull) or satin. I have heard some call it vermeil. I want it to look old, therefore a shiny gold is not desired. Can I control the gold plating by either the gold solution or not highly polish the piece to apply the finish I desire? Any help would be greatly appreciated.
Hollis Hanson
homeowner - Friant, California
---
(2005)
A. The finish you want is the finish you should achieve before plating. So if you sand blast your item to give it a satin finish, you will be able to plate and maintain the same finish.
Alan Lewis
Watch/Clockmaker and Goldsmith - UK
---
---
(2005)
Q. I am going for a white gold look on a ring. Which is a better plating material -- rhodium or vermeil?
Gail Saenz
individual - Clinton TWP, Michigan, U.S.A.
---
(2005)
A. Hi Gail,
"White gold" rings are made of white gold (this is an alloy of gold plus whitening agents like nickel or palladium) and are then rhodium plated for the brightest white color, brilliance and scratch resistance. If you are interested, we wrote an FAQ on "Understanding White Gold & Rhodium Plating" to quickly explain exactly what white gold actually is, and why it is usually rhodium plated today.
Vermeil is not a type of plating; rather it means jewelry that is made of sterling silver which has then been gold plated so it looks like solid gold. Read on, and Neil Bell explains that Vermeil is not just a "look" but has a legal meaning you would need to comply with.
Vermeil is probably fine for all kinds of jewelry. But remember that -- because of where & how they are worn, and that they're often worn every day rather than occasionally -- rings get so much wear that any plating on their surface has a limited life.
Ted Mooney, P.E. RET
finishing.com
Pine Beach, New Jersey
---
---
Is a vermeil plating business a realistic idea?
July 4, 2009
Q. Hi,

I have recently purchased a small electroplating immersion station with four tanks. My plan is purchase good quality sterling silver jewelry and turn it into high quality vermeil, perhaps also using platinum accents. However, I've heard that vermeil jewelry will tarnish very quickly. Is this true, and if so, can anything be done to avoid the tarnishing?

Also with China and India able to produce jewelry very cheaply, is it realistic that I could enter the market from a domestic house using a small unit? I think that it would be impossible to compete on price, so I would have to rely on the quality of the jewelry as my selling point.

Any comments would be welcome.

Best wishes,
Stephen Steele
hobbyist - Manchester, UK
---
July 4, 2009
A. Hi, Stephen.
One thing in your favor is that the average purchaser is not doing careful cost comparisons; rather, they want to spend $xxx on a present for their wife and get something pretty. Another thing in your favor is that precious and semi-precious metals are expensive, so the cost of labor is proportionally not as important in jewelry as in commodity items.
Yes, gold plating on silver will diffuse into it (mix with it) leading to tarnish, and the work-around can be an initial plated layer of something like nickel plating that does not diffuse with silver or gold. But if the plating really is 100 µin. thick, it can take a good while for that diffusion.
As for business success, if you bring something to the table -- be it outstanding salesmanship, an irrepressible enthusiasm, or a real flair for jewelry design -- success is certainly possible. But we encounter similar questions on other topics like bronzing of shoes, and we tell people that being able to sell the product is the most important part! If you can't sell the shoes, there's no sense making them; and if you can sell them, there's no need to actually make them, you can just re-sell them and let somebody else do the grunt work :-)
Please focus on how you can market your product, how you will find distributors or jewelers, how you will get people enthusiastic about what you have to offer. If, after you do that, you decide that doing the plating in a domestic house would be a necessary part of the plan, then you can investigate the potential downsides of that idea. I would hope that your plan can work with the electroplating being done in an industrial rather than domestic setting because it does involve the use of dangerous chemicals. Good luck.
Regards,
Ted Mooney, P.E. RET
finishing.com
Pine Beach, New Jersey
---
---
Durability of Vermeil Beads on Bracelets
July 23, 2009
Q. I am purchasing a Pandora bracelet. I am looking at many different types of beads and safety chains, many of which are "vermeil" plated. Is vermeil plating durable enough to withstand the wear and tear of being next to other beads on a bracelet? Is this a viable option to solid gold?
Amanda Koch
buyer - Hoagland, Indiana, USA
---
TUTORIAL:

1 µ (micron or micrometer) equals 39.37 µin. (microinches or millionths of an inch), so 2-1/2 microns is 98.4 µin. (approx. 100)
July 28, 2009
A. Vermeil is 2.5 microns of gold over sterling silver and will last longer than an item plated with only a few millionths of an inch of gold but it is not solid gold. If you want the performance of solid gold then that's what you should purchase.
Neil Bell
Red Sky Plating
Albuquerque, New Mexico
---
---
How does 950 silver jewelry need to be marked per jewelry standards regulations?
November 4, 2009
Q. Hi, my name is Eli I am a jewelry designers that started producing the pieces in our in-house workshop. We are currently using 950 silver. We want to comply with jewelry standard regulations on how we need to mark our jewelry pieces? For 950 silver? we are also plating 950 silver pieces with 14k gold, some with more microns than other.

We are also interested in exporting our pieces to US and latin america we would like also the requirements in marking the pieces...is there any specific ISO?

All advice will be greatly appreciated.
Thanks.
Elizabeth Vinelli
manufacturer - San Juan, Puerto Rico
---
November 4, 2009
A. Are you sure that the silver purity is .950?
Sterling silver is .925 silver and can be marked sterling or .925 along with your trademark.
You will need to gold plate your sterling jewelry at least 2.5 microns thickness to label it Vermeil.
Neil Bell
Red Sky Plating
Albuquerque, New Mexico
---
---
Possible Purple of Cassius on Gold Vermeil
September 1, 2010
Q. Hi folks...

My name is Marc Robinson from California and am writing this to you all from Qingdao, China. I have been in jewelry production manufacturing for 35 years and for the last 5 years, have been in the Far East consulting for factories from China to Thailand to India and also in Bali, Indonesia.

I have come across a factory here in China that does 14K gold vermeil plating on sterling silver. (For the US market) I have samples in front of me that have a severe discoloration in very deep hues of purple and deep blue. It is sporadic across the jewelry pieces but is very vibrant in color and depth of discolor. Could this be Purple of Cassius condition that I have read about in the past? If I recall, a possible cause is tin chloride that has contaminated the gold bath...possibly coming from nefariously bad Chinese solder found on some items that are plated. Another cause that I read is stannic acid. Can anyone tell me if this is possibly P of C...or any other diagnosis you would care to offer? Where do I look for possible contamination? Any ideas to a solution?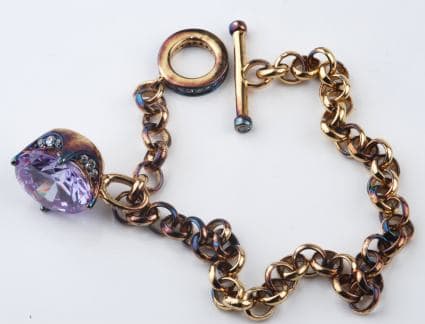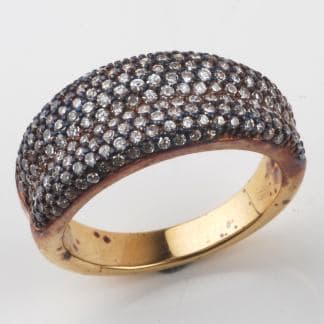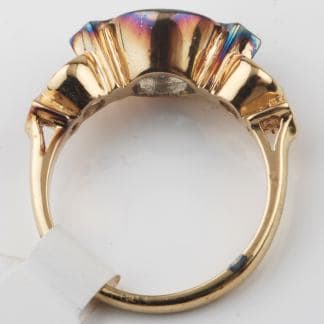 Thanks much ahead of time....
Marc Robinson
Jewelry Mfg. Consultant -
Qingdao, China
---
January 22, 2016
A. Marc. I think you are seeing silver migration through the gold plating. That would imply that the gold is very thin, less than one micron.

First off, you should have a reputable lab measure the gold thickness, then either increase gold thickness to 2 or 3 microns, or plate a nickel barrier between the silver and gold.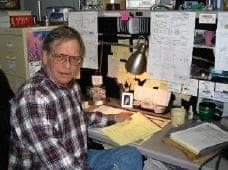 Jeffrey Holmes, CEF
Spartanburg,
South Carolina
---
---
January 22, 2016
Q. I am producing sterling silver jewellery and using gold plating technique. But the gold thickness is not much so it lasts only 1 month or 2. Now, I want to do vermeil for my sterling silver which increase the thickness to 2-1/2 Micron but I don't know any company providing these techniques and liquids. Please help me! Thanks.
Tam Thanh
producer - HCM, Vietnam
^- Privately contact this inquirer -^
---
January 22, 2016
A. Good day Tam.

adv.
Try the company TECHNIC, they are a supplier of gold plating solutions.

Best of luck. Regards,
Eric Bogner
, Lab. Tech
Aerotek Mfg. Ltd. - Whitby, Ontario, Canada
---
July 25, 2016
A. Hi,
I have owned a pair of Vermeil Earrings for 31 years now. I did find that they tarnish, but I found a way to bring them back to brand new condition. I have a liquid Silver dipping cleaner that I use on them and they are as beautiful as the day I purchased them. So, easy to say that Vermeil is my preference for long wearing Jewelry, but hard to find these days.
Suse
Diamond Suse
- Las Vegas, Nevada USA


This public forum has 60,000 threads. If your question seems off topic to this thread, you might prefer to Search the Site