topic 35479
I want to buy nickel brightener formula book
(2005)
Q. Dear Sir.
I want to purchase a formula book for making nickel brighteners -- how do I get it. I am waiting for your reply.
Thanks.
Mirza Rehan Baig
chemicals - Karachi, Pakistan
---
(2005)
Q. I'd like one too. We can hope that somebody here knows where to find them.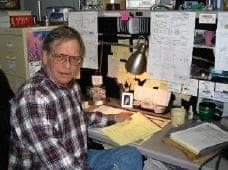 Jeffrey Holmes, CEF
Spartanburg,
South Carolina
---
(2005)
A. Non proprietary, generic addition agents are available, and the chemical formulas for several, as well as the concepts of brighteners, auxiliary brighteners, carriers, and other addition agents for nickel baths are discussed in rather good detail in Volume 5 of the 9th edition of the ASM Metals Handbook, "Surface Cleaning, Finishing, and Coating". Pretty much the same article is in the current edition of the handbook, in the volume now entitled "Surface Engineering".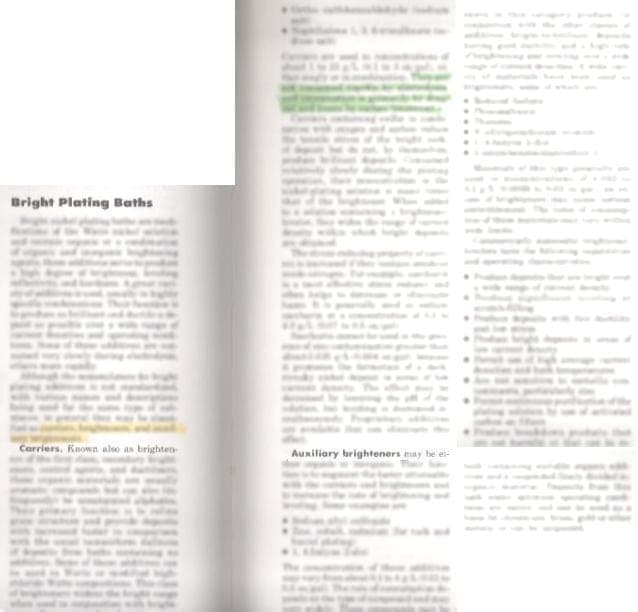 (deliberately blurred to illegibility to not violate copyright, but still convey depth of coverage)
However, proprietary addition agents have been developed to address the various weaknesses in the generic approach. You may be able to get some general info on that by reviewing expired patents.
Naturally, the developers have guarded these improved brightener formulations carefully. Furthermore, these addition agents are often not simple mixtures of readily available chemicals, but rather must be synthesized from precursors. So I don't think that a published textbook describing how to formulate modern proprietary systems exists.
If a "black book" exists, one might well find himself prosecuted for theft of trade secrets if they are involved with it. But good luck.
Ted Mooney, P.E.
finishing.com
Pine Beach, New Jersey
---
(2005)
A. Sure it is possible to buy nickel brightener formulations both legally and not. There are people who will sell a formulation, which they legally own or legally have knowledge of, for a price. However, in the long run this would not, if done legally, be less costly than a user buying their own brightener.

Most of the information in the public domain refers to general formulations and others that are outdated. As an example you can find out that, for barrel nickel, cadmium sulfate and/or epsom salts makes a good brightener. The suppliers of many of the organics (both reacted products and precursors) for modern brighteners have tightened up on the dissemination of the information regarding using their products in formulations. How much money are you really going to save?

If you are going into the chemical business, it will cost a lot of money to procure a formulation from legally proper means.
gene packman
- great neck, New York
---
---
2006
-- this entry appended to this thread by editor in lieu of spawning a duplicative thread
Q. Dear Sir.

We want to purchase nickel brightener-making formula book. How do I get? I am waiting for your reply.

Thanks,
Kenan
[last name deleted for privacy by Editor]
metal finishing - Turkey
---
A. Hi, cousin Kenan. Again, if you are speaking of a published textbook or published articles which offer greater detail than can be found in the previously recommended ASM Handbook, people are welcome to name the literature and to help us all find it; but I've expressed my opinion that deep detail doesn't exist in any published books. It should go without saying that we're not going to facilitate the sale of a black book of trade secrets :-)
Regards,
Ted Mooney, P.E.
finishing.com
Pine Beach, New Jersey
---
---
March 29, 2012
-- this entry appended to this thread by editor in lieu of spawning a duplicative thread
Q. Hi.
I have a shop where I sell nickel brighteners. I know the formulation of all brighteners except maintenance brighteners please send me the formulation of maintenance brighteners.
muhammad abubakar
chemical seller - lahore, pakistan
---

Hello Muhammad.
Regards,
Ted Mooney, P.E.
finishing.com
Pine Beach, New Jersey
---
March 30, 2012
A. Hi cousin. We appended your inquiry to a previous thread on the subject and, as you can see, sorry, but it's not likely to happen :-(
Meanwhile there are many people waiting in line in front of you seeking the information which you say you already possess. So please answer their questions first :-)
Regards,
Ted Mooney, P.E.
finishing.com
Pine Beach, New Jersey
---
---
October 19, 2012
A. Literature I have [from hobby plating site] says saccharin is used for nickel brightener, 1 tbsp per US gallon of solution.
Randy Maunder
- Lawrencetown, Nova Scotia, Canada
---
October 19, 2012
Thanks Randy! Yes, the use of saccharin in bright nickel plating is discussed in the previously referenced article in the ASM Handbook, and your 1 tbsp (1/2 ounce) per gallon sounds reasonable. Saccharin is better used when plating steel parts than when plating diecastings, though, because (according to that article) saccharin in the presence of zinc contamination gives dark streaky deposits in low current density areas. The nomenclature is confusing but, for the record, saccharin is actually a "carrier" or "secondary brightener" rather than a brightener.
Regards,
Ted Mooney, P.E.
finishing.com
Pine Beach, New Jersey
---
---
ACRONYMS:

PAP = Propynol propoxylate / Propargyl alcohol propoxylate
What can I use as a good maintenance brightener for nickel plating
February 24, 2014
Q. Sir, I have used PA PAP for maintenance brightener. What else can I use for good maintenance brightener?

muhammad abubakar
[returning]
- lahore,punjab,pakistan
---
February 2014
A. Hi again, Mr. Abubakar. Things are done a bit differently in my country than in your country & China, so I don't think we can help you.
Here, the suppliers of brighteners study and experiment for many years, and acquire a deep trove of proprietary knowledge about how brighteners function. These suppliers pride themselves that no one in the world knows as much about the subject as they do. They don't sell their knowledge in books, but keep that knowledge confidential and sell blended brighteners to plating shops at far more than their raw material cost, while offering those buyers the free-of-charge technical service & support they require to efficiently use these products to produce highly satisfactory plated components.
The Chinese model is apparently to sell brightener components cheap as commodity chemicals and let the plating shops fare for themselves. It's not that one economic model is good and the other one evil, but that they are not compatible. You just can't ask a Western supplier of plating process chemistry for the knowledge of how to formulate a brightener system, because their business model is to incorporate that knowledge into a product they sell; it's sometimes said that they sell their know-how by the gallon rather than by the paragraph. Good luck.
Regards,
Ted Mooney, P.E.
finishing.com
Pine Beach, New Jersey
---
---
September 6, 2017
Q. I would be glad if you kindly name the books used for the guidance of development of brightener which I can purchase from international market.
S. Najmul Hasan
- Karachi, Pakistan
---
September 2017
Hi S Najmul. Sorry, but I am very confident that no such book exists on the international market. And unfortunately, if it's not from a recognized publisher or authority, we can't put you in contact with the author because we must be very careful to not abet industrial espionage.
You can start with the ASM Metals Handbook vol. 5, which explains the general principles behind brighteners, carriers, and secondary brighteners, but then you'll still have to spend a lot of time reviewing decades of patents to get a deeper understanding. Simply, the major suppliers have spent decades developing brightener systems and they offer the developed chemical systems rather than books, because there is no way to recoup their investment in development cost from the sale of books.
Regards,
Ted Mooney, P.E. RET
finishing.com
Pine Beach, New Jersey
Striving to live "Aloha"


This public forum has 60,000 threads. If you have a question in mind which seems off topic to this thread, you might prefer to Search the Site