topic 34726
Can I use galvanized metal for kitchen tabletop?
May 11, 2010
Q. How about using galvanized steel on an island as a counter top?
Molly Emmer
- Minneapolis, Minnesota
---
May 11, 2010
A. Hi, Molly. I personally think galvanized countertops are not a good idea. It's not that I think the danger is profound (there may be a very tiny amount of hexavalent chrome on galvanized steel). But you would be using something for a purpose for which it wasn't intended, so statistics will never be compiled on whether it's a problem. Plus, galvanizing can discolor to a rusty look long before it's real rust. Solid zinc countertops are an alternative. If you search the site you will find a number of threads about galvanized counter tops and solid zinc countertops. Good luck.
Regards,
Ted Mooney, P.E. RET
finishing.com
Pine Beach, New Jersey
---
(2005)
Q. I made a kitchen table with a galvanized top 5 yrs. ago for a friend. I have read that is not the same as zinc tops. What should I do now.
Richard D
[last name deleted for privacy by Editor]
- Ann Arbor, Michigan
---
(2005)
A. Just make future ones out of solid zinc sheet, Richard. Galvanized metal is steel with a zinc coating and it doesn't offer the durability and polishability of solid zinc sheeting.
It is also possible for some galvanized metal to have a minute amount of chromate on it, and chromate is not a satisfactory countertop surface as chromates are considered toxic. But don't beat yourself up about it for many reasons, including the fact that zinc isn't quite a "food-safe" material anyway (slightly dissolves into acidic foods). Plus I've been to "outdoorsy" restaurants where the table-height cinder block walls are capped with galvanized sheet metal. Most nuts and bolts you've ever touched have chromate on them too, and millions of other metal parts as well.
Don't repeat it, but don't sweat such a triviality: most people my age played with mercury balls as a kid, most mechanics have torched cadmium and chromated hardware, billions of gallons of leaded gasoline were burned, almost everyone of a certain age wore TRIS-treated sleepware, most of us have inhaled large quantities of insecticide, and hundreds of millions of people still smoke.
The best lesson to learn, in my opinion, is simply that it is best to use purpose-built materials, and galvanized sheeting was not intended for food service counters.
Ted Mooney, P.E. RET
finishing.com
Pine Beach, New Jersey
---
(2005)
Q. So how can I get educated on how to recognize zinc from galvanized? I have heard not to weld zinc due to health fumes. Can one solder (lead free solder) zinc safely? Why is it so hard to find people who take on working with zinc countertops? I would like to make creative kitchen tables. Is copper or brass not suitable materials for a kitchen table? I want to learn more about zinc countertop material.
Richard D
(returning)
- Ann Arbor, Michigan
---
(2005)
A. Galvanized means steel sheet with a zinc coating. Zinc is non-magnetic, so a magnet is all you need to tell the difference.
Either solid zinc or zinc coated steel will fume at welding temperatures, requiring proper ventilation, and ruling the method out for an amateur -- but I don't think you can weld solid zinc anyway (it is the underlying steel that you are welding when you weld galvanized sheet).
Solid zinc can be soldered, and I don't think it creates fuming but I haven't done it myself; and in practice, wide zinc countertops are usually made with a rolled seam rather than by soldering. Letter 24550 is a great thread about making/soldering/buying zinc countertops that I'm sure you'll want to see.
Stainless steel countertops are reliably durable, but brass or copper, like zinc, will readily stain from foods. That doesn't mean they are not satisfactory, just that they will look old and stained. I personally don't feel an attraction to metal countertops, and prefer Corian myself, but for those who do, zinc, copper, and stainless are all quite popular. It's a matter of taste. Good luck.
Ted Mooney, P.E. RET
finishing.com
Pine Beach, New Jersey
---
(2006)
RFQ: Hello

I live in NYC and have built a wooden table top to which I would like to cover with zinc sheet, either in one piece or several pieces joined together.

Do you know where I can get this done? I thought tiling it might look good but would prefer larger sheet.

The size of the top is around 8 X 4 ft

Thanks for any help
SEAN H
[last name deleted for privacy by Editor]
- New York, New York
---
(2007)
A. You can cover the tabletop yourself with Zinc. Buy .027" thick zinc sheet on the internet (about $200 or maybe they can sell you a smaller scrap one.) Also buy the solder kit. Cut to approximate appropriate size with big tin snips. Unlike with laminate, you can plan to fold the edges over to do the sides(better to reduce the amount of soldering), or use a strip to do curved edges (do the sides first then), or you can leave the wood edges exposed, which looks cool too. Use contact cement like for laminate and the biggest J roller you can find, like for vinyl flooring. Glue the zinc on and roll it out really well, fold over and glue the sides. Use a router with laminate cutter to trim. Solder the corner seams with a giant electric soldering iron. Be patient, the soldering part is really a pain. You may have to do it over a few times to get it right. Then power sand the whole thing with progressive grits to get the look you want (you will see). Finally, apply pure wax to small sections and rub really hard to remove and polish. Voila!
I forgot to mention, zinc only comes one meter wide, so for a 4' X 8' table top you will need two transverse seams. You can leave the seams visible with no solder, or you can try to solder them (in which case you will need to practice the procedure on a test piece: rout the substrate and lay down a one inch wide backup strip, and allow a 1/16" gap for the solder to fill the seam). Good luck!
Jim Molnar
- Chicago, Illinois
Ed. note: Jim has offered additional great advice on letter 24550.
---
March 28, 2009
Q. Is it safe to use zinc as a tabletop?
Could you possibly get zinc poisoning from the use of it on a kitchen bench?
Jenni Chiew
hobbyist - Sydney, New South Wales, Australia
---
April 3, 2009
A. Hi, Jenni. Zinc countertops are widely used and have long been. Most people apparently feel it is safe. Zinc is not toxic, but it is supposedly possible to overdose on it from zinc cooking pots; it sounds unlikely for a countertop and even more so for a bench.
This is a big website with 60,000 threads and your question has been addressed many times. letter 21703 might be the best place to start. Good luck!
Regards,
Ted Mooney, P.E. RET
finishing.com
Pine Beach, New Jersey
---
November 15, 2010
Q. I've never refinished a piece of furniture in my life; starting with a bang.
I thought I had a zinc table top and planned on sanding it and applying a patina finish. After sanding (not quite done yet) I started having suspicions that it wasn't a zinc sheet but rather galvanized steel(?).

First, I only wore a painters mask during sanding...did I poison myself?
The surface is very shiny...almost like stainless steel countertops...Is it most likely that it is steel because I'm wondering if it might be aluminum? (Magnet stuck)

Now, being unsure what material I actually have - back to the patina finish. I had purchased Cupric sulfate and Ferric nitrate - planning to spot test for desired results.
(golden browns of ferric nitrate is first choice) I'm scared that I might ruin the table top with either of these solutions - will I?
Other options? I can't do a "hot" patina (no torch) - Japanese Brown is catching my eye and wonder if I should go that route rather then the ferric solution.

Another question - once I apply the patina solution/covered with plastic wrap for 1/2 day?
do I have to wipe it down before the spray sealer - thinking not, that I spray immediately.
Thanks for all comments.
Diane Harshman
Amateur - Canby, Oregon USA
---
November 15, 2010
A. Hi, Diane

The painter's mask probably gave plenty of protection for your sanding; you shouldn't inhale anything, so thanks for the reminder that people should wear a mask of at least some sort no matter what they are sanding.
Since the magnet stuck, the sheet is galvanized steel.
You should try your coloring technique on pieces of scrap, not your actual tabletop. The zinc coating is fairly thin, so don't be over aggressive in sanding or etching, and you should rinse off any solution before sealing. It's the reaction products produced by chemicals acting on the zinc that you want to keep, not the chemicals themselves.
Regards,
Ted Mooney, P.E. RET
finishing.com
Pine Beach, New Jersey
---
November 15, 2010
Q. Thanks - just to clarify... didn't I sand off the zinc coating when I sanded down to the "shiny" metal? If so, wouldn't the chemical be reacting with the steel (ferric nitrate ok for steel?) or is the zinc still there "part of" the steel? (How will I know if I sanded too far?)
Diane Harshman
- Canby Oregon USA
---
November 15, 2010
A. Hi, Diane. Galvanizing is a surface coating rather than a diffusion process, so yes it would be possible to sand it all the way off. I don't know what directions you are following or what they are, and don't want to contradict them since they probably work. But there is no point in sanding long or hard as far as I know, so I don't think you would want to actually remove the zinc coating. It probably is hard to tell freshly sanded zinc from freshly sanded steel. I would expect copper based chemicals like cupric sulfate to work on steel or zinc but more rapidly on zinc; ferric nitrates probably the same.
Regards,
Ted Mooney, P.E. RET
finishing.com
Pine Beach, New Jersey
---
February 9, 2012

Hi, I am interested to know if anyone here can tell me of a company selling raw solid zinc sheets in Australia??

The kind for use on countertops?

I can only find people selling zinc for roofing so far.

thanks Ari

ari rose

- melbourne, VIC Australia

---

Ed. note: We apologize that you came here for sourcing info and that that's something we don't offer, Ari. Sorry! We offer camaraderie and technical tips, but we've found that posting sourcing information draws an instant flood of spam, and shills posting with fictitious names posing as satisfied customers, while chasing away any potential advertisers. We regret that we can't help you on that -- this site just plain doesn't work when we let anonymous people get free commercial profit from a posting.
---
April 29, 2012
Q. What a great resource, so glad I found this website!

I am doing a kitchen facelift and am very interested in zinc countertops. From what I've read here and on other sites, I can purchase the sheets of zinc and do it myself. Looks like .27 is the recommended gauge. However, I have an existing handmade (irregular) tile countertop, and I was considering using a thinner gauge zinc sheet and applying it directly to the uneven tile surface (with contact cement and lots of rolling and smoothing) to create a one of a kind countertop that follows the contours of the existing tiles but gives me a new look. I figure if I don't like the finished look I can just peel off the zinc and remove the underlying tiles and use the smooth substrate with the heavier gauge zinc.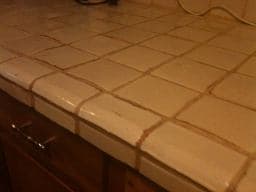 Anyone with experience working wIth zinc care to tell me if this might work or would I just be wasting my time? Since my countertop is already somewhat uneven due to the handmade tiles, I don't think I'd mind the unevenness but would appreciate any thoughts you might have about this idea, thanks!
Kathy h
[last name deleted for privacy by Editor]
- Austin, Texas, USA
---
February 16, 2014
-- this entry appended to this thread by editor in lieu of spawning a duplicative thread
Q. We had a new section of countertops installed in our kitchen and used Galvanized metal for the actual countertop. One counter is a bar that gets mildly used, but the other is a counter in the kitchen and we prepare food on it -- not directly, but food does come into contact with the counter. Someone told me that once there is wear on the metal, it is toxic. Is this something I should replace?
Liane Harsh
- Washington, North Carolina
---
February 2014
A. Hi Liane. We appended your inquiry to an existing thread which already addresses the topic. Personally, I would not take out a galvanized countertop, but I would not make any more. For me it's more a question of it not being an attractive, durable surface; and that it wasn't intended as a countertop surface when it was galvanized, than of actual concern over potential toxicity.
Regards,
Ted Mooney, P.E. RET
finishing.com
Pine Beach, New Jersey
---
---
October 19, 2015
Q. I was going to buy this table and was told it was galvanized aluminum. Would this be "safe" and stain resistant to use in a small apartment kitchen?
x
Is galvanized steel better?
Gretchen Rapp
- Hummelstown, Pennsylvania USA
---
October 2015
A. Hi Gretchen. There is no such thing as galvanized aluminum. Galvanized always means a steel substrate coated by dipping into molten zinc. Unfortunately, descriptions are written by people trying to induce you to buy, not to educate you, so they're rarely very informative, and we really don't know what the table is made of :-(
I'm confident that it is suitable and safe for its intended purpose, but if it was meant to be a base for a TV and home entertainment system, it may not be ideal as a food service counter, as it may not be resistant to spills and frequent wet cleaning.
Regards,
Ted Mooney, P.E. RET
finishing.com
Pine Beach, New Jersey
Striving to live "Aloha"
---
October 21, 2015
Not to state the obvious, but if a magnet sticks to the table top it is steel, not aluminum.
Jim Treglio

- Vista, California
---
---
June 17, 2016
Q. We recently redid our kitchen and bought a galvanized metal table that was made by someone and sold at a local shop. It was the perfect size for our kitchen island countertop. It already had different colors from being outside, including rust, and we liked the look.
A while after installing it, I came across this thread and am concerned about using it! I love the look and how durable it is (we put hot pans on it and drop bags of groceries), especially since our perimeter cabinets are marble. We don't eat food directly off it, but my kids sit at it for breakfast and do homework there. They touch it with their hands and arms. Is there something I should seal it with, to make it safer to touch, but that would still be able to handle hot pans? Or is this not something to worry about? Also, I wipe it clean with unscented baby wipes and when it's wet, it has a certain smell to it. What is that? Thank you!
Holly Thompson
- Franklin, Tennessee
---
June 2016
A. Hi Holly. I personally don't think there is any danger, and I am unaware of any epidemiologist or other health professional studying galvanized counter tops. Galvanized troughs are still used for feeding and watering livestock on farms, and people in remote areas still collect drinking water from rain running off of galvanized roofs.
No one can ever say that something is 100% safe, but I think we can say that raising kids is fraught with hundreds of other potential dangers you will probably want to focus on first :-)
Regards,
Ted Mooney, P.E. RET
finishing.com
Pine Beach, New Jersey
Striving to live "Aloha"
---
June 27, 2016
A. Hi Holly
Metal tables in a domestic situation appears to be popular in America - I have no idea why.
Several queries have concerned toxicity. Very few people eat or prepare food directly on the table top and unless you choose lead there is no credible danger.

But like many safety worries it misses the main hazard. In this situation there is the possibility of a malfunctioning electrical appliance making the table a significant life threatening danger.
It is essential that any exposed metal surfaces are efficiently earthed and this is a legal requirement in many jurisdictions.
You should discuss the local requirements with a competent electrician.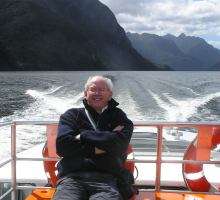 Geoff Smith
Hampshire,
England
---
June 2016

Excellent point that I forgot to think about, Geoff! Fortunately, most newer kitchens will have ground fault current interruptors on all outlets to mitigate shock hazards, but metal countertops should be grounded as you note.
Regards,
Ted Mooney, P.E. RET
finishing.com
Pine Beach, New Jersey
Striving to live "Aloha"
---
June 27, 2016
Q. In response to countertop needing to be grounded...how do I go about doing that? The island has one outlet in it and it's new. What all would I need to do to the countertop or outlet to make it properly grounded and safe? Thank you so much.

Holly Thompson
[returning]
- Franklin, Tennessee USA
---
June 2016
A. Hi. The outlet should be a GFI type, and probably is (all outlets in kitchens and bathrooms should be), and the copper ground wire from the outlet should be connected to the bottom of the countertop. But if the outlet box is metal, and it's screwed into contact with the metal of the countertop, that should do it. If the outlet was installed by an electrician, it's probably already done right.
Regards,
Ted Mooney, P.E. RET
finishing.com
Pine Beach, New Jersey
Striving to live "Aloha"
---
January 6, 2017
Q. I have a zinc table from Restoration Hardware and I want to know is there any way I can test the zinc top for toxins; I am concerned about it.
Val Stok
- Atlanta Georgia
---
January 2017
A. Hi Val. I suppose you could do a lead test and a chromate test. But the thing is, if you don't know what toxins you want to test for, I'm not aware of any good ways to test for all toxins. Good luck.
Regards,
Ted Mooney, P.E. RET
finishing.com
Pine Beach, New Jersey
Striving to live "Aloha"


This public forum has 60,000 threads. If you have a question in mind which seems off topic to this thread, you might prefer to Search the Site