60,000 Q&A topics -- Education, Aloha, & Fun
topic 34726
Can I use galvanized metal for kitchen tabletop?
A discussion started in 2010 but continuing through 2020
May 11, 2010
Q. How about using galvanized steel on an island as a counter top?
Molly Emmer
- Minneapolis, Minnesota
---
2005
Q. I made a kitchen table with a galvanized top 5 yrs. ago for a friend. I have read that is not the same as zinc tops. What should I do now.
Richard D
[last name deleted for privacy by Editor]
- Ann Arbor, Michigan
---
---
2005
Q. So how can I get educated on how to recognize zinc from galvanized? I have heard not to weld zinc due to health fumes. Can one solder (lead free solder) zinc safely? Why is it so hard to find people who take on working with zinc countertops? I would like to make creative kitchen tables. Is copper or brass not suitable materials for a kitchen table? I want to learn more about zinc countertop material.
Richard D
[returning]
- Ann Arbor, Michigan
---
---
2006
RFQ: Hello

I live in NYC and have built a wooden table top to which I would like to cover with zinc sheet, either in one piece or several pieces joined together.

Do you know where I can get this done? I thought tiling it might look good but would prefer larger sheet.

The size of the top is around 8 X 4 ft

Thanks for any help
SEAN H
[last name deleted for privacy by Editor]
- New York, New York
---
---
March 28, 2009
Q. Is it safe to use zinc as a tabletop?
Could you possibly get zinc poisoning from the use of it on a kitchen bench?
Jenni Chiew
hobbyist - Sydney, New South Wales, Australia
---
---
November 15, 2010
Q. I've never refinished a piece of furniture in my life; starting with a bang.
I thought I had a zinc table top and planned on sanding it and applying a patina finish. After sanding (not quite done yet) I started having suspicions that it wasn't a zinc sheet but rather galvanized steel(?).

First, I only wore a painters mask during sanding...did I poison myself?
The surface is very shiny...almost like stainless steel countertops...Is it most likely that it is steel because I'm wondering if it might be aluminum? (Magnet stuck)

Now, being unsure what material I actually have - back to the patina finish. I had purchased Cupric sulfate and Ferric nitrate - planning to spot test for desired results.
(golden browns of ferric nitrate is first choice) I'm scared that I might ruin the table top with either of these solutions - will I?
Other options? I can't do a "hot" patina (no torch) - Japanese Brown is catching my eye and wonder if I should go that route rather then the ferric solution.

Another question - once I apply the patina solution/covered with plastic wrap for 1/2 day?
do I have to wipe it down before the spray sealer - thinking not, that I spray immediately.
Thanks for all comments.
Diane Harshman
Amateur - Canby, Oregon USA
---
---
---
February 9, 2012


Hi, I am interested to know if anyone here can tell me of a company selling raw solid zinc sheets in Australia??
The kind for use on countertops?
I can only find people selling zinc for roofing so far.
thanks Ari


ari rose

- melbourne, VIC Australia




---

---

Ed. note: We apologize that you came here for sourcing info, but that's something we can't offer. Sorry! We've found that posting sourcing information on this no-registration-required site draws an instant flood of spam, shills posting with fictitious names posing as satisfied customers, and competitors pretending to be dissatisfied customers, while chasing away any potential advertisers.
---
April 29, 2012
Q. What a great resource, so glad I found this website!

I am doing a kitchen facelift and am very interested in zinc countertops. From what I've read here and on other sites, I can purchase the sheets of zinc and do it myself. Looks like .27 is the recommended gauge. However, I have an existing handmade (irregular) tile countertop, and I was considering using a thinner gauge zinc sheet and applying it directly to the uneven tile surface (with contact cement and lots of rolling and smoothing) to create a one of a kind countertop that follows the contours of the existing tiles but gives me a new look. I figure if I don't like the finished look I can just peel off the zinc and remove the underlying tiles and use the smooth substrate with the heavier gauge zinc.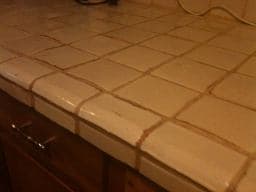 Anyone with experience working wIth zinc care to tell me if this might work or would I just be wasting my time? Since my countertop is already somewhat uneven due to the handmade tiles, I don't think I'd mind the unevenness but would appreciate any thoughts you might have about this idea, thanks!
Kathy h
[last name deleted for privacy by Editor]
- Austin, Texas, USA
---
February 16, 2014
-- this entry appended to this thread by editor in lieu of spawning a duplicative thread
Q. We had a new section of countertops installed in our kitchen and used Galvanized metal for the actual countertop. One counter is a bar that gets mildly used, but the other is a counter in the kitchen and we prepare food on it -- not directly, but food does come into contact with the counter. Someone told me that once there is wear on the metal, it is toxic. Is this something I should replace?
Liane Harsh
- Washington, North Carolina
---
---
October 19, 2015
Q. I was going to buy this table and was told it was galvanized aluminum. Would this be "safe" and stain resistant to use in a small apartment kitchen?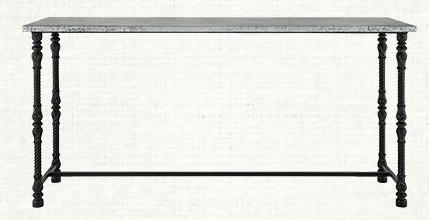 Is galvanized steel better?
Gretchen Rapp
- Hummelstown, Pennsylvania USA
---
---
June 17, 2016
Q. We recently redid our kitchen and bought a galvanized metal table that was made by someone and sold at a local shop. It was the perfect size for our kitchen island countertop. It already had different colors from being outside, including rust, and we liked the look.
A while after installing it, I came across this thread and am concerned about using it! I love the look and how durable it is (we put hot pans on it and drop bags of groceries), especially since our perimeter cabinets are marble. We don't eat food directly off it, but my kids sit at it for breakfast and do homework there. They touch it with their hands and arms. Is there something I should seal it with, to make it safer to touch, but that would still be able to handle hot pans? Or is this not something to worry about? Also, I wipe it clean with unscented baby wipes and when it's wet, it has a certain smell to it. What is that? Thank you!
Holly Thompson
- Franklin, Tennessee
---
January 6, 2017
Q. I have a zinc table from Restoration Hardware and I want to know is there any way I can test the zinc top for toxins; I am concerned about it.
Val Stok
- Atlanta Georgia
---
---
Is my countertop Zinc or Galvanized Steel?
April 16, 2020
Q. Hi Everyone,
I have rusting around my sink,
I can remove it with steel wool, but it comes right back.

Not sure if my countertop is made from ZINC or just Galvanized Steel,

Anyway to find out?

Thanks!
James Toledo
buyer - Oakland, California USA