Not a lecture hall but a roundtable with a seat for you!
60,000 topics spanning 36 years. Education, Aloha, & Fun
topic 21703
Toxic effects from galvanized food preparation utensils
A discussion started in 2003 and continuing through 2020
Adding your Q. / A. or Comment will restore it to the Current Topics page
2003
Q. I recently purchased a stamped steel propane barbecue. Upon inspection I noticed that the heat/flame dispersion plate is galvanized. I realize that many studies conclude that galvanized metals should not be used for any type of food preparation, or storage. A Michigan State University web page states,"Galvanized utensils...should never be used for food preparation or storage." The fact that this particular item has obtained standards clearance to the point of sale, has me greatly concerned.
Can anyone direct me toward any other facts concerning zinc toxicity, especially regarding fumes from heated galvanized steel? Any effects, symptoms, or specific guidelines that are relevant to this human health issue are difficult to find, unless it is about avian zinc poisoning.
Any help is greatly appreciated!-Jeff
Jeff Swayze
- Kelowna, B.C., Canada
---
2003
Q. I have been exposed to steel rust fume while taking steam bath. What are the harmful effects of such fumes on me?
Dheerah GS
- India
---
---
2003
Q. We are building a large outdoor BBQ for cooking a whole pig. Some call these Cajun Microwaves. This will have two sections. The first is a rotisserie section and the second is a large shroud. The wood fire is built inside the shroud and the rotisserie section is placed next to the shroud. The shroud's main purpose is to direct the heat towards the cooking pig.
My question is whether it would be ok to build the shroud from galvanized steel. Since this rig will sit outside the galvanized coating would keep it from rusting. On the other hand, I am worried that the heat from the fire may cause the galvanized steel to give off poisonous gases which could contaminate the pig. Is this true or am I worrying about nothing?
John Greeven
- Corvallis, Oregon
---
2003
Q. Should there be any worry of exposure to hazardous materials when using galvanized metals in applications other than cooking or welding. For example, I've seen a lot of galvanized items at the local Home Depot like nails, framing for shelves...etc. Does the zinc (or cadmium) used in galvanized items like this readily rub off onto your hands or outgas in any way.
Also, how can you tell if a galvanized item contains cadmium? If it does, what safety precautions should be taken?
Thanks!
Tony T
[last name deleted for privacy by Editor]
- Ramsey, New Jersey
---
2003
Q. Well I have enjoyed the discussion on toxic effects of galvanized steel. My question is in a smoker can you use a galvanized pan to hold the charcoal in the bottom of a drum to cook the hanging product? Will the charcoal , say 5 lbs or ten lbs heat up the pan so much that toxic fumes will contaminate the food products during a three or four hour cycle? The pan I want to use is a large new galvanized oil pan. The juice from the food will drop on the coals and the pan. Will this cause the pan to rust and is it cleanable and reusable? Could this type pan also be used for holding water and seasoning above the lower pan and would that seasoning or gravy be edible? Or is galvanized steel just a bad thing to use anytime with real charcoal and barbecued food.
Thanks,
Lew Orban
- Auburn, California
---
2003
Q. I recently constructed a wood fired BBQ. I made the grill myself out of 8 mm stainless steel rods of unknown grade. I was told by an Australian industrial chemist that, when heated to high temperatures, stainless steel releases toxic gases/substances. Is this true?
Eugene Bajada
School Lab Technician - Xewkija, Gozo, Malta
---
2004
Q. My Husband and I have been learning how to do blacksmithing projects. At one of the demonstrations one of the blacksmiths made a cheese slicer. My husband and I each mode one, but now we need to place some wire on it to slice the cheese. My husband was going to buy galvanized wire but I didn't think that it would be a safe choice. Is galvanized wire ok for this type of use? Is galvanized wire safe for use with any food items?
Katherine April
hobbyist - New Orleans, Louisiana
---
2004
Q. Hi - I want to use galvanized steel to cover a kitchen countertop. Food will probably occasionally come into contact with the surface, however, I will not be preparing food directly on the surface. I like the rustic look of galvanized steel, as opposed to stainless steel. Also, a stainless steel countertop is way beyond my budget. Do you know of any reason I should not use galvanized steel as a countertop? Will it contaminate my food if I set dishes on it, or if food touches it? Thank you so much for any help you may be able to offer.
Nancy Jones
- St. Louis, Missouri
---
---
2004
Q. Is it safe to grill directly on a galvanized steel grate in an outdoor fire pit? Will it be safer to burn a couple of hot fires first?
Joe Shamma Jr.
- Salem, New Hampshire
---
2004
Q. Good morning, hope you are doing well, a friend of mine is building a cooking box for roasting pigs out of oak and lining the inside with galvanized sheeting that is used in roofing, question is, is it safe or harmful? Thank you and have a great day.
Juan Correa
computer support - Pembroke Pines, Florida
---
2004
! Wow you just never know what you will find on the internet. I recently was given a 22 pound turkey. Decided to go ahead and cook it. I realized in what. I don't own anything large enough. So I searched around and found what I think is a galvanized pan. Thinking hey, I can line that with foil. And of course wrap my turkey in foil. This will work. That's right I'm no gourmet cook. So you do the best you can. But then this little thought weaseled into my brain. Will this pan put off any poisonous fumes while in the oven. Since my Mom didn't know. The next best thing was the internet. So here I am. I've read everything here.
And most things speak of out door cooking on grills, etc. So, sorry to say. I'm still concerned about putting my turkey in this pan in the oven. So Ted if you respond to my concern. Please be gentle. Oh,, and saw your picture. Are you married? :o) Karen in southern Mississippi
Karen Wise
- Natchez, Mississippi
---
2005
Q. I just found this page and would like to post a related question. I have just added a baffle to my offset smoker so it prevents the heat to get directly from the fire chamber to the food, so it redirects it to the bottom of the cooking chamber. The baffle was supposed to be a piece of non-galvanized, unpainted steel (22 gauge), but since I did not find one, I did buy a similar one made of zinc.

Now, after having mounted it, I'm worried it could be toxic. I have read the answers and they make me think using this would be ok, but just to make sure, can you confirm?

Thanks a lot,
Dioni Morena
- Randolph, Massachusetts
---
2005
Q. I have recently purchased a galvanized steel tub of the sort used for watering livestock. It is an attractive addition to my garden that I use as an outdoor bathtub. I want to use it as a hot tub by elevating it with bricks and heating it from bellow with a propane camp stove. What I want to know is, will the heat caused by the stove be so hot that it will burn off the zinc surface on the bottom of the tub? I'm not so concerned about the toxic fumes as this should not be an issue if the flames are not hot enough to burn off the zinc, and if the zinc does burn off in the area above the flames, fumes should be of no concern after the initial burning. My main concern is that the tub might rust and eventually spring leaks in the absence of the protective zinc coating. If this is likely, what other ways might I heat this tub without causing any damage?
Thanks,
Christopher Sullivan
U.S. Army - North Miami, Florida
---
2005
Q. Is it safe to use galvanized steel lath on a bar b q grill? I was told the heat could cause something toxic to get into whatever is being grilled.
Respectfully submitted,
Roger C. Schustereit
hobbyist - Cleburne, Texas
---
2007
Q. I first would like to say these articles are really helpful. I was just made aware about the "HARMFUL EFFECTS" of galvanized steel and using it for BBQ pits and that it should not be used EVER..and this was from a "Welder" but in my situation it is a 4' 0"" grill for high heat cooking ... such as steaks, burgers, fajitas as well as some oysters... I just want to make sure that this will not pose a problem for my guests if I decide to use this grill. I think I have a safeguard in the sense that there is no top so the fumes will not play a factor since I will only have the desired meats on the grill for no longer that 10 minutes tops. I hope this makes sense ..this is my first time on here. Thank you,
Cruz Garza
consumer - San Antonio, Texas
---
2007
Q. I have built a sauna and the stove is made out of an old propane bottle I use a tiger torch and wood to heat the sauna and the chimney is made of galvanized steel it is actually exhaust pipe that you would use on a bus (it is however new and has never been used as exhaust) so we heat the sauna up and spray water on the stove and chimney, what are dangers of using galvanized here does the pipe get hot enough? I don't have a temperature reading but I can tell you that the stove and pipe all glow red when it is in use I know people say when welding galvanized the get sick I have used the sauna 1 time and feel fine but I am wondering if people can tell me some info
John Randolf
student - Vancouver, Canada
---
2007
Q. As President of the local Board of Meals on Wheels, it has come to my attention that the cooks in the kitchen prepare bread dough in a galvanized pan (the size of a wash tub!) and there is some thought and concern of the zinc content in the tub. Does this pose a threat to the recipients? They cannot find a suitable container,they say. There is no heating done to the pan.
Thanks for your quick response.
Janet T.
[last name deleted for privacy by Editor]
- Florida
---
---
2007
Q. We are planning on making some wiener roasters for a craft, is galvanized wire OK to do so? Thank you, Carrie form Vancouver, Washington
Carrie Walters
- Vancouver, Washington
---
2007
Q. I have a galvanized tub for collecting rainwater. My cat licks the galvanized surface of the tub all the time. Is this dangerous and should I remove the tub? Also, why is she doing this? Is she absorbing something or might she just find it tasty?
Erica Freiberg
- Paris, France
---
2007
Q. Geez, this thread never ends, does it. So here is another question for it.

We are just about finished renovating our home and, in the process, removed an ~5 ft water tank that was used to hold the water pumped from a now-defunct well. The tank appears to be galvanized and was manufactured ca. 1950.

What I was thinking of doing: take it to the local welding outfit and have it cut lengthwise (exact design tbd) and weld on hinges, use if for a BBQ pit and maybe a smoker. I have no intention of cooking directly on the galvanized steel and can put non-galvanized grates at the bottom on which the fuel (charcoal, wood, etc) could rest.
- Is there ANY known risk in recycling this tank in this way?
- Does the age of the tank give an clue as to the composition and, by extension, the risks of using the tank?

Thanks in advance,
Jim

PS. If anyone has a good design idea for the BBQ/Smoker, feel free to share with me!
Jim Greenfield
- Greenport, New York
---
2007
-- this entry appended to this thread by editor in lieu of spawning a duplicative thread
Q. Hello, my name is Steve and I have pieced together a charcoal bbq using 16-ga galvanized steel. I was told by a part time welder that using galvanised steel is not a good choice of steel and that it will contaminate my food?

I am not cooking on the steel, but just using it as a shell to hold the charcoal. I have a stainless steel grill that will be elevated over the bbq, similar to a rotisserie grill. I just want to confirm if what I am using is safe?

Steve
Steve Da Silva
hobbyist - Toronto, Ontario, Canada
---
January 27, 2008
Q. I currently have a galvanized bar top that my toddler eats off of; he mainly eats off of a placemat, but sometimes he will place the food over onto the bartop and eat that -- should I be concerned about poisoning and if so, is there any coating I can add to this top to protect it from leaching?
Shari Robins
- Fairview, North Carolina
---
April 12, 2008
Q. Will it be safe to make an exhaust pipe from galvanized to make a exhaust pipe for a bbq smoker. thanks
Jared Smith
hobby - Bonham, Texas
---
April 20, 2008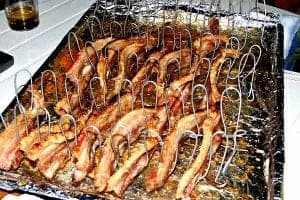 Q. OOPS! I used a self-made galvanised wire rack to puff up the crackling on Pork Rashers that had previously been grilled. Have I poisoned my family?
Tessa Joughin
- Ficksburg, Free State, South Africa
---
September 7, 2008

Hi Ted
I enjoyed your enlightening responses & don't need to ask my question now. You have the patience of a saint - thanks. We used to cook sausages on galvanised wire as children. Perhaps that's why I have a warped sense of humour.
You neglected to inform the lady with the zinc licking cat that the cat will be unfit for human consumption. I actually love cats (but I couldn't eat a whole one).
Bruce
Bruce Johnston
- Hamilton, New Zealand
Ed. note: Thanks, Bruce. That's what kittens are for I think -- Ted
---
September 10, 2008
Q. I understand that zinc is an inappropriate material for a cooking surface. I have read the string of questions and answers carefully. But here's my situation: I need to generate a quick blast of steam for bread baking. One chef suggested that I put galvanized nuts and bolts or galvanized chain link on a sheet pan, heat to 500 °F, and then pour water on them just before putting the loaves in the oven. Sure enough, the hot steel creates a great deal of steam for a few minutes. The bread is not in direct contact with the galvanized metal, but it is in contact with the steam produced. Is the presence of moisture and steam any more likely to cause a problem or toxicity on the food? Many thanks for your wisdom.
Eric Martin
- San Francisco, California
---
---
Is galvanized wire safe if wrapped in tape?
March 4, 2016
Hello! I just purchased galvanized utility wire, I've read on this thread that it's rarely unsafe? I plan on making flower crowns (really popular with middle-high school kids right now) to sell at a convention.
I'm wrapping the wire in floral tape but I'm still a bit anxious because of the safety warning on the back (warning: this product contains chemicals known to the state of California to cause cancer birth defects or other reproductive harm. Wash hands after handling).
Now I know that there are thousands of things that are or could potentially be dangerous, like food coloring and plastic (things that you would have to consume in enormous amounts daily for years before,or if anything actually happens), but I am still anxious about it because it's something that will go on people's heads!
Thanks for your time!
Mr. Adrian Boyer
- Honolulu, Hawaii, USA
---
(you are on the 1st page of the thread) Next page >
---