60,000 Q&A topics -- Education, Aloha, & Fun
topic 34052p2
Manganese phosphate coating on steel
---
---
A discussion started in 2005 but continuing through 2019
April 28, 2015
Q. Dear Sir, I am a custom cutlery manufacturer and have been using Manganese Phosphate impregnated with oil as a corrosion inhibitor on knife blades for some time with good success. I would like to treat kitchen knives the same way, but have concerns about food safety. Is there any reason to suspect that manganese phosphate treatment of carbon steel might be non food safe?
Adam DesRosiers
- Juneau Alaska USA
---
June 2015
A. Hi Adam. First, I don't want to toss around the term "food safe" without agreeing what it means :-(
Many materials that are not "poison" or "toxic materials" are not "food safe" either. For example, zinc is an essential micro-nutrient rather than a poison, but it can dissolve in acids or alkalis, possibly even resulting in an overdose, and it's not food safe by anyone's measure, even if you find no regulation forbidding it. Some of the laws & guidelines set limits on "dissolution" and manganese phosphate is probably not food safe simply by this definition.
Further, if you want to sell such a product there probably are FDA regulations that you can only use GRAS ("generally recognized as safe") materials; there might be NSF or some other applicable guidelines on appropriate materials as well. There are a boatload of regulations in the world today, and they are expanding rapidly; I would not be willing to say that anyone can offer anything for sale without a careful study of the laws regulating that trade.
Then too, what kind of "oil" are you speaking of? A few, like olive oil and mineral oil, are non-poisonous, but petroleum oils are poison.
Interesting question. I hope someone with specific tableware or kitchenware experience will respond.
Regards,
Ted Mooney, P.E. RET
finishing.com - Pine Beach, New Jersey
Striving to live Aloha
---
---
June 20, 2015
Q. Hi,
Good times.
I am Hamidreza from Iran. Sorry that my English is not good.
I have read your article about manganese phosphate and the questions you had.
I do not know during tests of the mixing materials.
Also, after removing the piece of soluble phosphate, phosphate coating on the surface is easily separated.
My solution is mixed as follows:
Manganese carbonate 15 grams per liter
25 ml phosphoric acid per liter
2 grams per liter of nickel nitrate
3 grams per liter of iron sulfate
Sodium fluoride 0.7 grams per liter
Rochelle Salt 2 grams per liter
5 ml of nitric acid per liter
pH = 1.5
Temperature 95 °C
Time: 30 minutes

If possible, please help.
Grateful,
ali ahmad
- iran, tehran
---
---
Manganese Phosphating: Lost power for 5 minutes
October 30, 2015
Q. Hello Sir,
During manganese phosphating process if the power goes for 5 minutes and no DG, what are the quality issues can be raised.
S Raghavi
- bangalore,India
---
---
Different colour tones on finished Manganese phosphating product
November 12, 2015
Q. Dear Sirs, I am involved on the inspections of the manganese phosphating process. I would like to know if the difference in colour tones of the final coated surface be cause for rejection. Other parameters were within acceptable limits. In the project specs, it is stated that uniformity in appearance as acceptance criteria. Does it include colour tone for uniformity? What is the cause of this defect? And how to rectify?
Ng twuan Huat
Quality Inspections - Singapore
---
November 13, 2015
A. Good day Ng Tuan Huat.

Surely you are working toward a specification.
I work with a minimum/maximum coating weight requirement.
I would think the variations in colour tones is a process control issue.
You state all other parameters are within acceptable limits.
What are your parameters? Do you have a water-break free surface on the substrate before phosphating? Are you using an acid dip before phosphate? I have found dilute HCl to produce denser crystals.
Are you using a dilute chrome solution after phosphate, and if so, what is the concentration?
What is your free/total acid ratio? What is your iron concentration? What is the temperature?
All of these parameters affect the crystal structure of the deposit.
What is the substrate, and does it contain chromium, and if so,how much?" Max 2% will prove difficult.
Do you examine the deposit under a microscope to determine the density of the crystals? If so, can you see the substrate in between the crystals?
Are you conducting salt spray testing, and if so, what is the outcome?
There were only three questions in your posting, and I have posted you a total of eleven.
There are many variables involved to produce a uniform/acceptable deposit.
Hope this helps.

Regards,
Eric Bogner
, Lab Tech.
Aerotek Mfg. Ltd. - Whitby, Ont., Canada
---
---
November 30, 2015
Q. I am facing a problem in distinguishing two washers having almost the same dimension and both are Manganese Phosphate coated. How can I ask the two source to make some visual difference? Please answer, it's urgent.
ARIJIT DAS
- JAMSHEDPUR, JHARKHAND, INDIA
---
---
Manganese Phosphate color variation within the same lot of parts
March 22, 2016
Q. I would like to know if anyone has experience with some steel parts that are manganese phosphate all together as part of a big lot show some brown/pinkish appearance
Rodrigo Ramos
- Salisbury, Maryland, USA
---
March 23, 2016
A. Good day Rodrigo.

Good Info @ letter #26694. This web site has a plethora of info!

Regards,
Eric Bogner
, Lab. Tech
Aerotek Mfg. Ltd. - Whitby, Ontario, Canada
---
March 2016

Yes indeed, this site has a plethora.
Regards,
Ted Mooney, P.E. RET
finishing.com - Pine Beach, New Jersey
Striving to live Aloha
---
---
March 9, 2017
Q. Respected Sir,

We have a new coating plant and are going to perform Manganese Phosphate coating. Customer specifications are written as: Zn Manganese / Nickel Manganese / Manganese Coating for different parts. What is the difference in all above three or are all above same?

Are there different types of Manganese Phosphating?
Nitin Gunjal
- Pune, India
---
March 2017
A. Hi Nitin. Unfortunately you can't ask a third party to put a fine point on someone else's slang and casual phrasing. There is no way for me to know whether "Zn Manganese" is intended to mean "Zinc Phosphating with additional dicationic ions of manganese" vs. "Manganese Phosphating", or what exactly "Nickel Manganese" was intended to mean, or whether "Manganese Coating" was intended to mean "Manganese Phosphating". Guessing is not the way to proceed; you must get clarification and hopefully mutually agree to a more carefully worded specification.
Normally there will be additional criteria like salt spray hours for testing, coating weight, compliance with a specific standard number from a generally recognized organization like ASTM or ISO, etc. Good luck.
Regards,
Ted Mooney, P.E. RET
finishing.com - Pine Beach, New Jersey
Striving to live Aloha
---
---
June 26, 2017
Q. Dear readers,

I have set up zinc phosphate and manganese phosphate coating plant in our company.

I wanted to know if we can distinguish parts which are zinc phosphate coated from those coated with manganese phosphate.
Karthik Padmashali
- Pune, Maharashtra, INDIA
---
June 2017
A. Hi Kathik. Tracking the parts seems a lot more practical than mixing them and then chemically testing every individual piece to re-separate them.
Although I personally have very low confidence in visual identification of finishes, I think only you can answer whether your people can reliably visually sort your specific zinc phosphate from your specific manganese phosphate. Sorry to be of no help :-(
Regards,
Ted Mooney, P.E. RET
finishing.com - Pine Beach, New Jersey
Striving to live Aloha
---
July 20, 2017
A. Regarding visual identification of phosphate coatings:
Zinc phosphate coatings will typically exhibit a dark gray color. Manganese phosphate coatings will typically exhibit a dark black color.
Daniel Englebert
Imagineering Finishing Technologies - South Bend Indiana
---
---
Glittery Manganese Phosphating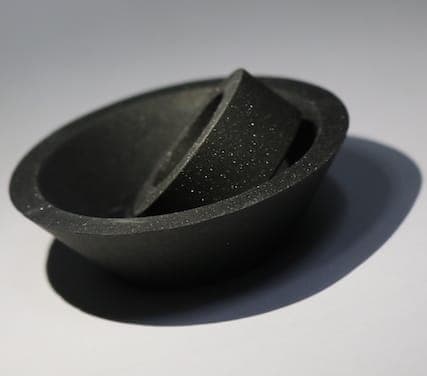 August 20, 2017
Q. Hi,
I am Jerin. I am from U.A.E. I happen to do manganese phosphating on a small component but ends up with glittery look. Can anyone help to know the reason why?

Thanks,
Jerin
Jerin James
- United Arab Emirates
---
August 21, 2017

Hello Jerin, are you using a surface conditioner before the phosphate?

Yohands Rey




KAT - Chihuahua, Chih., Mexico





---

August 22, 2017

A. Hi Jerin!

You seem to have big crystals in your part, you can use a grain refiner (your phosphate vendor may have one) or you can manage the crystal size with your Total Acid/Free Acid relation.

Big crystals for a big relation (TA/FA), small crystals for a small relation. Your vendor may have an operative range for this parameters, you can work to manage this value low and get less crystal size and less "glitter".

Hope it works! Best regards!

Daniel Montanes




TEL - N FERRARIS - Canuelas, Buenos Aires, Argentina




---
August 23, 2017

Hi Yohands, Thanks for your reply. In order to remove oil- film/grease from surface, we cleaned the surface with normal detergent, then had a rinse.

Hi Daniel, Thanks for your reply. Perhaps that would be the problem. I would try as you suggest :)
Jerin James
[returning]
- United Arab Emirates
---
---
finishing.com is possible thanks to our supporting advertisers, including this shop: