World's #1 finishing resource since 1989
No login needed: Chime right in
topic 33774
Gold plating on sterling silver, Vermeil
Current question:
December 17, 2020
Q. Hi Guys,

My Gold plating Supplier is seeing some issues when gold plating a thick layer (3 Microns or more) on our sterling silver jewellery.

We see this issue mostly on highly polished/mirror polished pieces. It shows as stains or a patchy / Flamelike finish: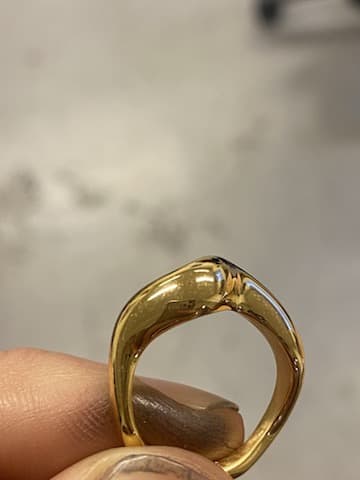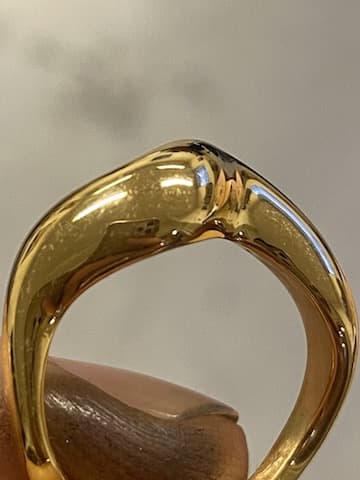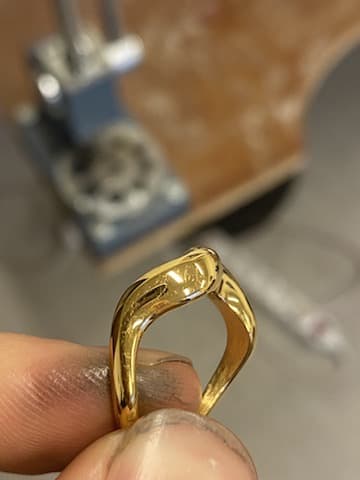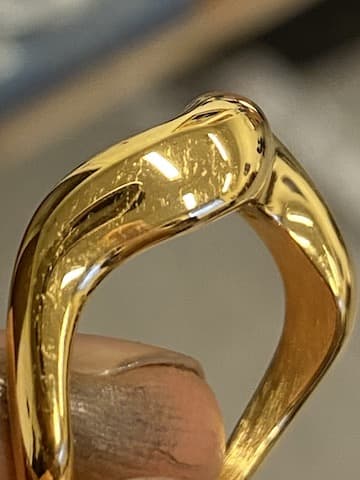 If we go over the jewellery quickly on our buffing wheel afterwards, the stains get removed, and we still have most of our gold layer intact. So this means that the stains are shallow and probably just on the outer layer of the plating.

Of course this is a lot of extra work and money to need to buff the pieces after plating, so this is not a good solution.

If you look at attached images, does anybody know what the reason could be? And how we could avoid this issue?

Super Grateful for any tips or thoughts that I can forward to our gold plating supplier.

Kindest regards
Jimmy
Jimmy Kamhieh
- BORAS VASTRA GOTALAND, Sweden
---
December 19, 2020
Q. Hi guys,

Thanks for your answers, we actually already have a barrier plating of Palladium on all our pieces, so this is not the issue.

Thanks anyway and If anyone else have seen something similar before or have an Idea What the Cause could be I would be very grateful.

Kind regards
Jimmy
Jimmy Kamhieh
[returning]
- BORAS VASTRA GOTALAND, Sweden
---
---
---
Previous closely related Q&A's starting in:
2000
Q. I have tried gold plating sterling silver before, and have never had luck. I will clean with a sodium hydroxide formula then I will rinse and try to etch with a sulfuric acid etcher and it immediately get a black coating on it. what should I do to gold plate sterling silver? I use a potassium cyanide gold.
Much Appreciation
Barrett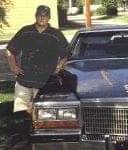 Barrett Russell
Saskatoon, Saskatchewan, Canada
---
February 14, 2013
Q. Hi, thank you for this information. Is the nickel coating you recommend here problematic for jewelry wearers who have an allergic reaction to nickel? If so, is there another solution that will create the barrier required for long-lasting 1 micron gold plating on top of sterling silver?

Thanks!
Rebekkah Kumar
- Gurgaon, Haryana, INDIA
---
---
---
2004
Q. I bought a small DC gold plating kit. I have an old inkwell made of brass that was originally gold plated. I want to replate it, but want a finish that is flat (dull) or satin. I have heard some call it vermeil. I want it to look old, therefore a shiny gold is not desired. Can I control the gold plating by either the gold solution or not highly polish the piece to apply the finish I desire? Any help would be greatly appreciated.
Hollis Hanson
homeowner - Friant, California
---
---
2005
Q. I am going for a white gold look on a ring. Which is a better plating material -- rhodium or vermeil?
Gail Saenz
individual - Clinton TWP, Michigan, U.S.A.
---
---
2005
Q. I am not a jeweler but I have a jewelry/metal question. I received some sterling silver earrings as a gift, but I am allergic to them. Is there any way to plate the posts and backs of these earrings in gold so I will be able to wear them? If so, where can I go for this and is it worth it to do so? I like the earrings quite a bit and don't want to have to return the gift.
Christine Guarino
non-jeweler - New Paltz, New York
---
---
Is a vermeil plating business a realistic idea?
July 4, 2009
Q. Hi,

I have recently purchased a small electroplating immersion station with four tanks. My plan is purchase good quality sterling silver jewelry and turn it into high quality vermeil, perhaps also using platinum accents. However, I've heard that vermeil jewelry will tarnish very quickly. Is this true, and if so, can anything be done to avoid the tarnishing?

Also with China and India able to produce jewelry very cheaply, is it realistic that I could enter the market from a domestic house using a small unit? I think that it would be impossible to compete on price, so I would have to rely on the quality of the jewelry as my selling point.

Any comments would be welcome.

Best wishes,
Stephen Steele
hobbyist - Manchester, UK
---
---
Durability of Vermeil Beads on Bracelets
July 23, 2009
Q. I am purchasing a Pandora bracelet. I am looking at many different types of beads and safety chains, many of which are "vermeil" plated. Is vermeil plating durable enough to withstand the wear and tear of being next to other beads on a bracelet? Is this a viable option to solid gold?
Amanda Koch
buyer - Hoagland, Indiana, USA
---
---
August 12, 2009
Q. I am trying to gold plate a sterling silver round dome plate 136.0 mm in diameter by 0.5 mm in thickness. It covers a gold plated chalice. Should it be nickel plated before the gold plating? The solution I plan to use is Clean Earth 24kt. No. 45.216. Our Plating unit is a Riogrande Midas 335.048 up to 6.0 Volts. Any suggestions?
Charles Smith
- Charlotte, North Carolina
---
---
How does 950 silver jewelry need to be marked per jewelry standards regulations?
November 4, 2009
Q. Hi, my name is Eli I am a jewelry designers that started producing the pieces in our in-house workshop. We are currently using 950 silver. We want to comply with jewelry standard regulations on how we need to mark our jewelry pieces? For 950 silver? we are also plating 950 silver pieces with 14k gold, some with more microns than other.

We are also interested in exporting our pieces to US and latin america we would like also the requirements in marking the pieces...is there any specific ISO?

All advice will be greatly appreciated.
Thanks.
Elizabeth Vinelli
manufacturer - San Juan, Puerto Rico
---
---
Possible Purple of Cassius on Gold Vermeil
September 1, 2010
Q. Hi folks...

My name is Marc Robinson from California and am writing this to you all from Qingdao, China. I have been in jewelry production manufacturing for 35 years and for the last 5 years, have been in the Far East consulting for factories from China to Thailand to India and also in Bali, Indonesia.

I have come across a factory here in China that does 14K gold vermeil plating on sterling silver. (For the US market) I have samples in front of me that have a severe discoloration in very deep hues of purple and deep blue. It is sporadic across the jewelry pieces but is very vibrant in color and depth of discolor. Could this be Purple of Cassius condition that I have read about in the past? If I recall, a possible cause is tin chloride that has contaminated the gold bath...possibly coming from nefariously bad Chinese solder found on some items that are plated. Another cause that I read is stannic acid. Can anyone tell me if this is possibly P of C...or any other diagnosis you would care to offer? Where do I look for possible contamination? Any ideas to a solution?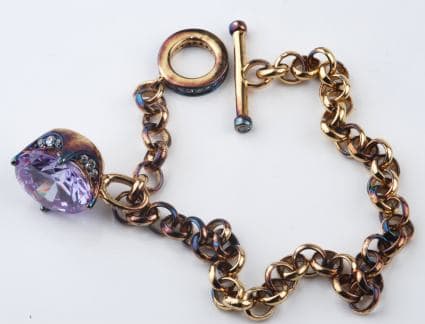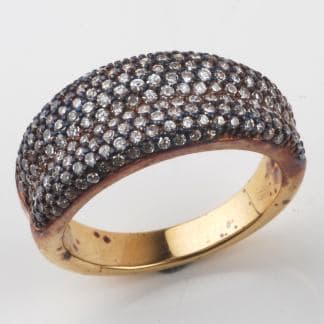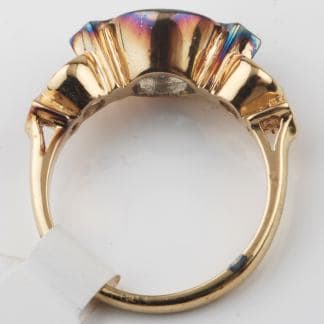 Thanks much ahead of time....
Marc Robinson
Jewelry Mfg. Consultant - Qingdao, China
---
---
July 24, 2013
Q. Hi,

I wanted to gold plate silver jewelry. I am looking for solution to gold plate silver jewelry.

After lots of research on internet I found that there should be barrier between silver and plated gold else plated gold fade away in few months. Even if we do very thick gold plating on silver then also it will fade away eventually.
To avoid this we may need to plate silver first with Copper or nickel or white bronze etc. White bronze is advisable compared to others I think.

I am looking for complete solution/kit to gold plate silver jewelry which also take care of barrier coating of white bronze(or any which is not allergic) on silver before gold plating. Could you please provide details on the solution which I am looking for or details of any other related product which can do similar task.

I wanted to gold plated silver jewelry with professional finish and should last for at least 3 years.

Thanks
Himanshu S
- India
---
---
June 11, 2014
-- this entry appended to this thread by editor in lieu of spawning a duplicative thread
Q. My engagement ring was a silver color, but we wanted gold. So the jeweler did some kind of plating/finish on it. It has only been 6 months and its changing back to its original silver color. What is the solution.
MICHELE QUAST
- st thomas virgin islands
---
---
December 21, 2014
Q. Living in Miami, our silver candlesticks, flatware and other items tarnish terribly. I would like to have them gold plated with White gold to keep the look. The candlesticks are ornate and have significant detail work.

Does white gold plating exist?
Does it work with ornate candlesticks?
Do I need a nickel or other middle layer?
How thick should it be? candlesticks? flatware? (used once to twice a week)
Does anyone have a recommendation of a professional in the Miami area with experience?
Does the silver need to be professional polished first?
What is a ballpark figure for what it should cost?

Any other thoughts or recommendations welcome.

Thank you
Elly
Elly Kutoff
- miami Florida usa
---
---
February 25, 2015
Q. I have a 925 sterling silver band size 12, 15mm wide band -- a double small chain link top and bottom with elephants walking all around it. Just giving you this info in case it matters which it probably does not.
I can polish it on my loose muslin wheel with white rouge and it comes out great, but dulls in about 2 weeks. Where can I send it to have it plated in 14 or 18 Karat gold so it will last for years? Can they plate it 2 or 3 times so its thickness will stand up and I can buff it every so often so it looks great? Thank you for your time!
richard roterud
- Mesa Arizona
---
---
Plating with color formation which looks like natural flow
September 25, 2015
Q. Dear sir,
Recently I came across a newly patented process, viz.,
1. precision casting of precious metal jewelry using natural materials.
2. pipe type fine metal thread manufacturing method & the fine metal threads using porous metals
3. methods to apply gradation to ornaments and the ornaments that are formed with gradation.
These processes are used to exactly replicate the color formation in a flow or any other object found naturally in nature by plating process.
What exactly are these processes and how are these done? Can someone please shed light on these subjects?
I am very much interested in knowing more on these subjects as I want to apply these procedures in production of jewelry.
Can anybody help?
I would be grateful if anybody can shed light on these subjects.
Awaiting for your reply,
Best regards,
PRAKASH V PAI
- Mumbai, Maharashtra, India
---
---
January 22, 2016
Q. I am producing sterling silver jewellery and using gold plating technique. But the gold thickness is not much so it lasts only 1 month or 2. Now, I want to do vermeil for my sterling silver which increase the thickness to 2-1/2 Micron but I don't know any company providing these techniques and liquids. Please help me! Thanks.
Tam Thanh
producer - HCM, Vietnam
---
---
May 29, 2016
Q. I am trying to figure out how thick (in mm) the surface will be if we electroform at .1 amps per square inch for 1 hour. The metal we would be electroforming onto would be silver, What is the accepted thickness for gold electroforming on jewelry. This would be done with a pulse plating supply.
vic masciarelli
- Northborough, Massachusetts
---
(You're on the 1st page of this topic) Next page >
---
adv.: Discover the choice made by manufacturers
nationwide for high quality jewelry plating & finishing