topic 33099
Automotive chemical dip; a good idea for my car?
A discussion started in 2004 but continuing through 2017
2004
Q. Hello. I have a 1966 Pontiac Bonneville that I'm restoring. It was a PA car for the first thirty years of its life, so the rust is everywhere. Particularly at the base of a couple doors, the bottoms of the fenders, and the windshield channels.
I'm currently stripping the car of trim and interior to head to the body shop and I'm curious how far I should go.
-would media blasting be effective at getting in all the nooks and crannies to remove all the rust? or should I completely strip it and do a chemical dip?
-what type of vague ballpark cost should one expect to pay for a dip of all the body panels?
-any downside to dipping?
-I've removed all glass, window regulators, wiring, and basically everything but steel. When tearing down for stripping, do I have to remove the latches, door lock levers/pulls, and other peripherals? They appear to be entirely metal, so can they stay and get dipped too? Will the door latch springs weaken when dipped?
-The parts that I've removed like window channels and regulators have some rust as well. Can I dip those in something at home? Can I buy 5 gallons of something like a light acid and dip them for a while to eat the rust off?
-will dipping remove the zinc from galvanized parts like the window regulators?

The car is now in CA. I've already spent years and tens of thousands on mechanical rectifications and plan on many more thousands in paint and body, so I can't imagine being happy with a quick fix paint job. I've done everything else "right" so far and don't want to skimp on body work that would just bubble again in 5 years. I know that is a big list of questions, but I wanted to get some education on the subject before posting over in the commercial RFQ looking for dippers. Why waste your time looking for one if I'm not sure I need it, right?
Thank you for your consideration on my remedial questions and feel free to offer any other information you feel might be important. If you wish to view the car, you can visit http://www.curtisandkim.com/bonneville.htm. Its a three page site and there are a few photos showing some of the rust damage.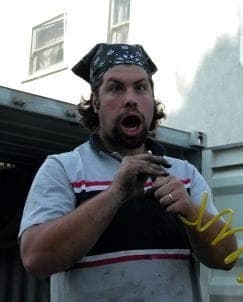 Curtis Mittong
private auto restorer - Los Angeles, California
---
2004
A. Chemical stripping of old paint and rust is a great way to prepare a car body. It can get into inside corners and panels where scraping and blasting cannot. Talk to a shop which does this work about your other questions. It's not a cheap process, but it is a good one. I have a question. Why would anyone want to restore a 66 Bonneville?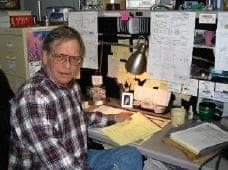 Jeffrey Holmes, CEF
Spartanburg, South Carolina
---
2004

A. You might want to check out letter 40982, it talks about dipping cars as well and has some information you may find useful.

With regards to dipping smaller parts at home - most any weak acid will eat the rust without (from what I understand) adversely affecting the metal. Phosphoric is probably the best since it will help protect the steel from rusting again afterward. Citric is one of the easiest to get a hold of - I've successfully de-rusted stuff by soaking it in store-bought lemon juice over night. Hydrochloric (HCl, Muriatic) you'll want to avoid - the Chloride Ion will promote rust if you don't rinse it off completely.

Good luck.

Jim Gorsich

Accurate Anodizing Inc.

Compton, California, USA





---

2004

Q. Why restore it? Probably for the chicks. :) Honestly, I've always been a fan of the mid 60s GMs, in particular Pontiac. My A#1 dream car is a 67 GTO convertible.

Thanks for the reply. Its good to get some answers from knowledgeable people. That's enough info to get me started over on the other side requesting some dipping sponsors to step up.

Any other thoughts?




Curtis Mittong

[returning]




private auto restorer - Los Angeles, California




---
2004

Close, but the '64 GTO is actually THE dream car, Curtis. I was 17 then. A Corvette or XKE was beyond dreaming about for anybody in my town. Then Pontiac takes their famed 389, puts tri-power carbs and a Hurst 4-speed floor shift on it, and stuffs it into an inexpensive light-weight compact car you could buy at any dealer.
It was a bolt out of the blue with no competition -- the birth of the muscle car.
Not that I could get my parents to buy one; but it sure made me jealous that other kids had them.
Ted Mooney, P.E.
finishing.com
Pine Beach, New Jersey
---
2004

A. Curtis: Read through your post--read the answers to your posts. One thing to consider--make sure the folks who "dip" your cars body do an exemplary job of removing ALL residue of their product (acid/caustic, etc.) and then offer some neutralization product to soak/wash the body afterwards. The products used to remove the rust/junk from the body can creep out under your finished body/paint work for some time afterward and wreak havoc on what was once a beautiful paint job. Just a caution for you.

Bill Miller




- Shinnston, West Virginia





---

2004

Q. I agree that the 64 was a revolutionary street car, but I like the look of the 66-67 venturi shape.

Thanks everyone for posting; I have one more question if you're still monitoring this thread. What concentrations of acids (most likely phosphoric on your recommendations) do you suggest? I have the luxury of time, so overnight soaking is always an option.




Curtis Mittong

[returning]




private auto restorer - Los Angeles, California




---
2004
A. Great to see another beautiful Pontiac being restored.
If you don't want to use Toxic or harmful treatments to get the rust off your car, try Electrolytic rust removal. The main ingredient is, common household washing soda [linked by editor to product info at Amazon], mixed with water, and a suitable bath to put your parts into, then you need a battery charger
[linked by editor to product info at Amazon] , or an Arc welder which puts out DC current. Here's an excerpt from one of many sites out there which deal with just such a setup:
Easy way to clean rust and grease, and, in some cases, paint, from your rusty cast iron and sheet metal parts. Taking advantage of common household cleaning products, items many of us have laying around the garage, kitchen or laundry room, and some science, you can clean parts from a single bolt up to an entire trailer frame through a process known as "electrolysis".
What you need:
A non-conducting container - a large plastic bucket works really well. Battery charger - big is better, however even one able to produce 6 to 10 amps should do. A student recently used my site as the basis for a school project and used a computer power supply in place of battery charger. Sacrificial electrodes. Concrete reinforcing rod works well (rebar) cut into lengths about 4" taller than your bucket or container (Do not use stainless steel! The results are a health hazard and illegal). Laundry soda, also called washing soda [linked by editor to product info at Amazon]. Wire and/or cables for connecting electrodes together. Water. Small lengths of small chain (used to suspend the rusty parts in solution) or some other means to suspend the part to clean into the solution.
Alex Murray
- Mission, British Columbia, Canada.
---
2004
Q. Thanks for the reply, Alex. I did a search on the internet and couldn't find this exact process. I'd hate to dive into this project without the proper procedure; ya know. water and electricity and all. Any links or more info you can offer?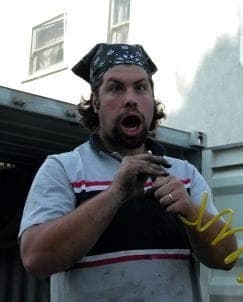 Curtis Mittong
[returning]
private auto restorer - Los Angeles, California
---
2004
A. See US Patent 6294072, which covers electrolytic de-rusting/de-scaling both with and without an impressed electric current.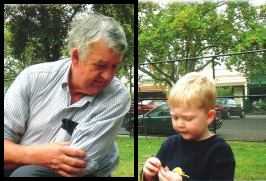 Bill Reynolds
consultant metallurgist
Ballarat, Victoria, Australia
We sadly relate the news that Bill passed away on Jan. 29, 2010.
---
2005
A. Hello Curtis- and fellow enthusiasts- I have talked with an auto paint and body shop, tech. re: rust removal.. they have used "rust-away".. a pre-diluted..acid based product, which needs to soak thru paper towels..and covered with sheet plastic for 30 -to 45 min. then removed with pref. a power washer -and mild soap..after the surface dries- you would need to wipe or spray a Self-Etching Primer [linked by editor to product info at Amazon], such as Dupont's aerosol can formula to keep that rust from just starting over.. don't attempt to sandblast that rust. or the body panels will be destroyed- or at best warped beyond repair..
Good luck,
James Brandon
-Tyler, Texas
---
2005
A. Hello,

I own and operate a dipping shop in Oregon. I have read the responses to the question regarding the dipping. Yes, It can be somewhat costly but the results are amazing. The amount of time it saves alone will cover the cost of dipping the parts. Something to remember is the parts and completely submerged. That means it gets most everything clean. When blasting it will only remove what you can point the gun at. Then the parts will rust right away if not
primed.

Many times we will remove parts from the hot tank (caustic,paint removal stage) and pressure wash them to find they look fine. The part, lets say a fender, then goes into the acid tank (phosphoric,derusting stage) and when removed we will see small holes where the metal was thinned by rusting from the backside. Most fenders have a supporting brace. This Brace does a great job at collecting dirt which can contain moisture which then causes rust. In a car body areas such as rocker panels collect the same dirt and the rust is again a problem that could come back. When these parts get dipping in the hot tank and then washed it is amazing to see how much foreign debris such as dirt, sand, french fries, etc.. gets washed out.

A question that get asked a lot about our process is "how do you get chemicals out of the seams" or "Will it bleed back out later after the car is painted". The answer is no!
This process, when done correctly, will not come back. The first stage in our process is paint removal with hot caustic soda. This is what removes paint or could cause a problem later. It is an alkaline solution at the high end of the pH scale. When the parts are removed from there they are carefully pressure washed. Then the parts are placed in the acid tank for rust removal. The acid tank is at the bottom end on the pH scale. This is where the parts become neutralized from the paint removal process. Then the parts again get pressure washed then coated with a rust inhibitor.

Lots of people use Ospho [linked by editor to product info at Amazon] (rust killer) in their cars for killing rust. Ospho is strong Phosphoric acid. If anyone was to have a problem with acid coming out of seams and removing paint it would be those people because of the concentration. I've never heard of that being a problem.

Anyhow, I hope this may answer some questions about dipping. My family and employees are hot rodders and we really enjoy what we do. We get to see some very unique cars and parts go through our shop. Thanks,
Jon Mannila
- Eugene, Oregon
---
2005
Q. Jon, thanks for the good input. I too am about to have my first vehicle stripped. I have heard great things about the process and look forward to seeing the results.
You answered one of my concerns, which was potential leakage later.
Nick Menudier
- Sherrills Ford, North Carolina
---
2006
Q. I have had several things dipped in the past and all have turned out great, but my next project I want to have the car body EDP primed (like the replacement fenders and such). Who does that to entire car bodies? How much does that run if anyone does that?
Mike Woodford
- Clarksville, Ohio
---
2006
Q. There is a place in MI that dips cars into a acid bath and then into a sealer/primer bath.they are called Redi-coat. I have a 58 Plymouth 2-dr hard top I'm about to strip. I've been looking into a new process called (thermal striping) there is a place around the Dayton Ohio area that does it. If you or anyone else could give a little info on either one of these process to me that would be really GREAT!
Bill Wayland
- Covington, Kentucky
---
2006
Q. Wow. To some of the guys on this site I'm sure I'm just a young punk, being that I am only 19 years old. however I am just as much of an auto enthusiast as the best of them. I am a mechanic specializing in import turbo tuning, and I am currently building a 92' Nissan 240sx and an 81' Camaro both with brand new fuel injected turbo engines. I thought I had this amazing idea that instead of just sanding down cars to remove rust, wouldn't it be amazing to be able to just dip it in some type of acid and then dip it right in primer to get EVERY bit of junk ridden on? well then I find out people already do it and I think its awesome. However I am in Pennsylvania and cannot find any place that does chemical dipping and was wondering where the closest shop would be, does anyone know? thank you,
Jason Stasen
- Downingtown, Pennsylvania
---
2007

RFQ: I am trying to find a place nearby that does the chemical dipping process also....any ideas.
Thanks

Kevin C

[last name deleted for privacy by Editor]

- St Augustine, Florida

---

2007

I too am getting ready to have my father's '65 El Camino restored and would like to find a dipping facility locally, or within say 500 miles of Phoenix, AZ. Any help would be GREATLY appreciated.
Thanks,

John K

[last name deleted for privacy by Editor]

- Tempe, Arizona

Ed. note: It disappoints us that those dipping shops don't advertise at finishing.com when all the world is looking for them here :-)
But until they wise up, try looking in "Hemmings Motor News" [link is to product info at Amazon] as I've seen advertisements there from time to time.

---

2007

RFQ: I too am looking for the closest place that does the dipping. I have a '31 ford 4 door sedan body that I need dipped. Any info in the Bakersfield, CA (central or southern Cal area) area would be great. Thanks.

Jay W

[last name deleted for privacy by Editor]

- Bakersfield, California

---

August 13, 2009

RFQ: I have a 1964 hardtop 4-door Chevy Impala that I am trying to get dipped and restored for a small fee. I cannot afford a large price, I have 6 kids. It is currently at my mother's house in Alabama. I am in the Army and am currently stationed at Ft Polk, LA.

John Y

[last name deleted for privacy by Editor]

military - Ft Polk, Louisiana

---

May 28, 2010

RFQ: I am also looking for a dipping service/location for an entire body in San Diego area or Southern California.

Richard Blaisdell

auto restorer - Pine Valley California

---

August 19, 2011

A. Try Redi Dip in Tempe AZ between Mcclintok and the 101 on the east extension of Rio Salado.

roland oxborrow

- phoenix Arizona
---
---
Rust treatment automobile frame inside and out
October 26, 2017
Q. I intend to stop the rusting of the frame of my wheelchair van. The company that lowered the floor made alterations that made the frame channels rust more quickly. That said - I am looking for a way to treat the frame channels internally. I will use a trigger sprayer for the outside of the frames. Do you know of a wand device that would allow insertion through a drilled hole in the frame and even perhaps spray in a sideways fashion? (in a dandelion pattern to coat all of the interior) Thank you,
Dick Schulz
disabled veteran - rochester, Minnesota, USA


If you have a question in mind which seems off topic, please Search the Site