topic 40982
Acid dipping & E-Coating automobile and truck bodies for restoration
(2003)
RFQ: Hello,
I have a 1944 WWII Jeep that I would like to take to a hot tank for dipping. I can't seem to find one anywhere in Florida on the internet. Does anyone know of one who might be in my state.
Thank you,
Luis
[last name deleted for privacy by Editor]
- Fort Lauderdale, Florida
---
(2003)
RFQ: I am looking for a dipping facility, for car parts, body and frame, near Superior, WI.
Thanks,
Joseph B
[last name deleted for privacy by Editor]
- Superior, Wisconsin
---
2006
RFQ: Hello. I am restoring from scratch my BMW 630CSI,1977. I would like to get it dipped, however I am having problems finding a place to do it. I live in San Diego, California. Any help please. Thank you.
Parris R
[last name deleted for privacy by Editor]
consumer - San Diego, California, USA
---
2006
A. Hi, Folks. Can you clarify what would you like it dipped in and why? There are hot alkaline cleaner/phosphates which are general prep for re-painting, there is E-coat priming which all modern cars use as a way of insuring every hidden crevice receives paint, and there is acid dipping for lightening the frame (I am not personally familiar with this process; it may be apocryphal).
Thanks.
Ted Mooney, P.E.
finishing.com
Pine Beach, New Jersey
---
2006
Q. This car was purchased as a wreck. It has been hit at least three times, twice in the front and once on the driver side rear quarter. I did have the front straight, however I noticed that the car would flex when lifted and the doors were not lining up properly. I have stripped it down to the bare minimums and I had hoped to find an acid and primer dip. This way I can find all the rotten metal to be removed, and get good primer into the window post. It will need new sub frames, and I plan to stiffen the body with tube work. Yes, this is a work of love and there are not many donor cars of this year and body model.
Parris R
[returning]
- San Diego, California, USA
---
(2002)
Q. I'm picking up my car body from a chemical dipping company today and would like to know what kind of chemical I can use to treat the bare metal with that will prevent rusting while I do some welding on the body over the next six months before it will be ready for painting.
Thanks for your help,
Dan Lewis
- Portland, Oregon
---
(2005)
!! HEYA GUYS.
Rust is a real problemo for me. I get so much
Michael Sherwood
- Tuner, New England
---
(2007)
RFQ: I also live in Portland Oregon, and just bought a 87 Buick grand national, and I am looking for a company to have the body dipped. If you could please help me out with a name and phone number of the company, I would be most appreciative. Also to the best of my knowledge, having bodies dipped in the past, they are metal etched after dipping, ready for primer.

Sam,
Sam Balkin
- Portland, Oregon
---
(2003)
RFQ: I have auto body sheet metal in need of acid dipping to remove old paint and body filler. Hood, trunk lid, fenders, front valence panel.
Tom Kehoe
- Mount Prospect, Illinois, USA
---
(2004)
RFQ: I'd like to find a place to acid dip and automotive body in Maryland. Looking to acid dip automotive bodies, also powder coating for the same (In Maryland)
Keith Erbe
Hobbyist, consumer - Ellicott City, Maryland, USA
---
December 26, 2008
RFQ: I have a 1973 Toyota Celica that I am restoring, I have almost completely stripped it down to the body. I will finish removing the Fuel system soon and want to have it dipped into a chemical bath to strip the paint and stop the rust on it.

I live in Chicago IL and would love to find a close shop to take it to have this done.

So far my internet searches are not proving valuable.

Thank you,
Bryan
Bryan Martinez
- Chicago Illinois
---
2006
A. There are a lot of businesses in California that do the kind of work your looking for, you will probably be better off finding someone that will do a total "media blast" before the dip though. California is tougher on environmental issues than other states.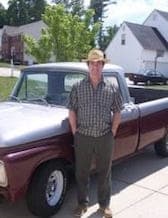 Sheldon Taylor
supply chain electronics
Wake Forest, North Carolina
---
March 23, 2011
A. Hi Folks
Doing a ground-up frame off of my 62 impala SS later this year...hopefully. Been doing the Bodyman/Painter/Restogeek thing for 35+ years now & LOVE acid bathing vs. ANY kind of media blasting. Friend did the Aluminum Oxide deal on his '68 Jimmy & we're STILL blowing that crap out of the rockers a year later!
Trick is to wash/rinse everything VERY well, neutralize and dry meticulously (with heat). Epoxy prime the same day if possible. (I like DuPont Corlar -- but they've made it illegal here in CA! Grrr :(

RFQ:
Following up on the question of dipping & E-coating. Does anyone know of a reputable shop that does it in Los Angeles? (preferably southern LA-closer to home). I'm in North San Diego County, did my homework & didn't find any shops locally -- most likely OSHA has something to do with that here ;(
Finishing a by-hand stripping of Dad's Porsche 914's undercarriage and it's not been ANY fun laying on my back for weeks now scraping undercoat & pickling upside down... (& it's a small car by comparison to the Chevy :)
So even if it's a Grand to do the dip thing it's fully worth every penny to me (& save $$ not having to visit my Chiropractor :)
Thanks all!
Chuck
Chuck S
[last name deleted for privacy by Editor]
- Vista, California, USA
---
March 24, 2011
A. Hi, Chuck. We've heard of the following shops that reportedly handle whole frames:
- Redi-Strip in Indianapolis IN, Roselle IL, Joliet IL, and Oak Creek WI;
- International Paint Stripping in Belleville MI;
- Kwik-Strip in Allentown PA;
- Metal Strip of New England in Worcester MA;
- Restoration Depot in Wauchula, FL;
- Pennsylvania Metal Cleaning in Monaca, PA.
You'll sometimes see such shops advertised in "Hemmings Motor News" [link is to product info at Amazon]; maybe try there as well if it's convenient.

If anyone can update this list with additions or deletions, please do. But we only print lists, not recommendations or slams. Unfortunately, more than once the IP address proved that a "testimonial" was from a shop posting with a fictitious name and posing as a "satisfied customer" :-) We apologize, but this site only works well if we limit it to technical help and camaraderie, and try to insure that there is no commercial gain from postings. Best of luck.
Regards,
Ted Mooney, P.E.
finishing.com
Pine Beach, New Jersey
---
(2004)
Q. Hi,
I am building a 1931 model A hot rod and l am interesting in knowing what kind of acid that they use when they acid dip a body and what they use to to remove any acid left in the body and what they use to protect it until it goes to the paint shop.
Thank you,
Cecilio Calado (C.C.)
hobbyist - Kitimat , British Columbia, Canada
---
(2004)
A. For the most part, acid is not used, Cecilio. People may call it "acid dipping" as slang, but for rust removal they actually they use alkaline derusting formulations or iron phosphating solutions which are not corrosive.
For weight reduction, as opposed to rust removal and paint prep, there is apocryphal talk about acid dipping to thin down the gauge of the metal for advantage in racing -- but I am not familiar with it myself.
Ted Mooney, P.E.
finishing.com
Pine Beach, New Jersey
---
Q. I'm building a racecar and am trying to remove weight from the car without being noticed. I recall fenders, doors, and hoods being "acid dipped" back in the 1960s to remove weight before fiberglass components were readily available. The rules in my class prohibit fiberglass pieces. Any ideas where I can have these pieces dipped and made thinner to reduce weight? What will be the surface texture after dipping? What percentage of weight can be removed from a fender? Any idea of cost?
Gentry Zentmeyer
- Martinsville, Virginia
---
A. First of all, I hope the part about "not being noticed" does mean that you are trying to "bend the rules." I'm only posting an answer to talk about the theory, not help you cheat.
"Acid dipping" probably means just that. Acids like hydrochloric, nitric, or sulfuric acid will attack the metal of a part, and gradually dissolve it. Many plated products are normally dipped in acid right before the plating tank to clean the part and dissolve any rust/oxidization that would come between the plating and the metal part.
You would need to dip a part for a long time in concentrated acid to reduce the weight of a part significantly. Also, any coating or plating would most likely be damaged or removed in the process. The surface of the metal would be bare and will soon begin to rust unless it was quickly painted, plated, or coated. The surface texture would probably be smoother after the dip. The resulting vat of acid would then need to be disposed of responsibly, not just poured down a drain or on the ground. How much weight can come off? I'm not sure, it depends on how skilled you are, and how fragile the part is. I doubt you could get more than 10% weight reduction.
Also, I would be concerned about the function of the part afterwards. It might malfunction or break if tampered with. That fender would not be guaranteed to protect you in a crash if it is tampered with. This acid dip option just seems way too much trouble than it is worth. My engineering opinion on acid dip to reduce weight is two-thumbs down.
Have you considered making the part out of plastic, aluminum, or magnesium? These materials are fairly strong and lightweight.
Tim Neveau
Rochester Hills, Michigan
---
2006
A. Cars are definitely acid dipped for weight, in racing of course. Here is a link to the mods done to a Camaro Z28 to get it race-ready:

http://www.is-it-a-lemon.com/used-car-history/chevrolet-camaro-racer.htm

It is about the hassles they had getting the Z28 race worthy, and includes info about the acid dipping. There are plenty of other sources on the web that will explain how and why cars are acid dipped, but basically it is done when a car company wants a team to race their brand of car with the body unmodified (as far as anyone can see). In the past especially, most cars were fabricated with a pretty heavy gauge of steel, dipping in those cases could really bring the weight down. The use of acid in racing to give all kinds of advantages is nothing new, for example acid porting intake manifolds. This is sometimes done to circumvent rules in stock car racing where there might be strict rules about what modifications are allowed. Acid porting the intake manifold has very obvious advantages, but decent tracks will scope for mods like that, and if they are found the driver is disqualified and loses his entry fee. I know this happens for a fact, because I used to scope cars for a buddy of mine. His dad owned a popular dirt track in Greenville Texas and you'd be surprised at all the tricks those guys try to pull. Lots of those guys make a living on the stock circuit and an advantage like acid dipping or acid porting could make the difference between having a really good year or having to hang up your fire suit.
Sean Damkroger
- Dallas, Texas
---
June 3, 2010
Q. Is there like a E-coat dip that you can dip it in after you get the acid dip to protect it?
Mitch Nosbisch
hobbyist - Indianapolis, Indiana, USA
---
June 3, 2010
A. Hi, Mitch. Every new car is E-coated at the factory, so there is no technical challenge involved in the idea. But I don't personally know which jobshops offer the service to individuals. You might start with the previously posted list of shops offering dipping services. Good luck.
Regards,
Ted Mooney, P.E.
finishing.com
Pine Beach, New Jersey


This public forum has 60,000 threads. If you have a question in mind which seems off topic to this thread, you might prefer to Search the Site