60,000 Q&A topics -- Education, Aloha, & Fun
topic 32077
Black spots in zinc plating
A discussion started in 2004 but continuing through 2020
2004
Q. 1. I WANT TO UNDERSTAND THE REASONS FOR THE GREY / BLACK SPOTS IN THE ZINC PLATING.
2. WHICH ARE THE GOOD COMPANIES IN SOUTH EAST ASIA THAT MAKE GOOD QUALITY OF BARRELS AND DANGLERS?
3. WHAT SHOULD BE THE LIFE OF A GOOD BARREL / DANGLER.
SANJAY NARULA
FASTENERS - ROHTAK, HARYANA, INDIA
---
2004
A. Sanjay,
You don't include enough information, but sounds like corrosion. Are you chromating? If you let the part(s) sit long enough I'm guessing the dark spot will turn to "white rust".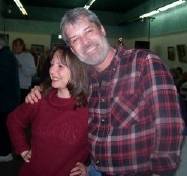 Trent Kaufman
electroplater - Galva, Illinois
---
2004
A. Dear Sanjay,
Black spots in barrel acid chloride zinc plating is a common problem there are many reasons for that some of the important reasons are Iron contamination, low metal content, higher content of brightener "R" if you are using Indian Chemistry. If there is no iron contamination in the bath, check & adjust metal content above 30 gms/litre.
N K Praveen Kumar
- Secunderabad, ANDHRA PRADESH, INDIA
---
2004
Q. Dear Praveen,
I would like to know more about Iron Contamination in details.
Kindly respond to the same.
Sanjay Kumar
- Bangalore, Karnataka, India
---
2004
A. Sanjay
These are possible causes of Black spots in Barrel Zinc plating from acid Zinc electrolyte:
1) Dissolved iron from dropped parts in solution.
2) lack of carrier or Wetter sold as "M" in India.
3) Lack of Chloride or low Chloride./ maintain 125 to 140 Gms/liter.
4) lack of Zinc as  metal . maintain 25 to 28 Gms/lit.
5) Excess brightener too sometimes causes Blackish deposits.
6) Recast Impure Zinc anodes containing lead or Copper cause black deposits.
7) using Local impure "A" salt ..
8) using Local impure "B" salt.
9) Proper pretreatment is essential.Clean parts plate good.
10) Continuous filtration is essential. Dirty Solutions don't plate well.
11) Passing higher volts than the solution can carry.
 
Like we said above this is a short list of POSSIBLE causes.
Barrels and danglers: You need to connect with a Professional maker in North India.
Good luck with your plating .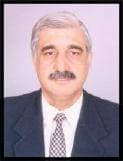 Asif Nurie [dec.]
- New Delhi, India
With deep regret we sadly advise that Asif passed away on Jan 24, 2016
---
2004
A. Dear Sanjay ,
Following are the some of the reasons for Iron contamination in Acid Zinc Plating (barrel):
1. Parts falling into the tank during loading, unloading or during the course of plating.
2. As the current density in barrel plating will be very low, parts to be plated are exposed to acidic solution and hence Iron gets dissolved into the solution.
Apart from the above poor quality of anodes and chemicals also result in iron contamination.
Removal : Depending on the extent of contamination you should treat the solution with Hydrogen peroxide 100 vol, @1-2 ml/litre. Then filter the solution after settling the solution overnight, and discard the sludge.
Note brightener "M" should be added after the above treatment @ 2-3 ml/litre.
N.K.Praveen Kumar
- Secunderadad, India
---
---
May 10, 2012
-- this entry appended to this thread by editor in lieu of spawning a duplicative thread
Q. We are doing Zinc plating with trivalent yellow chrome passivation on Zamak 3/5 (Zinc alloy) casting.
In some cases black spots appear on plated casting.
What are these black spots? Why these black spots appear with time?Why not this problem is 100%?
Vikram Puri
- Noida
---
May 10, 2012
A. Hi Vikram.
We appended your posting to a thread about black spots in zinc plating which may help you. We have many other threads about the subject, which you can find with the search engine. But people will probably not be able to offer assistance tailored to your situation until you explain your details. For example, are your parts cyanide zinc plated? Spotting out of cyanide is common. Are your parts barrel plated? Black spots from iron contamination of acid zinc solutions are common. So please tell us whether you are doing barrel vs. rack plating, cyanide vs. alkaline vs. acid zinc plating, whether there are any pretreatments before the zinc plating, whether the castings are vacuum impregnated, whether the processes you use are from reputed suppliers or are home-brew, etc. Thanks!
Regards,
Ted Mooney, P.E.
finishing.com - Pine Beach, New Jersey
Striving to live Aloha
---
May 14, 2012
Q. We are doing barrel plating and the parts are alkaline zinc plated.The Zamak castings are not vacuum impregnated.
We are doing pretreatment before plating.The pretreatment includes Soak cleaning, cathodic cleaning, water rinsing, Acid pickling and water rinsing.
If you require I can send you the control plan of the complete process

Regards
Vikram
Vikram Puri
[returning]
- Noida
---
May 14, 2012
A. Hi, Vikram.
Asif Nurie offers some good possibilities in letter 30399. First guess is that the current density is too high, causing burning in the areas exposed to the barrel holes. Do you see any such pattern?
Regards,
Ted Mooney, P.E.
finishing.com - Pine Beach, New Jersey
Striving to live Aloha
---
August 19, 2013
Q. Are the Black spots caused by any spillage of chemicals. What chemical spillage will cause Black spots except Pickling Chemical.
MOHANAVELAVAN Elangovan
AUTOMOBILE INDUSTRY - CHENNAI, INDIA
---
August 21, 2013
A. Hi cousin MOHANAVELAVAN. Please invest a couple of paragraphs in your question. Unfortunately your question is so brief that I have no idea what you are talking about :-)
Are you saying that you have zinc plated some parts, and they were perfectly acceptable, then somebody spilled something on them but you don't know what it was, and now they have black spots and you are trying to figure out what the chemical was, based on the black spots it creates on zinc plated parts? We do have a thread on line here that says a spill of Dr. Pepper soda discolored plated parts. Good luck.
Regards,
Ted Mooney, P.E.
finishing.com - Pine Beach, New Jersey
Striving to live Aloha
---
---
February 8, 2018
Q. Hello all

We are Automobile components, and our supplier performs Acidic Zinc plated on iron Casting Surfaces.
We are facing the Issue of Black spots on the plating surface after 2 or 3 days. It is very difficult to judge current parts of Stock were OK , or in future this will get Black spots, later time.

Can anyone suggest what are the precautions to be taken to get rid of Black spots and how to ensure that it doesn't occur.
R Baskar
- Gurgaon, Haryana, India
---
February 2018
A. Hello R.,
Please consider retaining a consultant to visit your supplier's shop and resolve this. Alternately demand that the shop solve the problem or you'll take your business elsewhere; or send the parts out for salt spray testing, or require salt spray test results from your supplier. Best of luck! Although Asif offers 11 possible causes, and although we can sometimes help a plating shop solve their problems, it takes a lot of back & forth, plus access to details your shop probably hasn't shared with you yet; unfortunately, I don't think anyone is realistically going to be able to suggest from a buyer's description of a problem exactly what the buyer should tell their plating shop to do next.
Regards,
Ted Mooney, P.E. RET
finishing.com - Pine Beach, New Jersey
Aloha -- an idea worth spreading
---
May 28, 2018
Q. We have been observing an issue in Acid Zinc Barrel Plated parts with trivalent clear passivation since last 2 years. Plating specification is 5.0 micron thickness minimum and corrosion resistance up to 75 hours.
During the receipt of material from plating, we check the parts for plating thickness, chrome thickness in XRF and check the parts visually by 100% to ensure no black patches/black spots.
We provide 24 hrs minimum for curing of plating before handling the parts for inspection and packing.
During packing of material, we do not find any black spots on the parts. The parts are packed in polythene bag with silica gel and put inside a carton box and sealed.
These parts are transported by Road in a truck for a duration of 5 days. When customer receives the material, we could see more than 50% parts appear with black spots. Requesting your help to come out from this issue.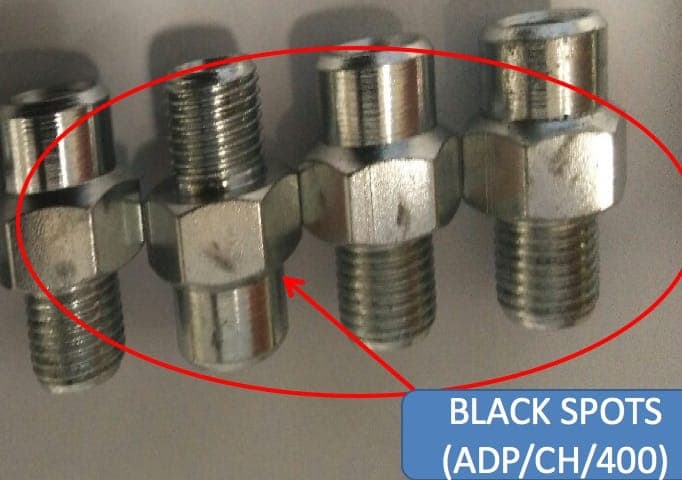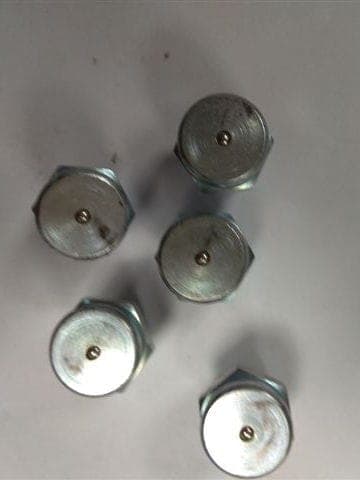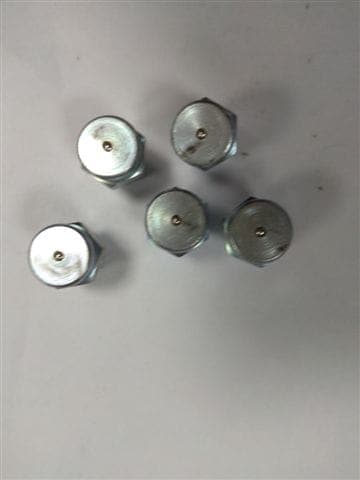 Thanks & Regards,
Dinesh Babu
Supplier Quality Engineer -- Chennai, Tamilnadu, India
---
May 2018
A. Hi Dinesh. Five days on possibly rough roads sounds like, and this looks like, what is sometimes called "fretting corrosion".
You say the parts are packed in a polythene bag, but I'm betting it's not one to a bag, and that five days of jouncing and vibrating against each other is rubbing away the chromate, irritating and hardening the surface of the zinc, and causing it to oxidize. I suggest leaving one carton on the dock for 5 days and seeing what the parts look like.
If the carton left on the loading dock shows no black spots, my bet is that fewer parts per bag, some bubble wrap in the cartons, or some other practical measure one of your people thinks up will easily solve this problem.
Regards,
Ted Mooney, P.E. RET
finishing.com - Pine Beach, New Jersey
Aloha -- an idea worth spreading
---
---
July 28, 2018
Q. Hi everyone,

We are automobile parts manufacturer,
Our supplier does acid zinc plating, about 13 to 15 microns on tube and brackets (10 mm dia. hollow tube). Recently we are having black spot issue on tube. Our supplier says it's due to tube material problem. After keeping it store for a few days we observed white salty surface which has black spots. Please suggest us the solution.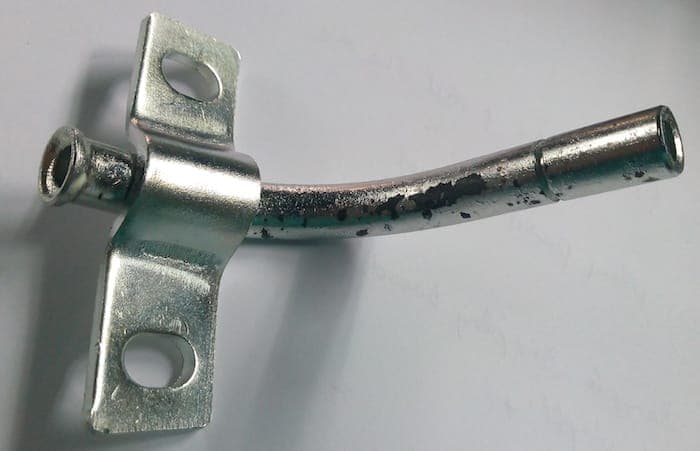 Mahesh addi
- Bangalore. Karnataka. India
---
August 1, 2018
A. Hi Mahesh,

To me, that looks like missing plating, not just black spots. This looks very much like a quality issue with the plating, rather than anything to do with the base material.

Have a look at other parts in the batch, is there any blistering on the surface? This would be an indication of poor preparation prior to plating.
Brian Terry
Aerospace - Yeovil, Somerset, UK
---
August 2018
A. Hi. I agree with Brian that this looks more like missing plating than black spots on the plating. Four quick questions:
1. Are the pieces soldered or welded together before plating or plated separately?
2. The plating on the piece with the screw holes looks better; is it?
3. I assume the parts are steel, not brass or copper?
4. They are bent before plating, not after?
Regards,
Ted Mooney, P.E. RET
finishing.com - Pine Beach, New Jersey
Aloha -- an idea worth spreading
---
---
December 1, 2018
-- this entry appended to this thread by editor in lieu of spawning a duplicative thread
Q. I have 400 lit barrel plating, all parameters within control -- even still I am getting black spot on M12 bolt if voltage is kept above 5. If I am keep voltage less than 5, nut thread is not getting proper coating.
Bala subramani
Employer - CHENNAI/Tamilnadu/India
---
December 2018
A. Hi Bala. Unfortunately there are all kinds of 'black spots', often with differing causes. If you can forward pics of the black spots we might have a better idea; also acid, alkaline, or cyanide plating?
But if you can plate a Hull Cell panel and show us or tell us what you get, it should be easier to figure this out. Thanks.
Regards,
Ted Mooney, P.E. RET
finishing.com - Pine Beach, New Jersey
Aloha -- an idea worth spreading
---
---
January 23, 2020
Q. Hello, I am from laundry machine manufacturing company. In our product we are replacing a spintube part from SS201 to MS with zinc plating. During Lab validation we are observing numerous dull black spots after Salt spray test for 300 hrs. What will be the cause and is it okay to have it as our specification is no brown rust till 500 hrs. Spots observed after 300 hrs and no white or red rust observed till the end of the test. The process done is Zinc plating with 15 microns.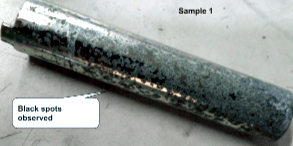 Manikandaprabu Janarthanam
- Pondicherry, India
---
January 2020
A. Hi Manikandaprabu. 15 microns of plating is substantial, for severe service, and appropriate for washing machine parts. The issue of whether black spots during salt spray testing represent failure has been a question here before, with some saying "no" and some saying you need to read the specification and perhaps analyze the spots because if the spec says "no corrosion" you need to know that the black spots are not corrosion.

That pic is really too small to see much (and I lightened it up as well), but if it's your internal spec that requires 500 hours, then it's up to your company to decide what represents passing and what doesn't. Personally, from what little I can see, I think it's fine, and I would suggest that you archive the photos with a note that this is considered satisfactory performance.


Finishing.com's co-founder was my amazing friend, Tom Pullizzi, who has moved on to become a science teacher. Back in 1994 as we talked about our vision, his wise mother offered this poem to explain what would be necessary for such a site to work:
No quiero nada por nada
No te lo quiero tomar
Qué por entendido tengo
Qué él que toma--tiene que dar.
We're always happy to post your inquiries, keep them coming! ... but please attempt to answer some as well -- it's a great way to learn!
Regards,
Ted Mooney, P.E. RET
finishing.com - Pine Beach, New Jersey
Aloha -- an idea worth spreading
---
January 24, 2020

Hi Ted, Thank you for your valuable answer, i will surely contribute for upcoming queries.
Manikandaprabu Janarthanam
- Pondicherry, India
adv.