Not a lecture hall but a roundtable with a seat for you!
60,000 topics spanning 36 years. Education, Aloha, & Fun
topic 32077
Black spots in zinc plating
A discussion started in 2000 but continuing through 2020
2000
Q. Black spots appears on our barrel acid zinc plated parts, can anyone help us on this matter?
Process:
1.muriatic acid pickling
2.rinse
3.rinse
4.electrocleaning (5 mins)
5.rinse
6.barrel acid zinc plating (20 mins)
7.rinse
8.centrifugal dryer
Thank you for your time
andrew kaw
- manila, philippines
---
2000
A. This sounds like it might be a classic case of iron contamination. See "Improving Your Chloride Zinc Plating Operation". or send pics.

Regards,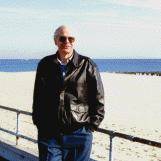 Ted Mooney, P.E.
finishing.com - Pine Beach, New Jersey
Striving to live Aloha
---
2000
A. Dear Andrew,
Firstly (a) do read the article Mr Mooney has suggested. Meanwhile if after you treat the bath for iron and the problem still persists then
(b) try reducing the Voltage. If efficiency drops, then increase anode area.
If the reduced voltage has helped without any problems, then
(c) sigh with relief. If not then
(d) check the barrel rpm which may be too low. Increase the barrel rpm between 14 to 16 rpm whatever suits the hole size and current with giving your parts black spots.

If all the above efforts fail, then do the opposite of everything above and charge more for the black spots without giving them away for free!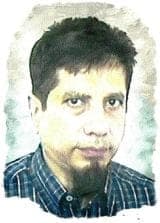 Khozem Vahaanwala
Saify Ind

Bengaluru, Karnataka, India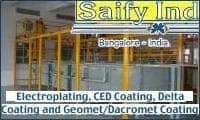 ---
---
To minimize search efforts and to offer multiple viewpoints, we combined previously separate threads onto this page. Please forgive any resultant repetition, failures of chronological order, or what may look like readers disrespecting previous responses -- those other responses may not have been on the page at the time :-)
---
---
2004
Q. I WANT TO UNDERSTAND THE REASONS FOR THE GREY / BLACK SPOTS IN THE ZINC PLATING.
SANJAY NARULA
FASTENERS - ROHTAK, HARYANA, INDIA
----
Ed. note: Sorry, we can't post answers to question 2. (why?)
---
2004
A. Sanjay,
You don't include enough information, but sounds like corrosion. Are you chromating? If you let the part(s) sit long enough I'm guessing the dark spot will turn to "white rust".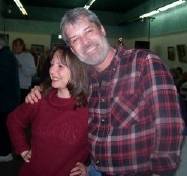 Trent Kaufman
electroplater - Galva, Illinois
---
2004
A. Dear Sanjay,
Black spots in barrel acid chloride zinc plating is a common problem there are many reasons for that some of the important reasons are Iron contamination, low metal content, higher content of brightener "R" if you are using Indian Chemistry. If there is no iron contamination in the bath, check & adjust metal content above 30 gms/litre.
N K Praveen Kumar
- Secunderabad, ANDHRA PRADESH, INDIA
---
---
2004
Q. Dear Praveen,
I would like to know more about Iron Contamination in details.
Kindly respond to the same.
Sanjay Kumar
- Bangalore, Karnataka, India
---
2004
A. Sanjay
These are possible causes of Black spots in Barrel Zinc plating from acid Zinc electrolyte:
1) Dissolved iron from dropped parts in solution.
2) lack of carrier or Wetter sold as "M" in India.
3) Lack of Chloride or low Chloride./ maintain 125 to 140 Gms/liter.
4) lack of Zinc as  metal . maintain 25 to 28 Gms/lit.
5) Excess brightener too sometimes causes Blackish deposits.
6) Recast Impure Zinc anodes containing lead or Copper cause black deposits.
7) using Local impure "A" salt ..
8) using Local impure "B" salt.
9) Proper pretreatment is essential.Clean parts plate good.
10) Continuous filtration is essential. Dirty Solutions don't plate well.
11) Passing higher volts than the solution can carry.
 
Like we said above this is a short list of POSSIBLE causes.
Good luck with your plating .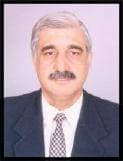 Asif Nurie [dec.]
- New Delhi, India
With deep regret we sadly advise that Asif passed away on Jan 24, 2016
---
2004
A. Dear Sanjay ,
Following are the some of the reasons for Iron contamination in Acid Zinc Plating (barrel):
1. Parts falling into the tank during loading, unloading or during the course of plating.
2. As the current density in barrel plating will be very low, parts to be plated are exposed to acidic solution and hence Iron gets dissolved into the solution.
Apart from the above poor quality of anodes and chemicals also result in iron contamination.
Removal : Depending on the extent of contamination you should treat the solution with Hydrogen peroxide 100 vol, @1-2 ml/liter. Then filter the solution after settling the solution overnight, and discard the sludge.
Note brightener "M" should be added after the above treatment @ 2-3 ml/litre.
N.K.Praveen Kumar
- Secunderadad, India
---
---
White patches after Barrel Acid Zinc Plating, Clear Trivalent passivation
February 6, 2011
Q. We are doing plating on steel balls after polishing them in vibrator. We are plating them in barrels for about 15 mins. It is acid zinc solution. Trivalent Clear passivation is used after plating. White patches are observed after the parts are placed for drying on table (we also do the drying process by rotating the parts in dryer for about 5 mins). Are these patches due to incomplete drying of parts or due to some other reason? Kindly help.
Raja Rupinder Singh
Machinist - Ludhiana, Punjab, India
---
February 8, 2011
A. Hi, Raja

We need to do a thousand things right to get satisfactory plating, and just one thing wrong to get unsatisfactory plating :-(
So it is often not possible to discern which of those thousand things is wrong based on a description of the unsatisfactory plating. My guess is that there is a problem with the brightener in the zinc plating bath, but it's only a guess ... but that is not to discredit the need for total dryness. Good luck.
Regards,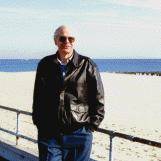 Ted Mooney, P.E.
finishing.com - Pine Beach, New Jersey
Striving to live Aloha
---
March 19, 2011
Dear Mr Raja,

You need to improve the plating thickness -- 15 minutes is too low since the steel balls have too much of surface area and my guess is that in a conventional plating system you will need an hour at least to achieve about 5 to 10 microns which should be a minimum.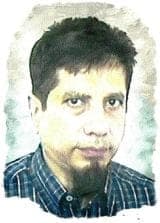 Khozem Vahaanwala
Saify Ind

Bengaluru, Karnataka, India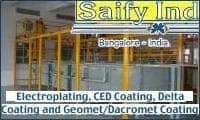 ---

Thanks for getting to the heart of the matter, Mr. Vahaanwala, which I completely missed: you can't do proper barrel zinc plating in 15 minutes :-)
Luck & Regards,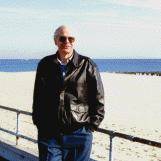 Ted Mooney, P.E.
finishing.com - Pine Beach, New Jersey
Striving to live Aloha
---
---
May 10, 2012
-- this entry appended to this thread by editor in lieu of spawning a duplicative thread
Q. We are doing Zinc plating with trivalent yellow chrome passivation on Zamak 3/5 (Zinc alloy) casting.
In some cases black spots appear on plated casting.
What are these black spots? Why these black spots appear with time? Why not this problem is 100%?
Vikram Puri
- Noida
---
May 10, 2012
A. Hi Vikram.
We appended your posting to a thread about black spots in zinc plating which may help you. We have many other threads about the subject, which you can find if you search the site. But people will probably have trouble offering assistance tailored to your situation until we know more details: whether your parts are cyanide zinc plated? Spotting out of cyanide is common. Are your parts barrel plated? Black spots from iron contamination of acid zinc solutions are common. Please tell us whether you are doing barrel vs. rack plating, cyanide vs. alkaline vs. acid zinc plating, whether there are any pretreatments before the zinc plating, whether the castings are vacuum impregnated, whether the processes you use are from reputed suppliers or are home-brew, etc. And please send pictures because different people visualize very different problems when they hear 'black spots'. Thanks!
Regards,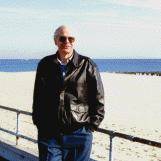 Ted Mooney, P.E.
finishing.com - Pine Beach, New Jersey
Striving to live Aloha
---
May 14, 2012
Q. We are doing barrel plating and the parts are alkaline zinc plated.The Zamak castings are not vacuum impregnated.
We are doing pretreatment before plating.The pretreatment includes Soak cleaning, cathodic cleaning, water rinsing, Acid pickling and water rinsing.
If you require I can send you the control plan of the complete process

Regards
Vikram
Vikram Puri
[returning]
- Noida
---
May 14, 2012
A. Hi, Vikram.
Asif Nurie offers some good possibilities in letter 30399. First guess is that the current density is too high, causing burning in the areas exposed to the barrel holes. Do you have any evidence of such a pattern?
Regards,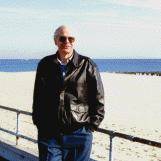 Ted Mooney, P.E.
finishing.com - Pine Beach, New Jersey
Striving to live Aloha
---
(you are on the 1st page of the thread) Next page >
---
adv.