Live! From beautiful Pine Beach New Jersey: Welcome to the world's most popular metal finishing website
topic 31823
What should I expect a good quality clear Iridite coating to look like?
2004
I am a mechanical engineer doing some electronic packaging. I'm working with some some raw aluminum electronics enclosures and am considering applying a clear Iridite per Mil-C-5541 [link is to free spec at Defense Logistics Agency, dla.mil], class 3 for appearance only (dont need environmental protection). I don't have a lot of experience with conversion coatings, and have previously used Iridite only on connectors, where I sometimes observed a rainbow effect of color gradations in the final result.
Fred White
- Columbia, Maryland, USA
---
2004
A good quality Class three clear chromate on aluminum will be clear. If properly applied it should not exhibit any rainbow coloration. Iridite is a registered trade name and only one of many proprietary products that can be used to apply a clear chromate on aluminum.
Testing for the presence of a clear chromate film can be accomplished by spot testing or salt spray testing. Spot test procedure may be found in the Metal Finishing Guide Book.
Dayton Dailey
- Lake Zurich, Illinois, USA
---
2004
"Clear" chromate on aluminum is a myth. If there is no color whatsoever, then there is no coating whatsoever. MIL-C-5541 is misleading on this subject, and some years ago, I spoke to the author, although I can't now recall his name. He admitted that so-called "clear" chromate must exhibit at least a slight yellow color, but he did not write that into the spec for "political" reasons. This is often a point of misunderstanding between job shops and customers who ask for "clear", and many shops have simply given up, and either just clean and desmut and apply no coating at all, or they apply a yellow coating and leach it in alkaline solution until no coating remains.
The original intent of the "clear" coating is for a very thin coating which has low electrical resistance, but which does add some measure of corrosion resistance.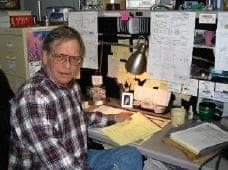 Jeffrey Holmes, CEF
Spartanburg, South Carolina
---
2004
Or, they install a QPL certified Clear chromate tank. Its color will be faint and not completely clear. Coatings done on different shifts will have a slight but noticeable color difference when placed side by side, and both will be legal coatings.
James Watts
- Navarre, Florida


If you have a question in mind which seems off topic, please Search the Site