60,000 Q&A topics -- Education, Aloha, & Fun
topic 2886 p.2
Problems in cyanide copper plating
---
---
A discussion started in 2001 but continuing through 2020
October 10, 2013
Q. To Experts,

I have problem in my Cyanide copper plating baths. The problem is red spot and red patches. How to solve this issue? Kindly give me suggestion to solve. Copper metal is 50 g/l, free potassium cyanide 25 g/l in the plating solution.

Thank you
Gandhi
Singapore
GANDHI GOVINDARASU
- Singapore
---
---
February 25, 2015
Q. Hello, we are having trouble with the free cyanide concentration in our copper cyanide electroplating procedure.
We have 10 baths 1 m3 each, with about 9,5 g/l free CN, 61 g/l Cu and 130 g/l CO3. We have titanium baskets with solid Cu as anode.
Each day we add almost 1m3 H2O from the first rinse, we add almost 350 kg Cu in the baskets and almost 30 kg NaCN. We make chemical analysis of the bath every day. Lately we have black spots after the polishing and we can't bring the appropriate balance to the bath (concentration of Cu and CN). Any idea how we could increase the concentration of the CN and have the same concentration of the Cu (60 g/l) in the solution? Why do we have so many fluctuations of the Ampere-hours that we need to electroplate the same amount of Cu? (We put in the barrel 100kg and it takes 2500 - 2800 Ah to succeed 25[?]m)
Thank you for your help.
Matina Tsolaki
MATINA TSOLAKI
- THESSALONIKI GREECE
---
---
March 20, 2015
Q. I am a newcomer for cyanide copper plating industry. I am badly in need of having standards for following. Please help me sir.

1) CN concentration in bath
2) Cu Concentration in bath
3) pH value
4) Desired density in plating bath.

5) What are details (bath status) can be taken about plating bath, by looking at density value?

6)What are the details can be taken about plating bath, by looking at pH value?

7)How to measure Anode cathode current density? what are the details can be taken by looking of this value?

8) what is the importance of temperature?

I am looking forward to hear from you at the earliest.


L.K. Wijerathne
- Sri lanka
---
March 2015
A. Hi L.K.,

Digital version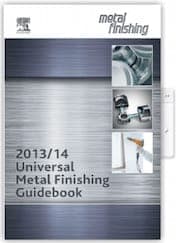 (No longer published, but a copy is on Academia.edu)
Download it before it disappears.


Please view the cyanide copper plating section of the Metal Finishing Guidebook, which addresses those issues with a nice 4-page introduction, then get back to us with your remaining questions. That on-line book is no longer supported as Elsevier Science has ceased publication of Metal Finishing, so view it while you can :-)
Good luck.
Regards,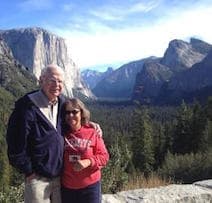 Ted Mooney, P.E. RET
finishing.com - Pine Beach, New Jersey
Aloha -- an idea worth spreading
---
July 27, 2015
A. Hi, Wijerathne
Your cyanide plate bath have anodes polarise problem because of the ph is not right. Once your anodes polarise you lose coverage on parts. Make sure caustic concentration in cyanide bath is right.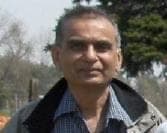 Popat Patel
finishing shop - Roseville, Michigan
---
---
March 30, 2015
-- this entry appended to this thread by editor in lieu of spawning a duplicative thread
Q. Dear sir
We are having cyanide copper bath which seems to be declining day by day. We are making all our efforts to increase the concentration above 60 gm/Lt but it's not working. After adding lots of chemicals they are getting wasted because the anodes are getting black after two days with applying current 2amp/DM square. So, sir, kindly reply if this problem has some solution.
kirti ranjan patra
- vadodara, gujrat, india
---
March 30, 2015
A. A possible cause is low free cyanide concentration.
Lyle Kirman
Consultant - Cleveland Ohio USA
---
---
Black film on anodes in cyanide copper plating leading to decrease in copper coating
April 7, 2015
Q. Hi everyone,

For about a year now we have been facing major problems with our cyanide copper plating tanks.
We normally do a 15 minute copper plating and then the final finish which might be brass on nickel.
But since a year we have been noticing that after we do a clear powder coat (heated) after a while black patches start showing up on the item. Items are manufactured in Mild Steel Sheet.
Also, The copper anodes get covered in a thick black film very quickly after cleaning.

We have tried the following to improve the condition :
1) Maintaining pH levels at 10.
2)Addition of Acetic Acid.
3)Carbon packing and running of filters.
4)Increasing copper metal through Rochelle copper salt addition.
5)Increasing water cleaning decreasing & polishing processes before copper plating.
6)Diluted sulfuric acid and water cleaning before and after plating.
7)Cleaning of plating tanks thoroughly by taking copper water out.
8)Heavy Sodium Dichromate dip for clear finishes.

But still no result, plating is weak and prone to failure. Plates turn black quickly and Amps stay low. Current being passed has dropped compared to year back.

Please advise.

Thanks!
Bharat Krishna
- Delhi,India
---
May 1, 2015
A. Please check anode alloy composition. Prior to cyanide copper, cyanide activation is compulsory.

KP
Karthikeyan Ponnusamy
- Bangalore, Karnataka, India
---
May 2, 2015
A. Good day Bharat.

You have not given information about the concentrations of the copper solution.
I would suspect that at a pH value of 10, it would indicate a very low sodium hydroxide concentration.
Why are you adding acetic acid? I would suggest a pH value of minimum 12.5,giving you approximately 1.25 oz/gal sodium hydroxide.
The acetic will lower the pH, and cause the bath to lose conductivity and retard anode disolution = the anodes will not remain active and can polarize, causing the black film. This will lower the copper concentration, and adding Rochelle salts is only successful for copper increasing IF the anodes can function at a proper pH value.
Concerning the black patches, I would suspect a bleed out situation from the copper solution, or your reference to a heavy dichromate dip.
How heavy is this, and what is your process?
Hope this helps, but more data from you could solve the problem.

Regards,
Eric Bogner
Lab Tech. - Whitby, On. Canada
---
May 12, 2015
A. Hi.
For cyanide copper plating,
1. Black anode films indicate low hydroxide and low free cyanide.
2. Black/brownish mark after brass plating indicate cyanide bleed out. After brass plating, a sulfuric acid dip would help.
Good Luck.
SK Cheah
- Penang Malaysia
---
---
May 9, 2016
Q. Hello...
Actually I am copper plating zinc based castings.
I am bath fitting manufacturer. I am copper plating faucet heads and, later on, nickel and chrome plating is done.
The problem I am facing is that after plating small dots appear on the surface of castings. These small pores appear like small shining stars.
What I feel is material gets etched. Due to that I am facing this problem. Can someone suggest me how to reduce my precleaning of the buffing compound?. Because more cleaning leads to this problem.
I am rinsing the material with H2SO4 after cleaning process. Are there any mild acids for rinsing?

Also I am facing problem of throwing of copper with deep edges.
How to increase my cyanide copper conductivity.?

Like we use H2SO4 to increase conductivity of copper acid.
Is there any alternate for cyanide copper also?
Does sodium thiosulphate increases its conductivity?
nikhil sharma
- india
---
May 9, 2016
A. Hello Nikhil, If you are adamant in your belief that the etching / cleaning cycle is the culprit of your problems go to that process and examine the fixtures after etch and pre- clean to see if there are imperfections on the surface. The parts may not be etching completely. As far as the CN Cu bath have the bath analyzed completely for free CN, CN Cu, sodium or potassium hydroxide, and carbonates. If all the chemistry is within spec and you still get poor throwing power in recessed areas you may have to carbon treat the bath. There are alternatives to CN Cu plating, alkaline Cu solutions are commonly used. Contact a reputable supplier of plating solutions, and they can help you.
Mark Baker
Process Engineering - Phoenix, Arizona USA
---
May 12, 2016
A. I have never been able to "sell" this idea to anyone else, but when I have to plate onto zinc base die cast, I prefer to pure zinc plate first, then go on to the copper-nickel-chrome.

Robert H Probert
Robert H Probert Technical Services

Garner, North Carolina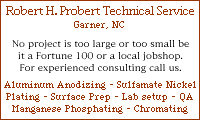 ---
May 18, 2016
A. More cyanide? That solves most problems with that bath.

Dave Wichern
Consultant - The Bronx, New York
---
---