60,000 Q&A topics -- Education, Aloha, & Fun
topic 2886p2
Problems in cyanide copper plating
---
1 2
---
A discussion started in 2004 but continuing through 2020
Black film on anodes in cyanide copper plating leading to decrease in copper coating
April 7, 2015
Q. Hi everyone,

For about a year now we have been facing major problems with our cyanide copper plating tanks.
We normally do a 15 minute copper plating and then the final finish which might be brass on nickel.
But since a year we have been noticing that after we do a clear powder coat (heated) after a while black patches start showing up on the item. Items are manufactured in Mild Steel Sheet.
Also, The copper anodes get covered in a thick black film very quickly after cleaning.

We have tried the following to improve the condition :
1) Maintaining pH levels at 10.
2)Addition of Acetic Acid.
3)Carbon packing and running of filters.
4)Increasing copper metal through Rochelle copper salt addition.
5)Increasing water cleaning decreasing & polishing processes before copper plating.
6)Diluted sulfuric acid and water cleaning before and after plating.
7)Cleaning of plating tanks thoroughly by taking copper water out.
8)Heavy Sodium Dichromate dip for clear finishes.

But still no result, plating is weak and prone to failure. Plates turn black quickly and Amps stay low. Current being passed has dropped compared to year back.

Please advise.

Thanks!
Bharat Krishna
- Delhi,India
---
May 1, 2015
A. Please check anode alloy composition. Prior to cyanide copper, cyanide activation is compulsory.

KP
Karthikeyan Ponnusamy
- Bangalore, Karnataka, India
---
May 2, 2015
A. Good day Bharat.

You have not given information about the concentrations of the copper solution.
I would suspect that at a pH value of 10, it would indicate a very low sodium hydroxide concentration.
Why are you adding acetic acid? I would suggest a pH value of minimum 12.5,giving you approximately 1.25 oz/gal sodium hydroxide.
The acetic will lower the pH, and cause the bath to lose conductivity and retard anode disolution = the anodes will not remain active and can polarize, causing the black film. This will lower the copper concentration, and adding Rochelle salts is only successful for copper increasing IF the anodes can function at a proper pH value.
Concerning the black patches, I would suspect a bleed out situation from the copper solution, or your reference to a heavy dichromate dip.
How heavy is this, and what is your process?
Hope this helps, but more data from you could solve the problem.

Regards,
Eric Bogner
Lab Tech. - Whitby, On. Canada
---
May 12, 2015
A. Hi.
For cyanide copper plating,
1. Black anode films indicate low hydroxide and low free cyanide.
2. Black/brownish mark after brass plating indicate cyanide bleed out. After brass plating, a sulfuric acid dip would help.
Good Luck.
SK Cheah
- Penang Malaysia
---
---
May 9, 2016
Q. Hello...
Actually I am copper plating zinc based castings.
I am bath fitting manufacturer. I am copper plating faucet heads and, later on, nickel and chrome plating is done.
The problem I am facing is that after plating small dots appear on the surface of castings. These small pores appear like small shining stars.
What I feel is material gets etched. Due to that I am facing this problem. Can someone suggest me how to reduce my precleaning of the buffing compound?. Because more cleaning leads to this problem.
I am rinsing the material with H2SO4 after cleaning process. Are there any mild acids for rinsing?

Also I am facing problem of throwing of copper with deep edges.
How to increase my cyanide copper conductivity.?

Like we use H2SO4 to increase conductivity of copper acid.
Is there any alternate for cyanide copper also?
Does sodium thiosulphate increases its conductivity?
nikhil sharma
- india
---
May 9, 2016
A. Hello Nikhil, If you are adamant in your belief that the etching / cleaning cycle is the culprit of your problems go to that process and examine the fixtures after etch and pre- clean to see if there are imperfections on the surface. The parts may not be etching completely. As far as the CN Cu bath have the bath analyzed completely for free CN, CN Cu, sodium or potassium hydroxide, and carbonates. If all the chemistry is within spec and you still get poor throwing power in recessed areas you may have to carbon treat the bath. There are alternatives to CN Cu plating, alkaline Cu solutions are commonly used. Contact a reputable supplier of plating solutions, and they can help you.
Mark Baker
Process Engineering - Phoenix, Arizona USA
---
May 12, 2016
A. I have never been able to "sell" this idea to anyone else, but when I have to plate onto zinc base die cast, I prefer to pure zinc plate first, then go on to the copper-nickel-chrome.

Robert H Probert
Robert H Probert Technical Services

Garner, North Carolina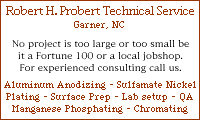 ---
May 18, 2016
A. More cyanide? That solves most problems with that bath.

Dave Wichern
Consultant - The Bronx, New York
---
---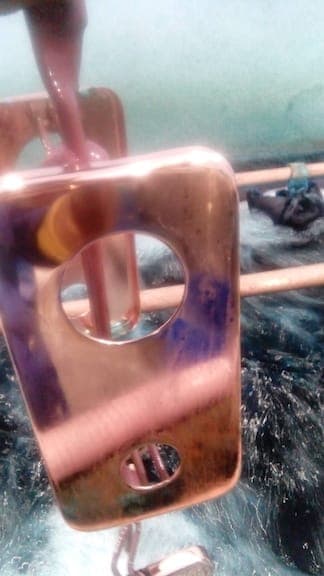 October 29, 2016
Q. Hello... In copper cyanide plating I am facing multiple issues.

At first I was facing issue of low throwing power. At low current density areas I was facing issues of low coverage.
After that I decided to add 1 kg of sodium cyanide to the solution.
After this the issue of covering has been solved. But now the job is having burnt likes patches. I cannot recognize it as burning or something else. But you can say that it is like roughness all over the job.
The tank is of 650 litres.
Should I add copper cyanide to the bath.

I had never made addition of caustic to the solution.
Does caustic helps in increasing throwing power.
Does caustic causes roughness on the job?

What is the main sodium thiosulphate in cyanide bath.
Is there any regular addition required.
Nikhil Sharma
[returning]
- jalandhar, punjab, india
---
December 1, 2016
A. If your free cyanide is OK (1 - 1.5 oz/gal, if memory serves) you might try adding some Rochelle salts (sodium potassium tartrate).

This is not easy to test for; a modest addition (0.5 oz/gal) will not hurt.

Dave Wichern
Consultant - The Bronx, New York
---
December 6, 2016
A. Good day Sikhil.

From your photo, it is apparent that this bath is an acid copper. The anode bags appear to be blue in colour. If this is true, do not add any more cyanide.
In cyanide copper baths, hydroxide will increase bath conductivity, aide in anode dissolution, causing the metal content to rise. Watch the pH here.
Rochelle salts act as a grain refiner, and also aid in anode dissolution, causing the metal also to rise.
In acid copper baths, the ratio of sulfuric to sulfate is important eg: 1:4 max., as sulfate has a limited solubility. What is the chloride content, and are you within range of the brighteners/carrier concentrations?
Come back with more specific info.

Regards,
Eric Bogner
, Lab. Tech
Aerotek Mfg. Ltd. - Whitby, Ontario, Canada
---
---
December 1, 2016
Q. Hi,
I'd like to have more information regarding Mr Robert H Probert's suggestion to use pure zinc to plate on zinc cast alloy's. Is it melting zinc or is it acid zinc?

Regards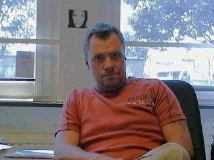 Anders Sundman
4th Generation Surface Engineering
Consultant - Arvika, Sweden
---
December 2016
Hi Anders. I'm sure Robert is speaking of zinc electroplating not hot-dip galvanizing. Electroplating of zinc castings with zinc is also often done before chromate conversion coating instead of trying to directly chromate conversion coat the casting.
Regards,
Ted Mooney, P.E. RET
finishing.com - Pine Beach, New Jersey
Aloha -- an idea worth spreading
---
December 5, 2016
Q. Hi Ted,

Did you know if it in cyanide, acid or alkali zinc they plate zinc castings?

Regards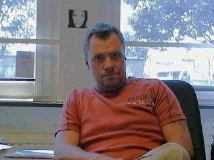 Anders Sundman
4th Generation Surface Engineering
Consultant - Arvika, Sweden
---
December 2016
A. Hi Anders. Several respondents on letter 16200 recommend alkaline zinc plating of zinc diecastings before chromating. Although I am not personally familiar with Robert's idea of zinc plating zinc die-castings before copper plating, from that it would seem that alkaline zinc would be the best process.
Regards,
Ted Mooney, P.E. RET
finishing.com - Pine Beach, New Jersey
Aloha -- an idea worth spreading
---
---
Cyanide copper plating pits in low current density areas
December 15, 2016
Q. I have tried carbon treating my cyanide bath. It has helped a bit. But the problem is not solved completely. At low current density areas. There is pitting-like patterns. The problem is coming on flat surfaces at low current density areas.
At high current density areas, there is no pitting.
The pitting looks like small dots all over the surfaces of low current density areas.

I am not using Rochelle salt at all.
My bath is completely based on copper cyanide and sodium cyanide.

There was no such problem in the beginning.

Whenever problem arises I add 5 kgs of copper cyanide and 7.5 kgs of sodium cyanide. It generally resolved my issues in the past.

But now carbon treating and additions of copper cyanide and sodium cyanide is not helping.

While carbon treating I had used 500 grams to 650 liters of solution.
It is adamant to the solution?

I had also tried dummying.

In the dummy also small bubbles like roughness is appearing on low current density areas.
Is this pitting because of impurity or I need to add some copper cyanide and sodium cyanide to the solution?
Please help me out.
Nikhil Sharma
[returning]
- jalandhar, punjab, india
---
---
March 20, 2017
Q. Hi.

Sorry, I have another request about copper cyanide bath: after plating and hot drying, the workpiece's color converts to orange.
Can you help me about this problem?
Asmaa el-sayed
Chemical Engineer - Alexandria, egypt
---
April 11, 2017
Q. Hi,
I am Facing problem each time I put sodium cyanide in copper cyanide bath, it converts to brass deposit.
Analysis sodium cyanide 99.9% and there isn't zinc, and if we put sodium in another copper bath it's ok
Can you help me about this problem in the bath and the source of zinc ions?
Asmaa el-sayed
Chemical Engineer - Alexandria, egypt
---
April 17, 2017
A. Hi Asmaa,

Zinc ions might come from copper anode or other plating accessories like anode basket, heater, circulation pump, etc.

Regards,
David

David Shiu
- Singapore
---
---
April 26, 2018
Q. Sir,
I have problem in my cyanide copper plating bath. The problem is colour of plating is getting reddish. How to solve this issue? Kindly give me suggestion to solve the problem. Copper metal is 48.5 g/l and free KCN is 8.5 gm/l in strike bath; and 46.9 g/l and free KCN is 9.10 g/l in main bath.

Regards,
Nilesh mavani
Baroda, gujarat, India


---
May 21, 2018
A. Morning Nilesh, Hope you have already resolved your problem. I have had similar issues with copper strikes in the past. First, 48.5 g/L (6.4 oz/gal) seems a bit high for metal content. Not that I assume it is the cause of the discoloration. I'v always tried to keep copper between 2 and 3 oz/gal (14-23 G/L). The first time I experienced this deep red color in a KCN Cu strike it was due to drag in contamination from prior rinses. Check your bath for any contamination. if there is any suspicion I suggest changing any Swills or drag out baths prior to the strike. Once I saw this problem develop due to over temp as well. An operator bumped the heat control and pushed the temp way up. It was only noticed because the copper started to get a deep red tarnished color. What are you putting the copper over? Amps-dwell time? What is the potassium carbonate concentration? And what is the "Main" bath you mention? Also copper? Is the redness starting at the strike or after that "main" bath you mentioned?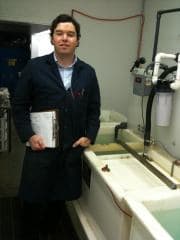 Chance Dunstan
Electroplating/Forming/Coating Manager
Placerville, California USA
---
---
Roughness in copper cyanide bath
July 25, 2018
-- this entry appended to this thread by editor in lieu of spawning a duplicative thread
Q. We have had roughness on the high current density areas of our parts and on the hull cell plates. from what I can tell its not shelf roughness because its not just on the top surface of parts. the bath is a cupralite cyanide copper plating bath prepared with sodium copper cyanide solution and sodium cyanide. brightener additions are cupralite 10 and Cupralite 20
analysis as follows
copper metal: 5.03 oz/gal (spec 4-6)
free cyanide: 1.82 oz/gal (spec 1-2)
cupralite 20: 6 %v/v (spec 4-8)
total carbonates: 8.44 oz/gal (Spec nmt 10 oz/gal)
1.so far the bath has been carbon filtered with flow king pelletized in a carbon filter bag carbon to remove some organic impurities the filter was flushed to ensure that carbon doesn't contribute to particulates
2. the entire bath was decanted into totes through a 10 micron filter bag the tank was rinsed and cleaned then the anodes were returned to the bath and solution was returned to the bath through a fresh filter bag.
3. we were running very low on copper in the anodes a portion of copper was added to each anode
4. the anode bags are old we have new anode bags on the way to replace them.
i was thinking maybe the roughness was due to particulates in the bath but we still have the problem despite the bath decant and filtration. would any of you have another idea to try and fix the problem.
Caleb Archambault
plating chemist - detroit, Michigan,USA
---
---
Seeking alternative methods for lowering Copper Cyanide in Alkaline Bath
September 18, 2018
Q. We barrel plate lead cores with copper in a sodium cyanide and caustic bath. Our copper cyanide naturally rises over a period of time, and we have been experimenting replacing a few of our titanium baskets loaded with copper anodes with iron baskets loaded with iron anodes. We have found that our Copper Cyanide concentration is lowered and it raises the free cyanide. This practice does produce a desired outcome, but the drawback is the exponential increased production of Carbonates in the bath and an increase in Copper Oxide buildup on the iron baskets containing the iron anodes. Please advise if there are other methods to lowering the Copper Cyanide concentration without using iron. We are also seeking the pro's and Con's of using Iron in the baths at any point.
Bobby Farner
Shop Chemist - St George, Utah USA
---
---
July 13, 2019
Q. My copper cyanide bath is not catching plating. Please what to do?
jamiu ochawu
- kano state, nigeria
---
July 2019
A. Hi Jamiu. This could be absolutely anything from a defective rectifier to the parts that you're trying to plate actually being aluminum rather than zinc. Step 1 is probably plating a Hull Cell panel to narrow it down at least a little bit. Good luck.
Regards,
Ted Mooney, P.E. RET
finishing.com - Pine Beach, New Jersey
Aloha -- an idea worth spreading
---
---
Cyanide copper plating blisters
August 23, 2019
Q. Sir please tell me what is the reason of bubble in cyanide copper electroplating?
Sir, base is aluminum and first plating nickel then cyanide copper on this.
Amit Kumar
- Delhi, India
---
August 2019
A. Hi Amit. Have you burst these bubbles and examined them? Underneath the bubble on the substrate is bright shiny nickel, and the underside of the blisters is definitely copper?
This is an unusual plating sequence ... what kind of components are you making? And are you sure that you proceed from nickel plating directly to copper plating with no delay other than quick rinsing?
Regards,
Ted Mooney, P.E. RET
finishing.com - Pine Beach, New Jersey
Aloha -- an idea worth spreading
---
---
August 30, 2019
Q. I am using copper cyanide bath. The issue is that whenever I am plating mild screws, after nickel plating there are two shades in plating resulting, orange and red. I have added copper cyanide and caustic soda, heated the solution up to 30 °C but the result is same. The density is 12 and pH is 11.
Kindly help me out.
jazib khan
- karachi pakistan
---
---
February 26, 2020
Q. We are doing copper plating on iron rod in Barrel plating in Rochelle copper bath.
Bath concentration 20 g/ltr Cu metal
Free cyanide is 5 g/ltr.
When we start giving 6 VDC voltage my copper plate become black, and which results in black or patches type plating on wire rods.
I made new solution but the problem is still the same. Should I add some NaOh to solution?
Please help me.
Dheeresh sharma
- Jaipur, Rajastha,India
---
February 28, 2020
A. Hello Dheeresh,
The common Rochelle bath contains sodium potassium tartrate. You don't mention that in your bath makeup.
Mark Baker
Retired - Winston Salem, North Carolina USA