Where the world gathers for
plating, anodizing, & finishing Q&As since 1989
-----
Process of Zinc-Nickel Plating

---
---
Graphite Contaminating Zn-Ni Plating Baths
Q. Hi,

We are facing problems in plating of Hot Forged Components. The manufacturer uses Graphite as a lubricant during manufacturing of components.

Hot forged parts are porous in a microscopic level and graphite gets embedded within the component during the forging process.

The graphite does not get dislodged during Hot Soak Process and comes out only during Anodic cleaning process.

A layer of graphite starts to float on the bath which will carry over to subsequent baths as well.

Presence of graphite causes black patches on plated parts as well as it causes material erosion in some cases.

Please provide a solution for this problem.

Thank You

Roopak
Roopak Nayak
- Bangalore, Karnataka, India
October 5, 2013
---
---
Base Metal Erosion due to Zn-Ni electroplating
Q. We have a hot forged and controlled cooled micro alloyed steel component.

Only 30% of the surface is machined and remaining is as forged surface.

We are doing Zn-Ni (Non cyanide alkaline bath) electroplating on the component.

Base metal erosion is happening on the machined surface after the plating process.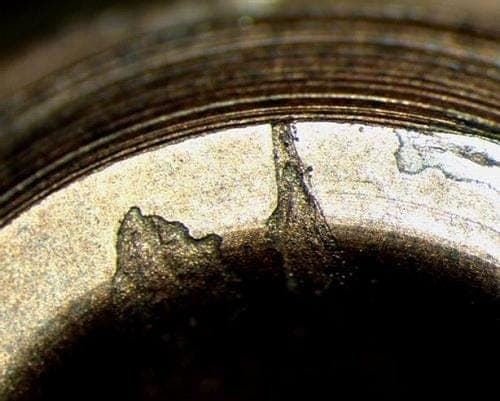 Pre part is not having any such erosion and plating thickness and Ni % is ok on the eroded surface.

Forging process: We are using graphite based forging lubricant.

Plating Process: 2 X degreasing --> Anodic Degreasing --> Pickling --> Anodic Derusting --> Mild acid dip --> NaOH activation --> Zn-Ni electroplating --> DM water dip --> Iridescent passivation (High Co & low Cr3+) --> Dewatering Oil dip --> Oil dripping.
Plating is done in fully automated line with SCADA system.

Suggest us with the possible causes for the metal erosion defect.
Srinivasan Rajagopalan
- Bangalore, India
October 7, 2013
A. Hi Srin,
I have never seen erosion like that before. A few guesses:

I think that you are having an interaction of some of your chemicals on the pre plate steps. There are some strange combinations of chemicals that can become extremely aggressive. Think of aqua regia for example. Makeup chemicals are not terribly aggressive but together they can dissolve gold.
A touch of fluoride can make a world of difference in an anodic bath.

When you say alloyed steel, what alloy?

That said, I cannot think of any steel that you can activate with NaOH.
James Watts
- Navarre, Florida
A. Hi Srinivasan. I think the part hit the anodes in one of the electrified tanks.
Regards,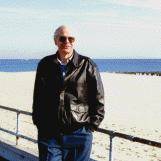 Ted Mooney
, P.E.
Striving to live Aloha
finishing.com - Pine Beach, New Jersey
Q. Dear Mr.James,

We are using graphite based die lubricant in forging of this component. Can this lead to this kind of defect if it is carried over to pre cleaning tanks like anodic?

Also If HCl is carried over through the pin holes and punctures in the rack insulation to anodic derusting tank after that, will it lead to this kind of defect?

Dear Mr.Mooney,

Apart from contact point in rack, we have supporting hook (306 stainless steel) near top and bottom of the part where we predominantly see this defect. This is not insulated, not supposed to touch the part but if touches will this kind of defect can happen?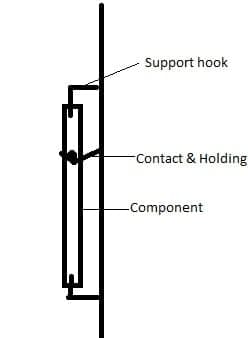 Alloy of the base metal used is 38MnVS6 and it is controlled cooled immediately after forging to get the required hardness.

Please provide your respective suggestions.
Srinivasan Rajagopalan
[returning]
- Bangalore, India
A. Hi, Srinivasan. I appreciate the rack sketch, but I'm not there and can't explain what may have happened. But I persist that this doesn't look like chemical attack to me -- it definitely looks like an electrical burn from a short circuit, with this area of the part touching an anodic or grounded item. Good luck.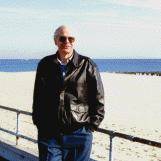 Ted Mooney
, P.E.
Striving to live Aloha
finishing.com - Pine Beach, New Jersey
A. Dear Srinivasan,

Zinc Nickel plating is one type of zinc alloy plating which is having high temperature & corrosion resistance among zinc alloy plating.

Zinc nickel ratio composition in zinc nickel alloy chemical (bath Solution) is Zn:Ni = 10:01 and normally bath parameters range is Zn (8 to 12 grams/litre) Ni (0.8 to 1.2 grams/liter which is controlled by AAS method or XRF method.)

zinc nickel plating ratio deposition in zinc nickel alloy plating is Zn (85 to 90 %) Ni (10 to 15%) which is high resistance.

While nickel percentage is more than 18% in deposition and zinc percentage is less than 82% in deposition, during environmental tests ( salt spray test) direct appear red rust. Salt spray corrosion resistance is less when nickel % is more than 18 in deposition.
Surya Narayana
Process Engineer - Tumkur, Karnataka, India.
---
---
Temperature for Zinc Nickel Plating bath
Q. Hi,

May I know the suitable temperature for zinc nickel solution to achieve best plating parts.

The higher the temperature will cause the higher the time to plate?
NORAZMA azema
production engineer - johor bahru , johor. malaysia
November 18, 2014
? Hello Norazma,
Are you plating with an acid or alkaline Zn - Ni solution?
Mark Baker
Process Engineer - Phoenix, Arizona USA
Q. Hi,

Alkaline zinc-nickel.
norazma mukhtar
[returning]
production engineer - johor bahru , johor. malaysia
A. Hello Norazma,
Most alkaline Zn - Ni baths run at about 25 °C (77 °F). The best bet is to consult the Tech Data Sheet for the bath from your Zn - Ni supplier. If you don't have one, ask your bath supplier. Proprietary plating solutions dictate temperature ranges. As far as the second part of your question, higher temps would normally speed up the deposition process. Are you having trouble maintaining the bath temp? Keep in mind higher bath temps will have an effect on the final finish cosmetics. Good solution movement, cathode bar agitation, and maintaining tight bath temp ranges is the key to consistent plating.
Mark Baker
Process Engineer - Phoenix, Arizona USA
---
---
Q. Hi
I'm Venugopal working in R&D department. I need the details of how zinc nickel forms on steel component? What is chemical formula of zinc nickel plating? Normally in zinc nickel coating zinc percent is higher -- then why white rust is not forming as in zinc plating?

Regards
VENUGOPAL ALAGARSAMY
- Chennai, India
November 17, 2014
---
---
Q. My problem is that there are no suppliers of the chemical "RODIP ZNA YELLOW" in my region; please help.
RAO FARMAN ALI
- islamabad Pakistan
May 16, 2015
A. Hi Rao. That product is a powdered chromate formulation from Atotech for bronze iridescent chromating on zinc-nickel plating. Other suppliers such as Macdermid and Enthone presumably can offer equivalent products if access to Atotech products is not possible in your region. Good luck.
Regards,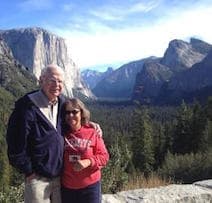 Ted Mooney
, P.E. RET
Striving to live Aloha
finishing.com - Pine Beach, New Jersey
---
---
Adhesion Problem with Zinc Nickel on Stainless Steel
Q. Hello everyone.

We are having problem with adhesion with Alkaline Zinc Nickel on hardened stainless steel. The problems occur on hardened martensitic stainless steel. For Copper or Al or Be alloys, plating works wonderfully, also on 4130 steel. Adhesion is not a problem on those base metals.
We also CAD plate the stainless steel, and we do it well. The only problems we have on stainless steel is with Zn-Ni. I have read the other inquiries on here, but have not seen a response from the original question starter with results.

I think, like many, that it is a surface pretreatment issue with this, but why would Cadmium plate adhere well and Zn-Ni won't?

We have tried different activating methods, lower amp and longer nickel strike, different nickel strike rations, NiCl:HCl 2:1, 1:1, and still the same.

The method I use to test the pieces is by getting around 5-7 pieces and shake them in my hand. They hit each other, and the plating comes off. If I do this with Zn-Ni plated on bronze alloys, the plating will not come off(peel off.) If I do this test with cadmium plated stainless steel, the plating will not come off either. Only on Zn-Ni plated stainless steel.

I have recently tried a little coat of Electroless Nickel after my nickel strike, then plate Zn-Ni, and the plating still comes off. It comes off in a finer dust, but it is still coming off.

This has been problematic for us, we have done it in both acid and alkaline baths, and same results on stainless steel.

Can anyone that use to have similar problems help me out with this???

Btw, the composition for our S.S is :
Carbon 0.07 maximum
Manganese 1.00 maximum
Phosphorus 0.04 maximum
Sulfur 0.03 maximum
Silicon 1.00 maximum
Chromium 15.00 - 17.50
Nickel 3.00 - 5.00
Copper 3.00 - 5.00
Columbium plus Tantalum 0.15 - 0.45

Please help, is driving me nuts!

Somethings to look at: successfully remove passive oxide film on the stainless steel to be able to plate Ni strike followed by Zn-Ni. But HOW? have tried 5 minutes in 30 percent HCl, and it flaked off less, but still flaking/plating coming off.

Thanks!
Oscar Sanchez
Employee - San Diego, California
May 26, 2015
"Electrodeposition: The Materials Science of Coatings and Substrates"
by Jack Dini
from Abe Books
or Amazon
[affil links]
A. Hi Oscar. I think it should be possible to determine whether the nickel strike layer is peeling from the stainless steel substrate, or the zinc-nickel plating is peeling from the nickel strike layer. The corrective action would differ based on where the problem originates.
If the nickel strike is not sticking, I suppose it's possible that the parts aren't really clean. Try to get a look at Dini's "Electrodeposition", which has a chapter on "Adhesion" with lots of good data on nickel striking of stainless steel .

If the nickel strike is sticking, but the zinc-nickel plating doesn't stick to it (which seems to be what you are reporting) there may be too long a delay between the strike and the plating. The strike is a nickel-rich surface which rapidly passivates. Possibly the cadmium plating is better at dealing with this marginal passivation of the nickel strike. You may learn something from plating "stress tabs" in a Hull Cell. Good luck.
Regards,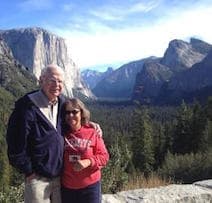 Ted Mooney
, P.E. RET
Striving to live Aloha
finishing.com - Pine Beach, New Jersey
---
---
Pitted zinc-nickel plating
Hello everyone again!

Our zinc-nickel treatment has some problems lately. We are doing some parts for automotive clients that are getting pitted after the zinc-nickel plating bath.

The raw materials of the parts (that we made) are 10B22 in both cases. The first one (hexagonal) is hardened and tempered 8.8 (27-29 HRC) and the second one (plastic thread) is cemented, quenched and tempered (530 HV in surface and around 40 HRC in core). This I explain is because of the low efficiency of the bath in the second case. We need to plate for around three hours to get a 10 micron layer.

Both parts are pickled in hydrochloric around 10% (1/3 diluted 32%), rinsed and dipped in caustic soda [affil link] before the plating bath. Our plating bath is a barrel semi-automatic one, with 30 kg barrels. Our zinc-nickel plating bath is a proprietary formula alkaline one, 12-15% Nickel. Later, the parts are blue chromated and ready to go.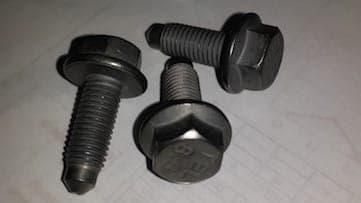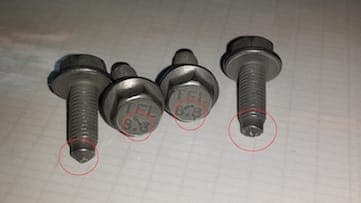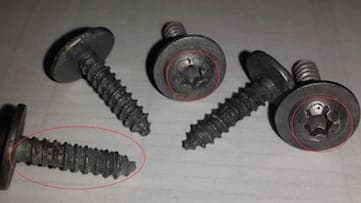 Good parts, and two examples of bad parts.
Click pictures for high resolution photos.
We are experiencing this pitting for third time in the 6 years I am in this company, and we never got to know why.

I bring this to you, because many heads think better than one. Has someone seen anything like this?

Thank you in advance, and best regards!

Daniel
Daniel Montañés
- Caneulas, Buenos Aires, Argentina
March 9, 2016
? Good day Daniel.

I have been following this thread as I will soon be implementing the process.
I do not have any experience as yet with the process, but I am doing research.
My question to you is, "Both parts are pickled in hydrochloric around 10% (1/3 diluted 32%)".
I would believe this is a 33% HCl solution.
What are the process parameters for pre-dip?

Regards,
Eric Bogner
, Lab. Tech
Aerotek Mfg. Ltd. - Whitby, Ontario, Canada
Q. Hello Eric!

You are right, it is a 33% HCl bath, but we chemists sure are complicated: As the "pure acid" is not 100% but 32%, a 1:3 dilution will be 10,7% HCl, but for all practical purposes it is correct to say it is a 33% HCl bath.

Pre-dip is as follows:
-HCl 25-40% 20 min (with wetting agent and Fe inhibitor)
-Rinse
-NaOH 30% 30 min (it doesn't have to be this amount of time, but it depends on how much time the parts are plating).

Then it goes right into the plating bath. We don't believe it is an acid pitting because of the way it appears: On the head and the point, always from the middle to the edges. We think it could be some noise in the electric circuit that could make the current flow the other way... We are trying to test it now, as it happened again today.

If we have more data I will be posting it on Monday or Tuesday. Thank you in advance!

Best regards,
Daniel Montañés
- Cañuelas, Buenos Aires, Argentina
A. The localized attack to the ends of the parts could suggest something in the material. Is this limited to one coil/material of manufacture? I know it is the same material.

If you rule that out, I could be an End grain pitting/inter-granular attack. Is your acid inhibited? Are the pits visible prior to plating? Post acid activation? Inspect the barrels after every operation to help with trouble shooting.
DEHUC MYKYTCZUK
- Toronto, On, Canada
Q. We are facing pit mark problem in zinc-nickel plating process, please share the causes path details
Lokesh Naik
- Bangalore Karnataka, India
June 9, 2023
A. Hi Lokesh. You can read the above for some ideas, but for substantive help you'd need to share significant data rather than just an abstract question, e.g.,
Is this a new installation not yet plating satisfactorily, or an existing installation that went bad? Acid or alkaline? Barrel plating or rack? Any Hull Cell panel info to share? What kind of parts, what kind of steel? Frequency and timing of the pitting, i.e., 100% of the parts all the time vs. 1% of the parts on the night shift. Gas pits (bright, hemispherical) or acid attack pits? Have you looked at parts after the acid dip and before plating? Photos to mooney@finishing.com for posting here if possible please. Thanks!
Luck & Regards,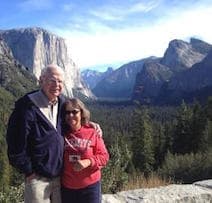 Ted Mooney, P.E. RET
Striving to live Aloha
finishing.com - Pine Beach, New Jersey



Q. Dear sir, we doing in alkaline zinc nickel plating and material condition is low Carbon steel, Rack plating. We are facing after plating pitted mark problem in the parts surface. Pre -cleaning - 2 water rinse - anodic cleaning -2 water rinse - acid pickling 10-15% HCl(33%)- 2 water rinses.
And neutralization is -5% ( NaOh) ,then main bath. This is our process flow, please suggest how to control the pit marks in process.
Lokesh Naik
[returning]
- Bangalore, India
June 10, 2023
---
---