Live! From beautiful Pine Beach New Jersey: Welcome to the world's most popular metal finishing website
topic 28128
MIL-A-8625, TYPE II, CLASS 2 with sealer?
A discussion started in 2004 but continuing through 2018
2004
Q. What is the correct wording for the sealer (is there a specification or standard that I can make reference to?)
I have a customer who specified "BLACK ANODIZE PER Mil-A-8625 [link is to free spec at Defense Logistics Agency, dla.mil], TYPE II, CLASS 2. CLEAR COAT ALL PARTS AFTER ANODIZE." We sent our parts to a reputable plater and they did the black anodize and then they put a lacquer clear coat on top. This was not acceptable to the customer. I investigated and found out that what the customer intended to get from the "clear coat" was a protection from fading and fingerprints, and they wanted something that they could easily clean fingerprints/smudges off of. I had a sample plated using MIL-A-8625 TYPE II, CLASS 2 (same as before), but required them to add a sealer. The customer loved this. The problem is now I don't know how to call this out on my drawings. Is there a MIL spec or standard for adding the sealer? How do I make reference to this sealer so that any plater can make it the same? My customer doesn't know either. Am I missing something - is this part of the MIL-A-8625 spec already?
Martin Magaña
Manufacturing - Anaheim, California, USA
---
TUTORIAL FOR NEWBIES:

When someone who is unfamiliar with the details of the anodizing process sees the word "seal", they probably mentally envision some sort of "clear coat".

But what actually happens in sulfuric acid anodizing is that the anodizing process inherently and beneficially produces millions of microscopic pores / drill holes extending from the surface almost to the raw aluminum. These pores can desirably absorb dye. After anodizing, and after dyeing if dyeing is done, standard practice is to swell the surface of the anodizing by immersion in boiling water, steam, or warm /hot water with other materials like chromates, nickel acetates, etc. and thereby close off the top of the pores to lock the dye in and dirt out and to improve the corrosion resistance.

In the case at hand it seems that perhaps somewhere along the line someone substituted the phrase "clear coat" for "seal" without realizing this :-)
2004
A. Sealers have never been called "clear coat". You should not have to specify "sealer" but you should specify which sealer: Nickel Acetate (the most popular and clear), Cobalt Acetate, Plain Hot Water (no toxicity), Dichromate (certainly not clear). Sealing is hydrating the aluminum oxide. The hydrated molecule is larger than plain aluminum oxide, and this "clogs" the pores and retards corrosion.

Robert H Probert
Robert H Probert Technical Services
Garner, North Carolina
---
2004
Q. Thank you for you for the clarification Robert. How do I call out the "sealer" process on my paperwork? Is this part of the MIL-A-8625 spec, or is it a separate spec. One plater suggested just adding "sealer coat after anodizing." Is this an acceptable way of calling this out so that any plater will recognize it and plate the same way? Any comments/suggestions are greatly appreciated.
Martin Magaña
Manufacturing - Anaheim, California, USA
---
2004
A. Unless you are requesting Type 3 Hardcoat anodizing, the sealing process (it is a process, rather than a coat - it affects the characteristics of the existing coating rather than adding new material) is a required part of the MIL-A-8625 specification and no anodizer should be omitting it and you can write your callout as "MIL-A-8625 T2C2 Black". If you are worried, specify the callout as "MIL-A-8625 Type 2 Class 2 dyed black and sealed with Nickel Acetate". This way you'll simultaneously dodge the possibility of your anodizer using sodium dichromate on the parts - which, while allowed, would discolor them some noticeable amount.
Jim Gorsich
Accurate Anodizing Inc.
Compton, California, USA
---
2004
A. Unless your customer needs a "dichromate seal" you can say nothing and your anodizer will automatically seal in either nickel acetate or hot water. If you want maximum corrosion protection then say "Nickel Acetate Seal".

Robert H Probert
Robert H Probert Technical Services
Garner, North Carolina
---
---
July 12, 2012
Q. DO PARTS THAT ARE HOT WATER SEALED FADE?
CARLOS COLON
- SAN JOSE, California USA
---
July 13, 2012
A. Hi Carlos. Yes.
Parts must always be fully sealed or they will fade. This can be done in hot water or otherwise. If properly sealed, how much they fade will depend on how stable the dyes are. Even the best organic dyes will fade in sunlight. Please try your best to describe your own situation. Thanks.
Regards,
Ted Mooney, P.E.
finishing.com
Pine Beach, New Jersey
Striving to live "Aloha"
---
---
May 21, 2013
Q. Hi to everyone!!!

MIL-A-8625 T:2 C:2. We have a discoloration problem of parts that the anodic coating (yellow) applied. Part's material is aluminium alloy and coating applied per AMSQQA200/225/250. Is there anyone who'll give info to us about that discoloration issue? Thanks in advance.
Burcin Manas
- Turkey
---
May 24, 2013
A. Hi Burain. All anodized parts discolor to some extent, because the anodized coating is not glass-clear, although for certain alloys with thin coatings and a non-chromate sealer it may be almost unnoticeable. I think we'd need to know the type of alloy, the anodizing thickness, and the sealing method to be able to hazard a guess as to where a "yellow" color came from. A picture might help too. But certainly if they were chromic acid sealed, they'll be yellow. Thanks.
Regards,
Ted Mooney, P.E.
finishing.com
Pine Beach, New Jersey
Striving to live "Aloha"
---
May 27, 2013
Q. Hi Ted,

I am giving the detail information of the sulphuric acid anodising per MIL-A-8625. The problem is discoloration when it is immersed in the water and cleaned with MEK.

Anodising; TYPE 2
Class : 2 ( sealed with 30 mg/L potassium dichromate)
Material: 2024-T3 per QQ-A-250/4
color material: sanodal yellow 3GL

Thanks,

Burcin Manas
[returning]
- Ankara, Turkey
---
May 28, 2013
A. Hi. Apparently I misunderstood your problem. It is not that a coating that was intended to be clear is yellowish, but that a yellow coating is discoloring? But so I don't misunderstand a second time, what do you mean by discoloration? Is the yellow color washing away, or is it turning black, or getting spots of some sort?
Have you considered a double seal consisting of nickel acetate followed by potassium dichromate? Bob Probert discusses this in letter 57367.
Regards,
Ted Mooney, P.E.
finishing.com
Pine Beach, New Jersey
Striving to live "Aloha"
---
October 5, 2013
Q. Yes, the yellow color is washing away. Yellow color is about the dying process and material. The parts are being dyed and duplex sealed.

Thanks in advance
Burcin Manas
[returning]
- Ankara, TURKEY
---
October 8, 2013
A. I suspect the pH of the dichromate seal was out of range.

Robert H Probert
Robert H Probert Technical Services
Garner, North Carolina
---
---
Type II "... or other suitable chemicals ..." sealing
August 28, 2015
Q. In Mil-A-8625 regarding post-anodize seals in section 3.8.1.2 for class II in regards to dichromate sealing it ends with "...or other suitable chemicals." Can someone explain what this means. It seems rather loosely and openly stated for a spec. Is "suitable" defined anywhere? Do certs need to clarify what chemical/s were used for the seal in light of this statement? Thank you
Lance Hall
Aircraft Inspector - El Dorado Hills, California
---
September 4, 2015
A. My experience with anodizing military specs is that they have an end goal (coating properties) for you to meet, and don't specify how you get there. In the case of your question, you could possibly use a Ni acetate seal, as long as your product meets all the end goal requirements (salt spray pass, coating weight, coating thickness, etc.)

The print for the part should specify if the dichromate sealing is required, or any other medium (Ni acetate, DI water, Ni fluoride, etc., etc.). If it doesn't, then I interpret the spec that the coater can process in his medium of choice, as long as the coating properties in the spec are met.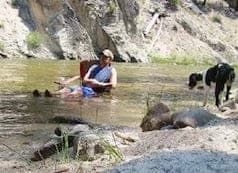 Marc Green
anodizer - Idaho
---
September 8, 2015

Thank you Mark for the response.

If I understand correctly, if you were to receive a request to use a specific sealer type then you would do so and state it on the cert, otherwise sealing options are open for sealing and referencing not needed.

In our case we requested (as the print specified) dichromate sealer. Should we expect the cert to state this or only if we requested it to be stated? The cert we received only references the Mil spec.

I didn't formally say "Hi" to everyone either. Nice to be here. I've been working around aviation parts for a while...even worked for 7 years at an aircraft component repair shop supervised the plating shop. So I've done a little anodizing but as someone early said we never have all the answers. I certainly don't. :-)
Lance Hall
[returning]
- El Dorado Hills, California
---
September 9, 2015
A. If it were me, yes, I would request that the cert stated such, especially if it's called out on the print. That should be an easy thing for your vendor to accommodate, and gives you peace of mind.

That being said, I wouldn't get upset with your vendor for not stating his sealing mechanism this first go-round, as you did not request them to do so. But going fwd, it shouldn't be an issue.
Marc Green




anodizer - Idaho



---
September 21, 2015

Thanks Marc, I'll pass this info on to our purchasing dept.
Lance Hall
[returning]
- El Dorado Hills, California
---
---
Sodium Dichromate vs. Nickel Acetate Sealing
January 13, 2016
Q. I am a mechanical engineer and am facing an issue with our surface finish supplier. We call out for a type II, class I anodize, followed specifically by a dichromate seal. Our supplier does not use dichromate sealants, due to safety concerns, and defaulted to using Nickel Acetate.

Is Nickel Acetate a suitable substitute for Sodium Dichromate on parts exposed to oversea applications?
Adam Silver
- Irvine, California, USA
---
January 14, 2016
A. Hi Adam,

For corrosive environments such as operations in a salt laden environment I would choose dichromate sealing over nickel acetate.

End of the day you are the customer so if you want sodium dichromate seal, and you specify that, anything else is non-compliant so you do not have to accept it. If the supplier you are currently using refuses to meet your requirements it's time to find a new supplier who will! Suppliers don't dictate the product, the customer does!
Brian Terry
Aerospace - Yeovil, Somerset, UK
---
---
White powder on Al 6061 parts plated MIL-A-8625 T2, C2
January 25, 2016
Q. We have a small part 1.16 in diameter which has a .052 hole in center. In the last batch from the supplier we noticed white powder inside the small center hole. They look like salt but I think they are Aluminum white corrosion. We dissected one and you can see corrosion inside the hole.

Here are a few facts:
1) the mating part with this part is a Stainless Steel rod
2) the final assembly goes through sterilization and is a medical device.
4) our current spec says Black Anodize T2, C2 - no details about inside the small hole needing to be plated (I don't know even if that possible)

Question:
1) If we do a visual inspection and sort these parts; if it is Aluminum corrosion, would it cause problems?
2) Because the part is used in medical industry, do we need to define a better sealing such as Nickel Acetate?
3) Is there a way to save the parts and fix the corrosion?

Many thanks,

Marjan Bruestle
- Kirkland, Washington, USA
---
January 26, 2016
A. Hi Marjan,

Sounds like sulfuric acid was left trapped in the hole, which has then attacked the aluminum. I see this quite often. It is down to a poor rinsing regime at the anodising company. I suspect if you were to do an elemental analysis you will find aluminum, sulfur and oxygen and not a lot else.

To rescue the parts you can polish out the damage, but it's going to depend on the tolerances you are working to.
Brian Terry
Aerospace - Yeovil, Somerset, UK
---
January 26, 2016
Q. Thank you Brian,
We also noticed (from cutting the parts) that of the parts some do not have anodized/dye in the center hole.

Now per MIL-A-8625, I believe we need the coverage everywhere. If we define a minimum plating thickness on the drawing, would that help the prevention of this kind of problem in future?

Or if we have acid trap due to poor rinse, it still can cause the same problem?

Thanks again for your time.
Marjan Bruestle
[returning]
- Kirkland, Washington, USA
---
January 27, 2016
A. Hi Marjan,

The size of hole is what is going to cause you a problem. If the anodizing solution gets to the bottom of the hole and there are no air locks then it will anodize all the way down, if you have air locks or pre-treatment solutions become entrapped you get no anodizing. If you have successfully anodized and then go into the dye/seal tanks without successfully removing the sulfuric acid then you will end up etching and the hole will not look anodized. My company, which builds a lot of small parts for the Aerospace industry recognized this problem a number of years ago and so allow the touch up of bare metal surfaces in blind holes with a conversion coating (Mil-DTL-5541 [link is to free spec at Defense Logistics Agency, dla.mil] Type 1 Class 1A). This contains hexavalent chromium so may well not be allowed in your application. There are other trivalent chromium conversion coatings that may be acceptable to you, whatever you do you do not want to leave a bare metal surface.

In the meantime you do need to go back to your treatment shop and make sure they understand they are causing you a problem due to poor rinsing practices. You may not always get the hole anodized, but there are no excuses for leaving process solutions trapped in holes that can cause you problems further down the line.
Brian Terry
Aerospace - Yeovil, Somerset, UK
---
January 27, 2016

This is very helpful. Greatly appreciate your help.

Thanks,

Marjan Bruestle
[returning]
- Kirkland, Washington
---
January 29, 2016
A. MIL-A-8625F paragraph "6.10.1.1 Holes. In the case of small holes and tapped holes, coating thickness can vary from no film to a full normal coating. Holes, both tapped and not tapped, over 1/4 inch should be anodized." I read this to mean that holes smaller than 1/4 inch do not have to be anodized.
It is not surprising that a small, blind holes retain anodizing electrolyte. Once it wicks down a hole the surface tension can make it nearly impossible to remove with rinsing, no matter how good or long. As the sulfuric acid dries out it forms the white aluminum sulfate crystal which blooms out of the hole. A better practice is to plug these holes.
Chris Jurey
, Past-President IHAA
Luke Engineering & Mfg. Co. Inc.
International Hard Anodizing Association - Wadsworth, Ohio
---
---
July 14, 2016
Q. Hello all, why did MIL-A-8625F type II class 1 clear anodize with duplex seal came out with yellow/light gold color?
Tom NG
QA - Antelope, California
---
July 2016
A. Hi Tom. Guessing can only suggest things for you to look at, not resolve the problem, but two guesses ...
1. The yellow color is from a dichromate seal, a part of the duplex sealing process.
2. The etching process, limited de-smutting, type of alloy, and thickness of the anodizing layer is leaving/creating a yellowish tint. If this is the case, rather than the dichromate, we'd need a lot of data to go further.
Luck and Regards,
Ted Mooney, P.E. RET
finishing.com
Pine Beach, New Jersey
Striving to live "Aloha"
---
August 15, 2016
A. Lots of possibilities as you can see. Some alloys of aluminum will render a yellowish oxide so check out that option.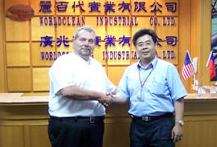 Drew Nosti, CEF
Ladson, South Carolina
---
---
Correcting an air lock in sulphuric acid anodizing
January 28, 2017
-- this entry appended to this thread by editor in lieu of spawning a duplicative thread
Q. Hello. I've been told if you sulphuric anodize a part, and you take out of the vat after plating, if you see a airlock in the part you can put it back in the vat again to plate where the air lock is. Correct? Thanks.
andrew thomas
- uk
---
---
April 4, 2018
Q. Hi All Specialists,

We are encountering some issues at our Sulphuric Acid Anodizing Line, MIL-A-8625, Type II. After sealing of anodizing using potassium dichromate, we discovered some white patches on the yellow sealing surfaces, not all areas but at minimum places. The white patches are not conductive thus it seems like unsealed.
What would be the possible root cause? All chemical concentration are good and we never encounter this in the past but it happened very sudden on all anodized parts. We need your kind advise.

Thank you!
HL Yap
Meerkat Precision, Aerospace Manufacturing - Penang, Malaysia
---
July 17, 2018
A. One of the most neglected areas in anodizing, regardless which part of the line is rinse water. Change it even if you think it is clean. Filtering with activated charcoal canisters also works.
Ken L.
Former QC manager for anodizing - Long Island, New York USA
---
July 19, 2018

Hi Ken,

Thank you for your advise, we have overcome the issue with extra DI water spraying when lifting up the parts from anodizing tank.

You are absolutely right, the rinsing water needs to be changed regularly even if we see it clean.

Your advise is highly appreciated.
Han Lin YAP
[returning]
- Penang, Malaysia


If you have a question in mind which seems off topic, please Search the Site