Where the world gathers for
plating, anodizing, & finishing Q&As since 1989
Duplex / "double" sealing of anodized aluminum
-----
Q. I am mechanical engineer, and we are having issues/confusion with hardcoat and sealing. One of our other companies is located in Europe and they use a Boeing Class II Sealed anodize (all of the information I could get out of them). We use a MIL-A-8625 [link is to free spec spec at Defense Logistics Agency, dla.mil] Type III, Class 1, nickel acetate seal, no dye added. Does anyone know if these are the same?

Also how much thickness does the nickel acetate seal add, if any?

I forgot to mention it is AL 7075-T6
Brad Joseph
Engineer - Falmouth, Massachusetts
June 23, 2011
---
A. The anodizing is aluminum oxide, the seal is "hydrated aluminum oxide", the dimensional change is zero.

Robert H Probert
Robert H Probert Technical Services

Garner, North Carolina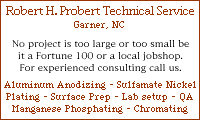 ---
A. I'm not familiar with the Boeing spec, however I will tell you that the sealing of anodizing does not add any thickness to the original coating.

Basically, when sealing anodizing, the only thing we are doing is closing the pores of the anodic coating for increased corrosion resistance. The downside to this, is that the sealing process slightly softens the type 3 coating.

Sealing hardcoat has caused quite a bit of confusion between customer and anodizer over the years, as MIL-A-8625 [link is to free spec spec at Defense Logistics Agency, dla.mil] F does not require that the parts to be sealed, unless requested by the customer. This comes into play when we're talking about Type 3 class 2 coatings (dyed), as the color tends to fade when not sealed.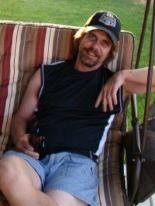 Marc Green
anodizer - Boise, Idaho
---
---
Q. What about a Duplex seal? -- does this add any thickness or not add on any thickness, the same as nickel acetate? This is also what turns the part that olive green color as well, typically, correct?
Brad Joseph
[returning]
- Massachusetts
June 30, 2011
---
A. "Double Sealing" seems to mean something different to different people. In my book I offer two kinds of double seal. (1) First Nickel Acetate at about 170 °F for 20 minutes followed by D.I.Water; pH 5.7 with 1 gm/L ammonium acetate, 20 minutes at 170 °F, and this leaves no coloration. (2) Nickel Acetate for 10 minutes followed by Sodium or Potassium Dichromate, and this leaves the coloration you asked about. It is recommended that each application be researched for the conditions of alloy, thickness, end use corrosion requirements, and end use cosmetic requirements.If your customer says "double seal", ask him exactly what he means.

Robert H Probert
Robert H Probert Technical Services

Garner, North Carolina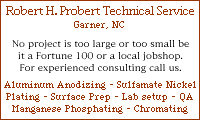 July 1, 2011
---
---
What is the composition of Duplex Sealing per MIL-A-8625 TYPE-2 CLASS-1?
Q. I have a customer who specified (drawing says) Duplex Sealing required for the process MIL-A-8625 [link is to free spec spec at Defense Logistics Agency, dla.mil] TY-2, CLASS-1. But spec MIL-A-8625 only refers to duplex sealing for CLASS 2.
And customer confirmed that "part should be sealed per the class-1 requirements of MIL-A-8625 and then duplex sealed", but here our concern is will it become three times sealed (seal as per class 1, and duplex seal containing two sealing agents)?
Also our main concern is what is the composition of Duplex Sealing (process details)?.

Basavaraj Palabhanvi
plating shop employee - Bangalore/Karnataka/india
December 16, 2014
---
Hi Basavaraj. The way I read MIL-A-8625 is that "duplex sealing" means nickel acetate or nickel cobalt sealing followed by sodium dichromate sealing. But ignoring Mil-A-8625's implication that "duplex sealing" pertains to Class-2 (dyed) coatings, and is intended to improve the corrosion resistance of dyed coatings might be a mistake as well.
It is a very human thing to not want to look stupid; and a sound business decision to not make the customer look stupid. Unfortunately, this creates a strong temptation to simply guess what the customer wants, or to ask others to guess what the customer wants :-)
I think you should straightforwardly ask your customer if nickel/cobalt acetate sealing followed by sodium dichromate sealing is what they want. It just might be that what they have in mind is Probert's "DI water" double sealing as a way to get away from having sodium dichromate on their parts :-)
Good luck.
Regards,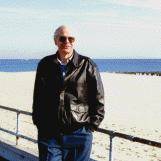 Ted Mooney
, P.E.
Striving to live Aloha
finishing.com - Pine Beach, New Jersey
---
---
Can duplex sealing enhance black dye stability?
Q. Is a duplex seal Nickel Acetate followed by Di Water a valid way to buy insurance for a very stable robust sulfuric acid anodized black dyed parts. We are using high quality light fast dye and want most robust seal to obtain color stability.
eric krone
- buffalo New York
October 7, 2019
---
A. Nickel Acetate which is so easily contaminated always benefits from a post sealing in hot d.i. water pH 6.0. The second hot water seal is always good "insurance".

Robert H Probert
Robert H Probert Technical Services

Garner, North Carolina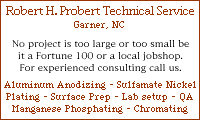 ---
Q. Hi. Thanks for your much valued answers and inputs. I know the thread is somewhat older, still hope my question could be answered.

Currently, we are mainly sealing using di-H2O (100 °C /60min) and would like to involve duplex sealing to help against UV discoloration (especially with black dyes). We are aware this will not entirely remedy the problem but any protection enhancement would be welcome.

If we use a 1,5% Ni-acetate solution (75-80 °C/ 20min) followed by di-H2O (100 °C/ 40-50min), would this be a sound process?

Thanks!
Jeremy Boissel
- Mainz/Germany
November 14, 2022
---
A. Just like you said it is the best you can do, just be aware that low concentration seals are extremely easy to drag in contamination. See my post of 2011 above, Nickel seal first then hot water, but you might raise the temp on up another 10 °F.

Robert H Probert
Robert H Probert Technical Services

Garner, North Carolina