World's most popular finishing site / Internet's friendliest corner
topic 2884
Aluminum for pool ladder?
A discussion started in 1999 but continuing through 2019
1999
Q. I posted a question in this forum last year (topic 1318) about finishing an aluminum ladder I had built (stupidly, but the aluminum was free) for my swimming pool. I got several responses, which I appreciate, ranging from anodizing to throwing it away and having one made from stainless. Well stainless itself is expensive, and then there's the cost of welding another ladder.
I've been reading about some epoxy paint that is used to re-surface swimming pools, and I wonder if it's possible that this type of paint would work on my aluminum ladder? Supposedly, the best of this type of paint is Zeron, made by Kelley Technical Coatings. Can anyone offer suggestions on this application and, since the paint obviously holds up to chlorine (nasty stuff!), what type of surface prep/primer would be needed? Another possibility may be chlorinated rubber paint? Thanks.
Jack Hamlyn
- Portland, Texas
---
A. Hi Jack. We can't comment specifically about Zeron vs. other brands (why?), but I think the first step, pretreatment, is more important than exactly which epoxy paint you use. Ideally, aluminum should be chromate conversion coated -- but this is usually beyond the reach of hobbyists and amateurs. In that case, applying a wash primer to your aluminum should precede epoxy coating it. I tend to think that paints made for aluminum boats might prove more satisfactory than paints made for lining swimming pools, but that is only an opinion.
Regards,
Ted Mooney, P.E.
finishing.com - Pine Beach, New Jersey
Striving to live Aloha
---
January 25, 2019
Q. I have a swimming pool at my home. I am looking to change the pool ladder as it is getting corroded by the water. Is a ladder made of Aluminium good?

www.polygroupstore.com/pool_ladder_without_barrier_p/p54360040099.htm
Akash Lee
- California city
---
January 2019
A. Hi Akash. Aluminum is probably not as good as stainless steel, but it is less expensive and a lot lighter. And it appears that this ladder is painted anyway -- so the question isn't primarily whether aluminum is good, but whether the paint and its pretreatment will prove satisfactory (although water can probably get inside the tubes, and the inside is probably not painted).
But as someone with 50 years metal finishing experience, but also a fellow consumer, I'll advise that you can't judge the quality of a consumer product from its ad copy or its specifications anyway -- it's a fool's errand. You can only go by your own experience, friends' experiences with that brand & seller, and reviews (Consumer Reports, Amazon, BBB) of the brand and seller.
Regards,
Ted Mooney, P.E. RET
finishing.com - Pine Beach, New Jersey
Striving to live Aloha
---
February 5, 2019
A. Our pool ladder is stainless steel tubing with plastic steps. It's been immersed in chlorinated water for 43 years and is as new.

I don't remember what it cost, but it was not very expensive.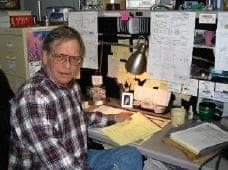 Jeffrey Holmes, CEF
Spartanburg, South Carolina