60,000 Q&A topics -- Education, Aloha, & Fun
topic 27488 p3
Real silver vs. sterling silver, p.3
---
< Prev. page (You're on the last page of the thread)
---
A discussion started in 2004 but continuing through 2019
April 20, 2012
Q. The only marks I find on my silver tea pot are LS Co.". Can't find those letter marks anywhere. Has anyone heard of them or know anything?
lillian ibbs
- warren, Pennsylvania USA
---
May 15, 2012
Q. Hello I bought a silver plate at a garage sale, about 12" dia, it has 'Viking Plate 43' stamp, no other markings, other than gouges and scratches, it is very heavy for the size, it is also bendable/pliable (can easily be folded in half or any other shape), there is little tarnish a little around the rim, is it solid silver or would it be plated? Would it be made of lead and silver plated?
sara gold
- moose jaw, canada
---
May 22, 2012
Q. Hi, I bought a bracelet that the owner said is sterling silver. I thought that real sterling silver is suppose to have a stamp somewhere to confirm that it is indeed sterling silver.

This bracelet does not have any stamp or other identifying marks on it. It is from Jaipur, India, which is known for it silver jewelry. Is it possible that this bracelet is real sterling silver even though there are no indicating stamps on it? Thanks.
Steve Bogdanoff
- Santa Fe, New Mexico USA
---
May 23, 2012
A. Hi Steve. Yes, it's possible.
Regards,
Ted Mooney, P.E.
finishing.com - Pine Beach, New Jersey
Striving to live Aloha
---
June 3, 2012
Q. I recently bought a belt buckle that looks like it is .680 silver...is there any such thing?



Cambrian Caruthers
I own this item - Corning, California
---
July 12, 2012
Q. Hi, I want to know if there is a difference between 925 Sterling Silver from Italy and .925 Sterling Silver from India. I bought 4 necklaces and the 3 chains from Italy are not as bright as the one from India - and yet they are both marked .925 Sterling Silver. Hope you can clear this up ... Thanks!
Lisa Gasperini
- Mine Hill, New Jersey
---
June 12, 2012
A. Hi Lisa. It's probably not the silver that is different but the coating on the silver. Silver is very prone to tarnishing and many manufacturers, in an effort to forestall tarnishing, treat it in one way or another. One fairly common treatment is a thin flash of rhodium plating, and I would suspect that this was done on the bright necklace. Other possible treatments include a dip in a preservative, or a clear coating.
Also, remember that 92.5% silver contains 7.5% something else, and the color and other properties may vary slightly depending on what that 7.5% is.
Regards,
Ted Mooney, P.E.
finishing.com - Pine Beach, New Jersey
Striving to live Aloha
---
July 19, 2012
Q. I have silver tea set that has no markings of any kind. The set has plenty of tarnish on it. Would like to find out if is silver and the value if any.
Jerry Palen
- Moses Lake, Washington U.S.A.
---
July 22, 2012
A. Hi Jerry.
Your choices are to take it to someone who can do that for you, or to try to evaluate it yourself. An antiques dealer may find that it has collector's value, although the odds seem to be about 1000 to 1 against you. Alternately, you can get to a library and see if any of the antiques guides start leading you anywhere; but to spend days of study against very long odds may not appeal to you.
If the tray has no collector's value, then you can take it to a precious scrap dealer ... "We buy gold" signs are on almost every city street corner these days. If you want to test it yourself before you do that, look for the threads about "testing silver" -- but you are back in the position of having to spend a lot of time learning a subject for the evaluation of one single item which almost surely has no value. Good luck.
Regards,
Ted Mooney, P.E.
finishing.com - Pine Beach, New Jersey
Striving to live Aloha
---
August 11, 2012
Q. I have a set of 8 salt and pepper shakers on the bottom it says sterling VS. Is this plate or real sterling silver?
Stacey Drinnen
- Pt. Charlotte, Florida USA
---
November 30, 2012
A. Hi Stacey. If they say "sterling", that's what they are (omitting the possibility of counterfeiting).
Regards,
Ted Mooney, P.E.
finishing.com - Pine Beach, New Jersey
Striving to live Aloha
---
September 11, 2012
Q. I have a small piece of tableware that looks like silver and looking at the bottom of it I noticed, amongst other marks, a clear and distinct number 400. I would like to know what that means. Does it refer to the amount of silver in the piece?
Ivo Contesini
- London, England, U.K.
---
November 27, 2012
Q. The marks left behind from silver testing, are they permanent or can they be cleaned away?
Teresa Offutt
- Kerrville, Texas, USA
---
January 12, 2013
Q. Hello,
I have a pair of earrings that are marked 925 SF. What does the SF mean? Thank you.
Nancy Nesmith
- Savannah, Georgia, USA
---
February 24, 2013
Q. Can you please tell me what you know about German silver. I bought an old belt buckle,and the stamp on the back says solid German silver!
Greg Endress
- Berwick, Pennsylvania USA
---
February 24, 2013
A. Hi Greg. Sorry to be the bearer of bad news but there is no silver in "German Silver", which is is "60-70 percent copper, 20 nickel, and some zinc and maybe tin and lead" (see Paul Tibbals in letter 3616). Likewise, no silver in "Nickel Silver", which is "55-72% copper, 10-18% nickel, and 10-27% zinc" (see Lee Gearhardt in letter 22524). The names come from the fact that these alloys are strong and look like silver, so they are a good base for silver plated flatware.
Regards,
Ted Mooney, P.E.
finishing.com - Pine Beach, New Jersey
Striving to live Aloha
---
January 12, 2014
Q. Why does some silver still look yellowish or dirty, even though it's been polished? There are some old pieces of "sterling" for sale that just don't look shiny or polished, despite the cleaning. Can they be brought back to a beautiful silver luster or not? thanks
Alison Pots
- Lowell, Michigan, US
---
March 30, 2014
Q. Hello Sir,

I wonder if you can help me. I recently purchased a St Christopher pendant from the US and it has MEH 55 stamped on the back. What does this mean?

Please can you help.

Actually, er, read "MEH SS". So possibly solid silver?
dan mcloughlin
- London, UK
---
April 2014
A. Hi Dan. I have personally never heard such an abbreviation for silver; every time I've seen "SS" it meant stainless steel. Sorry.
"There ain't no Coupe de Ville hiding at the bottom of a Cracker Jack box" -- Meatloaf
Regards,
Ted Mooney, P.E.
finishing.com - Pine Beach, New Jersey
Striving to live Aloha
---
June 18, 2015
Q. Hi, Nearly forty years ago I travelled South America, I bought a roughly made silver Yerba Mate. I gave it to my Aunt in New York on the way home and last week I found it while clearing out her apartment. It was the colour of brass and very greasy as it lived most of its life with her over the cooker. I have cleaned it up and it polishes up beautifully. It has a lid and a straw and is a solid oval shape on three legs with pin point design around the middle.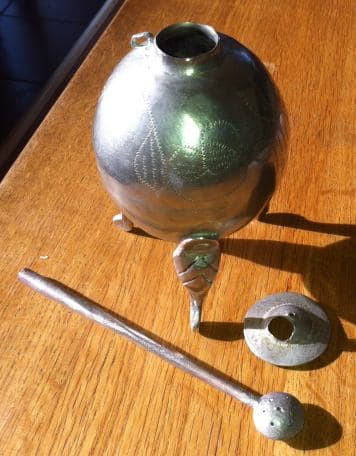 My question is as I can't find another one like it on the net, is it really silver? There is no refinement in the object. Hoping you can help.

Maggie
Maggie M
[last name deleted for privacy by Editor]
interested - Mullingar, Ireland
---
June 2015
A. Hi Maggie. Here in the USA, there are shops on every other city street corner proclaiming "we buy gold". I don't know exactly where to find them in your area of Ireland. Sorry, but I don't think there is a way anybody here can help you except to tell you to find such a shop to test it. My wild guess is that it's tin, and the cover and straw are pewter. Good luck.
It's an unusual looking item though, so I hope you don't melt it down for scrap.
Regards,
Ted Mooney, P.E. RET
finishing.com - Pine Beach, New Jersey
Aloha -- an idea worth spreading
---
October 21, 2016
Q. I have a 14K Gold Claddagh ring with a GO and a c in a circle on it. What does that mean?
Kathy McCartin
- Garnerville, New York USA
---
February 28, 2017
A. Despite repeatedly posting that you're not a hallmark identifying site, people continue to post questions about unknown markings. So, I thought I'd help you out with a couple I've seen questioned in this thread. The letters,
"I S", usually with a stamped box around each letter, stand for, Inlaid Silver. "SS", stands for, Sterling Silver. Have a nice day.
Karleen Rogers
- Scottsboro, Alabama USA
---
Thanks Karleen!
Regards,
Ted Mooney, P.E. RET
finishing.com - Pine Beach, New Jersey
Aloha -- an idea worth spreading
---
---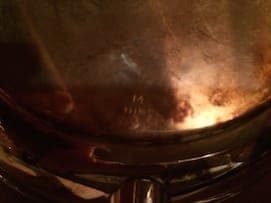 June 21, 2017
I have a Eugene Ferner silver stand with casserole dish that on the bottom it just says Ferner with a M and nothing else. Do you know if this is plated or Sterling? Thank you
Betsy Lee
- Aurora, Ohio USA
---
June 2017
A. Hi Betsy. They made both. So if it doesn't say 'Sterling', I doubt that anyone can tell you from just the brand name.
Sorry, your photo is way out of focus, but it this thing silver colored or copper colored? If you see any copper color anywhere, it is surely not Sterling, and the lack of a "Sterling" or "950" mark is a very good indication that it's only silverplate.
Regards,
Ted Mooney, P.E. RET
finishing.com - Pine Beach, New Jersey
Aloha -- an idea worth spreading
---
---
July 26, 2017
Q. I found a ring that has marking CN inside what does CN stand for?
Cindy L. Frix
Mrs. - Panama City, Florida
---
---
January 22, 2018
Q. Is there a difference in Peruvian silver and other silver? I'd like to think silver is silver but I know from experience that Mexican silver is not of high quality but I don't know exactly how that differs from other silver as well.
Lisa Powers
Estate Archaeologists - Plantation, Florida, USA
---
January 26, 2018
A. So-called Peruvian silver is supposed to be 95% silver, or 950 Fine, an sterling is supposed to be 92.5%, or 925 Fine.

The difference in silver value of the 2 isn't much. At the $17.30 silver price today, a troy ounce of sterling, at 92.5%, is worth $16.00 and a troy ounce of Peruvian silver, at 95%, is worth $16.44. A troy ounce could make, on average, maybe 3 to 5 rings. So, the metal in silver jewelry is very little, no matter what kind of silver you use. The value is in the workmanship.

The jeweler could easily make a troy ounce of so-called Peruvian Silver by simply melting together 20.7 grams of sterling with 10.4 grams of pure silver.

In most all cases, the remaining percentages of 7.5% for sterling and 5% for the Peruvian silver, that are not silver, are copper.

This whole thing is similar to Black Hills gold and Welsh gold. As I understand it, in the Black Hills of SD, some of the natural gold that was found contained impurities that gave it a green or pink (or red) color. They made jewelry from it, using yellow gold along with green gold for grape leaves and pink gold for grapes. Nowadays, it's a big business up there, but the pink is artificially made by adding a lot of copper and a little silver to yellow gold. The green gold is made by adding a lot of silver and a little copper to yellow gold.
Chris Owen
- Benton, Arkansas, USA
---
July 1, 2018
Q. I bought a piece of silver which is marked made in Peru with a makers signature. I cannot find any information on hallmarks from Peru, anyone have any information that might help me?
Susan Camden
- Lynchburg, Virginia USA
---

Hi Susan. We have many threads on this site which deteriorated into endless strings of unanswered questions about hallmarks; thread 29370 is a pressing example. If you have any knowledge of the topic at all, the whole world is waiting for your help and would appreciate it!
Regards,
Ted Mooney, P.E. RET
finishing.com - Pine Beach, New Jersey
Aloha -- an idea worth spreading
---
---
March 14, 2019
Q. Steve, I have bought on EBay a knife and silver table set in silver 925. In the meantime we lost 3 forks and 3 knives. Is there any Peru Silver certification centre there that I might contact to try to know the set's manufacturer?
Thanks for yours answer
Best regards
fernando menezes
MEVA,LDA - porto norte Portugal
---
March 2019
A. Hi Fernando. I don't know which "Steve" you were trying to reach. James Steven from Cancun? His posting was from 11 years ago; sorry, but I doubt that he'll see your inquiry in a timely fashion :-(
Regards,
Ted Mooney, P.E. RET
finishing.com - Pine Beach, New Jersey
Aloha -- an idea worth spreading
---
---
July 23, 2019
Q. I have a baby cup stamped "sterling silver hand made 6" Also the word Schrook or Schrock or something. I'm trying to find a similar cup but I don't know the worth of this one and can't find a matching one. Does anyone know the maker Schrock or Schrook and what the 6 might mean? Thank you.
Kelly Harvey
- Ocklawaha Florida USA
---
July 2019
A. Hi Kelly. The "6" is meaningless; could be model number, size, weight, revision number, casting label. Google and E-bay gave me no leads of Schrook or Schrock and it could certainly be an engraving of the baby's nickname or last name. The 'value' of the cup is only the intrinsic value of the silver. Every town has numerous stores with signs "We Buy Gold" who will weigh the cup and offer you its value. Some cups might be weighted so must be destroyed before anyone will offer you the silver value though.
My suggestion would be to either enjoy the cup or sell it for its silver value. Attics everywhere are full of silver of this sort which no one wants, and the chance of it being worth anything beyond metal value is about the same as a discarded lottery ticket being a big winner :-) Trying to determine its history is a big project and only for cherished family heirlooms. Good luck.
Regards,
Ted Mooney, P.E. RET
finishing.com - Pine Beach, New Jersey
Aloha -- an idea worth spreading
---
---
June 21, 2020

Hello!

My name is Brett, from Las Vegas, Nevada.

I just read the complete thread I sincerely admire your patience with so many people and their 'Hallmark' questions.
So, I found this non magnetic bowl at a yard sale and it looks really old. It is stamped with an anchor a lion a crown and ... oh sorry.
Seriously, I enjoyed the thread and I sincerely hope you get your Hawaiian dream!

ALOHA!!

Thanks again for the site.

Sincerely,
Brett Stephens
- Las Vegas, Nevada
---
June 2020
A. Thanks for the kindness, Brett. Aloha demands that we be patient with those who haven't yet seen the light; so some of us display our 'Tulsi 202X' bumper stickers.

Regards,
Ted Mooney, P.E. RET
finishing.com - Pine Beach, New Jersey
Aloha -- an idea worth spreading