Where the world gathers for
plating, anodizing, & finishing Q&As since 1989
-----
Hot (boiling) DI water seal after anodizing
Current question and answers:
January 15, 2021
Q. Anodizing is a finishing technique that I use to support my hobby in electronics. I use this process to finish front and rear panels, and I engrave the panels before anodizing to eliminate the high cost and lead time of one-off silkscreens. All my anodizing is clear (no dyes), and I seal with boiling water. Is there any advantage to sealing with DI water or other methods, compared to the distilled water I'm using now?


Jack Stewart
- Austin, Texas
---
January 2021
A. Hi Jack. You may realize this but, just so that we don't mislead readers of this Q&A, I should note that cold D.I. is not going to seal your anodizing -- we're still talking about using boiling water, but D.I. rather than tap water. If you're not suffering any salt stains, pitting, or other problems mentioned on this page, keep calm and carry on :-)
Luck & Regards,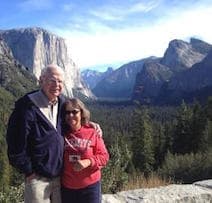 Ted Mooney
, P.E. RET
Striving to live Aloha
finishing.com - Pine Beach, New Jersey
---
January 15, 2021
Q. Thanks, Ted. I've been anodizing for a number of years, but never had this issue explained to my satisfaction: Why is nickel acetate used if distilled or DI water can perform the same function? I've only ever had problems with the finish when I used tap water. Distilled water has always produced an even, stain-free finish.
Jack Stewart
[returning]
- Austin Texas
---

Aluminum How-To
"Chromating - Anodizing - Hardcoating"
by Robert Probert

finishing.com has sold 800+ copies without a single return request :-)
January 2021
A. Hello Jack. Dyed work always uses nickel acetate. I don't pretend to understand in depth the exact chemistry of it all, but it acts as a catalyst shortening the required sealing time, often allowing slightly reduced temperature as well, causing less leaching of the dye, and also improving the corrosion resistance.
Some people feel D.I. is just as good for clear anodizing; others, including expert Robert Probert, feel that nickel acetate should be used even on clear anodizing for better corrosion resistance. We have numerous threads about sealing in general and nickel acetate specifically if you search the site.
If following threads leads to bouncing between stuff that's over your head vs. wasting time endlessly re-reading what you already know & understand, you may prefer to pay for a void-free tutorial approach: Robert's book offers that with 8 excellent large-print pages on sealing followed by 4 on chalking & smuts -- and no one has ever asked for a return/refund :-)
Luck & Regards,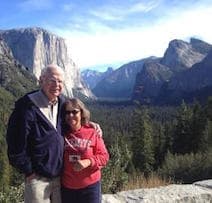 Ted Mooney
, P.E. RET
Striving to live Aloha
finishing.com - Pine Beach, New Jersey
---
January 17, 2021
Q. Well, nearly all the panels and other parts I make are indoor use only. Corrosion isn't a big concern for those. However, I do occasionally cut something for outdoor applications, so I'll keep the nickel acetate in mind. Many thanks for explaining this!

Now, if I could just figure out why polished aluminum pieces come out of the bath dull, I'd have it made. This is the only other issue I've had in my process, and the culprit is still unknown. Wrong types of aluminum? Something missing in preparation? No one seems to know for sure. I can avoid it somewhat if I apply a brushed finish first, but that can create issues of its own when I go back to fill engraved areas. The ability to have a piece come out of the bath looking the same as when it went in would really be a step forward for my work.
Jack Stewart
[returning]
- Austin Texas
---
---
---
Closely related historical posts, oldest first ...
2004
Q. We are in the business of Sulphuric Acid Anodizing for a year now.

We are at present doing only 6061 & 1100 alloys. So far we were doing only clear anodizing, but now our customer has asked us to black dye the component.

We procured the Black dye powder from a local supplier who is into that business since 1902 and dyed the components. When we did the sealing test on the component with 50% nitric acid a stain was left out.

We are using distilled which is collected in our plant by evaporation method and the conductivity is less than 0.5 microsiemens and pH is 7.0.

The component is left in sealing tank for about 45 min at 96 to 98 °C. In spite of trying out many samples we are getting the same result.

Coating thickness is between 13-23 microns.

Please help me out to come out of this problem.
G Vinay
Plant Incharge, Anodizing - Bangalore, Karnataka, India
---
2004
A. Please note that sealing test with nitric is not possible for process of Dye Colored articles. First try to seal article in specially available sealing for Dye in market then try the test as suggested by supplier.
Satish Shah
- Anand, Gujarat
---
"Surface Treatment & Finishing of Aluminium and Its Alloys"
Wernick, Pinner & Sheasby
from Abe Books
or

Affil. Link
Your purchases make finishing.com possible
2004
A. Satish,

I disagree... the 40% Nitric acid test is widely used to test seal quality on dyed parts; all you have to do is to leave it on for 2 minutes, rinse, and note if any discoloration/attack has taken place.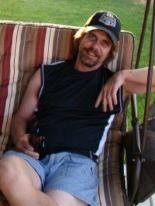 Marc Green
anodizer - Boise, Idaho
---
2004
A. Please tell us more about your sealing tank, like the temperature, the pH of sealing bath, the time of holding the load in sealing tank. Principally for color seal you have to follow two step sealing:
1- using Nickel acetate plus nonionic surfactant
2- last step using hot water seal in separate tank. Finally, for seal quality test, follow specified standard.
Hadi Khosravi
- Tehran, Iran
---
---
Additives for DI Water Seal after Anodizing
1998
Q. We are looking for information on additives for deionized water seal (following sulfuric acid anodizing) in order to suppress sealing bloom or smut. We have heard that there is a formulation containing an alkali salt of a polycarboxylic acid which has been used. Any information on this or any other type of DI water seal additive would be greatly appreciated.
Steve Starr
Treffers Precision, Inc.
---
1997
A. Additives to the DI hot water seal do help prevent smut or bloom and give a better seal.

My question would be why bother with it. You will spend a lot of time, which is money, and may never equal the dedicated research that chemical companies have done to save possibly a dollar a day for an average size anodizer.

I would stick to a company that Aluminum is their main business.

The first two that come to my mind are Novamax and Clariant.
James Watts
- Navarre, Florida
---
1998
A. Sealing smut usually forms when the sealing tank becomes alkaline rather than slightly acidic. Unfortunately this is also an area which produces a very good hydrothermal seal due to the excess of OH- ions. Additives usually suppress the smut by dispersion of the precipitate.

Albright & Wilson has such an additive called "Speedseal" for conventional hot DI water sealing. The advantage is the excess hydroxyls speed up the seal time.

Better rinsing may help the problem since about 95% of the sealing smut problems come from sulfides from the anodize bath
Lee C. Branch
Albright & Wilson Americas
---
January 23, 2015
A. Best answer for that question of what sealant to use after anodizing in hot D.I.water ...
Seal 2532 is best. Add 2 liters for 140 gal hot DI tank. It raises TDS, keep pH between 5.5 to 6.00, parts for 2 hours and see the difference.
Jayshree patel
- houston,Texas
----
Ed. note: James is surely right that proprietary seals beat home-brew, but please don't recommend specific proprietaries (why?). It gives others carte blanche to run their ads too, turning the page into a spam fest. This site is only here for you courtesy of a small number of generous advertisers who make it possible. Some already dropped their support, unwilling to pay the cost of maintaining postings recommending their competitors who don't support the site. Non-advertisers suggesting their own products hasten the day when sites like this can no longer survive.
---
---
"Double sealing" after anodizing
Q. WE ARE THINKING OF ADDING A HOT WATER BOILING DI SEAL AS AN ADDITION TO OUR CURRENT SEALS FOR TYPE II ANODIZING. HOW WOULD THIS BENEFIT US BESIDES BE ABLE TO CERTIFY TO THIS PROCESS? WOULD WE SEE LESS WATER STAINING ON OUR PARTS IF WE USED THIS AFTER A nickel SEAL? EVEN THOUGH, WE DON'T HAVE DI RINSES (WE USE CITY WATER) WOULD THIS ELIMINATE WATER STAINING AS END RESULT?
TED NOVOTNE
- MPLS, Minnesota, USA
---
A. Hi Ted,

This additional step is completely unnecessary except as you pointed out for the CERTIFICATION. One would first ask the question: Is my current seal doing its job or not?

If the answer is YES, then why add an unnecessary step?

If the answer is NO, then you should rather think about solving your problem!

Now if you want to eliminate the staining after the Nickel Seal, you can call your last step a hot rinse rather than a DI WATER SEAL.

Regards,
Dr. Hocine Djellab
anodizing shop - Verdun, Quebec, CANADA
---
---
How do you test for a DI Hot Water seal
2004
Q. How do I determine/or test if a product has been clear anodized properly in DI Hot Water, and is there a way to determine the thickness of the seal?
Greg Ashford
- Manchester, New Hampshire, USA
---
2004
A. There are tests such as a dye-stain resistance test which will determine if the part was sealed, but not how. I am not aware of a seal test that can determine what type of seal was used. Likewise I have never heard of a "thickness test" for seal, and cannot see why you would require one.

Your anodizer can provide you with a process certification and should be able to perform the seal test as required by Mil-Standards.

What are you experiencing that has you doubting the seal quality?
Bill Grayson
- San Jose, California
---
2005
A. The seal has no thickness. To seal anodizing means to convert the aluminum oxide in the pores to hydrated aluminum oxide which is a larger molecule and literally "clogs" or fills up the pore with hydrated aluminum oxide.

ASTM lists sophisticated tests for sealing.

Several thickness testing instrument companies sell an impedance meter which determines the degree of seal. Some of these companies are listed by finishing.com.

Just dip a cotton ball in black dye and swab it on, then rinse it off. If any dye remains visible to the naked eye, then it ain't sealed !

Robert H Probert
Robert H Probert Technical Services

Garner, North Carolina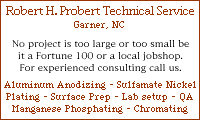 ---
2005
A. The SEAL INTEGRITY TEST per ASTM B136 [affil. link] using a blue dye will work nicely. Basically it requires pretreating an area with weak nitric acid followed by application of a dye. Actually any standard stain (e.g., coffee, Kool Aid, etc.) will work as well. One easy test is to press your thumb against it and see if it feels sticky; the suction created is an indicator of open porosity that hasn't been sufficiently sealed.

Good luck.....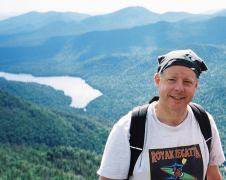 Milt Stevenson, Jr.
Anoplate Corporation

Syracuse, New York
---
---
2005
Q. Our hot water seal use is for sealing sulfuric acid anodizing. My problem is dark points on aluminium after sealing. Addition agent is 931 made in Germany; temperature is 87-92 °C.
Please help me for this problem. Thank you
Asghar Norouzi
- Tehran, Iran
---
---
Duration of Hot DI Seal after Sulfuric Anodizing
2006
Q. Hello,

I have a question about how long to seal my parts in a HOT DI Seal, after a Sulfuric Anodize of 60 mins. The coating thickness is 2 mils. Thanks for your time.
Derek Reagan McCasland
painting - Camden, Arkansas, U.S.
---
2006
A. General rule of thumb is 1 hour for every mil.
Bill Grayson
Metal Finishing - San Jose, California, USA
---
2006
A. Hi Derek,

Generally, sealing time should be 2.5 minutes to 3 minutes per micron of film thickness in D.I.water at 96 °C (minimum). But you are targeting to 2 mils thickness, i.e.,
2 X 25.4 = 50.8 micron ... I don't think normal sulphuric acid anodising will give you that thickness without having cracks in the film! Please ensure that first.

Good luck.
Srimay Basu
- Dubai, U.A.E.
---
2006
A. The industry standard is 6 minutes per 0.1 mil thickness at 212 °F and pH 6.0; however, 0.002" seems to meet the controversial definition of "hard coat", and you should not seal hard coat because the hydrated aluminum oxide is softer than the non-hydrated as anodized aluminum oxide - you make the coating softer.

Robert H Probert
Robert H Probert Technical Services

Garner, North Carolina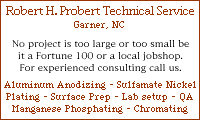 ---
2006
A. Yes, this is true Robert but there are many applications where the type III is sealed.

Electrical resistance, color retention, and corrosion resistance are all enhanced by sealing.
Bill Grayson
metal finishing - San Jose, California, USA
---
---
Hard anodizing with Hot D.I. seal turned red and powdery
2007
Q. Dear Sir,

I am working in a metal finishing shop. we have a new project that requires Hard Anodizing with Hot D.I. water seal. The resistivity of D.I. water from the source is 15 Megaohm. We set the sealing bath at 95 °C and pH at 5.0 to 6.0. The anodized part (50 microns) was sealed for 60 minutes. The problem is, after sealing the color tone turned to reddish tone and the surface became powdery. We also tried another part to seal in Hot Nickel Acetate sealing bath. The surface remain clean and grey color. Please advise how to achieve clean and grey color finishing for Hard Clear Anodizing with Hot D.I. water sealing.

Best Regards
Cheong
Chan Cheong
Plating shop employee - Singapore
---
2007
A. Seal the part at least 2 Hours
John hu
- singapore
---
---
April 8, 2014
Q. How are companies keeping their boiling DI water under 50 ppm total dissolved solids, while also maintaining the high temperature? Are you recirculating at temperature thru DI columns or adding room temperature water as required to dilute TDS?
Thank you
Jeff Nathan
- Bristol Rhode Island USA
---
April 15, 2014
A. Boiling water is too hot for ion exchange resins, particularly for anion exchange resins. If the water is cooled to < 120 °F, then it can be deionized without damage to the resins.
Lyle Kirman
consultant - Cleveland Heights, Ohio
---
April 16, 2014
Q. Some DI columns can handle up to 170 °F, so let's assume that these guys can cool their water to 170 °F before the column. How are other companies keeping their hot DI water under 50 ppm TDS without adding room temperature DI water (can get expensive with cost of water and heating water)? I would like to know as well.
David Robinson
- Woonsocket, Rhode Island, USA
---
April 2014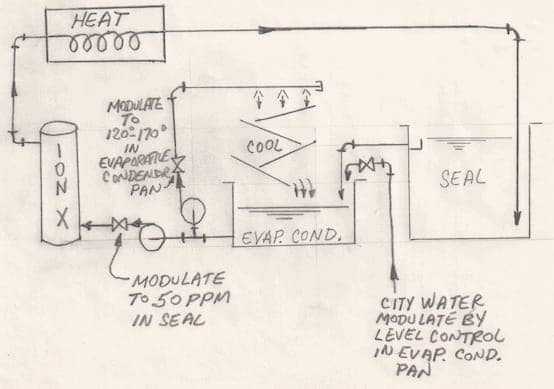 A. Hi. Hot water sealing is pretty energy intensive. A near boiling seal tank evaporates a lot of water, and it may be that just demineralizing the required make-up water is sufficient to hold an acceptable PPM?
If not, pending feedback from those with operating experience, I'd probably propose using an evaporative condensor to cool the water to the 120 °F or 170° point for the circulation through the ion exchanger.

Regards,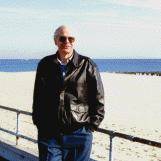 Ted Mooney
, P.E.
Striving to live Aloha
finishing.com - Pine Beach, New Jersey
---
April 20, 2014
Q. Dear Sir,
I am using coil heaters to bring my temperature. In this there is heavy consumption of electricity. Can you suggest me some good option for taking the temperature to the boiling point.

Regards
Sumit Lodha
- Ahmednagar Maharashtra India
---
April 2014
A. Hi Sumit. Low pressure steam (<15psig) in stainless steel heating coils is probably the most common approach. It is inexpensive and relatively energy-efficient.
Regards,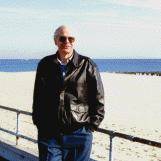 Ted Mooney
, P.E.
Striving to live Aloha
finishing.com - Pine Beach, New Jersey
---
April 21, 2014
Q. Dear Sir,
Can anyone on this forum help me professionally? Because I really don't know how to achieve and make a setup of it.

Regards
Sumit Lodha
[returning]
- Ahmednagar Maharashtra India
---
April 26, 2014
A. If you start with DI water, the solids you are trying to remove are mostly what was dragged into the tank on parts.

If the parts are efficiently rinsed before the boiling DI there will be very little drag in and hence little build up of solids.

I would always use a soak rinse before sealing and preferably a spray rinse with DI (use a small garden spray) over the rinse tank before the boiling DI. Measure the TDS and only treat (or replace the DI) when necessary. You may be surprised how long it lasts.

Unless you have a 24-hour operation, the tank will usually cool enough to treat overnight. With good rinsing a weekend treatment may be enough. Even running two tanks with one cool and treating while the other is in service would be cheaper than using a heat exchanger to remove the very expensive energy you put into boiling.

If you are ever forced to use a cooling coil, consider using the output for a hot water rinse.

Save heat energy in your boiling DI by insulating the tank and using chroffles - floating plastic balls - to cover the surface.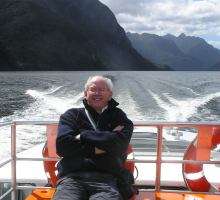 Geoff Smith
Hampshire, England
---
April 29, 2014
A. I agree with Geoff. I've always approached stuff like this, not by treating the problem, but more by prevention. He's spot on with insuring that you have adequate rinsing techniques. Albeit I go a step further in that I employ a tank with a manifold that has rows of conical spray heads that flood the part with DI water prior to sealing in order to insure that all areas of the parts are well rinsed, as some areas could easily be missed with a manual hand sprayer.

Tack your TDS daily from the start of a new bath until you approach your max desired TDS, and schedule your regular tank change-outs based on those results. You may find that you can just schedule a weekly, or bi-weekly change out on a regular basis, which simplifies things.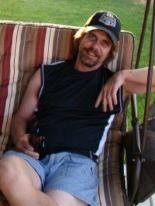 Marc Green
anodizer - Boise, Idaho
---
---
DI Seal Smut Issues --less than ideal temperature
September 1, 2015
Q. Hello, I am an employee at an anodize shop. The majority of the work we do is type II sulfuric acid anodizing. Recently we have started to receive work that requires a boiling DI water seal; however, the DI water that we use to seal these parts is only 180-185 degrees. As a result, the finished parts are covered in smut.

Additional information-- The parts are black anodize with a .0005-.0007 thickness. PH of tank is 7 (have also tried PH 5.5-6.5 with same result)

What I am wondering is: Are there any adjustments to the tank (PH, TDS, additives, etc) that I could make to effectively seal my black anodize parts in 185 degree DI water WITHOUT smut.

(I tried to be as thorough as possible, sorry if I missed any technical information)
Josh Jetton
Plating Shop Employee - Sacramento, California, United States
---
September 2, 2015
A. Good day Josh.

What is the TDS of the hot DI seal?
I am targeting 15 PPM max., pH 4-7.
How long are you sealing?
What is the pH of the dye, and are you using a nickel acetate seal, either cold or hot? pH?
What is your spec?
I have mistakenly forgot the nickel seal, and used only hot DI,= smut.
Our spec calls for cold nickel seal and we use the hot DI as a quick rinse to assist in drying.
Hope this helps.

Regards,
Eric Bogner
Lab Tech. - Whitby, On, Canada
---
---
Hot sealing problem due to vapours of boiling water
September 2, 2015
Q. Dear Sir,
No need to say this website is been a great source of technical knowledge for me. I have come up with great expectations here for my problem of hot sealing.

We are doing hot sealing at a temperature in a range of 97 to 99 °C. We are getting good seal quality but a major problem we are facing that the fumes or vapors get accumulated over the profile and makes the finish uneven. The unevenness is in the form of a light patches which are visible only when we lay down the section horizontally. I am still confused regarding the source of patches. They are not dark patches but very light ones. Only visible if we look with concentration.
Sumit Lodha
- Ahmednagar Maharashtra India
---
---
TDS limit for boiling water seal?
November 18, 2020
Q. A few in this thread have mentioned a TDS limit for the Boiling DI Water Seal - 50 ppm was in one post and another indicated he was trying to keep it below 15 ppm. Does any aerospace spec limit the Boiling DI Water Seal TDS to a number, and if so, what specification(s) and what number(s)?
Mike Palatas
- Los Angeles, California, USA
---
November 25, 2020
A. Hello Mike
Try to look at ASTM D1193 [affil. link] "Standard Specification for Reagent Water". Sometimes AMS specs reference this standard for water types and limits.
Leon Gusak
- Winnipeg, Canada
---
November 26, 2020
A. Hello Mike,
The process spec telling you to use a Boiling water seal should tell you the maximum TDS, either in mg per litre, or as a conductivity reading. You can buy a simple conductivity meter quite cheaply; it gives readings in Seimens(S), milliSeimens(mS), microSeimens(µS).
Most specs require a conductivity below 100 µS.
This is a good way to control seal water TDS, as you just dump the old and make up with fresh de-ionised water, generally below 20 µS.
Hope this helps
Best regards
Mark
Mark Lees
- A covid-free rock in the Irish sea
---
November 30, 2020
This question is complicated by the fact many folks (including myself) run an additive (which i assume is there as a surfactant/buffer) in the hot water seal. So going in with water <10 ppm tds as sodium chloride equivalency, the additive would add a bit of TDS. Not sure how much, as I've never checked after addition. Yikes. Might need to start!

If you wanted to track it, you can check your water in, then the fresh bath with additive, note how much the additive adds, and use that to correct readings you are taking to track buildup from drag-in. Of course, if you're running strictly to a spec, you've got a hard ceiling.

If not (arguably, you should do this anyway), there are two other things you should monitor:
- is pH suddenly drifting or unstable?
- is the bath visibly discolored?

On the up side, it's the easiest bath to dump and remake!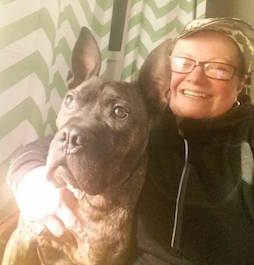 Rachel Mackintosh
Lab Rat and some other things - Greenfield, Vermont
adv.


Aluminum finishing company built on integrity & accountability