Not a lecture hall but a roundtable with a seat for you!
60,000 topics spanning 36 years. Education, Aloha, & Fun
topic 26274
Is bromine better than chlorine in nickel sulphamate baths?
A discussion started in 1999 and continuing through 2020 so far.
Adding your Q. / A. or Comment will restore it to the Current Topics page
1999
Q. Since my retirement from my position as Manager of a Metalfinishing Dept. of a large Australian Company, I have been involved in consulting work in electroforming and also the repair of small and large moulds for the manufacturing industry. Recently I became involved in the question of the use of Nickel bromide as against Nickel chloride in Nickel sulphamate solutions for electroforming. I have graphs that the stress is somewhat lower with Nickel bromide than Nickel chloride. However I would appreciate some information in how much Nickel bromide has found use in electroforming. Some representative told a friend-electroformer everyone used it? Is this correct? Thanks for reply. Rob
Robbert B
[last name deleted for privacy by Editor]
Private Consultant - Australia
---
---
2000
Q. We recently fought through a serious de-wet issue in our plating process. We are plating 150 microinches of Sn over 100 microinches of Ni (plated) over silver (a cured paste). All plating is done automatically in an RFT plater. The product is a ceramic capacitor.
We basically turned our process over searching for answers and found two. Replacing the Ni bath, and bail and feed of the Ni bath. We are feeding Ni make-up which comes direct from the supplier ready to use. As soon as we scale back on the bail and feed we have de-wet. At this point we replace the Ni bath and we are off and running again. The bail and feed is at a rate that replaces the entire bath (100 liters) every four to five days.
It appears that we are either degrading or contaminating the Ni bath but we do not know how. We have performed analysis of the new and used chemicals and cannot find significant differences. The Ni bath we use is nickel sulfamate with a bromide anode activator, there are no organic additives. The process ran for a year with only normal, manual chemical addition maintenance, no feed and bleed or bail and feed.
Does anyone have any ideas of what I can look for to determine what is degrading and/or contaminating the Ni chemistry?
Rich Reifenheiser
- Monterrey Mexico
---
2000
A. Of course this is completely unacceptable from an ISO14000 standpoint.
How many amperes pass through the nickel bath in 5 days? Amps/gal are probably very low. I would look for drag-in source or some silicone defoamer or something like that around the machine or used in the process. Find out what chemicals the building maintenance crews are using. Are they wiping the machine?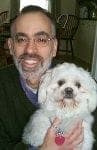 Tom Pullizzi
Falls Township, Pennsylvania
---
---
2001
Q. 1. Nice to meet you! I am plating shop engineer of KOREA AIR FORCE.
2. I have a question for you.: I am holding your company produced sulfamate nickel plating solution. This solution only used or use with addition material. I don't know this solution make-up method. I wish you will send to me about make-up method. And if your know how send to me about nickel plating method on stainless steel I shall be grateful. I wait your message.
3. If your company agent would be in Korea. I wish response.
4. with best wishes.
JIN SOP .WOO
KOREA AIR FORCE - SOSAN IN KOREA
---
A. Hi Jin. I am not able to answer your questions about how best to maintain your sulfamate nickel process in balance, but regarding your question about plating onto stainless steel --
Stainless steel instantly forms an oxide film which prevents proper adhesion of plating. The solution to the problem is to use a "nickel strike" solution first. The strike solution is highly acidic and low in nickel concentration, so that it simultaneously dissolves the oxide film while depositing a very thin layer of nickel.
The most common nickel strike is the Wood's Nickel Strike, and you'll find dozens of threads here about that topic by searching the site, but it is possible to formulate a sulphamate nickel strike to use before your sulfamate nickel plating step.
Luck & Regards,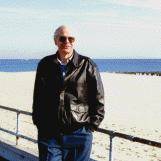 Ted Mooney, P.E.
finishing.com - Pine Beach, New Jersey
Striving to live Aloha
---
2001
A. 1. To a nickel sulfamate solution (approx. 70-100 g/l Ni) you have to add about 10 g/l nickel bromide and 30-40 g/l boric acid.
2. pH should pH 3.5-4.
3. Agitation is a must.
4. This would give a dull deposit. To overcome the dullness you need an organic additive that you must purchase from a supply house.
5. The big supply houses have agencies in you area. Check the web to find them.
6. Plating on stainless steel - you need a strike nickel prior to the Watt's nickel.
7. Do you have a copy of the Metal Finishing Guidebook? It is a very good place to start your reading.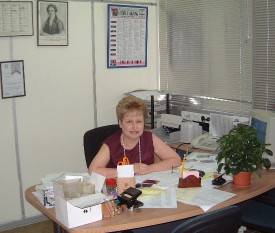 Sara Michaeli

chemical process supplier
Tel-Aviv, Israel
---
2004
A. It is very easy to plate sulfamate i. e. engineering nickel. Get the Metal Finishing Hand book. I can mail one to you. They have all and detailed information regarding sulfamate nickel plating.
There are many suppliers in the market. You can select as your need. And most of them provide the BEST service and quality.
Thanks.
Harshad Vyas
- Alhambra, California, United States of America
---
---
2003
Q. We are using nickel sulphamate baths for electroforming. They contain chlorides to activate the anodes. How is bromine better than chlorine in activating the cathodes. We have problems with "E" nickel containing baths as the anodes tend to get passivated (though there is over 20 gpl chloride) and there is nickel depletion in the bath. Can replacing the chlorine with bromine improve on the situation? Secondly, what is the most common form to add bromine, is it nickel bromide--or some other chemical?
Nitin Kibe
Technical Director - Pune, Maharashtra, India
---
2003

A. One of the things about sulphamate nickel is that if you use S-nickel, you (in theory) do not need chloride to polarise the anodes. Saying that, many sulphamate users like to add about 10 g/l nickel chloride, just to be on the safe side! Bromides will work in a similar way to chlorides and will not induce as much stress as the chloride. I would wonder why your anodes passivate, even with 20 g/l chloride; have a look at the anode bags - are they getting clogged with anode debris and limiting the movement of electrolyte? If so, give them a good clean.




Trevor Crichton




R&D practical scientist




Chesham, Bucks, UK





---

2003

A. Hello Nitin:

Many years ago, a manufacturer of Sulfamate Nickel processes in the U.S., recommended the use of their Liquid Nickel Bromide in a Sulfamate Nickel Bath. The Bromide ion was there for anode corrosion, similar to Chloride. However, their claim was that Nickel Bromide would not cause as much stress in the deposit as Nickel Chloride. I have never seen actual numbers or research work on this, however there were numerous shops using the Bromide with no apparent problems.


Ed Budman
- Pennsylvania
With deep sadness we advise that our friend Ed passed away Nov. 24, 2018


---
2003
A. Nickel Chloride causes an increase in TENSILE stress. Nickel Bromide causes an increase in compressive stress.
S-Rounds dissolve easily at low anode current densities. If you are plating at high current densities then yes you will need more halogen. Which way can you stand stress, up towards tensile then use chloride, down towards compressive then use bromide.
First try to raise the metal to plate faster, then if the metal goes back down start raising the halogen.

Robert H Probert
Robert H Probert Technical Services

Garner, North Carolina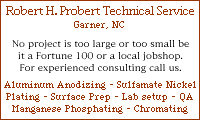 ---
---
To minimize search efforts and to offer multiple viewpoints, we combined previously separate threads onto this page. Please forgive any resultant repetition, failures of chronological order, or what may look like readers disrespecting previous responses -- those other responses may not have been on the page at the time :-)
---
---
March 24, 2010
Q. Hello,

I'm using nickel sulfamate electrolyte for electroforming. Actually I'm using S-Nickel anodes. Is it possible to use sulfur-free nickel if I add saccharin to protect the anodes going passive? If yes, what should be a useful saccharin concentration?

My electrolyte parameters are:

pH = 3,9 - 4,3
Cl = 6 - 10 g/l
H3BO3 = 40 g/l
Temp = 42 °C
current density = 6,5 A / dm2
bath it filtered.

The plating result is for my use very good. My goal is to recycle this electroformed material.

best regards
Frank Kirschner
Hobbyist - Stollberg, Germany
---
March 24, 2010
A. Hi, Frank. Saccharin is not a depolarizer as far as I know. Nickel chloride is a good depolarizer, but whether it will induce unacceptable stresses is a question.
Regards,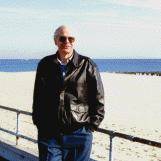 Ted Mooney, P.E.
finishing.com - Pine Beach, New Jersey
Striving to live Aloha
---
March 25, 2010
Q. Thanks for your answer.

Yes, I know, but a higher chloride level is not acceptable due to too much stress.

Someone told me, it's possible to depolarize nickel by myself: Electrolyte: Nickel sulfamate with a little chloride and boric acid, pH around 4,0, anode: electrolyte nickel, as cathode a starter blank like V4A or thin nickel and then adding saccharin to the bath. At the cathode you will plate sulfur polarized nickel. The guy who told me has it made long time ago and made it very stable for a long time. But he didn't know the dose of Saccharin. S-Nickel has 0,026 percent of sulfur. What do you think?
Frank Kirschner
[returning]
- Germany
---
March 25, 2010

A. Frank
Saccharin is not a depolariser, but as Ted says, you can use chloride. However, this will induce stress, so an option is to use nickel bromide as the depolariser; this will not induce so much stress, but it is not as good at depolarising as chloride.
You can use your electroformed nickel as a source of nickel, but you will certainly need a depolariser in the bath if you are using a sulphamate system.
The advantage of S-nickel is that it does not need depolarising.
I am a little concerned about your high current density and low bath temperature; I would suggest that for good electroforming you should not exceed 45 ASF (4 A/dm2) and you should increase your bath temperature to about 55-60 °C. Do not go over 65-70 °C or the sulphamate can start to break down and induce stress. Alternatively, you can use the lower temperature but a much lower current density (say 20-25 ASF (2.5 A/dm2)




Trevor Crichton




R&D practical scientist




Chesham, Bucks, UK





---

March 25, 2010

A. You really need the sulfur depolarized anode in any nickel bath with a low chloride content. Saccharin, as Ted said, doesn't have an impact on the dissolution efficiency of the anode.




Jon Barrows

, MSF, EHSSC
Springfield, Missouri


---
August 18, 2020
-- this entry appended to this thread by editor in lieu of spawning a duplicative thread
Q. We have inherited a nickel sulphamate solution for nickel electroforming. Rather than the usual make up of nickel sulphate, boric acid and nickel chloride, this solution uses nickel bromide in place of the chloride.

Can anybody suggest what type of nickel bromide this would be? I see prices range from $70 to $820 per 250 grams. Since the seller closed down, we can't ask anybody who worked there. Thanks in advance.
Darren Stevens
- Sydney Australia
---
August 22, 2020
A. Nickel Bromide does the same thing as Nickel Chloride, keep it as low as possible for the lowest tensile stress. If your application does not require bromide (instead of chloride), then let the bromide run down and start back with chloride. If you are using Inco's s-rounds, then you only need about 0.5 oz/gal( 1/2 oz/gal) of nickel chloride to dissolve the anodes to keep the metal in balance. Be aware that nickel bromide dissolves the titanium anode baskets, so if you do not need it, switch to chloride, you may "slide" it in, and you will never notice any difference.

Robert H Probert
Robert H Probert Technical Services

Garner, North Carolina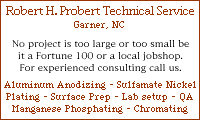 ---
August 23, 2020
Q. Thank you, Robert. Our process doesn't particularly need bromide so we will make the switch as you suggest. I'v since contacted the former owner's chemist and she advises this is their proprietary formula and the nickel bromide is known as 'Additive B' which is not particularly expensive.

I understand they had massive problems with 'burn out' of the anode baskets even when the system has 'burn out protection' which perhaps they never used. Nobody else in the industry had burn out issues, even those using the identical PLC controlled electroforming systems so it could have been the bromide.

Eroding the titanium anode baskets is a big concern which leads to my next question. We need new baskets and were looking at stainless steel due to the high cost of titanium. What you would you think about that?
Darren Stevens
- Sydney, Australia.
---
August 24, 2020
NO. NO, you cannot use stainless steel, it will dissolve in the chlorides and contaminate the sulfamate solution. Titanium anode baskets will last forever, once your bromide has run down. A new book is out on sulfamate nickel plating, I cannot tell you more about it on this blog.

Robert H Probert
Robert H Probert Technical Services

Garner, North Carolina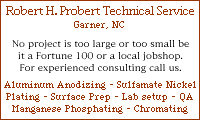 ---
August 27, 2020
Q. Thank you, Robert. Stainless steel anode baskets were a recommendation from our colleague in Asia. I'm now wondering why he went out of business ...

Is the book you mentioned a book that you authored? If so, please let me know how I can buy a copy.
Darren Stevens
- Sydney, Australia
---
August 28, 2020
A. Just a couple of points; firstly, do NOT use stainless steel anode baskets - you will be asking for trouble. Titanium baskets are the recognised standard and should not corrode. Make sure they are adequately bagged.
Secondly, nickel bromide has bene used in Watts type baths as it does not produce the same levels of stress that chloride does. The purpose of the nickel halide is to depolarise the nickel anodes. However, if you are using a sulphamate bath with S-Nickel, you don't need chloride, or indeed bromide, because the S nickel already depolarises. Saying that, many platers add a bit of nickel chloride "for good luck", but generally no more than 5-10g/l.

Trevor Crichton
R&D practical scientist
Chesham, Bucks, UK
---
September 4, 2020
[ed. note: sorry, not posted 'til October 26]
A. Additional points:
1. I think, same manufacturer of Sulfamate Nickel chemicals who produces "Additive B" (bromide based) also sells "Additive A" (chloride based) and it should work really well at ~6-8 g/L of Chlorides.
2. Use Titanium basket with S-Nickel, bag it with Napped Polypropylene bags, leave bag edge 1"-2" above the liquid surface.
Leon Gusak
- Winnipeg, Canada