topic 2697
Blackening of steel and cast iron
(1999)
Q. Dear sirs I would like to know more about the blacking process for steel and cast iron.I tried to find some specialized literature about this process in technical books, but unfortunately I didn't have success. Therefore I ask to my FINISHING.COM's colleague please if could some one help and indicate me, where I will be able to find details about this subject. Thanks in advance for the assistance, Best regards
ricardo bastos
- sao paulo, Brazil
---
(1999)
A. Dear Mr. Ricardo B.,
Blackening on steel can be achieved by oxidation process using sodium hydroxide along with oxidising agents such as sodium nitrite and sodium nitrate. A typical formula for blackening on steel is given below. 1. sodium hydroxide (Caustic soda) - 625 gms/litre 2. Sodium nitrite - 100 gms/lit 3. Sodium Nitrate - 25 gms/litre Here the temperature should be around 140 °C to get uniform blackening. with best regards, ramesh.
ramesh varadhan
- Chennai, India
---
(1999)
Q. Mr.RAMESH, I understand that a catalyst is being added at the time of blackening by some. Any idea? Also dipping in blue colored oil seems to deepen the color...any comments?
ramajayam
- Bangalore, Karnataka, India
---
(1999)
Q. DEAR METAL FINISHING FRIENDS, I came to know that recently blackening of metals also can be done at room temp. If, any one has a basic idea about this? Please give me an idea or let me know where it can be found in metal finishing. My advance thanks to You.
JANARTHANA RAJA
- CHENNAI, India
---
(1999)
A. Hi, Janarthana. There are proprietary blackening solutions that operate at room temperature available from suppliers like EPI (Electrochemical Products Inc.) [a finishing.com supporting advertiser], Heatbath [a finishing.com supporting advertiser], and several others. Some if not all are based on deposition of selenium compounds. We have an FAQ about black oxide and cold blackening.
However, the best of the proprietaries, after decades of trial-and-error and gradual improvement, are still inferior to hot blackening in my personal opinion. So I would not propose a non-proprietary cold blackening process because the likely quality of the finish would likely be almost ludicrously low. I'd say stick to hot blackening or purchase a proprietary room temperature bath. Good luck.
Ted Mooney, P.E.
finishing.com
Pine Beach, New Jersey
---
(1999)
A. Answer to letter of Ricardo Bastos:
There is really not much information about blacking of steels and cast iron available. All I can add is that it is simple and at everyone's site possible by means of a new blacking at room temperature. You need no costly apparatus and have no harmful chemicals-no heating-up-no exhaust-no environmental problems. It is as easy as dipping parts into paint.
Klaus S
[last name deleted for privacy by Editor]
- WIESBADEN - Germany
---
(1999)
Digital version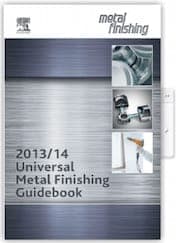 (No longer published, but Elsevier hasn't yet de-commissioned the online version of the Guidebook)
Download it before it disappears.

Hi Klaus. I claimed above (as others have in letters here and in published articles) that cold blackening is inferior to hot blackening. But hot blackening is extremely dangerous so we are all very interested in good substitutes!
I've never seen a published report of cold blackening equaling hot blackening in corrosion protection, aesthetics, adhesion to the substrate, freedom from abrasive particles that interfere with other manufacturing steps, nor freedom from gray-black smut that gets all over everything. So, if you can provide technical data on these issues, and whether you are offering a selenium-based blackening or whatever, and results from independent testing, we'd love to hear more! You are also welcome to order paid advertising here or anywhere, but we don't include commercial promotion in the forum, which is made available to us all for camaraderie and technical info by advertisers. Thanks for your understanding that to spend their generous support money posting ads for their competitors would be ridiculous.
Regards,
Ted Mooney, P.E.
finishing.com
Pine Beach, New Jersey
---
(2001)
Q. Dear sir,
I have completed my B.E degree and started an industry in Bangalore, I deal with the blackening of the materials.
I'm posing some problems for getting the material blackened, i.e., the customers supply, the raw material after heat treatment and there are some scalings, dust, residual oil (metaquench etc.)
So please suggest me that what all acid washes and at what concentrations I have to do so that I will be able to remove all these oils, soot, scaling etc.,and I can give a better quality to the customers.
With regards,
N.Yatish Kumar
- Bangalore, Karnataka, India
---
March 6, 2009
A. Phosphoric acid
sean manvw
- Baltimore Maryland
---
A. Hi. I appreciate Sean's answer and help, but I don't think phosphoric acid is up to this job :-)
I think you'll need hot alkaline cleaning followed by rinising and a dip in HCl.
Regards,
Ted Mooney, P.E. RET
finishing.com
Pine Beach, New Jersey
Striving to live "Aloha"
---
July 30, 2009
Q. Dear sir,
After blacking operation, is there any changes in material properties (hardness, dimensions, smoothness)? Please give good suggestion. After heat treatment, blacking is suitable for steel?
Regards

Rajender G
RAJENDER G
- hyderabad,AP
---
July 31, 2009
A. Hi, Rajendar. In most cases black oxiding will have no meaningful effect on hardness, dimensions, or smoothness. Some hardened components like rifle barrels are blackened.
But we can give you a more accurate and useful answer if you are able to describe the details of your own particular situation, because universal answers are almost never available, and there are a dozen "ifs, ands, and buts" which apply to the general case, but perhaps not to your case. Good luck.
Regards,
Ted Mooney, P.E.
finishing.com
Pine Beach, New Jersey


This public forum has 60,000 threads. If you have a question in mind which seems off topic to this thread, you might prefer to Search the Site