60,000 Q&A topics -- Education, Aloha, & Fun
topic 25827p2
Removing protective plastic film adhesive residue from stainless steel, brass, etc.
---
1 2
---
An ongoing discussion from 2003 through 2020
Many successes were reported with hot/boiling water, ammonia, or acetone.
Film on brass kickplate
October 1, 2009
Q. Can I try all these same methods on a brass kick plate that the film has been left on for many years, or would some of these products damage the brass finish?
MARCIA OLSON
- Auburn, Washington
---
October 27, 2010
Q. I am writing to try to help my husband who is a contractor and is having a hell of a time trying to clean new polished brass door kick plates for one of his customers. When he was ready to install the kick plates, he peeled off a protective film from the brass. When he did this, the brand new plates looked discolored and it seems as if some of the protective coating was left on the brass. We cannot get the residue off and we are concerned about ruining the polished brass surface with cleaners. If someone has suggestions, we would really appreciate it and so would his customer.
Sarah Polselli
Contractor - San Diego, California, USA
---
October 27, 2010
A. Hi, Sarah. Brass tarnishes quickly, so there is no way it stays polished unless it is protected with a lacquer or other clearcoat. So this is trickier than some of the other problems. Try acetone or lacquer thinner; they should remove the gunk and the lacquer, if it is in fact lacquer. Then redo the lacquer.

Regards,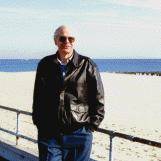 Ted Mooney, P.E.
finishing.com - Pine Beach, New Jersey
Striving to live Aloha
---
October 14, 2013
A. A word of warning when using ammonia. Do not use it on brass. It will turn brass as black as the inside of your hat. I learned the hard way when trying to remove the film from brass name plates that were to be etched.
Neil Coy
- Lexington, Ohio, USA
---
October 29, 2009
A. I have tried for a number of days to come up with a method of removing some of the black and white LDPE film from some carts that were built a few years ago and stored in a location where they saw sunlight. As with most people I tried every solvent I could think of. Then I did some searching and found that Xylene [affil. link to product info on Amazon] at elevated temperatures would penetrate the LDPE. What I found to work was to use a heat gun and warm the metal. Then I soaked a towel in Zylene and placed it on top of plastic and let it sit. After 10-20 min, the plastic coating peeled off as if it were new. Nice and easy leaving no residue. I did get it a little too hot in a few places and melted the plastic fairly severely. But what I found was that by laying the towel over the area second time for a few minutes, the residue wiped right off.
Peter Novacek
- Menomone Falls, Wisconsin
---
April 6, 2010
-- this entry appended to this thread by editor in lieu of spawning a duplicative thread
Q. How can I remove plastic type cover from stainless steel door panels? It had dried out and stuck like paint over the time.I appreciate any suggestions.Thank you all. Jorge G.
Jorge Gallego
elevator tech. - New York City, New York
---
April 11, 2010
A. My daughter had a product that removed Artificial Nails by dissolving the glue =>

I tried this with a cotton pad, the glue residue dissolved VERY easy........10 out of 10
Brian Gardner
- Northampton, England
---
April 20, 2010
A. Had the same problem with the protective coating on aluminium composite panels that had been exposed to the African sun for about 10 months. Tried all the suggestions with no luck. Eventually had success with a high pressure cleaner.
Chris Bode
- East London, South Africa
---
September 26, 2010
! My husband and I bought a brand new oven from an outlet store that had been returned for whatever the reason, but it was beautiful... until we got it home and tried to peel off the blue plastic film. It had melted onto the oven so we used Goo Gone which sort of helped, but it took at least a painstaking hour to peel off the film even with Goo Gone. It was off, but there was a residue that was not coming off with the Goo Gone no matter how hard I scrubbed.

In my frustration, I turned to the web. We didn't have any Ammonia, but I had a non-acetone nail polish remover. I used a cotton ball to apply the nail polish remover and it worked instantly! My husband and I used that and within 10 minutes the oven looked amazing! We wiped it with a microfiber cloth after applying the nail polish remover. Then we polished it with stainless steel polish. It's beautiful. Thank you!
Jacqueline Coll
- Ft. Lauderdale, Florida
---
April 26, 2011
Q. Hi! I have the same problem as many of you do. I bought a used kayak Aluminum pool that had plastic coating on it. It was stored in the heat and I cannot remove the plastic film. I have tried solvents with no luck. Can someone please help me. Will heat ruin the aluminum? Thanks for any help..
Susie Dicerbo
homeowner - Harrison Township, Michigan, USA
---
May 9, 2011
A. You might try a gas fired catalytic heater. They do not give the intensive heat of heat guns. Their face temperatures can be adjusted from 350 °F to 900 °F. The heat is medium rays infrared.
Dave Howie
- Edmonton Alberta Canada
---
June 16, 2011
A. Protective blue plastic left a residue on a new fridge. Read the posts and opted to try nail polish remover with acetone. Worked like a charm!

Thanks everyone for your collective input!
Tony Calderon
- Mississauga Ontario Canada
---
June 17, 2011
A. Okay kids...this is the deal: We just boiled some water in a tea kettle and poured it on the doors of the outdoor gas BBQ, and presto...the blue film peeled off in a flash. Taking off the residue in additional to the film...Easy and free!!
Terry Smith
- seattle, Washington
---
July 28, 2011

I had fitted a stainless steel oven a year ago but had not yet moved into the house so the film was never taken off. It had been getting the morning / afternoon sun everyday and the blue film was "double baked". I had been struggling for the past 2 days trying to peel the blue film off. Finally googled it and came across this thread and right at the end was Terry Smith's solution. Immediately boiled some water and took off the oven door and poured the boiling water on it, the film peeled off like it should have when it was new. It was as simple as that. unfortunately I still have the glue residue where I had been peeling it bit by bit. Tomorrow morning I'll head to the supermarket for some ammonia and will try that out. Hopefully that should work. I think
Terry's reply should be on top of this thread, so people don't have to struggle with other things when the solution was so simple.
Thanks a lot, Terry.
Kunal Dhabuwala
- Auckland, New Zealand
---
March 31, 2013

We had white wrapping on our new, just installed canopy range hood. Some of it peeled of easily as you would expect but a large area did not. We were working it little by little with our fingers peeling it and it took an hour to get just half of it off. Found the boiling water solution mentioned by Terry earlier in the thread(after trying and failing with nail polish remover). Just boiled water and poured it on the range hood, then tried peeling immediately - worked like magic! Just remember to wear gloves when pouring the boiling water...it's rather hot. There is still glue residue so will try ammonia to clean that off when we can hold of some. Would love to see Terry's solution posted at the top of this thread too, as another person has pointed out it would save many people much time in searching through the thread. Thanks!
Chris Winn
- Raetihi Ruapehu, New Zealand
---
April 1, 2013
A. Hi Chris. We've added that note to the top, but please remember that there are different films, adhesives, and situations. Just as you like Terry S's answer, because it worked for your particular situation, even more readers swore by ammonia because it worked better for them, and a good number found only acetone (nail polish remover) effective :-)
Regards,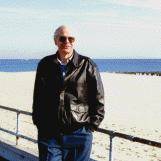 Ted Mooney, P.E.
finishing.com - Pine Beach, New Jersey
Striving to live Aloha
---
August 9, 2011
Q. How would you get rid of the adhesive on the back of a combination lock?

Donald Scott
- St. Catherines, Ontario, Canada
---
October 4, 2011
A. I figured it out! I just had to remove the film from four elevator doors on a mega million dollar high-rise. It had been left on for four years. The condition was similar to gold flake film with a tar adhesive adhering it to the stainless. It was not fun at the beginning, but I learned the trick to doing it.
After reading and and trying everyone's recommendation and failing, I found that a combination of a few of your suggestions worked like a charm. Using a razor blade window scrapper, a heat gun, and goo gone.

With the blade, place it on an edge of the film. With the heat gun, warm the point were the razor's edge meets the film until it starts to peel up. Slowly and carefully work your way down, trying not to break the film you are peeling away. Pull the heat away a little once you get started, while staying in front of the blade. It peels like butter without a scratch. Then use the Goo Gone to clear off the remaining adhesive.

A couple hand cramps later and you are done!
Anthony Gonzalez
- Huntington Beach, California, USA
---
October 10, 2011
Q. When our stainless refrigerator was delivered it had a protective blue plastic covering on to prevent scratching. We were in the process of renovating and left the plastic on for several months and now have marks that won't come off with stainless steel appliance cleaner. Please let me know what to use to get these marks off??
Debra Brown
Purchaser - Seven Valleys, Pennsylvania
---
November 18, 2011
! Wow, I couldn't believe it! Was kind of depressed when we opened our dishwasher box, it had been in storage for a year and when we finally got around to installing it I couldn't get all of the wrap (blue) off of it. The wrapper came off but left a residue and smears on the face of the stainless steel door. It looked horrifying. Tried the ammonia and within seconds it was gone. Thanks so much for this suggestion, as I would have had to look at that ugly stain forever as elbow grease just was not taking it off.
Carolyn Burke
- Kingston, Ontario, Canada
---
December 1, 2011
Q. We had some plastic auto body painters sheeting that got stuck to a surface that wasn't quite cured. Is there any solvent that would melt that sheeting without damaging the paint too much? Or does anyone know what kind of plastic that sheeting is?
Jeff Reimer
Industrial painter - Alberta, Canada
---
December 2, 2011
A. Hi, Jeff.
I don't think there is a chance in a million of removing that sheeting without ruining the paint (in fact the paint may already be ruined, pushed down or pulled up). But I am not a painter and would certainly love to hear that I was wrong. The plastic is probably a polyolefin or vinyl, very chemically resistant anyway.
Regards,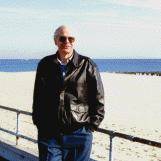 Ted Mooney, P.E.
finishing.com - Pine Beach, New Jersey
Striving to live Aloha
---
January 14, 2012
A. The blue film on my new stove front was nearly impossible to remove. I used household ammonia and gently worked under the edge of the film with a saturated paper towel. As I pulled and rubbed at the edging at the same time, it truly was an amazingly wonderful result! Thank you!
Karen Wineholt
- Spring Grove, Pennsylvania
---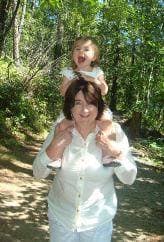 July 8, 2012
O.M.G. my whole day so far has been trying to get a clear film off of a white metal shed door. Once again, we thought the plastic was protecting the door until all work other around it was finished - which ended up being a total of about 3 years.
I have tried the boiling hot water, a warm water and soap soak using towels to keep it soaking, Glass Plus, Green Works, ammonia, paint thinner, rubbing alcohol. Nothing was going well at all so I went to town and purchased a Heat Gun this afternoon. No help. I am seriously thinking of just buying and installing a new door. The companies that sell plastic coated items should have to tell you that you do need to remove the coating right away or post a big warning sign on them about the protective seal. This is over the top annoying and frustrating and I feel like crying.
Joanne Chase
- Port Alberni, B.C., Canada
---
December 25, 2012
A. I bought a stainless steel dual-fuel range for my wife for about half the price of a new model. Someone had purchased it years earlier and never peeled off the protective plastic and never installed it. I was really frustrated trying to remove the plastic bit by bit scraping with my fingernail, until I discovered a great method.

I started to use my fingernail in the center of a patch of plastic instead of the edge. It turned a brighter shade of white. At first I just thought I might have just scratched the surface but then realizes that scraping on the plastic actually broke it free underneath. Once you see the bright white appear, you can work it all the way to an edge.

My wife saw what I was doing and grabbed a plastic spoon that worked much better than a fingernail. Do not use it to try to scrape like a putty knife, use it to stretch the plastic from the center and break the bond at the surface. Once you turn everything bright white, you can peel the sheet off in one piece.

I still have to deal with the adhesive residue that is left behind, but after reading about the methods others have written about here, I don't think that will be a problem.
Phil Rinella
- Lock Haven, Pennsylvania
---
December 29, 2012

Ammonia worked for me. In 15 minutes flat I was able to remove the protective plastic on my dish washer. Thanks for all the tips. Big up to this site.
Robert Carvalho
- Cedar Valley, St. Johns, Antigua
---
January 16, 2013
Q. How can I remove melted rubber (gloves) off of an appliance.
Patricia McGowan
house wife - Odenton, Maryland, US
---
January 16, 2013
A. Hi Patricia. What kind of appliance and what finish? Paint, porcelain, stainless steel, aluminum, ceramic, glass are very different things. But it still may be impractical or impossible.
Still, you might take a look at letter 14006 "Melted Rainsuit on Motorcycle Exhaust Pipes" and see if you think it might help.
Regards,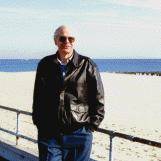 Ted Mooney, P.E.
finishing.com - Pine Beach, New Jersey
Striving to live Aloha
---
February 2, 2013
A. I am building my home myself and I installed a stainless steel range hood a couple of years ago and made the mistake of leaving the protective covering on until I was done with the kitchen. The hood had a heavy white plastic covering which I was able to pull off with some effort. The glue that was left behind came off easily with the citrus cleaner GOO GONE.

I also installed a 12 inch high stainless steel filler between the hood and the bottom of the pot shelf rather than a cabinet that would be of little use to me. The filler piece was covered with LDPE and therein lies the problem. After finding this thread, I tried various methods to remove the LDPE with no positive results. I finally purchased an electric heat gun (575 & 1125 degrees) and a plastic putty knife (Home Depot). Using the heat gun on LOW (575 deg), I heated the LDPE to the melting point and then used the plastic putty knife, in a nearly perpendicular position, to scrape the plastic off the stainless. If the plastic is heated enough, it will come off at least 95% clean. After the LDPE is removed, the remaining black part that is left on the metal will come off with household Ammonia and a Scotch-Brite Non-Scratch scrub sponge. Any little bits that resist the scrub sponge can be scraped off with the plastic putty knife.

CAUTION: Always direct the heat flow away from the cabinets since 575 degrees can damage the wood finish. Where the filler came in contact with the bottom of the pot shelf, I used a 14 inch wide broad knife to protect the enamel paint from the hot air from the heat gun. Do not use flame as it could discolor the stainless. Do not use a metal scraper or a metal pot cleaner because it will scratch the stainless.

I had also used some blue painters tape to cover any parts of the range hood that were not covered by the factory installed protective film. To remove the glue left after removing the tape, the household Ammonia works just fine.

Remember, low heat and no metal tools. Take your time and don't rush this job. Damage the stainless and you'll have to live with it or pay to replace it.

After everything was cleaned, I used a stainless steel cleaner to finish the job and the stainless looks great. Good luck and remember, the effort will be worth it.
Hank Cusanek
- Phoenix, Arizona
---
February 11, 2013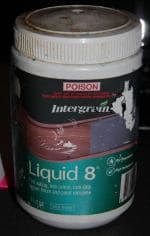 A. Short answer = Product name in Australia LIQUID 8 (paint stripper gel)
Long answer...
I had same problem with a stainless steel fridge. Tried MEK, Acetone, Ammonia, Sulfamic Acid, Citric Acid the list goes on all with no effect. Was ready to resign to scratching and picking away

I then remembered I had a paint stripper gel which I 'thought' was citric acid based (was told that when I bought it) but the ingredients are 180 g/L Liquid Hydrocarbon / 180 g/L 2 Butoxy Ethanol and 180 g/L N-Methyl-2-Pyrrolidone. The product is called LIQUID 8.

Brushed on the gel and left for recommended 15-30 minutes and although not great results I could see it was working. Left it another 30 minutes and the plastic film literally wiped away. A few little tougher spots took a second go but what had taken me most of a day trying came down to being all done in about and hour and a half and most of that time was waiting for the gel to do its stuff.

One thing to note this stuff is not kind to plastics so keep it off any trim etc, I accidentally hit a couple spots and some minor burn marks.
Brad Walker
- Western Australia, Australia
---
February 23, 2013
A. 5 words: Jasco Paint and Epoxy Remover

I tried everything above. Bought a island kitchen hood on ebay new only installed. They didn't say they left the plastic on for a year in the sun. White film , I spent 3 hours using vinegar, acetone, ammonia , heat gun and plastic spoon. Jasco brushed it on waited 10 minutes and peeled it off with my hands; no big mess. Wiped down and I have a beautiful Stainless hood which would have cost $600 for $200.
mitchell cline
- aurora, Colorado
---
April 15, 2013
A. I'd like to take time to respond about white PVC plastic protective covering on stainless steel. When we get equipment that PVC covering has not been removed in years, take it outside, hook your garden hose to hot water, adjust your nozzle to jet. Now wear rubber gloves with cotton gloves under the rubber gloves. Maybe you need to wear a rain suit -- you will get wet. Remember this water is hot; wear safety glasses. Start spraying one spot for a few seconds until it loosens up.
When your start peeling off PVC, keep hot spraying while you are doing this. It will take time; you can go to a self operated car wash if they have hot water. Have fun.
Ken Smith
food equipment - Runnemede, New Jersey
---
June 11, 2013
A. I tried warm water, ammonia, and rubbing alcohol to remove the protective blue coating on my chrome sink. Nail polish remover did the trick. I still had to rub, but it clearly dissolved the coating and did not hurt the chrome finish.

Note: Having a teenaged daughter, I had two bottles of nail polish remover, each with a little at the bottom in the house. The first one was Cutex for natural nails, and promised to work 2-3 times faster than the others. It was the best. The other (purple) one was not as good but I used both up and ran to the dollar store for more. Their generic brand worked fine, not as fast as the Cutex, but better than the purple stuff, and it had a nice smell!
Bess Taylor
- Marshall, Virginia, USA
---
---
June 17, 2013
Q. I am a superintendent at my construction company and have "built out" three floors of an occupied building. Upon entering the final cleaning phase, I noticed that the white and black protective film on the stainless steel elevator doors was never removed since original construction some 5 years ago. I can't seem to get it off and need to be able to use a low V.O.C. agent due to the existing occupancy. HELP!
Victor Terwilliger
construction - Norfolk, Virginia
---
August 15, 2013
A. I work at a industrial manufacturing facility that specializes in stainless, and we've had similar problems. Our best solution for getting the blue plastic off is to heat it with a hair dryer style heat gun, then wipe the goo left behind with acetone.
Peter Brazil
- Port Townsend, Washington, USA
---
February 20, 2014
A. I recently purchased a dishwasher with a stainless steel finish that came wrapped in blue plastic. The plastic came off easily but the imprint of it (14 inches wide) could still be seen on the finish. It wasn't sticky but wouldn't come off with stainless steel cleaner, nail polish remover, or vinegar. However, undiluted household ammonia and some elbow grease removed it completely and left a beautiful finish. Thank you to everyone who suggested ammonia as I would not have thought to try it and it worked!
L. Wehrmann
- Richmond, Virginia USA
---
July 7, 2014
A. The item you want to use to remove adhesive off stainless or other items is denatured alcohol, then Windex with micro fiber cloth on stainless.
Edward Welch
- golden valley Arizona
---
July 28, 2014
A. I removed the glue residue from my stainless steel fridge with Brasso. It took it right off and I tried about everything.
Brian roche
- Villa rica Georgia USA
---
December 12, 2014
A. I purchased a used stainless steel BBQ and discovered that on the back of it, the previous owner didn't bother removing the plastic cover which of course was now baked on. It took 3 days of about 2 hours per day and most of it is now gone. What I did was the following:

1. Get extra strength Easy Off Oven Cleaner (Lye)
2. Heat up the surface, in my case I use a heat gun initially, but then turned on the BBQ
3. Spray Easy Off on the surface, wear a mask, the fumes are nasty
4. Let sit for about 10-20 min
5. User a hard plastic spatula to remove the residue, also wet rag after (get a bag of them at Lowes/HD)
6. You'll need to repeat this multiple times based on how much stuff there is baked on.

This was a PITA, I still have a little bit remaining, but it is mostly clean.
Yev Kovelman
- Los Angeles, California
---
October 4, 2015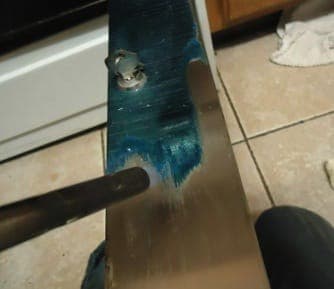 A. The best method to use is a torch, assuming there's no material adjacent or under the stainless steel that will be harmed by the heat.

You can still use a torch if there's something next to the stainless that can't get too hot, but you have to work fast and don't go beyond liquefying the plastic you're trying to remove.

Yes, basically I'm saying you're liquefying the plastic and wiping it off while it's still fluid. Following is an image of me removing plastic film with a torch that had been on an item that was outside for 14 years!
Gary Timson
Restaurateur and tradesman - Lancaster, California
---
---
Remove sun-baked vinyl packaging from garage door
May 25, 2014
-- this entry appended to this thread by editor in lieu of spawning a duplicative thread
Q. I left the cellophane plastic on garage door (vinyl) allowed it to be baked in sun ... now difficult to remove. Need guidance as to any solutions or technique.
len zap
- indio California usa
---
August 27, 2014
A. The company I work for is a new commercial truck dealer. When we get new Mack trucks in from the factory the aluminum fuel tanks are covered with a protective film. The film is almost like a powder coating or Rhino lining in texture and durability, more so the longer it stays on and exposed to the sun. We have struggled with removal techniques but it seems like the most effective and least time consuming is a HOT pressure wash.
Sidney Dotson
- Knoxville Tennessee
---
December 26, 2014
Q. I recently bought a car that has a film over the plastic lens cover of the headlight.
According to a local here, some folks put glass darkening film over the plastic headlight cover to look "hot".
While it may look "hot" , but at night it darkens the head light so you do not see the road well.
Have taken it to a paint shop and they said they could do nothing, then took it to a galss shop and that does darkening film on glass windows here in the desert and they said they did not know what to do. But it is a film and being a plastic, most are scared of touching/trying to remove since the base is a also plastic and they think they may scratch the lens cover.
Any help?
bob
robert mcthor
private indiv. - palm springs, calif, USA
---
February 12, 2015

Hi,

The boiling water worked great on a stainless steel camera flash handle that had clear tape that had yellowed. The handle being 50 years old and tape applied at that time.
The handle was fairly small so I was able to boil it in a large pot for 10 minutes. The hard outside of the tape boiled off and the residue was easy to scrape off with a plastic fruit peeler. My wife was not home while I was doing this otherwise there might have been a lengthy discussion regarding using the kitchen utensils for this purpose. :-)
Great tip without using chemicals and sooo cheap.
Maurice Bradshaw
- Norcross, Georgia, Gwinnett
---
July 14, 2015
A. BOILING WATER!! it works like a charm, you have to work quickly as the film will cool and adhere to the metal. Wearing leather gloves, I poured the heated water as I removed the film. As it cools, don't tear the film off completely so you can continue pulling the film as you apply the next batch of hot water on the surface. It's easier with 2 people but I did it myself. The white film that remains can be cleaned with windex or ammonia.
Linc Lucer
- Seal Beach, California, USA
---
February 24, 2015
Q. I built my own house. It took three years and at the end of the first year I had installed my patio doors. Two years later, I've found that the plastic film covering the glass on the doors had baked on. Scrapping doesn't budge it. I'm very reluctant to use a heat gun or boiling water as the glass might crack. any ideas?
Victor Damski
- Lowestoft Suffolk UK
---
July 28, 2015
A. Hi,
You can try nail polish remover, or ethyl acetate. Wipe the edges of the film and when the adhesive layer weakens, shoot and so on.
Dmitriy Azarchenkov
- Moscow, Russia
---
August 16, 2015
Q. I never removed the protective film off my outdoor french doors. they baked in the sun and I removed the plastic but the residue has remained and I tried to remove it with goop removal a very little came off only after rubbing it for a very long time. Is there anything else I can do to remove this sticky residue? Thanks
phil spadafora
- dix hills New York
---
September 12, 2015
Q. We remodeled our home and had a SS Viking range and hood installed. The contractor did not take the plastic white film off from the underside or sides of the hood. We are slowly peeling it off but now that the hood has already been installed it's a nightmare! The boiling water idea sounds great but there's no way to pour boiling water onto something you're trying to clean upside down. We have to be in the most contorted positions just to work at it a little. To compound the problem the film seems to go underneath the edges of the trim and light sockets so even when we get the film off to that point, it won't budge. We're worried about using acetone etc. since it's above where we cook and difficult to see where we're applying it and then cleaning it off. Any thoughts about removing this stuff after the SS piece has already been installed?
Annie Wilkinson
- Layton, Utah, U.S.A.
---
---
October 14, 2015
A. This worked very quickly and very efficiently:
On a pair of new Range Hood filters the blue film was virtually impossible to remove until I soaked them in HOT water where the plastic became soft then it literally washed off.
Cheap solution if nothing else.
David Drew
- Toronto Canada
---
October 17, 2016
A. So you've finally peeled the old film off of your stainless appliance, only to find an immovable film of glue left behind.
Ran into this after waiting over a year to peel a fridge in our showroom. Tried everything (including the bottle of Rye in the back) to no avail, everything just smeared the glue! Then the old grey cells suddenly jumped back to life (could of been all of the cleaners that I had inhaled) and I remembered that Brake Fluid removes paint (amongst other things). Gave it a try and much brake fluid and many paper towels later my 36" x 84" fridge now gleams. Caution, brake fluid will dissolve plastics!!! Mask off any plastic that may come into contact with the Brake Fluid!!! Give it a final wipe down with rubbing alcohol and you have a very clean and shiny fridge or other stainless appliance.
Dennis Farkas
- Calgary, AB, Canada
---
August 30, 2017
A. As for removing the glue after removing the sheeting, use mineral sprits or Zep stainless steel polish; it also makes it shine
Ricky Gee
- mt. sterling, kentucky
---
June 7, 2018
A. I had purchased an aluminum fender for a car trailer with old sun beaten blue plastic film that came off in small fragments. After reading this site I SOLVED the problem: I used paint remover from Menards, let it sit for ten minutes, and scrubbed it off with a soft bristle brush. Worked like magic.
Doug jones
- Milwaukee Wisconsin
---
July 25, 2018
A. Peanut butter more specifically the oil that floats on top of natural peanut butter will remove all adhesives naturally and cheap!
Belinda Lovins
- Thornton Colorado
---
September 5, 2018
A. Morning, I have a metal roof that the blue protective tape has been baked on. Some will peel off a little. What seems to work the best is a propane torch just enough to melt the tape & adhesive then wipe with a cloth. Just keep moving along & rotate the cloth to a clean area. Caution the tape will be very hot and can stick to and burn your skin. It's time consuming but works!
Good Luck
Dale Dom
- Crescent City, Florida, USA
---
---
May 5, 2020
Q. I have an outdoor grill that has been in Texas heat for few years with "laser film" white covering. I tried applying ammonia, nail polish remover and scrapping it, but no luck getting it out.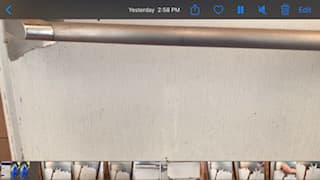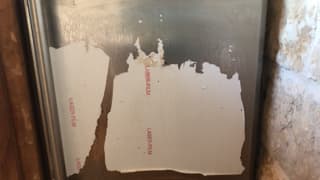 Jay Nayyar
- Southlake, Texas, USA
---
May 25, 2020
A. Blue film on dishwasher would not come off with heat gun. I had a can of "penetrating catalyst", used to remove rusted bolts) and it worked beautifully. Spray on and let sit. Spray again. wait. Peel from edge.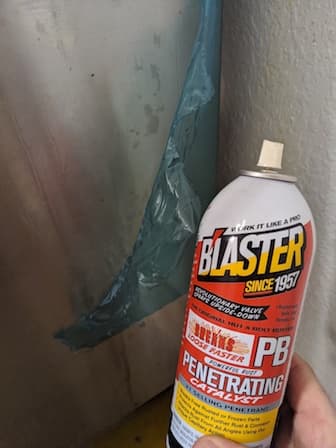 Brian H
[last name deleted for privacy by Editor]
- Dallas, Texas, USA
----
Ed. note: If you're not weary yet, letter 30965 addresses pretty much the same topic :-)