Where the world gathers for
plating, anodizing, & finishing Q&As since 1989
-----
Remove protective plastic film (& adhesive) from stainless steel, brass

AMMONIA
Thank you. After a struggle, your solution (ammonia) worked wonders! In 2 minutes all the plastic was off. Thank you!
Don Gold
- Toms River, New Jersey
August 25, 2022
There are different adhesives and situations, but the most successes were reported with hot/boiling water or ammonia. Other non-brand name successes included acetone, and heat gun plus scraper.

---
---
Q. How to old remove ACP plastic protection film from fibre sheet door?

Juli Choudhary
- Delhi new delhi
October 16, 2022
---
---
---
Closely related historical posts, oldest first ...
Q. Our company manufactures and installs sheet-metal systems for enclosing piping, wiring, etc. in commercial construction. We are presently working with a stainless-steel material that comes from the metal suppler covered with a protective plastic film. This film is removed at the job site after installation. The film is sometimes extremely difficult to remove, often leaving a heavy adhesive residue on the metal. We have tried to remove this residue using MEK, lacquer thinner, xylene and toluene products, and even gasoline and WD-40. None of these solvents have any significant effect on the adhesive residue. What do we need to remove this residue?

Thanks.
Bill D
[last name deleted due to aging of posting]
Tech Rep. - San Bruno, California
2003
---
---
Plastic film on Vermont Castings B-B-Q Grill

AMMONIA
My greatest appreciation to Bill D for his tip about household ammonia dissolving plastic film on stainless steel. I live in the Dallas area and found a great 5 burner Vermont grill I really coveted. As the price was way more than I could budget, I caressed it fondly every visit and kept cooking away on my old Wal-Mart grill. After Christmas THE grill was put on clearance. They had left the protective plastic on and displaying it in the Texas heat melted it to the steel ... a discounted price of $300+. After trying everything from De-Solve-it to the blow dryer to remove it I Googled and ended up at your site. The ammonia melted the plastic, even in the crevices, and removed the adhesive residue. (Total $2.19!)
The grill looks brand new, has been appropriately installed and just this weekend broken in!

Thank you for the great time and money saving tip!
Linda C
[last name deleted due to aging of posting]
- Dallas, Texas
2006
Q. I have the same Vermont Casting Grill from Home Depot with the plastic baked on. I tried the ammonia, but did not see the plastic dissolve. I have a feeling that I am not applying it properly. Can someone please let me know how they used the ammonia on their grill.

Thanks
Dov S
[last name deleted due to aging of posting]
- Sammamish, Washington
2007
---
---
! I didn't get the hoped for melt-away on my Vermont Castings barbecue. After about 40 minutes of soaking via ammonia covered paper towels, however, it was easier to scrape off. I then used non-acetone nail polish to get the glue residue off (didn't have Acetone type). Still have plastic on back side of the hood around small vent holes and don't plan on making myself nuts getting it off. Thanks for all the suggestions, I suspect a lot depends on how long it's been stuck on.
Jan C.
[last name deleted due to aging of posting]
- El Paso, Texas
February 7, 2009
---
---
Q. We have stainless steel panels inside our library, in the 6000 sq. ft. lobby area. I am trying to remove glue residue from supposedly removable little foam stickers off the stainless panels and it's taking a long time and the fumes are just about killing everyone. I first tried low odor Goof-off and then Scrubs Graffiti and paint remover gel. There's a lot of residue to remove so I'm looking for something quick but not too stinky. thanks,
Jim B
[last name deleted due to aging of posting]
library - Zion, Illinois
2006
---
---
Q. Dear Sir,

We are Stainless steel fabricators in Dubai, UAE. We have a major problem in one of our project sites. We had installed a stainless steel hand rail and the plastic which was covered on the pipes is melted and has got stuck on the pipe and is finding it very difficult to remove the plastic.

Kindly provide us a suitable solution at the earliest. We tried cleaning with WD 40, thinner, etc., but failed.

Please reply at the earliest.

Thanks,
Mahmood B.S
General Manager - Dubai, UAE
2007
---
---
Q. I'm a mason contractor at the NJ shore that built an outdoor stone kitchen area. The homeowners bought and installed small Delfield Refrigerator and freezers that were installed around the stone. Being summer residents, they reminded me to remove the protective plastic coating from the doors as they were not present at the site. Unfortunately I got busy and after a couple of months the sun got to the doors before I could. I was able to peel some of the plastic off, however most has embedded itself where without using solvents it's a millimeter by fingernail process. I haven't tried any solvents except a quick dab with ammonia which did nothing. I'm a bit hesitant to use Goo-gone or Goof-off as a last resort as I'm afraid that I may wipe any protective coating which will induce rust. I need help in direction or products, solvents, heat gun, anything that may work.
Marshall G
[last name deleted due to aging of posting]
Owner - Long Branch, New Jersey
2007
---
---
Plastic film on roofing sheets
Q. Hi fellow sufferers of the accursed plastic cling foil to metal surfaces.
I have the same problem with a corrugated powder coated steel roof.
I have tried acetone, vinegar, domestos, meths, turps, petrol (gasoline to North Americans), heat gun, detergent and diluted pool acid to no avail.
The damn stuff is indestructible - any ideas from anyone would be welcome
Thanks to one and all
Ken M
[last name deleted due to aging of posting]
- Penrith, NSW, Australia
April 16, 2008
---
---
Q. I have a painted metal roof where the plastic protective coating has fused to the metal panels. We left the protective coating on thinking we were protecting the roof from contractors who were working on it but didn't realize the work was going to take this long so we left it on too long and now it is almost impossible to remove. The areas that were exposed to the sun are the worst. I have tried warm water, heat gun, ammonia, goof off, goo gone with no luck. These products will remove the residue where I can remove the plastic -- but for the most part I am stuck with the plastic not being able to be removed.
Nick D
[last name deleted due to aging of posting]
- Ridgewood, New Jersey, USA
May 22, 2012
---
---
Q. Please tell me what happens if the plastic cover on the top surface is not removed while installing the sheets on the roof?
Manu N Hegde
- Mysore, Karnataka, India
May 28, 2014
---
---
Q. UNFORTUNATELY, A LOAF OF BREAD WAS ACCIDENTALLY LEFT ON THE TOP OF OUR STAINLESS STEEL CONVECTION TOASTER OVEN WHILE IT WAS BAKING AT ABOUT 400°F. THE COLOR OF THE BREAD WRAPPER ACTUALLY SEEMS TO BE EMBEDDED IN THE STAINLESS STEEL. I HAVE NOT ATTEMPTED TO CLEAN THIS. SHOULD I USE AMMONIA? OR ANOTHER PRODUCT?
SHARI GUNDY
- ST. PAUL, Minnesota
May 28, 2008
---
---
Q. I guess I used the stove before taking the blue protective cove off the face of the door, so after a painful time removing it I find a glue cloud mark on the front but I cannot seem to remove it with paint thinner or soup and water.
Dean Waltr
- Toronto, Ontario, Canada
June 5, 2008
---
---
! Same problem but in my case, I'm a trucker with 6 stainless steel under-storage compartments. I've tried just about everything mentioned above. We truckers like things shiny so I am getting a little p-o'ed with this. Today, I went to Home Depot and bought a angle grinder, a Crossive 6" disc, a hand held buffer as well as buffing compound. I intend to grind this stuff off and mar this finish up then use the compound then buff it out with metal polish. I'll let ya know how it works!
Christopher Bennett
- Minneapolis, Minnesota
June 8, 2008
---
---
Q. I recently purchased a name brand refrigerator that came with the standard, protective shipping film, that when removed, left an almost invisible residue. You can see it best when you look at the fridge from an angle. The manufacturer says to use soapy water and a sponge...tried that. Didn't work.

Also tried vinegar, ammonia, and orange degreaser. Still nothing.

I have heard to try WD-40, goo-gone and xylene. I of course don't want to ruin the finish of the fridge, but would like this residue removed.

Any advice would be appreciated. Thank you.
Alan Jacobson
hobbyist - phoenix, Arizona
May 6, 2009
---
---
Q. We have metal garage doors where the previous owner/builder failed to remove the plastic protective film and it has now sun-baked onto the surface. I have tried a number of solvent based product with no success. I have even tried pressure washing at about 2500 psi 40 degree spread. t took the loose bits off but the majority remains firmly adhered to the painted metal surface. Should I consider just painting over it?
Ken Ines
- Vancouver BC Canada
June 30, 2009
---
---
Q. Would Shellac, Kilz [affil link] (oil), or Zinsser Zinsser Cover Stain [affil link] work in a situation where the plastic coating has baked on to a primed metal door over a 10 year period of time? Which would be the best option.
Thanks
Len
Len Doerksen
- Abbotsford, B.C. Canada
August 18, 2009
---
---
Q. Hey Everyone,

Looks like we've all be scratching our heads on how to remove the 'baked on' plastic film. Mine issue is what Rick P from Texas called "twice baked'. I too bought a house where the previous owner had installed an insulated white finished steel wood grained look of a garage door where the previous owner listened to installer and his suggestion to 'leave on the plastic film as it will just protect the doors finish'! What a crock. I'm now left with this huge double garage door with a cracked, dirt filled plastic shell finish that seems to be bomb proof. I have tried the orange stuff, nail polish remover, gasoline, cooking oil, heat gun (started to damage the surface), wonderwheel (Automotive pinstripe remover, which just smeared the plastic) and finally ammonia. Nothing has worked. The manufacturers of the door don't even know what to do, other than tell me that the guy should have removed the film on installation. I'm at my wits end with this project, but will not give up. There has to be an answer with this. Ammonia only cleans the surface, but the plastic is still there, and as tough as nails, it's just cleaner! So someone PLEASE HELP with an answer. This is MAJOR double baked!
Chris Stockster
home owner - Oakville, Ontario, Canada
September 23, 2009
---
---
Film on brass kickplate
Q. Can I try all these same methods on a brass kick plate that the film has been left on for many years, or would some of these products damage the brass finish?
MARCIA OLSON
- Auburn, Washington
October 1, 2009
Q. I am writing to try to help my husband who is a contractor and is having a hell of a time trying to clean new polished brass door kick plates for one of his customers. When he was ready to install the kick plates, he peeled off a protective film from the brass. When he did this, the brand new plates looked discolored and it seems as if some of the protective coating was left on the brass. We cannot get the residue off and we are concerned about ruining the polished brass surface with cleaners. If someone has suggestions, we would really appreciate it and so would his customer.
Sarah Polselli
Contractor - San Diego, California, USA
October 27, 2010
---
---
Q. How can I remove plastic type cover from stainless steel door panels? It had dried out and stuck like paint over the time.I appreciate any suggestions.Thank you all. Jorge G.
Jorge Gallego
elevator tech. - New York City, New York
April 6, 2010
---
April 26, 2011
Q. Hi! I have the same problem as many of you do. I bought a used kayak Aluminum pool that had plastic coating on it. It was stored in the heat and I cannot remove the plastic film. I have tried solvents with no luck. Can someone please help me. Will heat ruin the aluminum? Thanks for any help..
Susie Dicerbo
homeowner - Harrison Township, Michigan, USA
---
---
Q. How would you get rid of the adhesive on the back of a combination lock?

Donald Scott
- St. Catherines, Ontario, Canada
August 9, 2011
---
---
Q. When our stainless refrigerator was delivered it had a protective blue plastic covering on to prevent scratching. We were in the process of renovating and left the plastic on for several months and now have marks that won't come off with stainless steel appliance cleaner. Please let me know what to use to get these marks off??
Debra Brown
Purchaser - Seven Valleys, Pennsylvania
October 10, 2011
---
---
Q. We had some plastic auto body painters sheeting that got stuck to a surface that wasn't quite cured. Is there any solvent that would melt that sheeting without damaging the paint too much? Or does anyone know what kind of plastic that sheeting is?
Jeff Reimer
Industrial painter - Alberta, Canada
December 1, 2011
---
---
O.M.G. my whole day so far has been trying to get a clear film off of a white metal shed door. Once again, we thought the plastic was protecting the door until all work other around it was finished - which ended up being a total of about 3 years.
I have tried the boiling hot water, a warm water and soap soak using towels to keep it soaking, Glass Plus, Green Works, ammonia, paint thinner, rubbing alcohol. Nothing was going well at all so I went to town and purchased a Heat Gun this afternoon. No help. I am seriously thinking of just buying and installing a new door. The companies that sell plastic coated items should have to tell you that you do need to remove the coating right away or post a big warning sign on them about the protective seal. This is over the top annoying and frustrating and I feel like crying.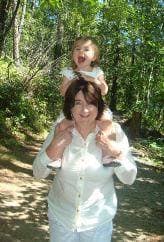 Joanne Chase
- Port Alberni, B.C., Canada
---
---
Q. How can I remove melted rubber (gloves) off of an appliance.
Patricia McGowan
house wife - Odenton, Maryland, US
January 16, 2013
---
---
Q. I am a superintendent at my construction company and have "built out" three floors of an occupied building. Upon entering the final cleaning phase, I noticed that the white and black protective film on the stainless steel elevator doors was never removed since original construction some 5 years ago. I can't seem to get it off and need to be able to use a low V.O.C. agent due to the existing occupancy. HELP!
Victor Terwilliger
construction - Norfolk, Virginia
June 17, 2013
---
---
Remove sun-baked vinyl packaging from garage door
Q. I left the cellophane plastic on garage door (vinyl) allowed it to be baked in sun ... now difficult to remove. Need guidance as to any solutions or technique.
Len zap
- indio California usa
May 25, 2014
---
---
Q. I recently bought a car that has a film over the plastic lens cover of the headlight.
According to a local here, some folks put glass darkening film over the plastic headlight cover to look "hot".
While it may look "hot" , but at night it darkens the head light so you do not see the road well.
Have taken it to a paint shop and they said they could do nothing, then took it to a galss shop and that does darkening film on glass windows here in the desert and they said they did not know what to do. But it is a film and being a plastic, most are scared of touching/trying to remove since the base is a also plastic and they think they may scratch the lens cover.
Any help?
bob
robert mcthor
private indiv. - palm springs, calif, USA
---
---
Q. I built my own house. It took three years and at the end of the first year I had installed my patio doors. Two years later, I've found that the plastic film covering the glass on the doors had baked on. Scrapping doesn't budge it. I'm very reluctant to use a heat gun or boiling water as the glass might crack. any ideas?
Victor Damski
- Lowestoft Suffolk UK
---
---
Q. I never removed the protective film off my outdoor french doors. they baked in the sun and I removed the plastic but the residue has remained and I tried to remove it with goop removal a very little came off only after rubbing it for a very long time. Is there anything else I can do to remove this sticky residue? Thanks
Phil spadafora
- dix hills New York
August 16, 2015
---
---
Q. We remodeled our home and had a SS Viking range and hood installed. The contractor did not take the plastic white film off from the underside or sides of the hood. We are slowly peeling it off but now that the hood has already been installed it's a nightmare! The boiling water idea sounds great but there's no way to pour boiling water onto something you're trying to clean upside down. We have to be in the most contorted positions just to work at it a little. To compound the problem the film seems to go underneath the edges of the trim and light sockets so even when we get the film off to that point, it won't budge. We're worried about using acetone etc. since it's above where we cook and difficult to see where we're applying it and then cleaning it off. Any thoughts about removing this stuff after the SS piece has already been installed?
Annie Wilkinson
- Layton, Utah, U.S.A.
September 12, 2015
---
---
Q. I have an outdoor grill that has been in Texas heat for few years with "laser film" white covering. I tried applying ammonia, nail polish remover and scrapping it, but no luck getting it out.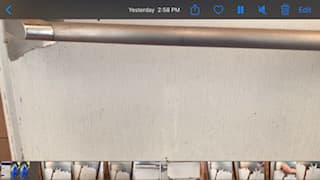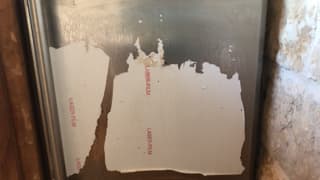 Jay Nayyar
- Southlake, Texas, USA
May 5, 2020
----
Ed. note: If you're STILL not weary, thread 30965 offers additional solutions :-)