60,000 Q&A topics -- Education, Aloha, & Fun
topic 25532
How to Rust corrugated steel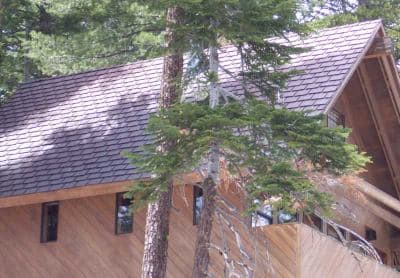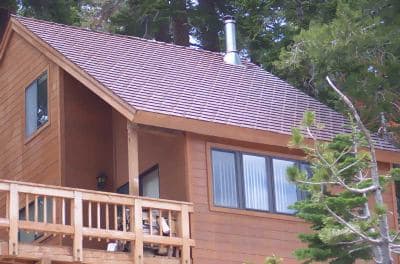 (see entry by Brian Casey)
A discussion started in 2003 but continuing through 2017
2003
Q. I live in Colorado and have seen rusted corrugated steel roofs on million dollar homes and I wanted to rust corrugated steel to put on a barn I am building. I am under the impression there is a way to rust steel fairly evenly and moderately quickly but have yet to find the answer. Also I want to know if after I figured a way to get a fairly even rust coat on the steel, do I need to seal it in any way or not?
Thanks,
Gary Sapp
real estate - Livermore, Colorado
---
2003

Cor-Ten and Weathering Steel
A. Hi, Gary. With your contacts in real estate, maybe you can get in touch with the builders of these homes and find out the actual details of what you were looking at. There are rusted corrugated sheets, such as Cor-Ten®, but there are also sheets that have rust-colored paints roll coated on before sale; it's best to get the one that actually caught your eye.
Plus, please see www.uss.com/corp/construction/cor-ten-azp.asp, where U.S. Steel explains that real Cor-Ten rusted steel is not recommended for roofs; rather they suggest Cor-Ten AZP®, which is actually galvalume coated, then painted with PVDF to match the look of Cor-Ten. Good luck!
Ted Mooney, P.E.
finishing.com - Pine Beach, New Jersey
Striving to live Aloha
---
2003
A. Look into [Company name deleted -- see editor's note], they sell the raw product and can direct you to people who rust it. I talked with a builder in Steamboat and he said he got his "look" by washing the factory oil off with a mild biodegradable detergent and then washed the metal with a diluted wash of Muriatic Acid [affiliate link to product info on Amazon] , then left it outside for thirty days - it is really cool and looks 100 years old.
Jamie Haass
- Denver, Colorado
---
---
2005
Q. I too want to rust a corrugated steel roof for a new cabin. Has can anyone suggest how to do, and does rusting require a sealer that will need to be retreated periodically?
Harry Ayer
- Tucson, Arizona
---
2005
A. This may be fashionable, Harry, and you are welcome to do it, but per http://www.ussconstruction.com/metal/metal/corten.shtml , U.S. Steel strongly discourages the use of their Cor-Ten® rusted steel for roofing and sidingfor a number of reasons, some of which may apply to all rusted roofs. They offer a painted product, Cor-Ten AZP, designed to look like Cor-Ten (and they're surely not the only company offering such an approach). So approach home-made rusting with caution. Good luck.
Ted Mooney, P.E.
finishing.com - Pine Beach, New Jersey
Striving to live Aloha
----
Ed. note, Feb. 2018: That page appears to no longer by on line.
---
---
2005
! Dear Ted:

I am writing in response to your link to US Steel's caveat sheet on Cor-ten/Corten roofing and siding and the related discussions. It appears to be common knowledge that these products, when improperly installed, do have problems. Trapped water, overlaps, etc., will all make these prematurely fail.

I am also aware of many Cor-ten / weathering steel roofs that have been installed and serviceable for over thirty years. Northern and central California has dozens of applications dating back to the early 1970's.

I tested these aged Cor-ten / weathering steel shakes in Kirkwood Meadows, California recently and they had 80% of their original steel intact. I selected metal shakes that were along the eaves (the area with the most wear and tear on most any sloped roof), cleaned the oxide down to bare metal, and measured them. Using a Mitutoyo digital mic with accuracy to 0.00005", I found the average remaining steel thicknesses were 0.0225", corroded down from the original 0.0280".

Extrapolating these numbers into life expectancies, follow my logic. If we assume these roofs are replaced with 20% of the roofing material remaining, and divide the corrosion by 30 (for the number of years in place), these roofs would go 122 years before replacement. Just as an added twist, how do we know this level of corrosion was on a straight line for thirty years? Suppose the corrosion reached this 20% level after only twenty or even ten years in place. These roofs would go a long, long, time.

Now Kirkwood is different than a lot of places so the results may not be the same everywhere. It's in the High Sierras and the roofs' elevations are around 7,000 feet. Its ten-year average snowfall is over 500". The local Alpine County building department requires building be engineered to take a 300# snow load. Ice dams and wear from shedding ice and snow are like nowhere else. Other area's remaining steel thickness will probably be higher.

I am continuing these studies of Cor-ten and weathering steel shingle roofs and shake roofs. I understand there are several in the lower central San Joquin valley (Fresno, CA) where these Cor-ten and weathering steel shake roofs have also been in place for decades. Maybe we'll see greater corrosion due to the super-saturated tule fog so prevalent there in the winter.

[Ed. note: Paragraph about a particular company's product was deleted; see editor's note ]

Thank you.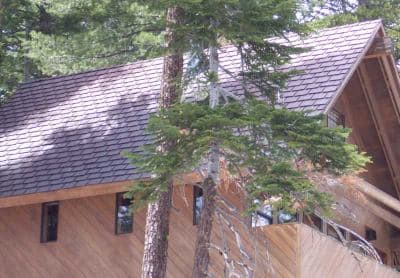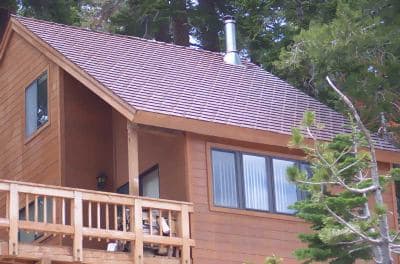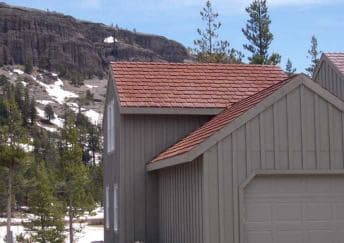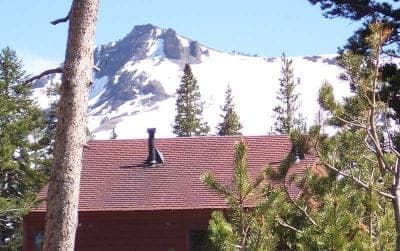 Brian Casey
- Reno, Nevada
---

Thanks, Brian. I'm just the website operator referring people to U.S. Steels take on the subject; I can't offer personal experience. You know much more about the subject than I, and I appreciate your measurements and calculations. Three postings down, Chris Klein implies that painted roofs cost about 6x as much as corrugated steel, and it is certainly possible that people want to sell the higher priced product.
Regards,
Ted Mooney, P.E.
finishing.com - Pine Beach, New Jersey
Striving to live Aloha
---
---
2005
Q. I am trying to determine the environmental impact of the metals that leech off of a Corten roof. Brian Casey, do you or anyone else have any information that would help me make a determination on this issue? I know there is staining from the iron, but are the other trace metals an environmental hazard in any way?

Thanks,
Marc Sloot
Architecture - Minneapolis, Minnesota
---
2005
A. To Marc Sloot in MPLS: I do not know of any testing done on the corrosion that develops on Cor-Ten. The trace minerals in the alloy may include silicone, manganese, chromium, copper, and sulphur, and typically compose less than 1% of the metal. It appears in the projects I have studied the corrosion has minimized or stopped altogether. I am not an environmental scientist but it's hard for me to imagine any of these elements would be released in a noxious amount. I welcome input for others...
Brian Casey
[returning]
- Reno, Nevada
---
2005
A. What you saw was indeed more than likely Corten Steel used for the corrugated roofs. The Architectural firm I work for routinely specs Corten for roofing. Bridger Bowl ski area near Bozeman MT, being one of the larger recent projects.

There are two ways to rust it. Quickly with the muriatic acid method as previously mentioned or naturally, it will take 1 to 2 years though. In both cases the roof will be sealed after the desired amount of rusting has been accomplished. I do not remember what was spec'd for the sealant though. I'll have to look it up.

Another source is recycled building materials. The Food CO-OP in Bozeman has an exterior of reused timbers and corrugated siding.
Paul Snyder
- Bozeman, Montana
---
---
2005
I know exactly what look Gary Sapp from above is talking about. I am planning on building in a year and will try the following: Since the idea of cleaning up muriatic acid scares me, I'm going to try sand-blasting different sections of scrap with different p.s.i.'s. and then letting it sit for the winter. (I imagine I will start to see rust with in a week or so.) I am also going to run this idea by my roofing inspector. If he doesn't like the idea of me using a "used roof", I will simply install my rusted corrugated pieces directly over a unsand-blasted piece. This will double my price, but the way I see it, corrugated steel runs about one sixth the price of a painted steel roof. I will get back to this site to let anyone know how this works.
Chris Klein
Geneva Glen Camp - Indian Hills, Colorado
---
2006
A. Well after I asked my original question on rusted metal roofs I found out the answers and have put them on five roofs to date. The Cor-Ten product is virgin steel with a pretty hefty price. I use CRCQ which is a cold roll steel from recycled steel that is much less in price. By far the most simple and best way to get the product to the rusted state rather than wait 2 years is to take an approximate (I say this loosely) 15 to 1 or 20 to 1 water to Muriatic Acid [affiliate link to product info on Amazon] and spray it with a weed sprayer and leave it for an hour or two until it is completely dried then wash it off with water and it will start rusting immediately. It will be a very consistent rust. Doing this also makes putting it on the roof much easier as the oil that is on it when you purchase is so slick you will slide on it even on an extremely low pitched roof making it harder to install.
Gary Sapp
[returning]
real estate - Livermore, Colorado
---
2006
Just a note for a source. I have found a great web site which has all manner of pre-rusted corrugated metal siding/roofing. The name of the company is [Company name deleted, sorry, see editor's note ]. It also has numerous other green/environmentally friendly residential building products.
Doyle Stafford
architect - St.Petersburg, Florida
---
---
2006
As for rusting or prepping for paint on galvanized metal, you can use straight table vinegar and a sprayer to wet down the material. It is what is called pickling the surface. The acid is not harmful to the environment and actually is a good weed controller.
There are companies that are selling rust metal but I recommend testing a small piece and then install it on your building and soak it in place.
Good luck and happy aging.
Steve Dexel
- Farmington, New Mexico
---
2006
Q. I have a few questions about Steve Dexel's post re: pickling. After applying the vinegar, how long do you need to leave it on? Do you rinse it off? About how long does it take to rust?

Thanks!
Donna Hosea
- Cypress, California
---
2006
A. JUST SPRAY IT ON PRETTY WET AND LET IT WORK. YOU DO NOT NEED TO RINSE OFF. IT WILL RUST HEAVIER AT FIRST AT THE BOTTOM IF INSTALLED BEFORE TREATMENT BECAUSE OF THE CONCENTRATION LEVEL FROM RUNNING DOWN THE SURFACE.
LET NATURE DO ITS THING AFTER THAT.
I SUGGEST TRYING IT ON A SMALL PIECE AND WATCHING WHAT HAPPENS.
TOO MANY TIMES HOUSEHOLD REMEDIES ARE PACKAGED IN FANCY BOTTLES AND COME WITH A HEFTY PRICE.
A 20% MIXTURE OF THIS PURCHASED FROM A CHEMICAL SUPPLY OUTLET WILL TAKE CARE OF WILD THISTLE.
Steve Dexel
[returning]
- Farmington, New Mexico
---
---
2006
COR-TEN is a "hot-rolled" product and is more brittle than cold-rolled steel. Additionally, COR-TEN is typically only available in 18 gauge and thicker, therefore, the product may not be available for your specific architectural application. Cold-rolled steel is available in lighter gauges, more malleable and, therefore, more adaptable to architectural demands. Both metals weather and neither is warranted for any amount of time. In the experience of [Company name deleted, see editor's note ] cold-rolled steel will weather after one Colorado winter. [Company name deleted] does not recommend pre-patina COR-TEN or cold-rolled prior to application due to accelerated degradation of the product. Finally, cold-rolled steel is approximately less than half the cost of COR-TEN, if costs are a consideration. The runoff from weathering steel stains and makes a real mess. US Steel, the manufacturer of COR-TEN states the following on its web site: Consistent with United States Steel Corporation's ("USS") policy over the last two decades, USS reiterates and reminds that COR-TEN® steel sheet products should not be sold when the intended use is for an architectural application, such as roofing and siding.
I've heard rumors of environmental problems due to the chromium and copper content of COR-TEN but none have been confirmed. I've checked the USS web site, EPA web site and spoke with my COR-TEN salesman, regarding environmental concerns and have yet to find anything about environmental issues with COR-TEN.
Eliot Boyle
- Denver, Colorado
---
2006
Thanks Eliot. However, I wasn't aware that hot rolled steel is more brittle than cold rolled, and would have suspected the opposite; but you still may be right. "Rumors" which can't be sourced, and which neither the manufacturer nor the EPA has any knowledge of, might better be left unmentioned; but while we wait & see if a reader can offer a source, I don't think there is an awful lot of chromium or copper in Cor-ten weathering steel -- about a half of one percent of each. Please see composition info on this page: www.azom.com/article.aspx?ArticleID=5045
Thanks again.
Ted Mooney, P.E.
finishing.com - Pine Beach, New Jersey
Striving to live Aloha
---
---
2006
Q. What can be used to force rust A36 steel for appearance? The rusted metal would then be coated with polyurethane once the desired rusting is completed.
Craig Swick
construction - Crested Bute, Colorado
---
2006
A. There are other steel companies that supply steel with the same or similar formulations to Corten steel, which is trademarked. They use other terms like "weathered steel", but they make lighter gauge material. You can get 22 gauge corrugated. Do a search for - metal roofing sales. Look through those company websites and you will find what you are looking for.
John Slate
- Sacramento, California
---
2006
Q. Hi - anyone try using Galvanized Metal and then treating it with Iron Sulfate mixed with water?
Morgan Canfield
- Reno, Nevada
---
---
Ed. note: Although it may seem helpful to try to flesh out the technical discussions here by suggesting company names, unfortunately it can lead to the dismemberment of the thread -- which happened here! After seeing their competitors' names publicly recommended, suppliers started posting ever more blatant advertisements for their own products: that their company has more convenient outlets, how their product has a longer proven history, why their product is more eco-friendly, etc. Soon it was a race to the bottom with salespeople just copying and pasting pages of their sales literature as a response, choking the thread with spam.

So to be fair, and having no realistic way of running police background checks or otherwise knowing which testimonials were actually from disinterested people and which were from shills posing as satisfied customers, we had to go back through the thread all the way to the beginning and remove all the earlier testimonials, and generally make a mess of things. Apologies, but please try to keep the discussions strictly technical. No testimonials! Thanks.
---
---
2006
Q. We are investigating using Cor Ten panels in a vertical, rain screen application and have been debating on what type of fasteners to use. At this point, we are planning on using stainless steel screws but are not enthusiastic about the look of bright shiny screws on the Cor Ten panels. Anyone have any thoughts or advice?
Bill Vandeventer
- Seattle, Washington
---
2006
A. I finally figured out how to rust Cor-ten, cold rolled or any galvanized steel. Spray on 100% muriatic acid and leave it alone for five or six hours. Wash it off with water and it will immediately begin to rust. I have done this on over 5000 feet of roofing over the course of the last few years and it works great. It won't penetrate too deeply to cause any pre-aging.
Gary Sapp
[returning]
real estate - Livermore, Colorado
---
---
2007
Q. Does anyone know how Corten would hold up in a more humid Texas climate? I am located in Northeast Texas and would love to know if anyone has knowledge of this product when used in humid areas?
Tia Ables
- Pittsburg, Texas
---
2007
A. The Core Ten roofing is the metal roofing that partially rusts and then stops rusting so you get the old barn look. [Sourcing recommendation deleted, see editor's note]. I put the roofing on my cabin in Estes Park and it looks great.
Tia from Texas,

Cor Ten has been said by lab tests to last an average of 80 years in the Rocky Mountain West. Core Ten has a few added metal alloys such as copper, nickel and chromium to help clog the pores at the rust, steel interface therefore stopping the regeneration process of the rust. In the humid area of northern Texas I would expect it to last about 60 to 70 years.
Lee Smith
- Greeley, Colorado
---
2007
Q. I'm an architect in California. I have seen COR-TEN used as roofing on several projects by others. I have a client who wishes to use it on a project located on the central California coast. My question is can COR-TEN be used near the coast and self seal or will the salt air continue to attack the steel until it fails?
Eric McConnaughey
Architect - Visalia, California
---
---
2007 -- appended to this thread by editor in lieu of spawning a duplicative thread
Q. I saw at a lake cabin the galvanized steel roof was a real pretty rust, how did they do that?
Deb Koble
consumer - Martin, North Dakota
---
2007
Q. I am building a little house on stilts on Mt. Baldy. I would love to use Cor-ten or a similar product as siding and roofing for my little house to give it a "mine shack" appearance. Do any of you know what Los Angeles County thinks of corrugated weathering steel for a residence? I assume since it is steel it retains its class "A" fire rating. I am on a pretty tight budget so any recommendations as to an inexpensive way to achieve my objective would be helpful.
Angela Batistelli
- Mt. Baldy, California
---
2007
Q. Gary:

My husband and I are building a house and love the look of the weathered steel. It sounds like you know what you are doing after four houses. You did not mention if you sealed the steel after the Acid or if it was just left as is. I saw a posting about sealing with polyurethane but I would think that would create a shiney look and doesn't seem like it would stop the rusting.
MeriLee Slack
Homeowner - Rangely, Colorado
---
2007
A. I have not put any kind of sealer on my roofing and do not see any reason to. I live at about 7200 and once the metal is rusted it seems to stop itself. I see no evidence of continuing erosion after the past 4 1/2 years. I put on metal roofs for a living rusted or not. Gary
Gary Sapp
[returning]
real estate - Livermore, Colorado
---
August 27, 2008
A. My Name is Bo and I am the owner of a metal company in Tucson, AZ. If you use regular non zinc coated corrugated steel, it will rust all by itself. If you want to help it along and have a more even rust from the start, ask for insta-rust. It runs about 45 dollars a gallon. Pour it in a sprayer of any type and spray it on the steel. Hope this info helps
Bo Mcmillin
- Tucson, Arizona
---
April 15, 2010
A. Bo, I also live in Tucson Az. You mentioned using "insta-rust" can you put that on before removing the glazing or after washing it with the muriatic acid? Where would you go to get it? home depot? Lowes? I've also have tried "Iron Oxide", such as "ironite" or something with a stronger iron content,after you wash it with "Muriatic Acid" just mix it in a sprayer, lay it flat for an even spread and it should give it a good start to rust, then seal it after you get your desired look.
Wendy Warunkiewicz
- Tucson, Arizona, USA
---
---
October 7, 2008
Q. In reading the many responses about Corten corrugated steel roofing.... I installed one last December; it weathered beautifully. The problem is many leaks (from the screws condensing up to the ridge beam). I have had many roofers attempt to repair it over the past 8 months, replacing many screws each time(special order self rusting screws at the initial installation & since, although the screws haven't rusted yet).
I'm feeling desperate with winter coming and I'm trying to find the best sealant/caulking to cover each of the screws. I can't seem to find a recommendation from any supplier (local or internet).... can someone help me? or point me in the right direction? Thanks.\
Laura Spence
- Weaverville, North Carolina
---
October 29, 2008
Q. I want to use a weathered steel panel system to cover foundation insulation. Any information as to the durability/ building inspectors acceptance of this type of steel panel in direct contact with soil?
Robert Dell
- Golden, Colorado
---
December 3, 2008
A. The easiest way to uniformly and quickly rust steel is by spraying it with salty water. Easy, cheap, and works great.
Scott Smith
- Mentor, Ohio
---
February 1, 2009
To get the look you want, use muriatic acid and a sprayer ( a 2 gallon sprayer with an adjustable tip) mix 80% acid 20% water to eat the protective coating off of the metal, rinse off and time and the elements will do the rest.
John Keith
- Rockwall, Texas
---
May 29, 2009
Q. I am building Ritchie Brothers Auctioneers new head office in Burnaby BC and our architect has spec'd corten steel as an architectural feature and backdrop to the main stair WITHIN the building. The architect seems to think that we can get the desired rusted patina on the steel in a short period of time and I cannot and have not found an answer as to how or even IF this is possible- can you help me out?
Frank Wedd
project manager - British Columbia, Canada
---
August 14, 2009
A. Cor-Ten is the US Steel trademark name. There is a specification, ASTM A242 [affil. link to spec at Techstreet] , that describes the steel specifications. Other steelmakers will sell the similar product but would normally describe it by the ASTM specification.
Key to the chemistry is the addition of copper (0.2% min) which is well over 10 times what would normally be present as a residual. Other elements like nickel, chrome can also be added to boost the corrosion resistance.
Although it is known as weathering steel, this doesn't mean that it won't rust, there is just an expectation that it will rust more slowly. If the conditions are harsh and you are looking for a long life, then I wouldn't suggest using it. Somebody wanted to use it in a coastal application. I would avoid that.
Cold rolled is not more brittle than hot rolled. The cold rolled would be sold in annealed state, so it will be just as formable, if not more so, than hot rolled. If you are buying full-hard (cold rolled) then yes, it will be not very formable at all. I doubt you would be able to find it in the marketplace in this condition, though.
Mike Thorpe
- Hamilton, Ontario, Canada
---
January 5, 2010 -- this entry appended to this thread by editor in lieu of spawning a duplicative thread
Q. Anyone try salt water?
cory hyrkas
- boulder Colorado
---
August 7, 2010
I am a specialist rainscreen installer working on 2012 olympics in london. I have just completed 2000 m2 of cor-ten metal mesh on the vertical of the edf energy building. If you are interested to see what it looks like I could download some photos for you.let me know
stephen andrew gildea
- hull
----
Ed. note: A lot of people view this page, Stephen, and a few have said they'd love to see it. Please email them to finishingdotcom1995@gmail.com for posting here if you can.
---
September 2, 2010
A. I live in Colorado and specialize in rust type roofing. There are several types and manufactures. It it important that proper flashing be used and stainless fasteners if possible and the underlaymment must be an ice and water shield type of product that has a high temperature rating due to the uv factors at this altitude. I am happy to answer any questions you might have. Beware though that as the rusty water comes off the roof, decks, porches and sidewalks will get stained. there are several product that imitate the rusty look with paint as an alternative and actually cheaper and easier to install.
Alan Ivie
- Pagosa Spring, Colorado
---
September 27, 2010
Q. I am building a home in Fairplay, Colorado and will be using 7/8 cold rolled corrugated panels for the main house and monitor. I also wanted the "rusted finish" so that it blends into the landscape. I have been told that the product is coated with Vegetable Oil when manufactured - 1 Gallon of water, combined with 1 cup Salt, and 1 cup Vinegar applied once, or twice (with a sprayer) to strip the oil will rust the entire roof within 1-3 months. No sealant required, and it is a 24 gauge - 40 year roof.
What I am looking for is a recommendation of a fantastic Colorado installer for the installation at an elev. of 10,358 feet this Fall.?
Inga H.
- Fairplay, Colorado
----
Ed. note: Sorry, Inga, as previously noted, we cannot print any commercial recommendations; experience has proved again & again & again that they are simply incompatible with a largely anonymous public forum on the internet. Apologies.
---
April 18, 2011
Q. What should a homeowner expect to pay per square foot for 22 gauge Corten corrugated (assuming 7/8" profile and about 2000 square feet of product. How does this compare with the price of the same metal, same gauge, as a flat sheet.
Patrick Gleeson
building a new home I've designed - Los Angeles, California, USA
---
May 2, 2011
Q. I am wanting to line the outside concrete walls of my daylight basement art studio windows (in Oregon) with galvanized, corrugated metal sheets that look aged. Will muriatic acid eat through the finish of galvanized metal to create an aged look, or would one of the other suggestions above (salt, vinegar, bleach) work better?
Lynn Peffley
Hobbyist - Scappoose, Oregon, USA
---
May 11, 2011
A. Rusting of metal takes several easy steps. First lay metal flat with good face up. Then clean very well with a brush or broom with bleach/water solution 4:1. Rinse well. Repeat until metal is oil free. Use leaf blower to dry or wait. Add 4:1 white vinegar and water. Spray in partial sunlight with Hudson type sprayer just to keep wet. Reapply vinegar solution as it dries to keep wet. Rust will appear from yellow to orange to red-ish. In about 1-2 hours you will have very beautifully rusted metal. Do not stack together when wet. You can do a lot of parts at once.
Art Caruso
- Lyons, Colorado, USA
---
July 12, 2012
Q. I have a normal painted metal roof and am wondering if it is possible to convert it to a rusted roof? Yes/No? If not, is there a paint application that closely resembles rust? What is the surface perpetration if such a paint is used? Thanks!
Brad Chisholm
- Truckee, California
---
September 4, 2012
Q. We are planning to install a 24 gauge cold rolled corrugated roof on a barn we're building for the rusted look. Is that a heavy enough gauge steel to last ~30 years in the Sierra Mtn. foothills (2000' elev) of CA?
Susan Jobson
- Sutter Creek, California, USA
---
October 19, 2012
Q. What type of screws can I use to fasten Corten Steel panels that will match the appearance of the weathered steel?
Tom Amoroso
- Philadelphia, Pennsylvania, USA
---
December 20, 2012
Q. I have just purchased shiny new corrugated tin; I am using it as wainscoat in the man cave, and I was told to use acetone to take the oils off of it, my question is, do I apply the acetone liberally or just wipe if off with a rag? I really don't want to rust it, as it will be inside the house and if people rub against it, I would worry the rust would get on their clothes, any suggestions on the acetone part?
Robin H
- Mineola, Texas, USA
---
December 20, 2012
A. Hi Robin. You can use a rag plenty wet with acetone; it shouldn't hurt the galvanizing. But for indoor use, I'd lacquer or clearcoat the galvanizing.
Regards,
Ted Mooney, P.E.
finishing.com - Pine Beach, New Jersey
Striving to live Aloha
---
December 21, 2012
Q. Thank you Ted, I may re-think this project, as I only have 1 day to do it, I'm wondering if I should just lightly sand it then, instead of using the acetone, I don't want lacquer fumes in my home and clear coat will make it shiny, what do you think about the sanding part? Do you think it will be effective?
Robin H
- Mineola, Texas, USA
---
December 21, 2012
A. Hi Robin. I've seen galvanized sheets used indoors in such places as Lone Star and other restaurants and it can be okay. I wouldn't sand it, no. But you can wash it with Spic'n'span or other strong detergent instead of acetone, as long as you don't leave it wet. But see letter 19866, from a galvanizer, explaining that galvanized steel has limits as a decorative item.
Regards,
Ted Mooney, P.E.
finishing.com - Pine Beach, New Jersey
Striving to live Aloha
---
July 10, 2013
A. We used recycled raw steel from Montrose, Colorado for our house for outside wainscot and for inside ceiling and accents in our house. If you want uniform color, rusting orange, then I agree, just use something like simple green to take any oil off, then just let it rust from rain. I wanted a artistic non-uniform look. I played with several test 4" x 4" flat sheets and came up with this plan. Clean the panel, I used just plain water; Mix 64 oz of hydrogen peroxide, 1 cup of vinegar and 1/2 cup of salt in a garden sprayer. Spray the panels until uniformly wet, then cover with 1 mil plastic. I then used a broom to push the plastic into the panel and tried to take out any air bubbles. I also pulled the plastic around to create arcs and lines. I needed the plastic to keep the solution from drying out in our Colorado climate. Once the solution dries, the rusting stops. If the panels are in the sun, it only takes about 4 hours to get a good rust. I pulled off the plastic and sprayed with water to remove the solution. If you want more rust, you can spray with more solution or water, this will not remove the patterns. Then after they were dry, I sprayed on water based poly to seal and stop the rusting. The poly did flake off in some places, but two years later I am still very happy with the look. We did not seal in-doors panels in places where people would not touch them. I like the solution, it did not seem to harm any plants on the ground where I worked on the steel. We used rusty roofing screws to attach the panels.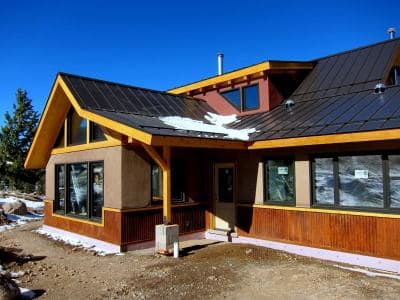 Deb Callahan
- Monte Vista, Colorado, USA
---
---
Corten pre-weathering mixture
April 1, 2014
Q. Due to the limited time on our construction schedule, the contractor cannot pre-weather the exterior Corten wall cladding panels naturally with water spraying cycles over a 2-3 month period. The contractor proposed to use a mixture of white vinegar, hydrogen peroxide and salt to oxidize the Corten quickly. We could not find any information on this online whether this mixture is acceptable and if it will cause any undesirable effects. Please advise whether the mixture seems ok to use and if not, what product we should use to oxidize the Corten. Our intention is to achieve the rusted Corten look when the building opens to public (it is a museum) and to minimize the runoff from natural pre-weathering. Thank you for your help.
V S
architect - New York
---
April 9, 2014
A. Your formula probably can be used, but I think it must be used only freshly prepared. Use safety googles and rubber gloves, be careful! All formulas for speedy patination of CORTEN contains chlorides (37% kitchen salt solution, vinegar and salt mix, etc.). The best Approach - Test it on some Corten scrap, and if it looks okay then you can use it. Hope it helps and good luck!
Goran Budija
- Zagreb, Croatia
---
April 10, 2014
A. Try Everbrite [a finishing.com supporting advertiser] or Sharkhide coating. Maybe you can use Future (or Pledge - new marketing name) floor finish, too (F.C.Johnson product). Hope it helps and good luck!
Goran Budija
- Zagreb,Croatia
---
---
Corten panels won't rust no matter what we do
June 3, 2014
Q. We purchased several panels of corrugated metal roofing from a home improvement store. I have tried every possible combination listed here and elsewhere to rust the metal, but so far no rust, just dulling of the metal. We plan to use the panels behind a painting inside our home, so do not have the luxury of having weather do the rusting for us. Since we live in a very hot and dry climate we are having problems keeping the panels wet, even when covering them with plastic. The past couple of days we tried laying the plastic on the grass, wetting it, then placing the face of the metal on the plastic (the panels still had the hydrogen peroxide mixture on them when we did this). Still nothing. We really want to finish the project, so are looking for any suggestions on how to get these buggers to rust out. :-)
Lisa Silver
- Colorado Springs, Colorado
---
June 13, 2014
A. The title bar mentioned Corten, but you didn't mention this in the body of the question, so unsure about the "metal" you have.
"Corrugated" suggests corrugated steel sheet, possibly galvanized (the most common)?
If this is galvanized, it won't rust - the zinc is there to prevent that.
If so, and you want it to rust, you'll need to strip the zinc off first. You could do that with acid (HCl say), but be careful. If you have not handled acid before get help.
If this is actually Corten, you should be able to get a rust patina, but this is also a rust resistant material.
Try sprinkling ordinary table salt on, then a fine water spray (only enough to wet, don't wash off the salt), and keep this wet for several days.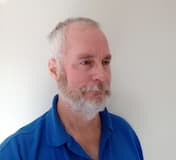 Geoff Crowley
galvanizing & powder coating shop
Glasgow, Scotland
---
June 13, 2014
A. Lisa

As Geoff suggested, your corrugated panels might be zinc coated, in which case you could get some muriatic acid (concrete cleaner) at the same store. It will remove the zinc but the practice would not be recommended for a novice. Plus you have the zinc contaminated acid to deal with. There are a couple of plating shops In Denver that would be able to do the job. Search "zinc plating + Denver".
Willie Alexander
- Colorado Springs, Colorado
---
June 17, 2014

We got it finally, but here's what we had to do. Remember, we are using these indoors, so do not have the luxury of weather helping us. The very first thing we did was sand the heck out of the panels, as they were galvanized with this zinc coating. We tried all variations of the salt, vinegar and hydrogen peroxide mixtures and all it did was slightly dull the metal. We then sprayed the panels with muriatic acid, which did a lot more in breaking down the zinc, but left a dark, dull gray color. I again tried another salt, vinegar, and peroxide mixture. Flipping the panels upside~down on top of plastic for 3 days. Nothing. Then I remembered I had some PCB board etchant I use on my jewelry. I sprayed it on and immediately got the rust. After rinsing the panels I dried them all off for a couple of days then sealed them with a clear matte sealant. I do not recommend this for just anyone. You need to be very aware of how to properly handle this chemical. It worked for me, however. Great looking panels that did the job and all visitors to our home love the art piece they were used for.
Lisa Silver
[returning]
- Colorado Springs, Colorado, USA
---
June 14, 2014
Q. I am building a mountain cabin adjacent to a creek in North Georgia and would like to use a rusty metal roof. The climate is humid with an annual rainfall of 56 inches. We have 200 plus sunny days but the cabin will be shaded. The minimum roof pitch is 3/12. Can anyone tell me if 20 gauge cold roll is suitable for my area and if so, an estimated life expectancy? Once the roof is rusted can I do anything to extend the life? Thank you.
Chip Morris
- Gainesville, Georgia USA
---
March 30, 2015
A. Forget using salt to rust steel. A muriatic or hydrochloric acid spray mixed with water is the way to go. (Wear good rain gear and long rubber gloves - you can be burnt by the acids!) You need to remove the mill scale, unless the steel has been either sandblasted or pickled at the factory -- in order to prevent ongoing bleeding rusty stains. Factory pickled steel has normally been oiled, so you need to use a strong detergent to remove the oil. Putting a finish over rusted steel is futile. If you want to rust the steel, don't start with galvanized or plated steel. The zinc coating of either finish is designed to prevent rust. If the steel is meant to be a siding, use a thicker gauge than painted steel sidings. Putting rusted steel on the roof is probably best done in desert climates. My background for my knowledge about this is making steel art. If you're where you get ongoing ocean spray, Corten or A606 type steel is probably worth buying. Otherwise, I have my doubts.
Tim Dunn
- Arlington Washington USA
---
May 12, 2015
A. One part Hydrogen Peroxide, one part vinegar, salt, spray bottle. Fast stuff.
Brett Miller
- Bakersfield, California, USA
---
---
December 4, 2016
Q. Will muriatic acid work to rust galvalume metal?
Carl Manning
- Albuquerque New Mexico USA
---
December 2016
A. Hi Carl. Muriatic acid dissolves zinc almost instantly, but it's probably a bit slower on an aluminum-based coating. Still, it should dissolve it reasonably fast and start attacking the underlying steel and causing it to rust. Hopefully you know what you're doing and won't hurt yourself, nor let your structure rust away from the remnants of this powerful acid. Good luck.
Regards,
Ted Mooney, P.E. RET
finishing.com - Pine Beach, New Jersey
Aloha -- an idea worth spreading