Where the world has
gathered for finishing Q&As since 1989
Stripping tin from copper
(
-----
)
Current postings:
January 24, 2022
Q. Hello All,
My name is Jayden. I am a new process engineer for a PCB shop in California. My question is how could I control the normality of stripping solution to be in spec. I have a difficult time troubleshooting the tin resist stripper issue. The normality is always at a higher value than the vendor recommendation of 4 ml/l.

The chemical solution used to strip the panel is TSN-3000 nitric acid through ChemCut-CC8000 stripping systems. A dosing controller based on panel count is applied and adjusted at 5 panels per 30 seconds. I have tried many ways to fix the problem such as cleaning the tank, cleaning the spray nozzles, adjusting the conveyor speed based on the weight loss, keeping the spray pressure at 30 PSI and bath temperature at 85 °F, dumping and remaking a new bath, adjusting the dosing controller. When changing a new bath, the specific gravity and normality of solution are in spec for 2 days, but increasinglys out of spec as 4.3 ml/l for normality after all.
I really get stuck in solving the issue, so please help to support me in overcoming this headache problem.
I greatly appreciate your help.
Jayden So
- San Jose-California
---
February 17, 2022
? How are you measuring/calculating the normality? If it's based on the specific gravity of the solution, the calculated values are going to rise as tin enters the solution.
Joshua Meisner
Process Engineer - Flushing, New York
---
---
---
Closely related Q&A's, oldest first:
2003
Q. Nowadays, our stripping chemical using fluoboric acid to strip Tin from Copper and alloy material. Copper material can be stripped many times.
But this acid dissolved tin and also alloy material so it can not use to strip more than once. Do you have idea what chemical can strip tin from alloy 42 material without dissolve the alloy material ?
Thank you
Bintan
electronics - Lobam, Riau Island, Indonesia
---
2003
A. Try an alkaline strip. Makeup a strip with 6-8 oz/gal strip aid with 10-12 oz/gal Caustic soda. Temperature 120-160 F.
Mark C. Reppa
- Plymouth, Michigan
---
2003
A. Another alkaline approach is to use Caustic Soda 100 g/l Sodium chlorite 50 g/l at 90-100 °C Parts will be covered with a brown oxide which can be removed with HCl.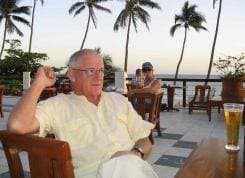 Geoffrey Whitelaw
- Port Melbourne, Australia