topic 24405
Galvanizing vs. Dacromet
A discussion started in 2003 & continuing through 2017
(2003)
Q. Dear Sirs,
1. I am writing to ask you if galvanized auto parts are poisonous for either workers or people touching them? If yes, why?
2. Between galvanizing and Dacrotizing, which is more economical?
What percent in comparative choice?
Warmest regards,
Abdolhossein Abarghouei,
Tool engineer
supplying auto parts - Tehran, Iran
---
October 20, 2009
A. Hi, Abdolhossein. Galvanized parts are certainly not poisonous. Feed bins and watering troughs for farm animals have been made of galvanized metal for decades. Similarly, galvanized roofs have long been used to collect rainwater for drinking where water supplies are limited. Although it's not considered best practice today, domestic water pipes were galvanized steel in some areas.
1. Galvanized coatings are basically zinc, which is an essential nutrient, not a toxin. However, galvanized coatings sometimes contain a small amount of lead, and galvanized components sometimes receive a final chromium quench which has some small amount of hexavalent chromium in it, and those are toxic materials.
2. The thicker the layer of deposited zinc, usually the more costly, and the more corrosion resistant. In general it proves most economical to apply thin layers of zinc by electroplating, mid thickness layers by dip-spin zinc flake coatings (Dacromet is the brand name of a proprietary coating of that nature) or mechanical plating/galvanizing, and thick layers by hot dip galvanizing. So hot dip galvanizing is substantially thicker and more corrosion resistant than dip-spin coatings. I think galvanizing more expensive but the dip-spin coatings do involve proprietary supplies, sometimes top coats, etc., so they are not cheap like zinc electroplating.
But many times the choice is not based solely on corrosion resistance and cost, but the specific needs of the component. For example thick hot-dip galvanized coatings can be a substantial problem for small and medium size fasteners because of their serious impact on thread dimensions. The fasteners may require specially cut threads, or skipping the galvanizing on the threads of nuts, etc.
Regards,
Ted Mooney, P.E. RET
finishing.com
Pine Beach, New Jersey
---
---
-- this entry appended to this thread by editor in lieu of spawning a duplicative thread
Q. I would like to know how the Dacronized finished steel compares to a galvanized steel in the salt environment, i.e., for deck boards along a pier or dock?
Jordan Loran
- Annapolis, Maryland
---
May 31, 2009
A. Hi, Jordan. I'm pretty sure you mean Dacrotized. The corrosion protection of zinc-rich coatings comes primarily from the thickness of the zinc. Hot dip galvanized zinc coatings will almost always be substantially thicker than the competing technologies, and thus more corrosion resistant.
Regards,
Ted Mooney, P.E. RET
finishing.com
Pine Beach, New Jersey
---
A. I would ask the makers of Dacral and Dacromet [Metal Coatings International].
Tom Pullizzi
Falls Township, Pennsylvania
---
---
(2005)
Q. I am a product tester for a company that makes wood products. I only test products that are non-wood though. Many of the products we receive are from overseas, and we have run across some products that are below par. For our purposes, Dacromet coating is preferred. Anyway, we have a company that suggested using galvanized metal, and spraying a "Dacromet" coating on top that they say doesn't need to be cured. Is it possible to use Dacro over galvanized metal? And if so, doesn't it have to be cured to perform correctly?
Dave Au
- Brookings, South Dakota, USA
---
A. Hi Dave. Yes, that does sound wrong to me. They may be talking about a solvent-based zinc-rich galvanizing touch-up paint rather than actual Dacromet.
I was about to suggest that hot-dip galvanizing by itself is the equal in corrosion resistance to any coating (75+ years proven, not conjectured life) so no worries ... but then I realized that the products they are claiming as "galvanized" may be just zinc electroplated rather than hot dip galvanized :-)
Be double careful. Good luck.
Regards,
Ted Mooney, P.E. RET
finishing.com
Pine Beach, New Jersey
---
---
October 7, 2010
Q. WHAT IS THE NATURE OF COATING IN DIP SPIN COATING PROCESS? IS IT ZINC PHOSPHATE BASE PAINT? IS IT A REPLACEMENT FOR HOT DIP GALVANISING PROCESS ZINC COATING PHYSICALLY AND QUALITY WISE?
DR.DIPANKAR SEN
RESEARCH & DEVELOPMENT- PLATING SHOP -
KOLKATA, India
---
October 7, 2010
A. Hi, Dipankar. Dip-spin is an application method rather than a type of coating, but I do think the method is used mostly for zinc-rich (and sometimes aluminum-bearing) compounds like Magni, Dacromet, Delta-tone, etc.

There are many ways to apply zinc as a coating, including electroplating, mechanical plating, sherardizing, flame spraying, hot dip galvanizing, spraying cold galvanizing compounds from a rattle can, and applying water-based zinc-rich coatings by dip-spin. The easiest way to look at it, which is somewhat of a simplification but not too far off the mark, is "zinc is zinc", i.e., the corrosion protection will be essentially proportional to the thickness of the coating. Each coating method suits different applications and thicknesses, with zinc electroplating used for the thinnest coatings, galvanizing used for the heaviest, and the others for thicknesses in between.
Good luck.

Regards,
Ted Mooney, P.E. RET
finishing.com
Pine Beach, New Jersey
---
November 24, 2010
A. Dear Mr. Sen,

Cost wise zinc flake coating raw material is 15 to 20 times that of Hot Dip Zinc in India. Unless there are threaded parts we are talking about for which control on the dimensions or COF requirements compel the use of Zinc Flake - I don't see any significant improvement in corrosion resistance to merit a 20 times higher manufacturing cost.
Khozem Vahaanwala
Saify Ind
Bangalore, Karnataka, India
---

My trusted colleague KV has surprised me with that cost comparison. I had been under the impression that, due to the much heavier coating thickness, galvanizing was more expensive.
Regards,
Ted Mooney, P.E. RET
finishing.com
Pine Beach, New Jersey
---
---
August 16, 2011
Q. I am looking at buying a boat trailer. One supplier is offering Dacromet Finish for the Axles and Springs. Normally this is galvanised.

Is there any benefit or weakness to the application?
Joe Whittle
private customer -
Sydney, NSW, Australia
---
August 16, 2011
A. Hi, Joe. My personal opinion is that Dacromet can be a very good corrosion resisting finish, but is not quite the equal of hot dip galvanizing (How can we actually know since accelerated salt spray testing proves nothing for zinc-based coatings, and galvanizing can last 75+ years, whereas Dacromet hasn't been around for a fraction of that time?)
I certainly would not rule out a boat trailer with Dacromet axles and springs, but I certainly wouldn't consider it an advantage over hot-dipping. Happy boating.
Regards,
Ted Mooney, P.E. RET
finishing.com
Pine Beach, New Jersey
---
---
June 2, 2013
Q. What are the visual differences between spinal hot dip galvanizing and Dacromet coating?
Thanks.
Hossein Akbari
- Tehran, Iran
---
June 3, 2013
A. Hi Hossein. Sorry, I don't know what you mean or intended to say with the word "spinal". Your question may be better handled by hands-on instruction, but you can see some photos on the Dacromet website. In general, Dacromet has a "paint-like" look to the finish whereas galvanizing often has the familiar mottled "frost on a window pane" look, and looks like metal rather than paint. Good luck.
Regards,
Ted Mooney, P.E. RET
finishing.com
Pine Beach, New Jersey
---
June 12, 2013
Q. Hi,
I am trying to find some authoritative documentation that indicates the rust proofing qualities of Dacrotizing. Does anyone know of any environmental test reports, please?
Ideally I'd like something that makes a direct comparison between Dacrotizing and HD Galvanized.
Until I am convinced that Dactotizing is at least as good as HD [hot dip] Galvanizing I can't recommend it to my customer.
Cheers,
Ian.
Ian Matthews-Golledge
- Southampton, Hampshire, UK
---
June 12, 2013
A. Hi Ian. Dacromet is a proprietary product, not a generic process. Therefore, I think you should contact the manufacturer of the product for case studies, test results, white papers, etc.
I think it is an excellent product, and automobile manufacturers around the world do as well. It's widely used on underbody components I understand.
In fact, though, there is nothing that can be said with 100% surety to be "at least as good as HD galvanizing" for the simple reason that we have structures in existence that were galvanized 75+ years ago. No accelerated test is truly representative, so how can any manufacturer of any coating at all claim performance at least as good as galvanizing unless it was available and applied more than 75 years ago :-)
Regards,
Ted Mooney, P.E. RET
finishing.com
Pine Beach, New Jersey
---
June 14, 2013

Thank you Ted, very wise words.
I have been in contact with NOF Metal Coatings, who have forwarded some information.
Like any coating, the suitability is dependent on the product and environment in which it is to be used. Whilst I don't doubt that it's a good product, we won't be using it on this occasion.
Regards,
Ian.
Ian Matthews-Golledge
- Southampton, Hampshire, UK
---
August 12, 2016
Q. Sir,
Still many types of coating layers are developed in many countries and industries. My question is regarding Screw coating.
Which coating is best for real world test and 1000-hour salt spray test.

Below type of coating.
1. Zinc Flake, 2. Hot Dip Galvanizing, 3. Electroplating, 4. Mechanical coating.

Please suggest best coating for screw.
HARSHIT BAROT
- Ahmedabad, Gujarat, India
---
A. Hi Harshit. If one coating were best there would not be those four options. There is a lot more to it than just corrosion resistance or salt spray hours: there's appearance, threads not being clogged with drips, freedom from zinc whiskers, hydrogen embrittlement issues, durability against mechanical damage, consistent torquing, etc. Even when you restrict it to "screws", are the screws small enough that bridging of the coating is a big problem? If so, 3 or 4 would be better than 1 or 2. Are the screws very hard, in which case only 1 & 4 would probably be acceptable while 2 & 3 probably wouldn't. Are they in critical components where zinc whiskers might be a problem: if so. 3 is out, and 4 might be. A 1000-hour salt spray test of zinc coatings can be a bad joke, as it can probably destroy a heavy hot dip galvanized finish which would survive a century in the real world.
The best answer is often the old saw "zinc is zinc", which emphasizes the importance of the thickness of the coating over the application method. Electroplating is usually thinnest and hot dip galvanizing the thickest, with mechanical plating/galvanizing and zinc flake in between.
Regards,
Ted Mooney, P.E. RET
finishing.com
Pine Beach, New Jersey
Striving to live "Aloha"
---
May 14, 2017
A. I have read all the opinions passed by my esteemed colleagues. All are concerned with the corrosion part of the comparative study between H.D.G. process and Dacromet coating process, their coating thickness, etc.
However, one important factor is missing in the above discussion which is of course applicable to high tensile bolts of higher property class [10.9 and above].
Here, H.D.G. is strongly not recommended due to the problem of hydrogen embrittlement manifested through cold cracking of bolts at much lower value of the load than the designed capacity and is very much uncertain to predict.
Prabir Dutt
Technical Director (Structural Engineering Consultant) - Kolkata, West Bengal, India
---
---
August 21, 2017
Q. Hello,
We have specified A490 DacRomet coated bolts for a structural tube framing system in Jersey City. They were used in flange type splices of tubular sections as well as gusset plate connections. One and a half years after installation the bolts are rusting. Is there any records of these types of coated bolts loosing their protection due to installation and/or manipulation (scratching of the coating)? Is the coating that fragile?
Elliot Roberts
Baco Enterprises - Bronx, New York
---
August 23, 2017
A. Hi Elliot!

Were these bolts you mention tested in salt spray chamber prior to be installed? There are many causes for poor adherence and/or poor corrosion resistance in water (as Dacromet) and solvent based coatings.

The bolts should be tested, and if they were, I would say the manipulation did harm the coating as you say. I don't know how the parts were installed, so I can't say more...

If you give us more data, we may help you jump to some kind of conclusion.

Regards,
Daniel Montanes
TEL - N FERRARIS - Canuelas, Buenos Aires, Argentina
---
August 23, 2017
Q. I email some photos showing the application: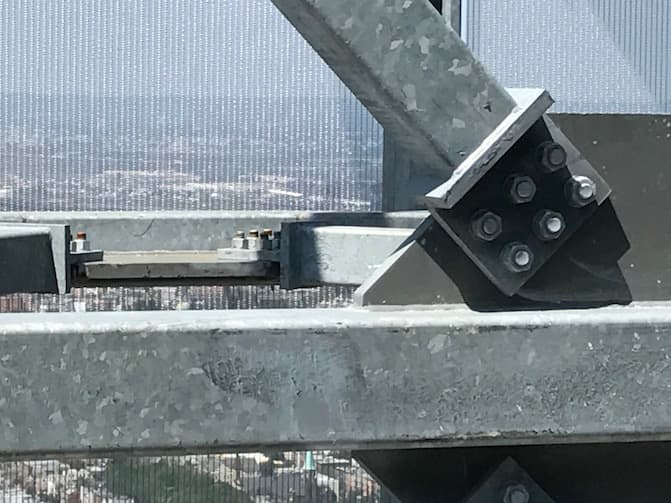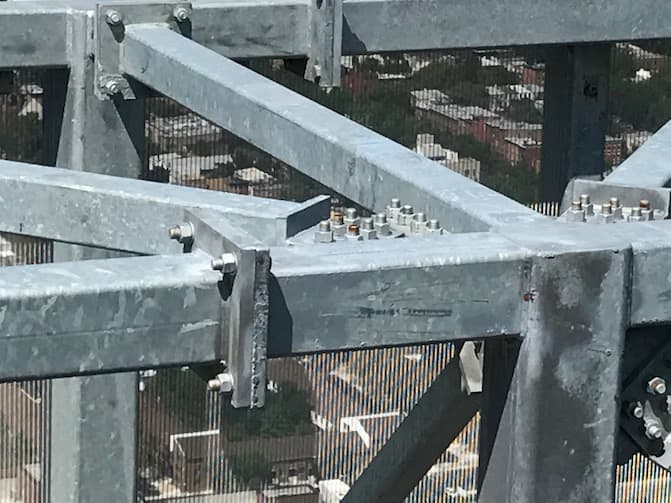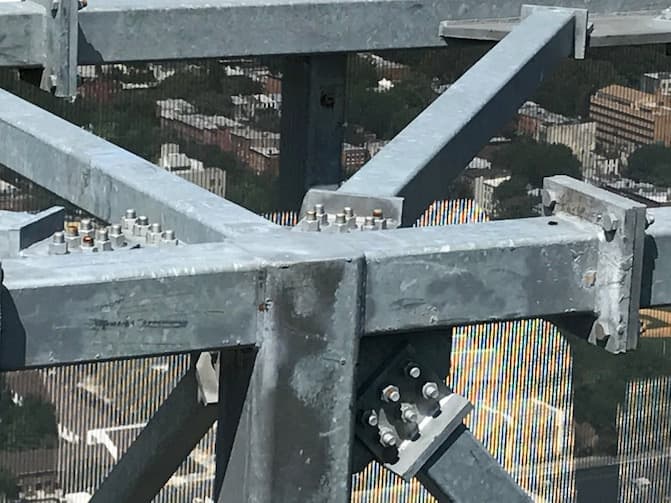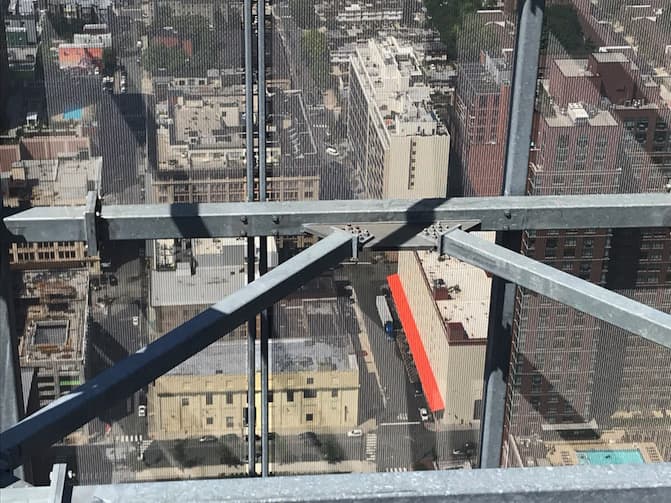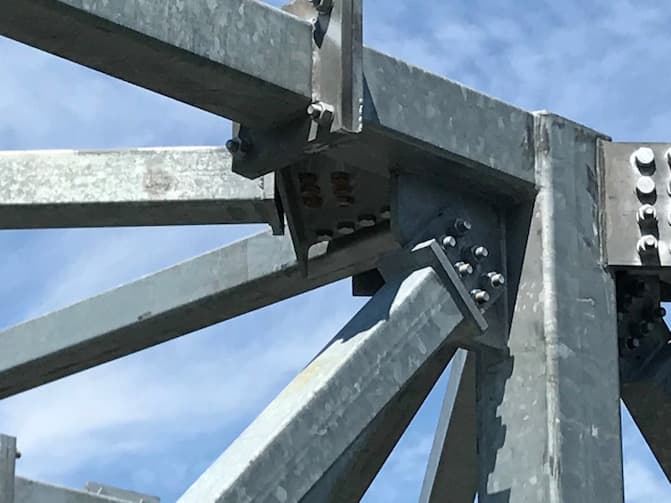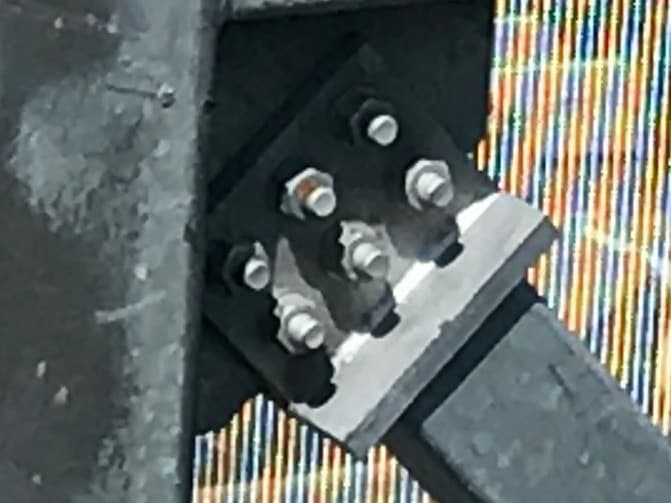 Elliot Roberts
[returning]
Baco Enterprises - Bronx, New York
---
August 29, 2017
A. Hi Elliot!

I would say that the coating was damaged when the bolts were installed. Organic coatings like Dacromet don't have the self repair capacity of a hot dip galvanized bolt, and when a bolt is damaged, corrosion may get through.

For this usage, I (and many others may say the same) recommend hot dip galvanization bolts and nuts. Lab results may say differently, but in practice damage in the bolts thread is almost impossible to avoid.

Best of lucks!
Daniel Montanes
TEL - N FERRARIS - Canuelas, Buenos Aires, Argentina
---
October 29, 2017
A. This is a problem of spin coating ... it will be thinner on the edges and you have the rusting on the edges. Use Hot dip Galvanised fasteners only.
Vishal Agarwal
INDANA STEEL PVT.LTD - kolkata,Westbengal,India
---
---
November 7, 2017
Q. Hi All,

How is Dacromet/Magni 565 compared to HDG in terms of protection Hours/Cost?

Thank you!
Mathew Thomas
- Memphis, Tennessee, US
---
November 2017
A. Hi Mathew. Re. "Hours?": the problem is that salt spray hours are not at all a valid way to categorize a coating like galvanizing. Over the years the zinc reacts with carbon dioxide in the atmosphere, forming tough glassy corrosion products which seal the remaining raw zinc away from the environment and slow corrosion to a crawl. Under the right conditions, galvanizing can last 75 years, even 100 years or more. But in a salt spray chamber, sacrificial coatings like galvanizing dissolve rather rapidly and fare poorly. Zinc rich dip-spin coatings can be a fine finish, but they are no match for hot dip galvanizing for longevity, and even if someone claims that they are, how are they going to produce a 100 year old example to prove their premise?
As for cost, our learned friend Khozeem said that in India in 2010 dip-spin was significantly more expensive than galvanizing; despite his hundreds of knowledgable responses in this forum, I don't think that is true in America in 2017. Further, abstract comparisons can't take us very far anyway; we need to know the type of parts and application before much can be said. Good luck.
Regards,
Ted Mooney, P.E. RET
finishing.com
Pine Beach, New Jersey
Striving to live "Aloha"


This public forum has 60,000 threads. If you have a question in mind which seems off topic to this thread, you might prefer to Search the Site