Where the world gathers for
plating, anodizing, & finishing Q&As since 1989
-----
How to identify and learn about old lamps?
Editor's Intro:
Gentle Readers,
We hope this free site serves as a community forum for people enjoying a hobby and helping each other -- it should be fun!
But if your only interest is your own lamp, there are pay sites which offer appraisals & valuations. This is not that -- there are no staff experts awaiting your question, and posting about your own, while showing no interest in anyone else's will only result in a long string of unanswered questions :-)
Q. I have an old iron-looking stand up lamp given to me that had been in a house for over 50 years. The iron work is etched beautifully and it has 5 orange-goldish etched and kind of frosted globes. It has 5 lamps in it. There are 3 on top and 2 more down some, 1 on each side.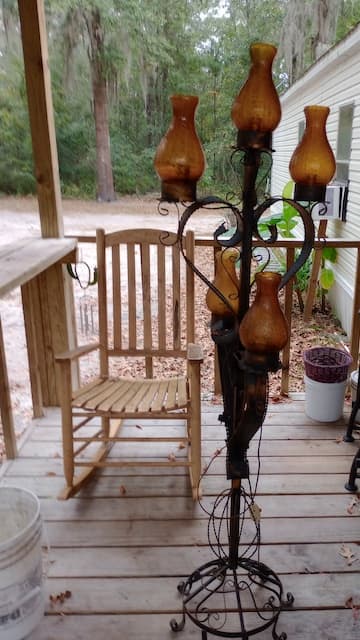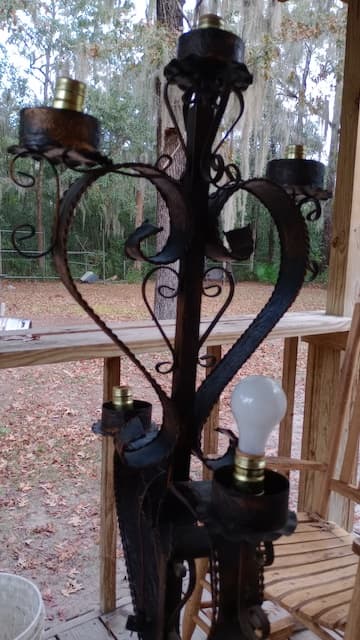 Was looking for someone to let me know its origin. Has an ancient lamp cord on it. It does work! If you have any info on it I'd love to know!
Cynthia Tiner
Brunswick, Georgia
November 21, 2022
I just bought the same lamp I was wondering if you ever found anything out about yours?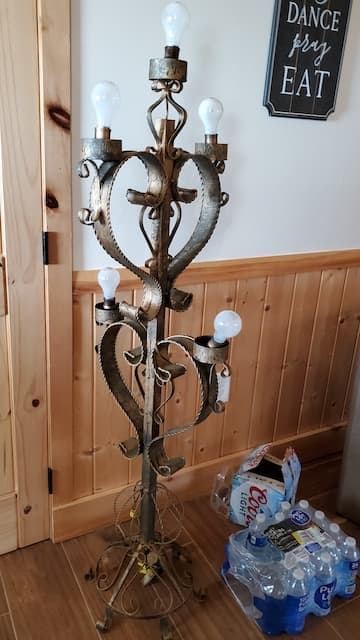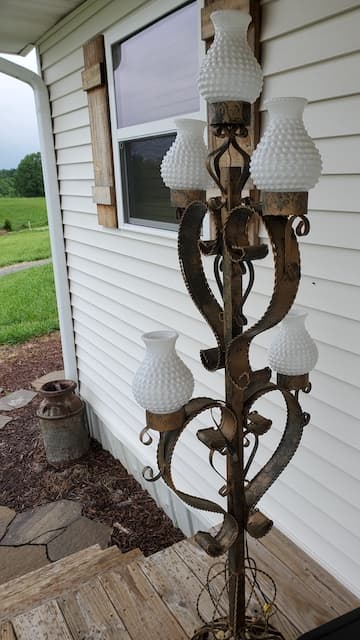 Melinda Lee Mack
- Charlotte Tennessee
May 13, 2023
---
---
↓ Closely related postings, oldest first ↓
---
---
Q. I have an old lamp that needs to be cleaned, it had green and red spots but after using some vinegar it only has some of the red spots left..
What is best way to clean those and how do you tell what metal it is?
Jason Hall
- Fort Lauderdale, Florida, United States
2003



"Repairing, Rewiring, and Restoring Lamps and Lighting Fixtures"
from Abe Books
or

Affil. Link
Your purchases make finishing.com possible
A. The only dead easy step is to test it with a magnet. If it's magnetic, it is plated steel rather than either brass or copper. Copper is not as strong and stiff as brass, and also more expensive, so it usually isn't used for lamps except when you want the color of a penny; brass is much yellower, bronze is browner.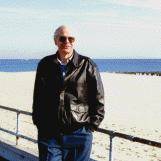 Ted Mooney, P.E.
Striving to live Aloha
finishing.com - Pine Beach, New Jersey




Thank You, the Lamp is not magnetic although the thinner pieces are golden and the thicker parts of the lamp have a deeper darker color. It looks like two different types of metal.
Jason Hall [returning]
- Ft. Lauderdale, Florida



---
---
Q. I have applied Brasso [affil link] to a hundred year old Middle Eastern coffee table. Initially it was almost black, and now it's as shiny as a penny. How do I MAKE SURE that it's actually copper and not brass. Is there a simple "homegrown" procedure to differentiate between both metals?
Joe Bigio
- Clearwater, Florida USA
November 30, 2010



A. Hi, Joe. I'm not sure that your question is quite as meaningful as you would like it to be.
Brass is an alloy of zinc and copper, generally ranging from about 60% copper (muntz metal), through 70% (cartridge brass) on up to about 85% (red brass). If the table is the color of a bullet cartridge, or a lamp, or the stanchions for the velvet ropes at a movie theatre, I'd call it brass.
Copper is closer to being pure, at about 99.3% it is called pure copper, but somewhat less than that for what are called dilute copper alloys. The impurity metals may be zinc, or lead, or iron, etc. If it's the color of a penny or a piece of wire or the bottom of a Revereware pot, I'd call it copper.

Short of having x-ray fluorescence analysis performed and coming up with an exact grade or exact chemical analysis, and then claiming that it adheres to some specific ASTM spec, I'm not sure that you can go much further than that. Why must you give it the name brass or copper with such complete positivity?
Regards,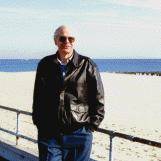 Ted Mooney, P.E.
Striving to live Aloha
finishing.com - Pine Beach, New Jersey



---
---
Q. I have a lamp which is a warrior on a horse, saying Good-bye to his love. Three stained glass shades. Cannot find markings. Bought out of a 100 yr old house. Any ideas on date made?
Teri Coleman
- Hempstead, texas USA
March 24, 2018



"All About Lamps: Construction, Repair and Restoration"
from Abe Books
or

Affil. Link
Your purchases make finishing.com possible
A. Hi Teri. This site focuses more on metal finishing technology than Antiques Roadshow issues. But if you mail a photo to mooney@finishing.com we'll post it here, which will increase your likelihood of getting a response.
Without a picture or markings, there's probably no way to know that an artist/craftsperson didn't fabricate it yesterday :-( Good luck.
Regards,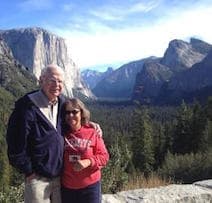 Ted Mooney, P.E. RET
Striving to live Aloha
finishing.com - Pine Beach, New Jersey



---
---
Q. I have a pair of very old lamps that I have thought were bronze but am now thinking they are cast iron with some type of coating.
They are very dark. How can I tell?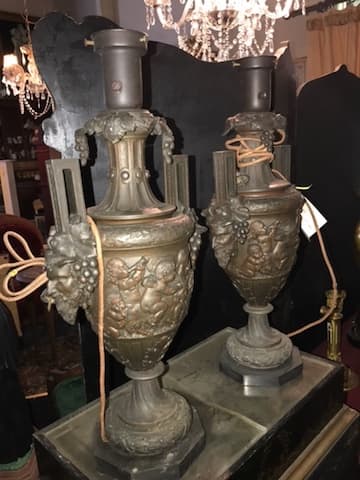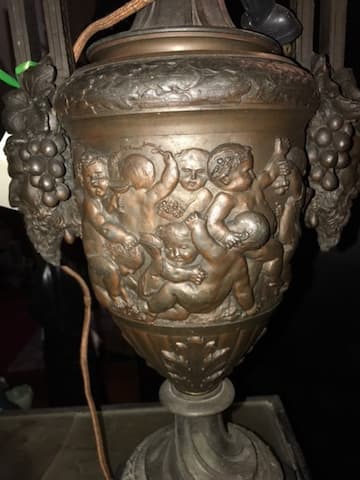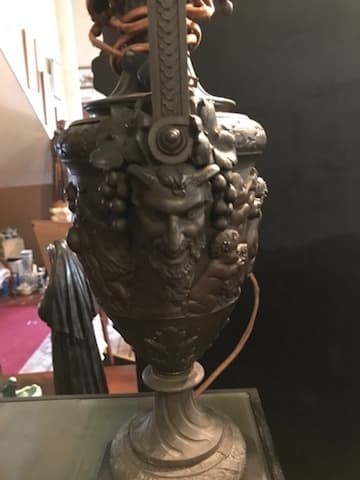 Gloria Reeves
- Georgetown, Louisiana
July 9, 2021
A. Hi Gloria. Cast iron and steel are strongly magnetic. Brass, bronze, and copper are non-magnetic. Zinc is also non-magnetic and commonly used today as a base/substrate for plating onto, but zinc was probably not used in very old lamps.
I suspect that those lamps are very heavy and that they are either mostly cast iron or cast brass depending on what the magnet tells you.
Luck & Regards,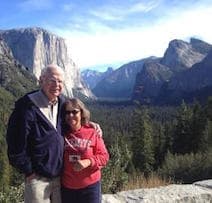 Ted Mooney, P.E. RET
Striving to live Aloha
finishing.com - Pine Beach, New Jersey




Mr. Ted, thanks for your reply. I tried a magnet and the product is nonmagnetic. As I examine these lamps I really think they were urns converted to lamps in the 30s-40s.
Gloria Reeces [returning]
- Georgetown, Louisiana



---
---
Q. Any idea what this lamp is made of, and what the marking is inside the base, thank you.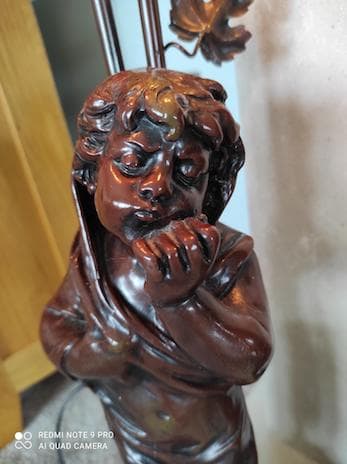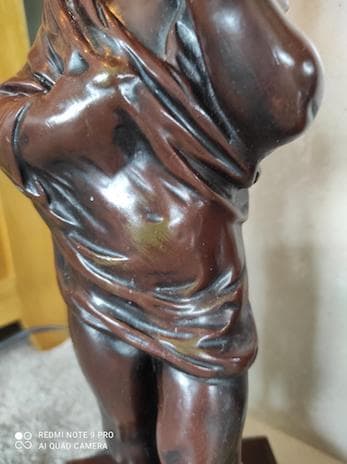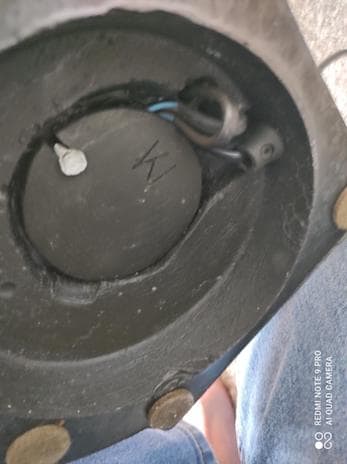 Rita Wills
- London uk
July 12, 2021

I hope you can figure it out. I believe I have two of those lamps as well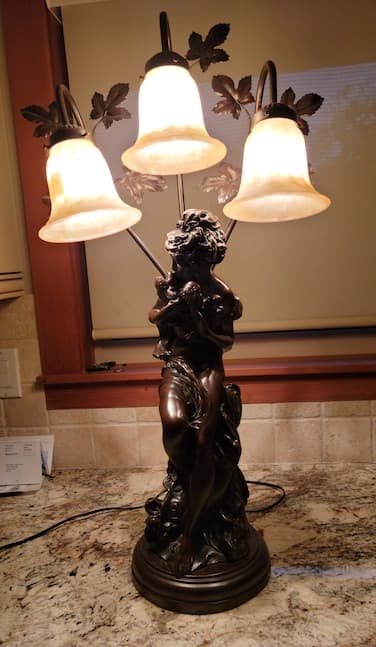 I paid over 300.00 Canadian per lamp.
Sheina Crisd
- Nanaimo B. C.
---
---
Q. Not sure what my lamp is made of and or if it's antique; please help.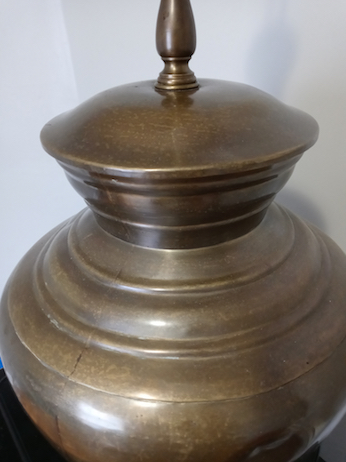 Tracy Presley
- RICHMOND, Virginia
July 20, 2021
A. Hi Tracy. I can see a line running top o bottom through that lamp base and am guessing it's a parting line from a sand casting or die casting, but that's all I can tell. I'd probably just call it an old brass lamp.
My suggestion is to use it if you like it, or put it in the attic if you don't. Anything is possible, including a discarded lottery ticket you find in the trash actually being a big winner, but for the most part there is much more of this old stuff around than people presently want, so it has no real value. You'll probably see similar stuff on e-bay for under $35, and remember that the posted prices are usually what people are asking, not what they are getting. You can get it appraised but most times the appraisal cost will exceed the appraised value. But times are always changing and your great dranddaughter may consider such things treasures :-(
Luck & Regards,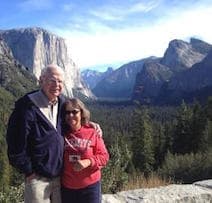 Ted Mooney, P.E. RET
Striving to live Aloha
finishing.com - Pine Beach, New Jersey



---
---
Q. This lamp was given to me because it was broken and they thought I might could repair it or do something with it. Anyway I'm trying to identify the metal and if it can actually be repaired or re-soldered or cemented. Also have you ever seen a lamp like this? I was told it was Italian -- not sure if it was bought in the states or if it were shipped from Italy.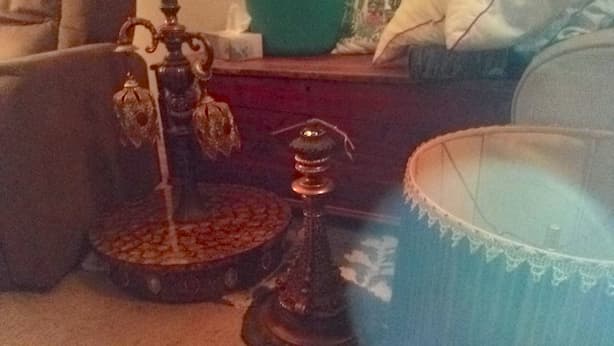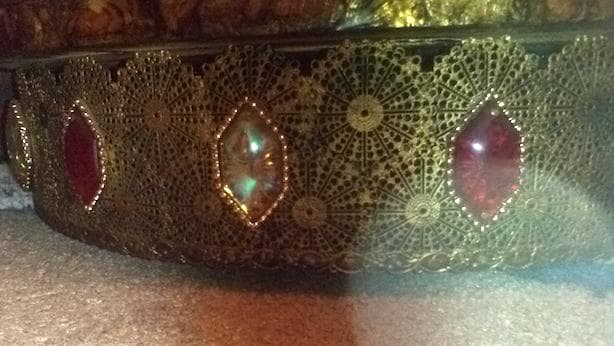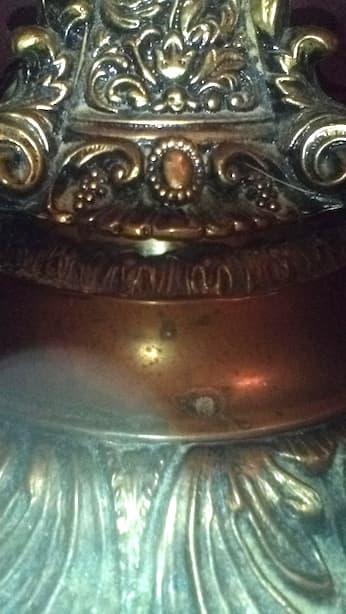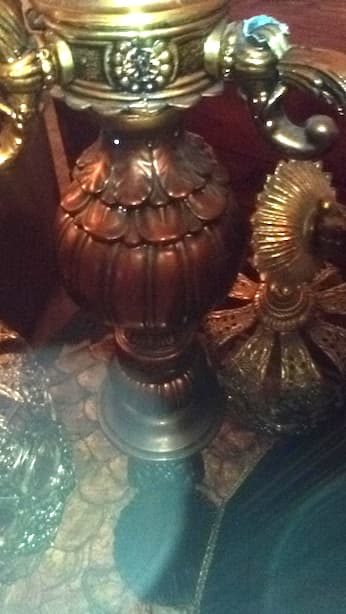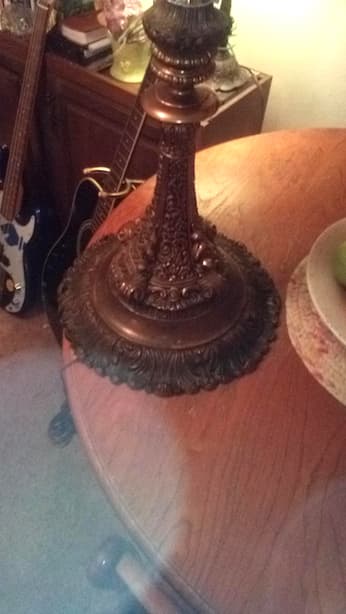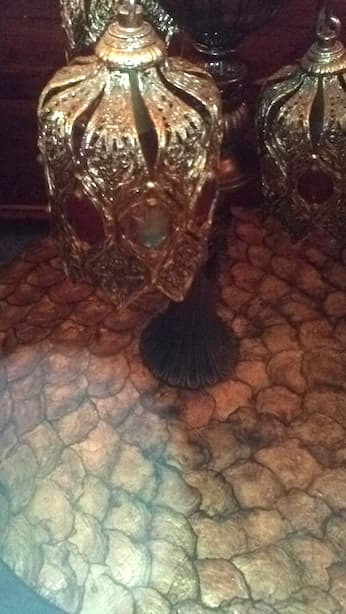 There are no markings on the bottom. I have not found any anywhere else either. I was told the center base part is called oyster marble or something to that effect. Any help would be greatly appreciated.
Chris Alexander
Hobbyist - Ocean Springs, Mississippi U.S.A
January 6, 2022

Hi Chris. J B Weld is shockingly strong and would probably fix it. Few readers here including myself have much experience with antiques, let alone would be able to judge them from pictures ... but I would not touch that one until it is evaluated by a knowledgable antique dealer. My wild guess is that this is something quite valuable.
Luck & Regards,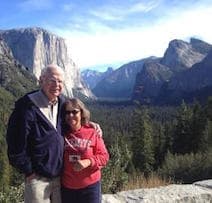 Ted Mooney, P.E. RET
Striving to live Aloha
finishing.com - Pine Beach, New Jersey



---
Q. Hi Chris_Alexander!

I was wondering if you had any luck identifying the lamp? The reason I ask is because I recently acquired a lamp about which I cannot find any information. There are no visible markings and I've also tried using Google Lens to see if there were any others out there that were similar - no luck.

During one of my usual fruitless internet searches, I came across this forum and the photos of your lamp. Although, our lamps are not the same (mine is a floor lamp), I saw some striking similarities which was the first glimmer of hope I've had in a long time. The base of the lamps are almost identical. I have not seen another one with this particular design aside from yours.

My floor lamp measures about 5 feet with a glass table and 4 hanging lanterns. It also has the most unique lampshade I've ever seen. My family hates it -- but I'm in love. Photos: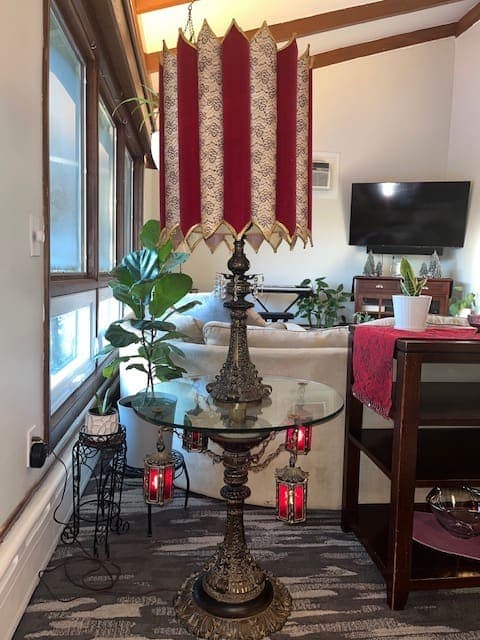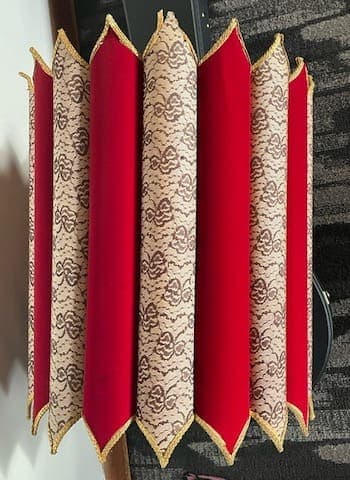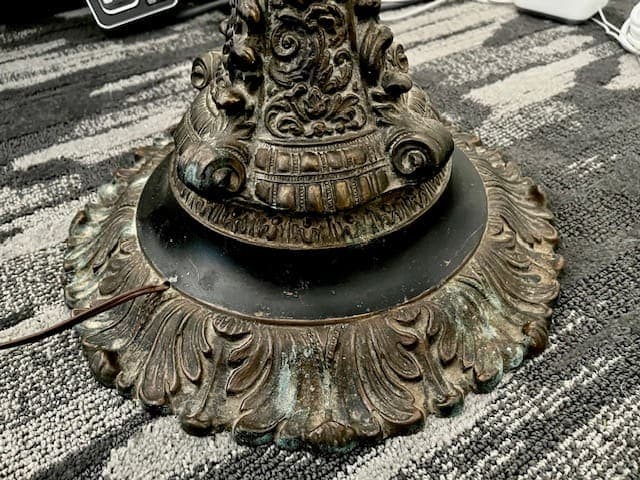 I was hoping you could share any information you may have learned about your lamp in hopes it could guide me to the origin of mine.
Thank you!
Andrea the Artist
Andrea theArtist
Artist - Dartmouth, Massachusetts USA
March 22, 2022
Ed. note: Since 1989 we've strived to build a legacy of aloha & camaraderie incompatible with anonymity; everyone is welcome to read anonymously, but is asked to use their real name & town when posting :-)
A. Hi. Looking at the electric wiring, which doesn't enter the bottom as it conventionally would, but through a small hole in the side that doesn't look big enough for anything but modern plastic insulated wire might mean that the lamp is not really old, or that it wasn't originally an electric lamp but something else converted to electricity.
Is there any indication that it might have originally been made for candles or possibly gas? Is there any old wiring (round, fabric covered)? Artifacts of a different use in earlier times?
I'm certainly no antique expert, but if you don't want to take it to one, we'll probably have to just say "it is what it is", which seems to be a charming, very eclectic modern looking shade, on a rustic lamp, with weird votive glass auxiliary lamps :-)
Luck & Regards,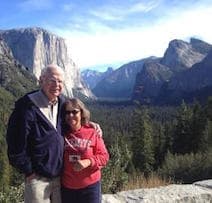 Ted Mooney, P.E. RET
Striving to live Aloha
finishing.com - Pine Beach, New Jersey



---