topic 35145
Brass is pink from improper cleaning
A discussion started in 2005 but continuing through 2018
(2005)
Q. Having improperly soaked dirty! brass(originally lacquered) bed fittings in a toilet bowl cleaner (HCl), a reddish pink copper color predominates the originally golden yellow polished finish. This red/pink color can be reduced by (excessive!!) rubbing with a Scotch Brite pad. Is there a simpler chemical treatment that can reduce the elbow grease?
Neville A. Gordon
Fang Marketing Limited - Kingston, Jamaica
---
(2005)
A. Hi Neville. My experience has been that commercial copper polishes like Brasso [linked by editor to product info at Amazon] will change that raw look back to the mellow look.
Ted Mooney, P.E.
finishing.com
Pine Beach, New Jersey
---
(2005)
A. You have dissolved the zinc from the brass, leaving only copper. To get the brass colour back, you will need to polish off the copper; if it is not too bad, Brasso or Duraglit will do it. Do not use an abrasive agent unless the colour is persistent; if you do have to use an abrasive, you will need to polish out the scratches you will leave in the brass. Cleaning brass is not as easy as many people think, and a lot of damage gets done by people using the wrong systems. I suggest you should use a professional cleaning agent such as Brasso, etc., and do not try to take short cuts with strong acids and alkalies.

Trevor Crichton
R&D practical scientist
Chesham, Bucks, UK
---
---
(2005)
Q. I have just cleaned years of black stuff from a very old small ornate brass article with lots of very hard to reach nooks and crannies. The use of chemicals has left a pinkish tinge in the rougher parts, which I have tried to polish off with Brasso but the polish can't get into the nooks and crannies. I've tried a toothbrush but this does not seem to work either. Can someone recommend how I can polish off the pink from this article, I am reluctant to use any wire wool, etc., because the article is so old and ornate.
Jennifer Howell
hobbyist - Derby, Derbyshire, England
---
June 20, 2017
Q. I am restoring some solid brass window catches and began by soaking them in white vinegar & salt. That removed the dirty dark brown coating but they were still rather 'greasy' to the touch so I soaked them in warm, soapy water with a bit of ammonia which removed the grease but left them a pink colour instead of yellow.

I have spent hours googling this issue looking for a chemical solution rather than manual removal. As on this thread, many people suggest using Brasso to get the pink back to yellow but it's not having any effect on these catches that are pink so I'm still looking for the right method to get them back to yellow from pink.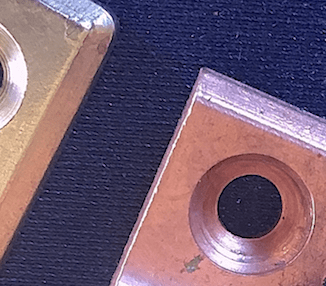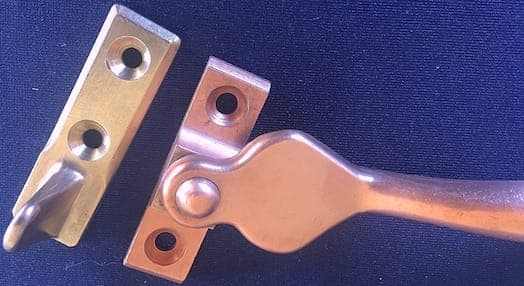 Any suggestions would be very welcome. Fortunately I only soaked a few of them in the ammonia and the others are still 'brownish' but these ones do come up yellow using Brasso.
Liz Gamlen
- Waipukurau, Hawke's Bay, New Zealand
---
June 23, 2017
A. Brasso is OK. Try 5% ammonium citrate solution, pH 9 (50 gms citric acid, 1 lit water, add ammonia until pH is 9). Good luck!
Budija Goran
- Zagreb,Croatia
---
June 24, 2017

Thank you very, very much, Budija Goran!
I have just removed some of the brass hardware from the 5% ammonium citrate solution and it is is beautiful yellow again. I buffed them with ScotchBrite and Brasso and they look as good as new. They only needed a few minutes in the 5% ammonium citrate solution. So easy!
Liz Gamlen
[returning]
- Waipukurau, Hawke's Bay, New Zealand
---
---
March 15, 2018
Q. I need assistance.. PLEASE!

I purchased a beautiful 1980s Louis Vuitton Toiletry case, and the person whom I purchased this from, did something to the brass zipper.. it is PINK! She won't tell me what she did.. I have cleaned so many of these products with Brasso and they shine so goldenly.

She said, she used Brasso, but I don't quite buy it.. Perhaps she left the Brasso on too long?? Can I restore the pink zippers back to gold? Please! I am ready to get my science experiment on! Thank you all in advance for your help.
Maria LC
- New York, NY. USA
---
March 2018

Hi Maria. We've just finished reading of Liz's problem, Goran's suggestion, and Liz's rave review of how well it worked and so easily. I don't think anyone will be able to improve on it for you; but please get back to us after you try it. Best of luck.
Regards,
Ted Mooney, P.E. RET
finishing.com
Pine Beach, New Jersey
Striving to live "Aloha"
---
March 15, 2018
Q. OK, I have never done this before.
How do I mix that solution? Where do I get the products? I know, might be silly. I don't want to blow my fingers up! :)
Maria LC
[returning]
- New York, NY USA
---
March 2018
A. Hi Maria. We've added links to citric acid, household ammonia (not the grade of ammonia Goran was talking about, but probably good enough), and pH paper on Amazon. But the internet, like a library, is a one-room schoolhouse where people of all experience levels can read about mixes and procedures they may or may not be qualified to follow. Maybe you can find a friend who has done it before or at least has a bit of chemistry experience?
Safely working with chemicals is something you must be taught hands-on. Although citric acid and household ammonia don't sound especially dangerous to me, nobody can explain to a person whose experience level they don't know, how to safely buy, store, handle, and mix chemicals they have no understanding of. But you surely should not do so without wearing goggles, rubber gloves, and with good ventilation, or if you have not had at least high school chemistry, and unless you understand how to follow Goran's advice of how to adjust the pH to 9, and unless your work area is free of pets and small children who could get into them :-)
Good luck and Regards,
Ted Mooney, P.E. RET
finishing.com
Pine Beach, New Jersey
Striving to live "Aloha"


This public forum has 60,000 threads. If you have a question in mind which seems off topic to this thread, you might prefer to Search the Site