topic 35145
Chemically removing copper color from Brass improperly cleaned with HCl
A discussion started in 2005 & continuing through 2017
(2005)
Q. Having improperly soaked dirty! brass(originally lacquered) bed fittings in a toilet bowl cleaner [linked by editor to product info at Amazon] (HCl) a reddish pink copper color predominates the originally golden yellow polished finish. This red/pink color can be reduced by excessive! rubbing with a Scotch Brite pad. Is there a simpler chemical treatment that can reduce the elbow grease?
Neville A. Gordon
Fang Marketing Limited - Kingston, Jamaica
---
(2005)
A. My experience has been that commercial copper polishes like Brasso [linked by editor to product info at Amazon] will change that raw look back to the mellow look.
Ted Mooney, P.E.
finishing.com
Pine Beach, New Jersey
---
(2005)
A. You have dissolved the zinc from the brass, leaving only copper. To get the brass colour back, you will need to polish off the copper; if it is not too bad, Brasso or Duraglit will do it. Do not use an abrasive agent unless the colour is persistent; if you do have to use an abrasive, you will need to polish out the scratches you will leave in the brass. Cleaning brass is not as easy as many people think, and a lot of damage gets done by people using the wrong systems. I suggest you should use a professional cleaning agent such as Brasso etc and do not try to take short cuts with strong acids and alkalies.

Trevor Crichton
R&D practical scientist
Chesham, Bucks, UK
---
(2005)
Q. I have just cleaned years of black stuff from a very old small ornate brass article with lots of very hard to reach nooks and crannies. The use of chemicals has left a pinkish tinge in the rougher parts, which I have tried to polish off with Brasso but the polish can't get into the nooks and crannies. I've tried a toothbrush but this does not seem to work either. Can someone recommend how I can polish off the pink from this article, I am reluctant to use any wire wool, etc., because the article is so old and ornate.
Jennifer Howell
hobbyist - Derby, Derbyshire, England
---
---
June 20, 2017
Q. I am restoring some solid brass window catches and began by soaking them in white vinegar & salt. That removed the dirty dark brown coating but they were still rather 'greasy' to the touch so I soaked them in warm, soapy water with a bit of ammonia which removed the grease but left them a pink colour instead of yellow.

I have spent hours googling this issue looking for a chemical solution rather than manual removal. As on this thread, many people suggest using Brasso to get the pink back to yellow but it's not having any effect on these catches that are pink so I'm still looking for the right method to get them back to yellow from pink.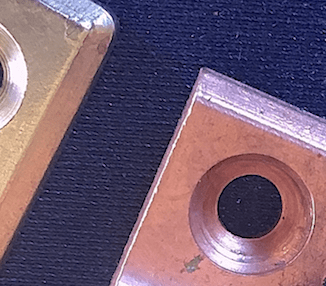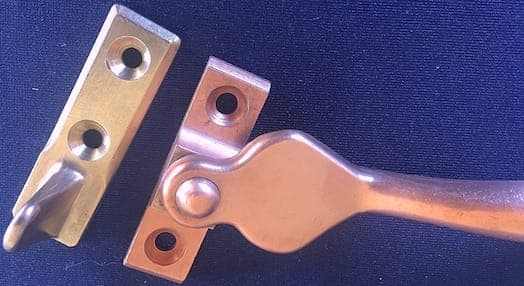 Any suggestions would be very welcome. Fortunately I only soaked a few of them in the ammonia and the others are still 'brownish' but these ones do come up yellow using Brasso.
Liz Gamlen
- Waipukurau, Hawke's Bay, New Zealand
---
June 23, 2017
A. Brasso is OK. Try 5% ammonium citrate solution, pH 9 (50 gms citric acid, 1 lit water, add ammonia until pH is 9). Good luck!
Budija Goran
- Zagreb,Croatia
---
June 24, 2017

Thank you very, very much, Budija Goran!
I have just removed some of the brass hardware from the 5% ammonium citrate solution and it is is beautiful yellow again. I buffed them with ScotchBrite and Brasso and they look as good as new. They only needed a few minutes in the 5% ammonium citrate solution. So easy!
Liz Gamlen
[returning]
- Waipukurau, Hawke's Bay, New Zealand


This public forum has 60,000 threads. If you have a question in mind which seems off topic to this thread, you might prefer to Search the Site