World's #1 finishing resource since 1989
No login needed: Chime right in
topic 23416
Rainbow color zinc plating
A discussion started in 1997 and continuing through 2020 so far.
Adding your Q. / A. or Comment will restore it to our busy Current Topics page
1997
Q. When you make "Rainbow Passivation solution for zinc post treatment" with chromic acid and Sulphuric acid , what else you should add to enhance bright rainbow colors?
Srimath.
Srimath Dias Perera
---
TUTORIAL FOR NEWBIES:
Please note that this thread starts in 1997, long before people were thinking about "oil slick rainbow finishes", and it may therefore confuse people because 'iridescence' meant a different degree of the phenomenon to electroplaters in 1997 than it means to consumers in 2020 :-)

Iridescence is a natural occurrence typified by the rainbow sheen of a drop of oil on asphalt: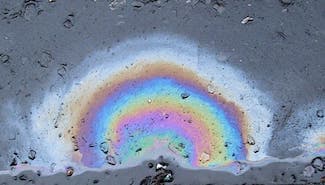 By John, CC BY-SA 2.5, https://commons.wikimedia.org/w/index.php?curid=4081809

What happens is that half (or so) of the white light hitting the slick bounces off the top of the oil slick and the other half travels through the oil and bounces off the surface of the wet asphalt. So half the white light is traveling just a tiny bit further, and when the halves reflect back they are out of sync and 'interfere', negating one color and amplifying another depending on the thickness of the oil at that point.

When platers apply chromate conversion coatings on zinc plated objects a less intense version of the same thing often naturally happens unintentionally. The yellow coatings have a bit of red-ish and purple-ish and other iridescence.

But these days consumers may actually be looking for a strong rainbow iridescence on a shiny metal as a decorative finish. Some photos of this are further down the page, and it is relatively common to see beautiful rainbow finishes on titanium.
1997
A. I believe you may be referring to "yellow iridescent" or yellow chromate. If you get a nice coating, it will give you a rainbow type effect. The spec for yellow chromate allows for a yellow to this iridescent color. I would suggest that you purchase the prepared chromate chemical from a proprietary house (see our supplier directory). The formulas are a little complicated, and much research goes into making a good chromate.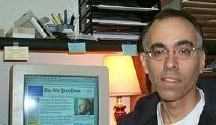 Tom Pullizzi
Falls Township, Pennsylvania
---
1997
A. Generally, the longer you immerse the parts in the yellow chromate solution, the more pronounced the iridescence will be ( although too long of a dip time will cause the chromate to rub off. Also, subjecting the parts to heat, such as a heated forced air dryer, will magnify the iridescence. Finally, using a chloride zinc system will generally give brighter parts than cyanide or alkaline non-cyanide based zinc.
Keith Rosenblum
plating shop - St. Paul, Minnesota
---

Readers: Keith's response was very insightful and seemed to answer Srimath's inquiry well. But you can search the site to find other threads on rainbow passivation of zinc if this didn't answer the question you have in mind :-)
Regards,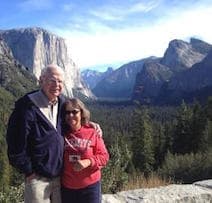 Ted Mooney, P.E. RET
Aloha -- an idea worth spreading
finishing.com - Pine Beach, New Jersey
---
---
Yellow Passivation: Iridescence Colors
2000
Q. In our company, we are using non-cyanide zinc plating, followed by chromate passivation. We found that in one barrel, some of the parts' color are different: yellow, green, red. Is it normal ? How to make sure that all of the parts will all be of same color? One of our customer is very attached to the appearance of the part.
Combronde
- Zhenjiang, China
---
2000
A. Combronde are you alkaline zinc or acid chloride zinc plating? The colors you describe sound as if you are putting a yellow dichromate on the parts. Yellow dichromate is characteristic of red, blue, green, purple hues. You can experiment with the dichromate bath by varying pH, temperature, concentration, time. Alkaline zinc will allow more of a consistent yellow or gold color than acid zinc. Acid zinc is a finer and smoother deposit and brighter. Experiment with beakers in the lab. The yellow dichromate is doing what it is supposed to do.
Bill Hemp
tech svc. w/ chemical supplier - Grand Rapids, Michigan
---
2000
A. I agree with Bill. Plated parts with yellow dichromate have that "rainbow" hue to them. That is how it is. We make parts that look like this too. Your customer has to either accept the color how it is, or look at specifying a different metal finishing process.

Tim Neveau
Rochester Hills, Michigan
---
2000
A. Sir,
The iridescence in yellow passivation is akin to colors on thin oil films or when a bright steel strip is heated to different temperatures. This is known as "interference colors"
The colors that appear on the zinc surface depends on the thickness of the passivation film, the thinner films interfering in the blue, yellow, and green regions and the most thick film appearing reddish.The iridescence that appears shows that the passivation film is o.k. If a very thick film is applied, e.g., a lacquer coating, then the interference stops and the iridescence disappears. Thanks
Ramajayam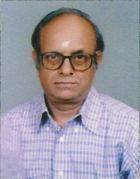 Subramanian Ramajayam
consultant - Bangalore, India
---
---
2003
For a big installation project in China, my company produces installation profiles ("struts") locally. They are made of cold-rolled Q235 steel, which is zinc-plated afterwards. This is a big job, we are doing many thousand meters of strut.
The galvanizing (zinc-plating, not hot-dipped) takes place in a local Chinese company. They do an acid bath, electrogalvanizing and passivating in a quite low-tech factory, everything is done by hand. The galvanizing thickness is supposed to be a minimum of 7 micron, naturally it is much thicker on the outside of the struts and the opening, while inside the zinc thickness is lowest. The color is supposed to be "blue-white".
When we got our latest delivery and the material was lying in our warehouse, with the sun shining on it through the windows, suddenly it wasn't blue-white but shining in all rainbow colors!
When examined closer, we found that the discoloration are only (or at least mostly) on the inside of the strut, and mostly go into a yellowish-golden hue. Chinese engineers explained this as a high amount of Chromite, but this explanation doesn't seem to be sufficient. Half the material is still blue-white, half is rather golden or in between.
Now to my obvious question: What can cause discolorations like that? I am looking for a plausible explanation for my customer...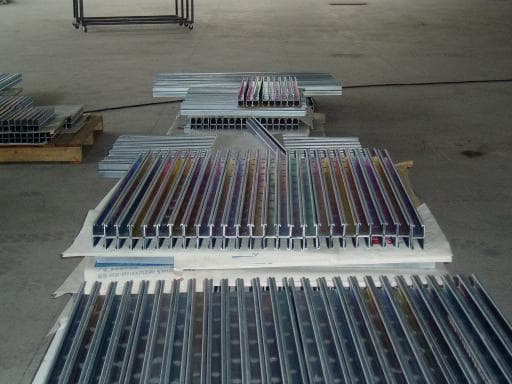 Thanks in advance for the help,
Christian Schotmann
- Shanghai, China
---
2003
A. Dear Christian,
The change in colour is due to refraction from a thicker chromate layer on top of the Zn plating. The difference can be due to a number of factors such as time, concentration and pH of the chromating solution. The organic content of the deposit can also effect the colour.
In fact the type of finish you require (blue) is the worst finish from a corrosion protection point of view. These panels will corrode very quickly once they are in the general environment. A yellow chromate would be a much better choice of finish, if you are concerned about corrosion resistance. Zn deposits are not meant to look pretty, they are used to delay corrosion of the substrate. By choosing the most attractive Zn finish, you are limiting the corrosion protection of your profile.
You say that your plater uses an acid Zn bath. I would recommend an Alkaline Cyanide-free bath, as this will give much better deposit thickness inside your profiles.
Hope this can help you a little.
Regards,
Jonathan Timms
- Hong Kong
---
2003
A. Dear Christian,
Sometimes excess addition of brightening agents gives this type of problems or organic breakdown can also bring problem in . If you are using acid chloride bath check for iron build up in your bath .
Regards,
Qutubuddin
Metachem - Ajman, UAE
---
2003
A. Christian,
The discolorization on the parts is due to inconsistent plating time. You noted the work is being done manually. Your plater needs to develop a procedure (work instruction) documenting precisely the required plating time to obtain a uniform overall finish and the required thickness on every part.
Regards,
Joel Garcia
a plating co. - McAllen, Texas
---
---
How to achieve iridescent finish on zinc plated steel
November 17, 2020
Q. Hello, I am a young artist/furniture designer and I'm currently designing and prototyping my first metal chair. It is made out of bent steel. I would like to zinc plate this piece but I'm trying to avoid an excessively golden yellow color. I would prefer it to be a more subtle iridescent color like the photos I'm attaching.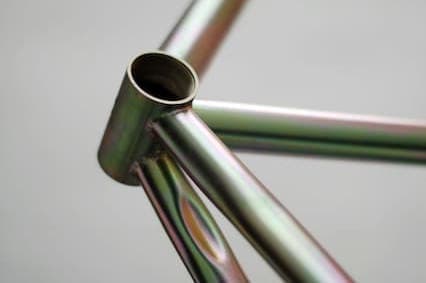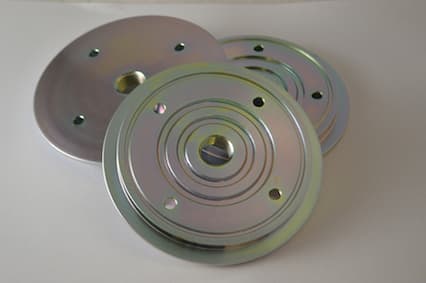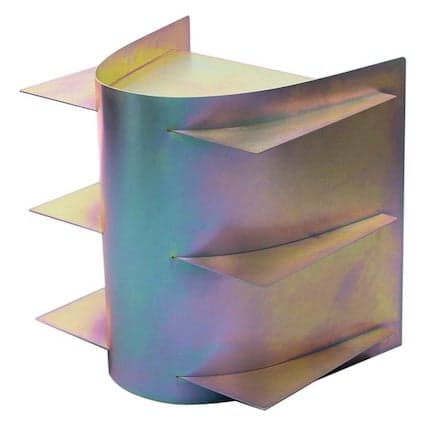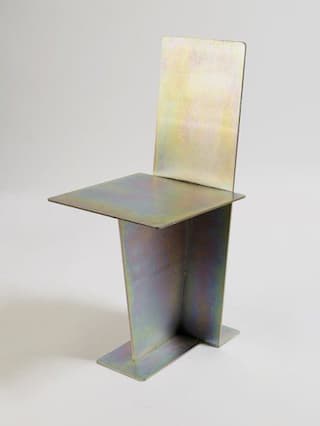 I've been told the color I'm interested in is achieved with yellow zinc plating, but I'm not sure if this is true. Is there a specific type of surface prep I need to do to achieve this look? Or a Specific type of zinc plating I need to ask for? I believe the final chair will be made with 10 gauge cold rolled steel. Thanks!
Michael Ruiz
- Providence, Rhode Island
---
November 2020
A. Hi Michael. Iridescence is a common and natural occurrence with both clear and yellow chromates, but it usually poorly controlled and rather random. I suspect some other chemical was applied on top of or in lieu of chromate in some of your photos. As usually happens, once a particular look becomes accepted and wanted, people come up with new ways to achieve it. I don't know the chemistry of the coating, but YouTube has videos of rainbows being applied by simply dipping several times into a vat; I think this approach will become generic in the not too distant future.
If you are looking for a controlled iridescence on a decorative plating, and cost is not critical, I think these subtle rainbows on nickel plating may be preferable though -- zinc plating is not generally considered to be a reliable aesthetic finish like nickel is.
Luck & Regards,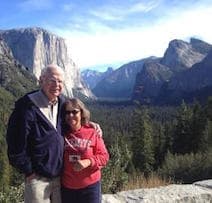 Ted Mooney, P.E. RET
Aloha -- an idea worth spreading
finishing.com - Pine Beach, New Jersey