Where the world gathers for
plating, anodizing, & finishing Q&As since 1989
Heating/cooling coil material for chrome plating
adv.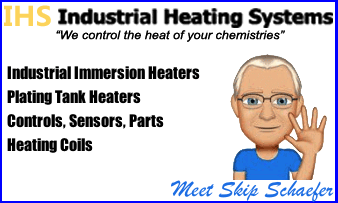 -----
Tutorial:
(to provide context, hopefully helping readers more quickly understand the Q&A's)
Decorative chrome plating is done at a temperature of at least 110 ° F; hard chrome plating is done at 130-160 °F. If you're already lost, please see our
Intro to Chrome Plating
.
Therefore chrome plating tanks require heaters of some type (steam, hot water, electric) to heat the solution. But chrome plating baths are extremely corrosive, so the heating systems must be made of corrosion-resistant materials.
Chrome plating baths also use a lot of electrical power for the plating, which gets converted to heat. So most production chrome plating tanks also require cooling.
Current postings:
May 19, 2022
Q. Hello

We need to cool down hard chrome solution, to let it stable at 55/60 °C

Which type and material is recommended for a heat exchanger?

Thanks!

Dante.
Dante Skad
- Santiago, Chile
---
May 2022
A. Hi Dante. Teflon cooling coils, or teflon or PVDF heat exchanger would be the safest bet. There are several different types of chrome plating baths, some of which contain fluorides. If yours is free of fluorides, titanium might do.
Luck & Regards,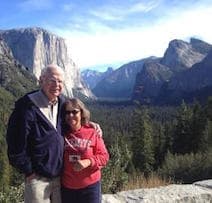 Ted Mooney
, P.E. RET
Striving to live Aloha
finishing.com - Pine Beach, New Jersey
---
---
---
Closely related historical posts, oldest first ...
2003
Q. We are plating hard chrome, but are having difficulty with heating coil failures. We are currently using stainless steel coils with thermal fluid at the moment. Can anyone suggest an alternative material?. Are there any materials more corrosion resistant or suitable than stainless steel?

Thanks,
Chris Perrett
- Cardiff, South Wales, UK
---
2003
A. If there is no fluoride catalyst in your hard chromium plating bath, then titanium would be a better choice. Otherwise, lead heating coils may be a better choice.
Lyle Kirman
consultant - Cleveland Heights, Ohio
---
2003
A. Hi Chris,

Initially I, too, thought of titanium ... but did have a lot of success using PVDF heating (sic. cooling!) coils.

The heat transfer isn't as good as metal but the corrosion resistance scintillates.

Go and ask any reputable (thermo)plastics fabricator or try G.F. Fischer.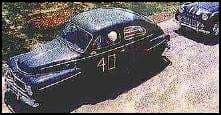 Freeman Newton
[dec]
(It is our sad duty to advise that Freeman passed away
April 21, 2012. R.I.P. old friend).
---
2003
Q. Thanks for the response people. I've found a little more about our problem. We are plating sulphate type chromium, running at 50-55 °C. The concentration of the solution is 250 g/l chromic acid, and 2.5 g/l sulphuric acid. The heating coils are manufactured from 316 stainless steel. The tank is lined with plastic (PVC or similar). We use lead alloy anodes. The thermal fluid is circulated through the heating coils at 150-160 °C.

I am a little concerned that this temperature (combined with high concentrations of chromic acid) is high enough to disturb the passive chromium oxide coating of the stainless steel, rendering it less corrosion resistant, leading to the premature failure of the heating coil. Has anyone any thoughts or previous experience of this?

Many thanks,
Chris Perrett
[returning]
- Cardiff, South Wales, UK
---
2003
A. Typical for 316 SS is 1-2 years. Double the wall thickness and you will slightly more than double that time. A thick walled titanium will last 2 - 10 years. If the coil becomes anodic for any reason, even at low millivoltages, the life of any metal coil will be significantly reduced. I am not in love with plates. Tubing needs to be seamless. If you use threaded pipe, the fittings need to be very heavy. If you use welded, it should be Tig welded with lots of backup gas or preferably in a bubble chamber if not electron beam welded. Not a job for a novice or a sloppy welder.

Teflon supercoils are a bit fragile, but if protected are excellent because of the huge surface area. (watch the pressure!) You can use less area if you are willing to start your heat cycle a couple of hours earlier. Hard chrome generates a huge amount of heat, so I would assume that you are running the coil on a cooling cycle more than you are on a heat cycle. Heat is for startup only.
James Watts
- Navarre, Florida
---
2003
A. Chris,

I'm somewhat confused. You say you're running the fluid through your heating coils up to 160 °C ... I would have thought that you wanted COOLING, just like James Watts infers!

Also, PVDF is good up to 140 °C and I would have thought it to be definitely structurally stronger ... & less expensive .. than teflon coils.

Back in '79 I came across a weird set-up. Rather narrow chrome tanks in which very large diameter paper making rolls were plated. The heat build-up was enormous ... I suggested that they PUMP some of the hot liquid into a horizontal PVC mist eliminator (12 micron, a so-called Chromic Dry Scrubber in those days) where, due to the cooling effect of the ambient air being sucked up by the fume hoods, it could be easily caught and returned, nicely cooled, thank you, back to the chrome tank.

This worked apparently very well. They replaced one of the two PVC blade banks in around 2000... a Vancouver Company called EBCO ... and the system is apparently still going on and ON!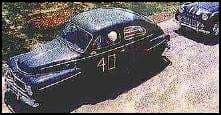 Freeman Newton
[dec]
(It is our sad duty to advise that Freeman passed away
April 21, 2012. R.I.P. old friend).
---
2003
Q. Hi everyone.

The tanks (approx. 1600 liter capacity) are run with relatively small components to plated, and hence require slight heating even at high loads. Our plating shop has given up on the 316 SS heating coils (at last), following another failure. Titanium coils are soon to be installed. My question is this: Should the titanium coils be anodically protected (i.e. physically wired to the anode bus-bar)? Some people we have spoken to advise it, while others say the titanium should not under any circumstances contact any part of the anode. Any advice would be much appreciated. Ideally we would like to use electrical heaters with a fluorocarbon coating, but due to various constraints this will not be possible.

Regards...and...Confused,
Chris Perrett
[returning]
- Cardiff, South Wales, UK
---
2003
A. I am going to disagree with Jim, which is a rare thing, but I have seen many titanium coils with warning labels and even grounding clamps that tell you that you must connect the coil to the anode rod (perhaps due to belief that titanium oxide rather than titanium metal is resistant to acid) and you must maintain anodic polarity to preserve it and/or on the principle that by connecting to the anode rods the anodes will galvanically protect the coils. But on the other hand, I have heard that, depending on the exact alloy, the oxide has a breakdown voltage which may be less than what you might use in chrome plating. Also in chrome plating there are no soluble anodes to galvanically protect the coil anyway.



While I don't like to parrot the old line "talk to the manufacturer", here's the thing. I was an engineer with three suppliers of plating equipment for many years, so we specified titanium coils and electric heaters hundreds of times, and there were a handful of dramatic failures. In one case we ended up with several pallets full of perforated titanium heaters. So, it's simply the case that if you don't do exactly what the manufacturer says, you end up with the responsibility regardless of what really caused the problem. If they say don't connect to the anodes, and you do, a failure will be your responsibility even if the problem was really a bad run of alloy; if they say do, and you don't, it's your responsibility too. Demand that the manufacturer tell you clearly whether to connect the coil to the anode, earth ground, or nothing--not necessarily because it will make any difference, but because you can't let them shift the responsibility for a failure to you :-)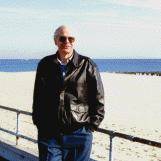 Ted Mooney
, P.E.
Striving to live Aloha
finishing.com - Pine Beach, New Jersey
---
2003
A. Ted, we do not really disagree. Somewhere between zero volts and the voltage to anodize Ti, there is a voltage that will break down the Ti. I do not have a clue as to what that voltage is. I do agree with the statement of do what the manufacturer says. Further, I have no experience with Ti heat exchangers, only electric heaters.
James Watts
- Navarre, Florida
---
2003
A. Chris
I've used titanium coils for cooling different types of chrome solutions for 20 years and are still using the original coils. They are not electrically connected to either the anode or cathode, but I'm sure the cooling system will be grounded somewhere. My rectifiers are Floating(neither the anode or cathode is earthed) and the way some of the anodes bend I'm sure they touch the coils, but this doesn't cause any problems, until one of the operators shorts out a job on the coil and blows a hole in it, and our Mr fixit welds it up. For heating the solution I use 3Kw PTFE "bat" heaters controlled by a thermostat in a glass tube filled with water. On a 1600 L vat I would use 2 heaters(or one if using about 400 A continuously)

Regards Steve.
Steve Kelson
- Sandbach UK
---
---
Elastomer materials of construction for piping for chrome plating line
2003
Q. Actually, we are installing PVDF piping in our Electrolytic Chrome Plating Line; but I'm very worry about elastomer sealing and expansion joints we are using. I chose EPDM sealing; FPM or Viton O-Rings and CSM or Hypalon expansion joints materials. Our processes conditions are: Chrome acid concentration: 75-95 g/lt; H2SiF6 concentration: 1.4-1.8 g/lt; H2SO4 concentration: 0.25-0.70 g/lt; Average Temperature: 49-60°C. My question is: Were choosing this elastomers right or we are wrong?. Which is the best material for our processes conditions.
David Marinozzi
SIDOR - Ciudad Guayana, Bolivar, Venezuela
---
2003
A. David,

Wow, I guess that Venezuela is a rich country for you to use PVDF ...

Personally I like PVDF ... next to teflon but it doesn't like pHs of around l0 but v. good on temperature.

I am not familiar with the Hypalon expansion joints. We used to make our own but that was in Sch. 80 materials which have 'meat' in order to machine in grooves for the O-rings.

EPDM could fail on you. Your usage of Viton seems A.OK. May I suggest you go to the first page of this august site, hit # 3 (or is it #4?... it used to be #6 but they've made changes, I don't know why) for the on-line library and you'll come across an article on materials for chrome plating.

Although I'm pro-plastics, maybe I'd have used Sch. 40 or 80 mild steel instead of PVDF. But there are PVDF heat exchangers around, as you might know. Very good, too.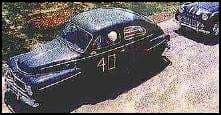 Freeman Newton
[dec]
(It is our sad duty to advise that Freeman passed away
April 21, 2012. R.I.P. old friend).
---
---
Titanium heaters in chromic acid solution
2005
Q. We use titanium sheathed heaters in 122-15% chromic acid containing free iron radicals. Temperature maintained is 70 °C.

We experience rapid corrosion of the wetted titanium tubes. Life experienced is 4-5 months when continuously immersed.

Kindly suggest ways to improve life.

regards
MANOJ M DESAI
HEATER MANUFACTURER - MUMBAI, INDIA
---
2005
A. According to the chemical resistance charts and prior experience the only electric heater shells that stand up to chromic acid/sulfate plating solutions are those with an outer shell of Quartz or Teflon (PTFE).
Gene Packman
process supplier - Great Neck, New York
---
2005
A. Hi Manoj

Wouldn't PVDF be a better material? Superb in acids. OK for max 140 °C ... but doesn't like high pH.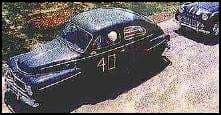 Freeman Newton
[dec]
(It is our sad duty to advise that Freeman passed away
April 21, 2012. R.I.P. old friend).
---
2005
A. As we all know, chromic acid is disgusting stuff that creeps everywhere and attacks just about everything. Gene and Freeman are right in suggesting a polymeric or ceramic coating to protect the heaters - pH will not be an issue because chromic acid has such a low pH that is almost falls off the scale!

Trevor Crichton
R&D practical scientist
Chesham, Bucks, UK
---
2005
A. Use lead bonded heater for chrome solution.
Salim
- Saudi Arabia
---
2005




From the life of your Ti heaters, I will guess that you are using full rated heat in your heaters. For longer life, use derated heaters and for even longer life, use double derated heaters.

James Watts




- Navarre, Florida





---

2005

Trevor,

I didn't infer a 'coated' PVDF heat exchanger ... but a solid PVDF unit.

Disadvantages? Heat transfer is slower than metals. Advantages ... ENORMOUS ... I sold one to a chrome customer who, as far as I know, is still using it.

PVDF costs an arm and a leg. Mind you, Salim's suggestion of lead sounds very good ... and probably less expensive than PVDF.




Freeman Newton

[dec]
(It is our sad duty to advise that Freeman passed away
April 21, 2012. R.I.P. old friend).


---
---
<- Ed. note: No abstract
questions please!
Please tell us YOUR
situation. What? Huh?

August 13, 2012




Q. Sir
We are working in MEMS, i.e., micro electro mechanical systems. Sir we are doing an ice detector using a heater.
Sir can you please tell me any material for a heater so that we can work out fast with our project?



pooja joshi




student - pune, India





---

August 13, 2012

Hi Pooja. Sorry but I'm lost. I don't think you're talking about chrome plating, or even chromic acid. Are you talking about a heater for water? Is this to be an electric heater, or is it a pipe coil with some heating medium running through it? What does the heater have to do with the ice detector?

Apologies, but we're not looking at your project notes, and you haven't yet told us what you are talking about :-)

Regards,

Ted Mooney

, P.E.

Striving to live Aloha

finishing.com - Pine Beach, New Jersey
---
---
PVDF for cooling coils for chrome plating tank
October 7, 2015
Q. What is "PVDF"? Is it a material for cooling coil for chrome tank?
Brijesh koradia
SHREEJI PLATERS - Vapi, Gujarat, India
---
October 2015
A. Hi Brijesh. PVDF is Polyvinylidene Fluoride. It's a fluorinated plastic with exceptional chemical resistance similar to Teflon, available in sheets, pipe, and some molded or cast parts like pump parts. It's resistant to chromic acid / chrome plating solution, but I'm not really sure that it is a better choice than Teflon for cooling coils because soft flexible Teflon coils are available as commercial products, whereas to my knowledge you would have to have the PVDF custom fabricated into a semi rigid piping grid at pretty fabulous cost.
Regards,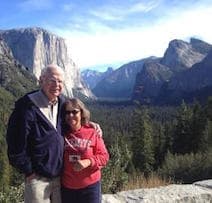 Ted Mooney
, P.E. RET
Striving to live Aloha
finishing.com - Pine Beach, New Jersey
---
---
December 14, 2021
Q. I am an electroplating professional. Now I have a doubt. What type materials are used to manufacture heater cases in milk chromium plating bath?
AJAYA KUMAR S
- Thiruvananthapuram city /Keralaatate India
---
"A Chromium Plating Bath With The Fluoride Ion"
by Alfred Perlenfein
from Abe Books
or

Affiliate Link
(your purchases make finishing.com possible)
December 2021
A. Hi Ajaya. I think we need to be careful with the slang phrase "milk chromium" because I don't think it has a universal meaning and chemistry. On this site, the phrase has only appeared once (thread 54204); in that case it described the inner, softer, non-porous, chrome layer in a duplex-chrome plating consisting of that layer followed by traditional hard chrome. I inferred that it used a traditional fluoride-free Sergeant chromium plating bath, but I obviously can't say that it always does, and fluoride baths need different materials of construction.
Anyway, we appended your inquiry to a thread about heaters for chromium plating baths. If you are speaking of electric heaters when you say "cases", teflon coating sounds the most reliable, with titanium as a possible alternative.
Luck & Regards,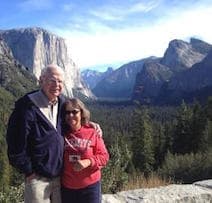 Ted Mooney
, P.E. RET
Striving to live Aloha
finishing.com - Pine Beach, New Jersey