Where the world gathers for
plating, anodizing, & finishing Q&As since 1989
-----
Cleaning & Removing oxidation from Bronze Gravemarkers
July 13, 2019
Q. I just received the bronze Veterans memorial medallion which I didn't install yet. Is there anything I can apply to the already glossy design on the medallion to keep or preserve it even longer? For instance can I spray a UV protectant lacquer on it before I have it installed?
Mark Ferraro
- Somerset, New Jersey USA
---
---
↓ Closely related postings, oldest first ↓
---
---
2003
Q. Trying to remove oxidation from bronze markers of family members graves, In the past several years I have used about every commercial cleaner on the market. None have solved the problem. Is there a chemical solution available to individuals that will remove oxidation from bronze?
Would sincerely appreciate any information you can give me to solve this problem.
Charles S
[last name deleted for privacy by Editor]
- Satsuma, Alabama, USA
---
2004
Q. I am also looking for a product or a method which will allow me to clean and restore two bronze grave markers of the type given by the VA to veterans. One has been on the ground for 27 years, the other only 18 months, but is still deteriorating or dulling.
Walter M
[last name deleted for privacy by Editor]
- El Dorado Hills, California, USA
---
2005
Simple Green Cleaner

(as an Amazon Associate
& eBay Partner, finishing.com earns from qualifying purchases)

A. After trying many chemicals, I tried Simple Green with much success. I sprayed it on full strength, used a stiff bristle brush and then rinsed thoroughly. After doing this twice, I am quite satisfied with the result. Not quite like new, but not bad.
Walter M
[last name deleted for privacy by Editor]
- El Dorado Hills, California USA
---
2005
A. Well, one thing that I did that removed oxidation the best was a mixture of vinegar [adv: item on eBay & Amazon] and salt together that makes a acid that removes the oxidation within a couple minutes. It worked great for me. Try it yourself =)
Sincerely,
Morgan Miller
- Chico, California, United States
---
2005
Vinegar and salt (or lemon juice and salt) is a reasonably strong acid that works fast. However, it can leave copper and brass rather raw and orange looking, and you may want to finish up with a commercial brass cleaner like Brasso [adv: item on eBay & Amazon] to give back that softer glow.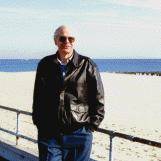 Ted Mooney
, P.E.
Striving to live Aloha
finishing.com - Pine Beach, New Jersey
---
2007
A. Addressing the issue of removing oxidation and discoloration from bronze grave-markers, if the problem is well established (a gray-green uniform coloration) your best bet is to consider having the marker sent off for reconditioning. Writer has recently tried "too many" web recommended products ranging from Simple Green, [an error occurred while processing this directive], vinegar & salt, & Tarn-Away to muriatic acid [affil link], all with NO success ... indeed the markers looked better before with uniform deterioration. Internet research reveals there are a handful of companies that engage a process similar to sandblasting using tiny glass beads to do the cleaning and produce a product that looks like new. At which point unfortunately the decay process starts again but can be retarded by wax or a coat of polyurethane.
Skip C. Holmes
- Warner Robins, Georgia
---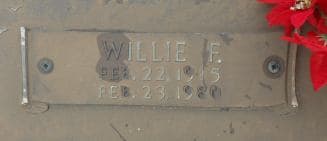 before cleaning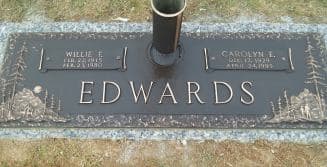 after cleaning
October 19, 2013
A. I am an owner of a gravestone service company located in the Panhandle FL. I would like to add a couple of simple methods to make this process for the owners life easier in maintaining their loved ones bronze memorial. We restore these markers from the worst condition in hours and you can too ...
First brush the marker off and clean away debris. For a single size marker: Put 1/4 cup sea salt in 2 cups of white vinegar and mix until salt has dissolved. Mix flour with the vinegar and salt solution until you have a paste (like peanut butter). Put this solution on the marker with a small inexpensive paint brush. Make sure you don't see any part of the marker thru the solution; cover with large plastic bag laying across the marker and let it sit for 2 hours. The discoloration you saw will now be in the flour mixture when you remove the plastic bag. The flour mixture (poultice) will have green in it. Scoop up the mixture from the marker and place in plastic grocery bag. Next mix a little Ivory liquid soap in a pan of water. Use a bronze brush (can get at any hardware store) to clean the lettering and design and a natural or brush to clean marker with some of the remaining flour mixture left on the stone and the soapy water. Rinse with water. You don't want to scrub the painted area with the bronze brush because it will remove the paint.

In our experience, Brasso will also take the paint off the marker. To make the marker shine and protect it, there are UV waxes sold commercially on line, haven't seen any in store. But, you can use Johnson's paste wax and it will clean some of the leftover darkness on the stone as well as put a shine back on the marker. When the paint is destroyed or lettering is still tarnished, there is another process the owner can do rather than spend lots of money.
Lucy C.
- Florida panhandle, USA
----
Ed. note: Although this discussion is a public forum, it is also a permanent reference (we've been on line since 1989). We try our best to offer technical answers, but for a long list of proven reasons ( huh? why?), we can't allow public promotion of products or services except for paid advertisements. Apologies.
We thank Lucy and other contributors but cannot include contact info for them. If you want a supplier to contact you, please post your message as an RFQ, allowing us to give suppliers your contact info.
---
November 6, 2015

This is a lot of absolute nonsense! Don't waste your time. After more than 3 hours spent preparing the bronze memorial, mixing the salt, vinegar and flour, and applying the gook, then waiting the prescribed 2 hours, then removing it, nothing had changed!
At last I picked up a bottle of Brasso [adv: item on eBay & Amazon]. That, along with some rags and a little elbow grease, gave the results. I then applied a few spray coats of exterior gloss finish clear enamel.
Ted Ziegler
- Lincoln Park
---

Hi Ted. Sorry that you put in a lot of time with the salt, vinegar and flour with no result; I'm sure it was frustrating. And thanks for posting an alternate solution which worked better for you.
Still, Lucy generously put in a lot of work with exacting details here, and even posted before-and-after pics proving it has worked for her grave cleaning service. So, "Didn't work in my case" is probably more appropriate than "This is a lot of absolute nonsense!" :-)
My guess is that the marker you were working on had a clearcoat (transparent paint) which prevented the acid and salt mixture from reaching the metal. Brasso has, in addition to its acid content, stoddard solvents, ammonia (another solvent for some coatings), and abrasives (which can wear away coatings) which means that there are certainly conditions/situations where polishing with Brasso will be more effective.
Regards,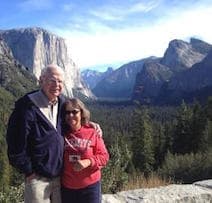 Ted Mooney
, P.E. RET
Striving to live Aloha
finishing.com - Pine Beach, New Jersey
---
---
Cleaning headstone Bronze Markers
November 20, 2016

I downloaded 5 pages of cleaning bronze headstones. Claims I should use distilled water, 200 grain sand paper, brown shoe polish, wire brush, clean towels etc., etc. I tried sanding the markers but I was worn out only after a few minutes without much difference. Our Memorial Park suggested just spraying [an error occurred while processing this directive] and then they charged me $40.00 including cutting the grass around the marker. Yikes!!! I just ordered a drill which is battery operated to use with the sand paper and then just ordered a battery smaller drill for little jobs to sand the damages off. I have gone nuts trying to figure this out. Bought a book about cleaning things with vinegar. I have well over $200.00 invested so far and still unhappy with my efforts. I have been quoted up to $500.00 to lift the marker and take it to a factory to refinish. My mom's marker is only 4 months old and turning already. I have faith the vinegar, flour and water will work. I am leaving CLR hard spot removed on the pictures on the headstones to remove the hard water spots. As a side note. At the house I'm going to change over to a soft water system to rid my home of hard water spots. I am that frustrated with this situation we face in 2016. If I win with satisfaction I will start a business for others who don't have the time but have the desire and money.
Nana E.
Family Member caring for bronze markers - Los Angeles, California
---
December 2, 2016
A. Grave markers, eh? That's a new one.

There are a few other threads floating around here for brass and bronze items, most of them beds. A lot of those folks have been pretty happy using a citric acid cleaner.

adv. (E.g. my product CitriSurf 77)

Given the specifics of grave markers I can't say for sure if that will be the best thing, but I suppose it's worth a try. Also might have to be careful with it depending on what the markers are mounted on, certain materials like concrete and limestone can be significantly attacked by exposure to acid.

Ray Kremer
Stellar Solutions, Inc.

McHenry, Illinois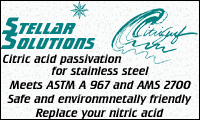 ---
December 4, 2016
A. We walk our dog in a nearby cemetery every morning. I've been interested to see the effect of aging on the bronze markers. Some appear as new for as much as 15-20 years, others weather to various brown and/or green colors within a year.

I haven't see any of them which look like they have been refinished, they have all been let to age naturally.

The ones which show age only after many years have some sort of clear coating from the factory, but I doubt it's anything you could do on site.

What I'm saying is this - I think your particular marker either originally had no clear overcoat, or it was a poor one which soon failed.

You *might* get it cleaned up using a battery-powered electric drill with some mounted buffing pads and buffing compound, but it will be a lot of work, and will soon weather again.

I understand your concern, but I don't think it's a problem you can solve.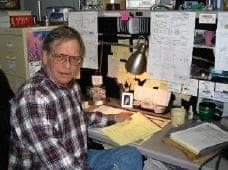 Jeffrey Holmes, CEF
Spartanburg, South Carolina
---
February 9, 2017
A. Bronze memorial markers have a clear coat lacquer that has been applied to keep the marker looking new for a long time. If you put [an error occurred while processing this directive] on a bronze marker you will remove this lacquer and the aging process will begin.
Maureen Walton
Lawrenceville, Georgia USA
---
March 14, 2017
A. adv.
Hi all. Aside from being the inventor of Scratch-B-Gone for Stainless steel and long time poster on Finishing.com, my company is a field service company specializing in bronze plaque refinishing. We manufacture a RIY kit called Restore Marker Care System from my early years restoring some and bronze in cemeteries. This is a DIY kit but we can also do it for you. Call to discuss.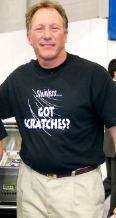 Barry Feinman
BarrysRestoreItAll

Carlsbad, California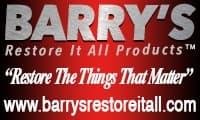 ---
---
June 24, 2018
Q. My dad's headstone has lettering and trim that used to be bright and shiny. I tried polishing it but I think it must have just had brass plating that has been polished right off.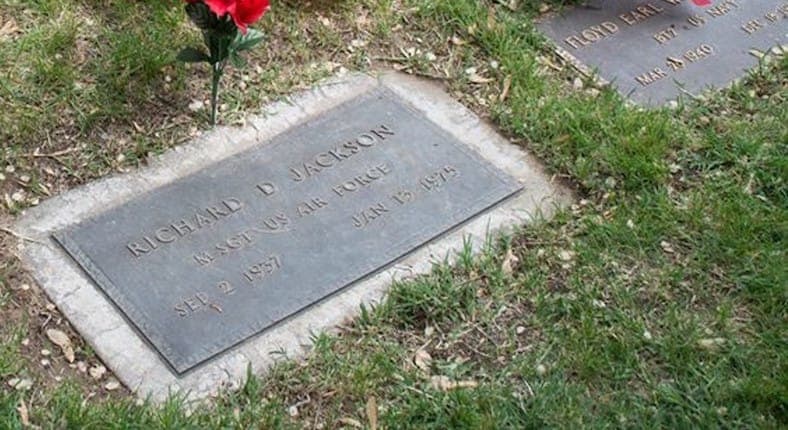 Is there a way it can be re-plated either professionally or on my own? Does the plating process require immersion of the item or can it be done on something like a headstone? Or would simply painting the letters and adding a sealer be a better option?
Tamara Forsyth
- Ogden, Utah USA
---
June 2018
A. Hi Tamara. I seriously doubt that the lettering was painted or plated, or that it's necessary to paint or plate it, but paint sounds easy enough. We've appended your inquiry to a thread on the subject where a number of people have offered their ideas and successes.
For additional stories if interested, please see topic 22020, "Cleaning a military bronze cemetery plaque". Good luck.
Regards,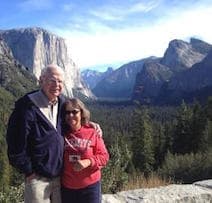 Ted Mooney
, P.E. RET
Striving to live Aloha
finishing.com - Pine Beach, New Jersey
---
October 5, 2018
I tried a restorer. It did pretty good, but I'm going to try another before I wax it.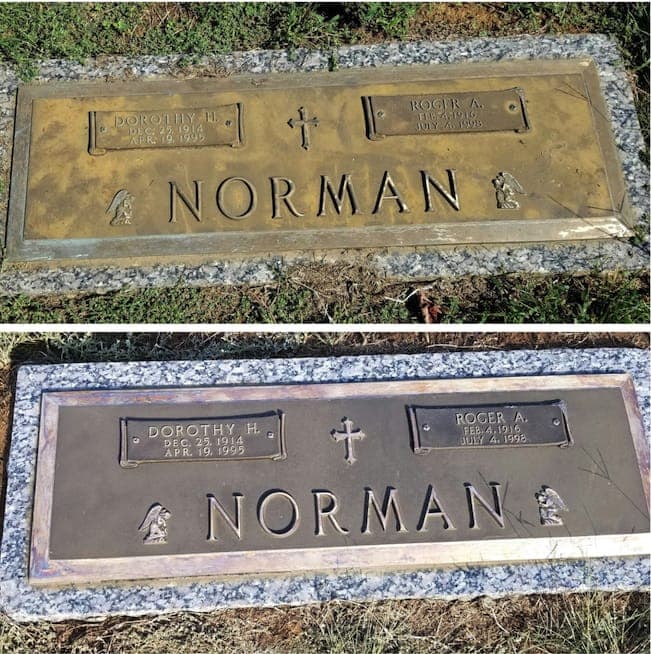 Pat
Pat Norman
- New Albany, Mississippi U.S.A
---
November 9, 2018
adv.
Tamara..it is beautiful thing you are attempting to do and we have made a kit for just this very purpose. The bright bronze/brass you seek and reference is just under the surface of the oxidation you see. The work is in removing the surface corrosion to expose the beauty below. Go to YOUTUBE and search 'restoring bronze grave markers' by Matthew McCauley where he uses our Cemetery Marker Rescue kit to do just this. The only thing you need to add is a can of lacquer to finish. Best wishes.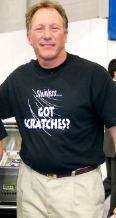 Barry Feinman
BarrysRestoreItAll

Carlsbad, California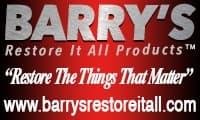 ---
---
March 28, 2019
Q. I have a large bronze outdoor statue. It has mostly turned yellow-green color. I would like take it all the way back to dark bronze. Scrubbed it with Ivory soapy water did nothing but make it clean yellow-green.
casey smith
Custom Home Builder - Telluride, Colorado
---
April 2019
A. Hi Casey. Although your question is about a statue, it seems to be pretty well answered by these replies about bronze grave markers, so we appended it here. Good luck, and let us know how these ideas work for you!
Regards,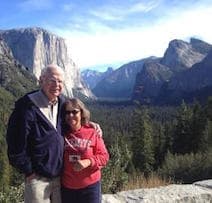 Ted Mooney
, P.E. RET
Striving to live Aloha
finishing.com - Pine Beach, New Jersey
---
---
Q. I purchased a bronze/marble marker for my husband. I received it in July of 2018. Here it is April not even a year later and there are areas of the marker that are dull.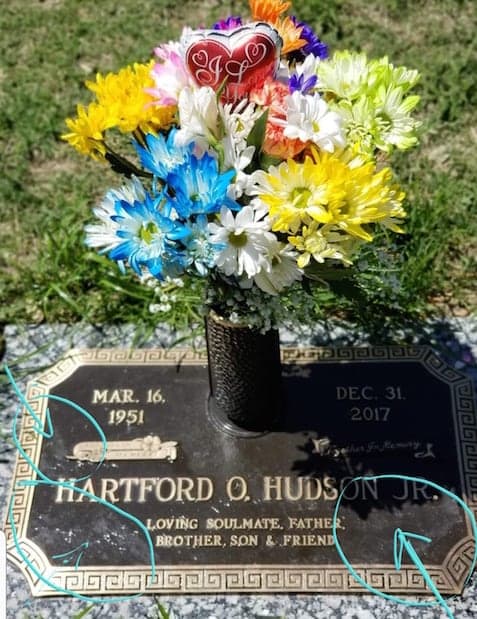 When you pour fresh water on it it begins to dry and is clean and bright looking then there are areas that are dull as if the glaze was not distributed evenly. I'm told this is because of the water the cemetery uses when watering. 1. this cemetery doesn't water, I've had to bring jugs of water and grass seed to actually get grass growing, they have had to repack dirt around it twice because of the sinking and casket outlining in the ground. Anyway, I don't buy it's the water.. not even a year old I know there may begin an oxidation but I know what that looks like from my step-daughter's marker. Any suggestions?
Tracy Hudson
Buyer/widow - Dallas, Texas USA
April 23, 2019
---
June 27, 2019
Q. My grandmother's grave marker is over 50 yrs old. I inquired at the cemetery how to clean it and was told that nothing will work but I could have it removed and sent away to be restored. She called it "Patina" (?)
Will the salt and vinegar solution work on a marker that is this old and green?
She also told me not to use [an error occurred while processing this directive], that it would ruin the bronze ... is this true?
Teri JOHNSON
- Fairview Park, OH
---
July 2019
A. Hi Terri. It may seem that a bronze cemetery marker is a bronze cemetery marker, but some are very old, some new, some have various clearcoats, others don't, and looking for consensus is like trying to herd cats. Maureen W. has told us that the problem with [an error occurred while processing this directive] is that it removes the clearcoat; whether this is true or not, it would seem to have no applicability to a 50 year old green marker; as an oil, WD-40 might give a little shine and help water roll off, but I don't think it will help with the cleaning. I would try the flour, vinegar and salt; if it doesn't work, then you'll need to either try Barry F.'s restoration kit, or have it sent away for bead blasting. Good luck.
(Decades ago I lived in a motel in Fairview Park for a month or so before finding housing for my new job in the Cleveland area.)
Regards,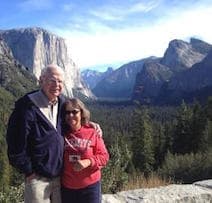 Ted Mooney
, P.E. RET
Striving to live Aloha
finishing.com - Pine Beach, New Jersey