Where the world gathers for
plating, anodizing, & finishing Q&As since 1989
"Cleaning a military bronze cemetery plaque"
-----
Current question and answers:
February 17, 2013
Q. Will using WD-40 [affil link] damage the clear coat?
Frank Arellano
- Orange County, California
---
August 23, 2015
A. I JUST FINISHED RESTORING MY BROTHER-IN-LAW'S MILITARY HEAD STONE WITH THE FOLLOWING PROCEDURE, AND I HAVE TO SAY-IT LOOKS LIKE THE DAY IT WAS LAID ON THE GROWN. IF I CAN DO IT, ANYONE CAN. GOOD lUCK.
Steps to Restore a Bronze Headstone:

1.Choose a warm, dry day to do this process. If the area has sprinklers or gets watered, check the timing to ensure it will have enough time to dry.
2.Use the stainless steel brush to brush away dirt and corrosion that may be present on the surface. Move the brush in a variety of directions. It may remove some of the coloring, but that will be replaced in a later step.
3.Place a strip of sandpaper on the sanding block. Make it as tight as possible.
4.Following the lines on the stone, sand the tops of the letters using a back and forth motion. It will take some effort. You want to sand until the letters become brighter.
5.Use a folded piece of sandpaper to blend in any dents or chipped areas.
6.Mix a small amount of Ivory liquid dish-soap with water.
7.Use the scrub brush to apply the soapy water to the surface.
8.Scrub to remove any dust or residue from the brushing and sanding that was completed earlier.
9.Rinse with water.
10.Complete a second rinse with distilled water to make the surface as chemical free as possible.
11.Dry with a clean, soft cloth.
12.Allow the surface to air dry completely.
13.Next, you will darken the background with leather dye. Choose brown, black or a mixture. It may take several coats to achieve the final desired look.
14.Use the artist brush to apply the dye to the background and the sides of the lettering. Try to avoid getting it on the tops of the letters.
15.Let the dye dry completely.
16.Re-sand the tops of the lettering again to remove any dye that may have gotten on the tops and fix any blemishes that were missed the first time.
17.Brush any dust away with a soft brush or canned air.
18.Finally, spray a coating of lacquer over the surface of the plaque. Go over the plaque several times, using a different direction each time.
19.Protect the area from any blowing dust or debris (grass clippings, leaves, etc.) while the lacquer dries.
JOSE GOMEZ
HANDYMAN - USA
---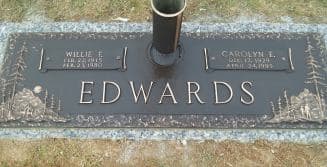 October 19, 2013
A. There is all sorts of info on cleaning bronze in-ground markers. Some say it is difficult and others give wrong info. The markers are NEVER so bad we cannot make them look like new and so can you. We clean and restore these markers daily. Some of our customers are older seniors and cannot take care of their markers. We advertise in our area "we clean" or will help you perform the task yourself. We only want the cemeteries to restore their honor to the past family lying in rest. It is the right thing to do.
Lucy Cook
gravestone cleaning - Youngstown, Florida, USA
----
Ed. note: Lucy offers some detailed advise about how to do-it-yourself on Letter 21436.
---
April 21, 2014
A. In regards to cleaning bronze plaques/markers that have been worn down by years of weather related issues, try using Brasso [affil link], a product that can be found virtually anywhere, and apply liberally. Let it dry and wipe down with a non-abrasive cloth. You may have to do this several times but eventually you will restore the beauty back to its normal state and your "next of kin" will once again rest in peace! I hope this helps and comforts your thoughts!
Chris Stumler
- Swansea, Massachusetts USA
---
June 4, 2019
A. If your Bronze marker is less than 10 years old and you have hard water stains it will take elbow grease and hard work. You will need a soap that is lacking in a lot of chemicals such as Ivory liquid soap and distilled water. Use a sponge, a soft brush and a soft toothbrush for in between the letters to apply the soap and fresh clean water to rinse. Dry off with a cotton towel or Microfiber towel, which I prefer to use.
After it is dry apply a paste wax such as turtle wax. You may not be able to remove all the hard water marks especially between the lettering This will not fix the problem in a fast manner, it will take many times to get through the hard water stains. Later when you are happy with the results I use a car detailing spray for quick results. I figured some of this spray is used on $100,000 dollar plus cars it should work for my marker. I use only microfiber towels. It took me almost 3 months of cleaning mine two days and sometimes three days a week. I have read where some people are telling how to remove the protective coating on the marker, I advise not to mess with that. You will be having the marker redone before long which a 14 x 24 inch marker could be well over $500.
Ron Weiss
- Modesto California U.S.
---
---
↓ Closely related postings, oldest first ↓
---
---
2002
Q. I am trying to find a cleaner for American Legion grave markers that have turned almost black from the weather.
Gilbert T
[last name deleted for privacy by Editor]
- Dudley, Massachusetts
---
2003

Q. I'd like to know how to clean a bronze military plaque that has been in the cemetery for about 11 years. We've tried polishing it over the years and it now looks very dull. One of the products we've tried is Brasso [affil link] which apparently added to the dullness of the stone.

Sandy K

[last name deleted for privacy by Editor]

- Bay City, Michigan

---

2004

Q. Hi:

I have the same question for a bronze war memorial in Gustine, CA. Did you get an answer to your question and did it work?

Thank for any help.

Diana B

[last name deleted for privacy by Editor]

- Sacramento, California

---

2004

Q. I too am searching for advice on the best way to clean, brighten up, a bronze historic plaque placed in the 1920s on an outdoor boulder. Last year it was hit by a black paint ball which we washed off with detergent and water. The appearance is very dull and dingy.

E K Johnson

- Easton, New York

---

2004

Q. I wish to clean a 12" x 24" nameplate that was cast in bronze. It has raised letters and a smooth background and has weathered over time to an almost black shade of coloring overall. The nameplate is affixed to a stone pillar and will most likely have to be cleaned while still in place. After cleaning, I would like to protect the finish to prevent it from turning black again. I would appreciate your advice. . Thanks very much.

Bill C

[last name deleted for privacy by Editor]

Retired Do-gooder - Wethersfield, Connecticut

---

2004

Q. I NEED TO FIND SOME CLEANER THAT WILL CLEAN MY WIFE'S BRONZE MARKER.

LEONARD C

[last name deleted for privacy by Editor]

- DOUGLASVILLE, Georgia

---

2004

Q. My mother's grave marker is made of copper, it looks kind of bad from weather, water etc. Can you tell me if Wright's Copper Cream [affil link] is ok to use? It is tarnished from wind, rain, weather, etc.

Louis Russell

- Boise, Idaho

---

2004

Q. I am trying to refinish my brother's bronze name-marker on his grave. It has had a coat of some type of paint put on it in the past and I've used acetone Acetone [affil link] to remove most of that … still trying to get it all cleaned off. I want to know how to get the dark glossy color back to the finish. Do I paint this again with another type of paint or is there a special finish I can use to achieve this?

KEN WILES

TROOPER - DELAND, FLORIDA
---
2004
A. Most plaques and markers come with a clear lacquer finish, this only slows down the oxidation process and after some time depending on the exposure you have to refinish the bronze to maintain the original look … so here we go.

If you have raised letters and trim and you are ok with a satin grained look, then you can sand in uniform direction to remove the clear coat, as you are doing this you will notice it is also cleaning and removing the oxidation.

If you have a recessed background color use caution not to damage the color, once you are done sanding and have done your detail work and are satisfied with the look … Now you can spray on a clear finish coat with a UV inhibitor.

VERY IMPORTANT

Don't touch the bronze after you clean, you have acid and oil's on your hands and this will leave finger prints that will show up in a couple of weeks.

Have Fun
Mark Rekdahl
- Los Angeles, California
---
2006
Q. I would like to refinish or clean my parents' bronze grave marker. It is almost 30 years old. The cemetery office claims there's no product available in Hawaii.
Ellen Yamamura
- Haiku, Hawaii
---
2007

Q. What do you use to clean bronze cemetery markers. I am told at the funeral home, nothing will clean it ,has to be refinished. Very expensive! Hope someone can give me a method. Markers are over 30 years old. Thanks for any help.

Jeannie Boring

- Houston, Texas

---

2007

Q. Yes I would like to know how to clean the bronze plaque that my dad has on his grave.

Tom H

[last name deleted for privacy by Editor]

- Fowler, Michigan

---

2007

Q. Hello I would like to know what is the best way to keep a bronze plaque in good condition? We would love to keep my daughters bronze plaque at the cemetery looking its best.

Thank you in advance for your help!

Ana M

[last name deleted for privacy by Editor]

- Dallas, Texas

Ed. note: There are a lot of questions without answers on this thread, but perhaps it's because the responders have wearied? This thread is rather repetitive of previously asked and answered questions on Letter 21436 "Removing oxidation from bronze", so you might want to review that one :-)

---
2007
A. General Purpose Bronze Cleaner: Salt, Vinegar, and Flour. Dissolve 1 teaspoon salt in 1 cup white vinegar. Add enough flour to make a paste. Apply paste to bronze and let sit for 15 minutes to 1 hour. Rinse with clean, warm water, and polish dry.
Dr Gayle Kite
- lake worth Florida
---
May 28, 2008
Q. We have a bronze grave marker for our son. It is 5 years old. It has some sort of corrosion on it that looks like cement and is not the sort of corrosion described in the on-line info I have read. This is very distressing and we can't figure out what to clean it with. Can some one give me some help?
Carol Norton
consumer - Summerfield, Florida
---
June 8, 2008
A. You can also gently rub it clean with a cloth dipped in mineral spirits.
If using the vinegar/water/flour method, make sure the water you are using is warm DISTILLED water.
Joan Martin
- APO, AE
---
February 10, 2009
Q. My late wife's bronze headstone needs refinishing, I used the wrong cleaners on it and it needs refinishing real bad, I am 70 and won't be long before I will be beside her and I want to get it looking good again, thanks
Leonard cronan
- douglasville, Georgia
---
May 7, 2009
A. These bronze markers CAN be refinished so the lettering is bright and the background is restored to its original brown color, by shipping them back to the manufacturer, or many monument companies also offer the same service. Cost will run $150 to $200 for a single 2x1 foot marker. My cemetery offers the service in Danvers, MA

You can CLEAN them with any bronze cleaner, but do NOT use a steel brush
David P. McKenna
- Danvers, Massachusetts
---
January 3, 2010
A. There is a local company that refinishes bronze markers if you get a hold of someone in the headstone field they can help you.
Gregg Smith
- Emmett, Idaho
---
August 23, 2010
A. I WORK AT A CEMETERY, BEEN IN THIS BUSINESS 19 YEARS. MY COMPANY REFINISHES GRAVE MARKERS ALL THE TIME. I HAVE SEEN SOME OF THE OLDEST MARKERS LOOK BETTER THAN NEW WHEN DONE CORRECTLY! IT IS A TIME CONSUMING PROCESS IT IS BETTER TO LET SOMEONE WHO KNOWS WHAT THEY ARE DOING REFINISH YOUR MARKER. IT IS ONLY A FRACTION OF THE COST FOR A NEW ONE AND WILL LOOK AS GOOD IF NOT BETTER THAN NEW.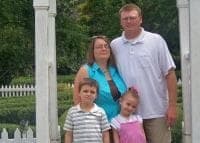 Steven Samples
- Athens, Georgia
---
January 16, 2012
A. Just read this post and in the event that you have not found an answer here it goes. As posted in one of the responses most all these signs or plaques have come with a lacquer coating or even tougher some sort of a urethane applied at production.
If you have a plaque that is completely bronze color then you have a fewer steps. If a lacquer coating you can use acetone or any other stripper to remove the lacquer (please note always be careful and follow instructions on how to handle any product), then you can clean the bronze with some oxalic acid which is a whitener or bleaching agent that will remove the patina that has occurred on the plaque. I usually mix the oxalic with some neutral soap as an additional cleaning agent. Rinse thoroughly with water and if needed you can use a white scotch pad for any stubborn marks as long as you go with the grain. Then lacquer using one of the products supplied by our many advertisers on this site. The only curve ball would be if the background is a painted finish such as a brown color usually. If this is the case when you finish cleaning spray the plaque with the brown color and then you can wipe the face of the letters before the paint starts to dry leaving the brown only in the recessed areas (try wrapping a piece of some stiff wood or 6in scraper in the towel and pulling it across the face of letters for best results)Then clear coat the whole plaque
Hope it helps
Bill McKenna
Metal Finisher - New York, New York
---
April 23, 2012
A. Laughingly, I thought I'd try the vinegar, salt and flour mixture on a brass raw water pump that was completely caked in black and green because it came off a 1968 Chris Craft salt-water boat. The pump was pure ugly!

Using an old basting brush, I gave it a nice even coating of the mixture, then let it sit. An hour later, I rinsed it off in warm water and … well … I'm humbled! This thing looks new!

If it can do this to an old pump, I'm sure it would work for brass or bronze plaques.
Kevin Holden
- Port Angeles, Washington, US