Where the world gathers for
plating, anodizing, & finishing Q&As since 1989
-----
Is Matte White Anodizing possible?

← Posters: please describe Your Situation, which is probably interesting & teachable. Readers have less interest in abstract questions

Q. Alex,
Looking to permanently whiten aluminum. Any suggestions?
KC Compton
- Milford, Michigan
September 23, 2023
---
---
↓ Closely related postings, oldest first ↓
---
---
Q. I have an aluminum game board that I want to anodize matte white. I have been told this is impossible, and am looking for another matte, white finish for the project that doesn't thickly overcoat the surface. Powder coating is too shiny/or textural, and obscures the crispness of the surface too much. If anyone has any suggestions, it would be much appreciated. I would also be interested in a silver-white matte metal surface if this was the only solution.

Thanks,
Amy B
[last name deleted for privacy by Editor]
- Palo Alto, California, USA
2003
Ed. note: We've been building a legacy of aloha & camaraderie here that is incompatible with anonymity;
everyone is welcome to read anonymously, but is asked to only post with their real name :-)
A. Yes, White Anodizing is possible. The color is opaque white ceramic coating that is harder than Hard Anodizing. The problem with this coating is that unlike conventional Hard Anodizing, the coating is not self sealing, and white color cannot be preserved if sealed in any of the commercially available sealing solutions. The way to overcome this problem is to avoid aqueous hydrated solutions, since even small amounts of water will turn this coating into gray color. If the color is not objectionable, Sealing this coating in conventional Nickel Acetate Solution will result in glossy gray finish. Silvery white coatings are much easier to obtain, consult your vendors.
Alex Etemovich
- Los Angeles, California, USA
---
---
Q. We are seeking lighter weight alternatives to stainless steel for a product in development. Think of it as a mid-range watch case. The requirements for the article are that it have similar or greater impact and abrasion resistance as 316L stainless, and that it be able to be finished attractively (brushed or mirror polish finish).

We have begun to look at aluminum. It seems that Type 1 and 2 anodizing does not give us the required abrasion resistance, but that hard anodizing might.

Questions:

1. Can hard anodized materials achieve a fine, jewelry quality finish? All our research seems to indicate that is can't. Can you get a clear, white finish with any type of aluminum, or does the process always give a color?

2. Ballpark, and in bulk (10,000 pieces), with a few square inches of surface area, and being racked, how much does hard anodizing cost?
Mark Johnson
Design Engineer - Culver City, California, USA
2006
"The Surface Treatment & Finishing of Aluminium and Its Alloys"
Wernick, Pinner & Sheasby
from Abe Books
or eBay
or Amazon
(affil links)

Aluminum How-To
"Chromating - Anodizing - Hardcoating"
by Robert Probert

You have a better chance of winning the lottery than of not liking this book. Finishing.com has sold 875 copies over the years without a single return request :-)
A. Hello Mark. Forget Type I. My gut feel is that no anodized aluminum finish will give you quite the look you seek, but Type 2 is certainly best. It can be left uncolored (aluminum color, not white) or it can be dyed (almost any color except white). If you look around you can find examples to work with to get a feel for what it's like (aluminum clothes hangers, knitting needles, crochet hooks, archery arrows, paintball guns, flashlights). Type 3 hard coat will probably not be reflective but matte in appearance and probably light gray to not quite black. Sorry, I can't offer pricing estimates except to say that anodizing is not a particularly expensive process.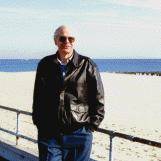 Ted Mooney
, P.E.
Striving to live Aloha
finishing.com - Pine Beach, New Jersey
A. You can achieve and almost white appearance on a type 2 anodized surface with the correct surface preparation is key. I can get my type II to an off white color but it still does have a shade to it.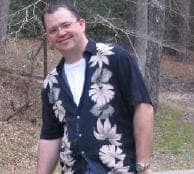 Ryan Cook
Toccoa, Georgia
Q. Ryan - I've always been under the impression that a white was impossible in a type II bath... any chance you'd describe your methods?
Jim Gorsich
Accurate Anodizing Inc.

Compton, California, USA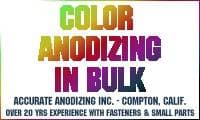 A. I will be happy to. I have achieved an "Off-White" coating coloration on type 2 anodizing by preparing the surface with Glass bead blasting. and then with my type 2 bath at 175-180g/l and at a temp of 70 degrees. I can plate to a thickness of 2.5 - 3.5 tenths this results in an off white appearance of the aluminum. If you plate over 3.5 tenths the coating becomes more greyish off-white. Now keep in mind that I use a caustic etch and I etch commonly 2-3.5 minutes @ 120 degrees after a 10 minute soak clean at 140 degrees. as well as a Ni-acetate seal to end it all up. I can send photos if you would like.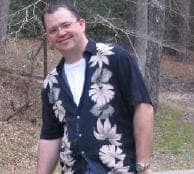 Ryan Cook
Toccoa, Georgia
Q. Interesting... very similar to my standard process for clear anodize with the exception of the bead blast and the fact that I run my etch hotter and my acid a little stronger. I'll have to experiment sometime. Thanks for the tip Ryan, I much appreciate it! I know that certain acid combinations and alloys can be used to get a white (at least, according to the books I have), but this is the first time I've heard it mentioned for a standard type II.

Out of curiosity - what current density do you use? Do you drop it down to allow larger pore size and more light scattering, or am I on the wrong path?

Thanks again! - Jim
Jim Gorsich
Accurate Anodizing Inc.

Compton, California, USA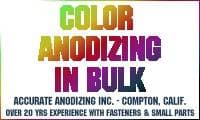 A. I use roughly 14.5 to 15 amps per square foot.

It is a lower ASF than normal and yes it allows the pore size to be larger. That is my guess.. But it comes out an off white color.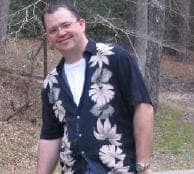 Ryan Cook
Toccoa, Georgia
---
---
Q. It seems like every 10 years I get a customer coming to me with the same questions. This time it's "is there anything such as white anodize?" The last time I saw this was about 15 years ago when Lockheed Sunnyvale (prior to the Martin Marieta merger) sent out a request asking if anyone had a white anodize. I've been asked again and wonder if I've missed something. I've seen a nice hard eggshell white anodic coating on magnesium done using the Magoxid method but as far as aluminum goes, I've seen nor heard anything.
Milt Stevenson
Plating Shop Employee - Syracuse, New York
2007
A. Hi Milt. Per this thread, and related thread 11600, it seems the answer is "close but no cigar".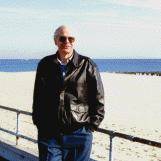 Ted Mooney
, P.E.
Striving to live Aloha
finishing.com - Pine Beach, New Jersey
A. Some years back a large finishing company that I worked for in the Springfield, Massachusetts area developed a very nearly white anodize. I'm not sure if they still offer it on a small run, custom basis. Large runs were definitely out of the question.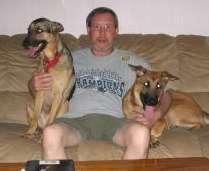 Tim Hamlett, CEF
- West Palm Beach, Florida, USA
January 14, 2008
---
---
Q. Would you mind providing more specifics about this process and the other ones that you are referring to?
Ivan Dominguez
- Paterson, New Jersey USA
October 26, 2010
A. Hi, Ivan. Another thread which talks about white anodizing is 11600; it presents a 23-page pdf about a white anodizing method. Please try to describe your situation (are you a consumer/product designer/OEM, or an anodizing shop employee?), what kind of components (rivets, extrusions, castings, machine parts, RVs), the environmental exposure (interior/exterior use?). If you are able to frame your question in terms of the answers that were provided I'm confident that people will be able to help you with it. Good luck.

Regards,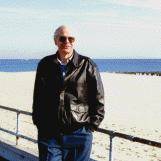 Ted Mooney
, P.E.
Striving to live Aloha
finishing.com - Pine Beach, New Jersey
---
---
Q. We are using allen screws anodized in black & zinc colors but they don't look good with white powder coated tubings. Is there a process wherein the allen screws are anodized in white color? Powder coating the screws will not work because it will chip off when tightened with allen wrench. Many thanks
Lorenzo Kim
- Quezon City, Philippines
January 21, 2015
A. To the best of my knowledge, conventional anodizing dyes are still not available in white. I do recall that some company has claimed to develop electrolytic coloring process that is white, but I've never seen it.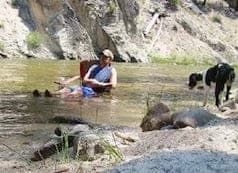 Marc Green
anodizer - Boise, Idaho
A. 1. Threads should not be anodized because the sharp edges are completely converted to oxide which will flake off. No sharp edge should be anodized.

2. White dye for coloring anodic pores is not available.

Robert H Probert
Robert H Probert Technical Services

Garner, North Carolina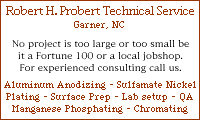 A. Hi Lorenzo. Are you sure that you mean "anodized" -- because that implies that the allen screws are made of aluminum, whereas aluminum is an unusual material for allen screws. Whether the screws are aluminum or zinc plated steel, you might consider electrophoretic lacquer, as it is both thin and less likely to chip off than most organic coatings.
Regards,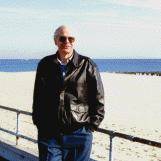 Ted Mooney
, P.E.
Striving to live Aloha
finishing.com - Pine Beach, New Jersey
---