topic 19157
Basket Anodizing
An ongoing discussion from 2003 through 2015 . . .
(2003)
Q. I am looking for information on basket anodizing.I am interested in knowing if it is possible to get a high quality finish with the ability to dye various colors with the basket anodizing process.
Scott Ebert
- Fridley, Minnesota, USA
---
(2003)

A. Basket anodizing is going to have one or more contact marks with zero anodizing and thus zero dye. I do not think that this meets a normal definition of high quality. There are many kinds of tips for anodizing racks. Some are amenable to loading machines. while it does not meet the speed requirement, it will produce a high quality part and probably much faster than what you are currently using.

James Watts




- Navarre, Florida





---

(2003)

A. A variety of colors, yes. High quality, maybe, depending on the particular parts and the experience level of the anodizer. You'll have more, and more random, contact marks, and you may have some difficulties getting consistency.




Ted Mooney, P.E. RET




finishing.com




Pine Beach, New Jersey




---
(2003)

A. Ability to dye - YES. High Quality - No.

All the rack manufacturers, some listed in finishing.com, sell baskets which tightly clamp small parts in a basket. Except for contact marks which will remain bare, the parts on the outside of the basket will get a good anodic thickness with ability to absorb dye. The parts closer to the inside of the basket will not get as much thickness as a function of current distribution and solution agitation.

Basket anodizing is suitable ONLY for color coding small parts and fasteners, leaving some lack of uniformity and a bare contact mark(s) on each part.




Robert H Probert




Robert H Probert Technical Services





Garner, North Carolina






---

(2003)

A. Scott,

The quality of basket anodizing does depend upon the configuration of the part, but that being said it is very possible to get a high quality finish on certain parts using basket anodizing. Furthermore, because of the bulk processing aspect, it is possible to do this at a much lower cost and shorter turn-around time then with conventional rack anodizing. Once anodized the parts can be dyed in the same manner as any other anodized part. Contact marks are left undyed, but (depending on the configuration of the part, parts with many or large flat surfaces are not good candidates) typically are very small and insignificant.

adv.
My company specializes in the bulk anodizing of fasteners in the aerospace and automotive industries. We are QS 9000 certified and regularly provide a very high quality and consistent finish. Please feel free to email me if you are interested in further details.

Jim Gorsich

Accurate Anodizing Inc.

Compton, California, USA




---
(2003)
A. I agree with Mr. Gorsich that it's a question of what you are looking for and that a few contact marks don't obligate us to call a finish low quality. After all, virtually every plated or anodized part has at least one contact mark. If it was a watch case, contact marks would probably condemn it as low quality; but I have seen products such as hose barbs bulk anodized and they were fine for their purpose.
Ted Mooney, P.E. RET
finishing.com
Pine Beach, New Jersey
---
(2003)

Thank you! for your responses. I appreciate all of the input on this topic. I am looking for a jewelry like finish,with consistent color and no visible racking marks on the exposed surfaces. By your answers I surmised that basket anodizing would not work for this situation.Thanks again!
R.Scott Ebert
[returning]
- Fridley, Minnesota, USA
---
---
January 9, 2015
Q. I have a need to anodize several thousand stamped aluminum parts of the following size: 1-1/2" diameter 1/16" thick.

I'm not expecting a perfect finish on these parts but I would like the whole part to take some color.

Can I expect to achieve these results through basket anodizing?

Thanks in advance for any suggestions.
Brandon Carrere
- Houma Louisiana USA
---
January 9, 2015
"I'm not expecting a perfect finish on these parts but I would like the whole part to take some color."

It depends. If they are flat parts, say washers, which will lay together, the answer is, probably, no. On the other hand, if they are formed enough that they make only point contact, the answer may be yes.

You'll have to try it and see.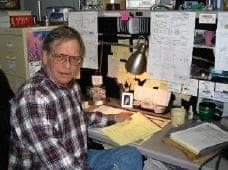 Jeffrey Holmes, CEF
Spartanburg,
South Carolina


This public forum has 60,000 threads. If you have a question in mind which seems off topic to this thread, you might prefer to Search the Site