60,000 Q&A topics -- Education, Aloha, & Fun
topic 18940
Electrical conduction properties of nickel plating
A discussion started in 2003 but continuing through 2019
2003
Q. Is there a difference in electrical conductive properties between bright nickel plating and electroless nickel plating? I have been using electroless nickel plated beryllium copper for an electrical contact and am finding less than optimal conductivity. Is there another type of plating that would provide good corrosion resistance and better conduction?
Kjersha Wanlass
- Berkeley, California, USA
---
December 15, 2012
Q. I have electrical contact between mild steel to mild steel blocks, diameter 300 mm. The current flowing is 600 A TRMS, AC (50 Hz). I need to know what plating is best in this scenario. Also, will plating lower the contact resistance, as plating introduces two more contacts in principle as steel to steel contact becomes steel to nickel to nickel to steel after plating. Please clear these doubts.
Sanjay Patel
research student, high temperature sintering applications - Surat, Gujarat, India
---
---
June 28, 2013
Q. Hello,
Please reply to below:
1 can brass and steel be nickel and than silver electroless plated?
2 is this a good electrical contact for 220 volt ac 0.07 amp current flow, for just resistive load?
3 what contact pressure is required for this load?
Thanks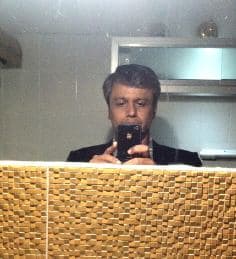 Waseem Muggo
- Lahore, Pakistan
---
June 29, 2013
Q. Please reply as:
1 nickel plating and then silver plating by electrolysis
2 what is pressure required for contact for 220 volt 0.70 amp resistive load?
3 is max surface area of contact better than minimum
Waseem Muggo
- Lahore, Punjab, Pakistan
---
---
June 5, 2019
Q. I am an automotive switch engineer and I am trying to piece together Hardness and Resistivity info for the various types of nickel plating. I am looking for Resistivity of Sulfamate Nickel and semi-bright nickel. This is what I have so far:

Watts 130-200 HV 7-8 micro ohm cm
Sulfamate 170-230 HV ??resistivity??
Semi-bright 300-400 HV ??resistivity??
Watts w/brightener 600-800 Hv 12-19 micro ohm cm
Low Phos 620-720 HV 30 micro ohm cm
Mid Phos 550-620 HV 65 micro ohm cm
High Phos 500-550 HV 120 micro ohm cm

Contact Resistance is a function of resistivity and the area of contact which is related to Hardness
Allen Schwartz
BCS-ABS (former TRW Automotive) - Oxford, Michigan, USA