World's #1 on-line resource since 1989
-----
Science fair project and hydrochloric acids
2002
I really need help and I need to at least know how much is contained in our system and how does "it" (hydrochloric acids) come to be in our systems. Mostly the basics of the acid. Another question of mine would be do we ever run out of Hydrochloric acid?
Pat
[last name deleted for privacy by Editor]
Stranahan High School - Miramar, Florida, USA
---
2002
HCl is part of our digestive system. Mind you, it's a lethal acid and is only present in our stomach at an extremely low concentration. I'd guess/assume that it might be in the digestive system of all animals. (See # 10986) Go and ask a Doctor what the amount is. O.O2%? I forget. Will we ever run out of HCl? No. Go and see the archives #12044 for more info on it. I hope that this has helped your studies.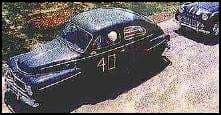 Freeman Newton
[dec]
(It is our sad duty to advise that Freeman passed away
April 21, 2012. R.I.P. old friend).