World's #1 on-line resource since 1989
-----
Brass Trumpet Restoration
2002
I have just bought a trumpet for my 12 year old son. It is a King. I believe it has a baked on lacquer finish. The trumpet is in need of re-finishing and cleaning. He is going to use it in his junior high school band. I don't want him to be embarrassed, and I want to make sure the sound quality, etc. are the best they can be. I don't have the money for a new instrument or to have it repaired by a professional. Is there anything I can do myself? I am very handy and I have done several restoration projects with wood, but never with metals like brass. I don't want to destroy the instrument.
Please help.
Ansrea A. Barnes
- Buhl, Alabama
---
2005
Did you get any answers about this? I am in the same situation
Ali Kate
- England
Ed. note: Hello, Ali. This is a public forum, so if Ansrea received help it would have been through a public response which would have been posted here. But what often happens is that a posting is repetitive and someone who has already answered it doesn't feel like answering it again and again. So please use the search engine and you will find that letter 18125, 22780, 27218 and 32216 are similar and have been answered. Feel free to post a followup question on any of those letters.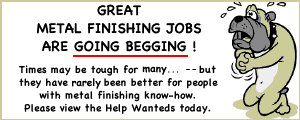 Plating Shop Manager [Salisbury, MD]
Junior Quality Engineer [Santa Clara, CA]
Plating Process Engineer [Wenatchee, WA]