World's #1 finishing resource since 1989
No login needed: Chime right in
topic 15743
Removing paint from brick
2002
Q. The exterior of my house is soft red brick (built around 1894). Over the years paint smears or drippings were made while painting trimmings and window frames. What can I use to remove the paint and not damage the brick?
Miriam H.
[last name deleted for privacy by Editor]
- Winter Park, Florida
---
2004

Q. Did anyone answer the problem of removing paint from brick.

Bob H .

[last name deleted for privacy by Editor]




golf course - Barrington, Illinois





---

2004

Q. Does anyone have a solution to this issue?

Tyrone N .

[last name deleted for privacy by Editor]




- Oswego, New York




---
2004
A. Although anyone is welcome to answer the question, Tyrone, I don't know too much about getting paint off of brick. We do have another thread on the same subject, please see letter 10800, and I reviewed a number of other sites & postings and will summarize what people had to say.
Old House Web suggests a lacquer thinner

[affil. link to info/product on Amazon]

for oil-base paints or Goof Off

[affil. link to info/product on Amazon]

for latex paint, followed by scrubbing with a stiff bristle brush, followed by a double-strength mix of trisodium phosphate

[affil. link to info/product on Amazon]

in very hot water.
Handyman USA suggests trying pressure washing first (other sites caution against this for older brick), then Acetone

[affil. link to info/product on Amazon]

, then lacquer thinner or paint remover

[affil. link to info/product on Amazon]

.
Ace Hardware recommends Citrustrip. This is a fairly "green" product, although not as strong as some other cleaners.
On a forum at Old House, Citrus Strip was recommended again, as was Prosoco heavy duty paint stripper.
A Dremel site suggested mechanical removal with a Dremel

[affil. link to info/product on Amazon]

and a grinding stone #952

[affil. link to info/product on Amazon]

. To me this sounds appropriate for drips, but not large areas.
A forum entry at Savvy Home Advice, and some miscellaneous entries recommend "Peel Away

[affil. link to info/product on Amazon]

".
Good luck with the project!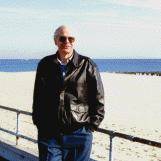 Ted Mooney, P.E.
Striving to live Aloha
finishing.com - Pine Beach, New Jersey
---
2004
Thanks Ted
Tyrone N
[last name deleted for privacy by Editor]
- Oswego, New York
---
2005
Q. We have just bought a home that was built in the 1860's and of course the current owner painted everything white, including the brick fireplace, woodwork, windows, doors and beams. I am trying Peel Away [affil. link to info/product on Amazon] right now on some furniture that I had planned to strip but not too happy with it. I see you recommended RemovAll but the only site I found, said that is was for spray application...I don't want to spray this stuff, as I want a product that will not only remove the white paint from the brick, but that will also allow me to tackle the rest of the white paint fiasco....Is it possible to buy the product that I can paint on? Or is there some other products that I can use.
Michelle B
[last name deleted for privacy by Editor]
accountant - Columbus, Ohio
---
A. Hi, Michelle. For the record I didn't recommend anything and said I didn't know much about it so I could only summarize what I found elsewhere :-)
Unfortunately, Napier is out of business (Feb. 2011) and Removall doesn't exist anymore. Good luck!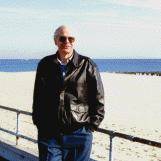 Ted Mooney, P.E.
Striving to live Aloha
finishing.com - Pine Beach, New Jersey
---
2005
A. I also have a brick home, built around 1950. The brick is red, hard, and rough textured. Fortunately the brick is unpainted except for the areas around the windows and doors where there are "oopses". There are also areas where the trim paint has oxidized and whitewashed the brick below.
Last year I attempted to remove the overpainting with an aggressive wire wheel attached to an angle grinder. This approach rendered a smooth surface. Aesthetically and practically, the smooth surface is acceptable around windows and doors, but not for other areas.
Today I attempted to use a chemical stripper, a wire brush, and a rag. Too much work! Sooooooooo, since I have a 5 HP air compressor, I just ordered a hand-held gravity feed sandblaster. I will follow up and let you know how this approach works.
As far as using a blaster on softer brick? There are many blasting media available. It is my understanding that pumice is the softest abrasive available and will not affect the substrate. It is recommended for use even on wood. I found this info at kramerindustriesonline.com.
Please: I am a Mechanical Engineer and a college professor. I am not a representative of this website and have nothing to gain from noting it. In fact, I don't think that you can even order from them. It is simply a resource.
Karen Hardesty
- Akron, Ohio
---
2005
A. Ted,

Paint Removal Solution for Bricks - " Lava Rocks "
Simple Solution for paint spots and surface stains.

You have a great Website and resource and thought this should be shared with you.

I too was trying to remove old paint and overspray from our outside brick fireplace. It has been on for years.

I just tried the wire brush attachments to the drill, the lacquer thinner, citrus peel, etc... None have met my quality standards.

I grabbed a couple of new LAVA Rocks [affil. link to info/product on Amazon] from the bag for the BarBQ grill.

Just a little rubbing, and WALA, paint and stains are removed and there is no residual material left, but just plain original brick. With a lighter pressure the technique will also clean the mortar between the bricks.
Mike Backes
- Littleton, Colorado
---
2005
A. Today, I was successful in removing a 2 foot square of latex paint from porous brick by alternating, spray on Goof Off [affil. link to info/product on Amazon] followed by a 3 minute wait, then high pressure spray, then wire brushing the area. After several repeats the area was completely clean.

Some renters live like feral animals.
Ron Slade
- Covington, Georgia
---
2005
Q. I have a cottage-style rustic home built in 1927 - complete with chestnut beams, slate floors, wrought iron hardware, tongue&groove timbered doors with cross hatch etc. One of the charming features of the house is an exposed brick chimney in the kitchen - not a fireplace. We have restored all areas of the home to it's original lodge/cottage look with all historic materials. We are down to the kitchen and I cannot figure out how to remove the paint from the exposed chimney. The brick on the house is very unique, multi-colored tones, very rustic and we would love to see that brick in our renovated kitchen.

So far, here's what has NOT worked:

Steel Wheel on drill - takes too much off, cuts into brick too much, even the softer/finer wheel, and leaves a very rough, open texture.

Chemicals - Every chemical stripper I've tried leaves pigment in the reside and works into the brick. I've used wire brushes, lots of water/rinsing etc. and leaves the mortar clean but the brick face pigmented (two coats of yellow paint on the brick)

Pressure wash - did nothing and was an extreme mess.

Scrape/Wire/Dry - this seems to work but wow, slow and meticulous and the face of the brick looks all scrape-y, not real clean, and there are still little spots that it doesn't remove it.

I have not yet tried sandblasting.

Any suggestions anyone?
Scott Gordon
home restoration - Shaker Hts, Ohio
----
Ed. note: Other threads about cleaning paint from brick, with some additional suggestions, include 21863, 35499, and 10696.
---
2005
Q. I bought a small commercial single story building in the historic district. Half of it is the old soft brick and it has 3 or 4 layers of paint on the brick. I can't use "sand" blasting but wanted to use a softer product for the blasting product. Does anyone have the name of any type of material for the environmental blasting? Where would I get this product?
Jan West
- Amsterdam, New York
----
Ed. note: An abrasive called "Black Beauty" [affil. link to info/product on Amazon] is often recommended for brick and stone, Jan.
---
2006
For removing paint from our bricks, PROSOCO Heavy Duty Paint Stripper WORKS! It's not fast or easy, but our brick looks like it was NEVER painted after using this product. Do not use indoors, the fumes (very caustic) are too intense, and copious amounts of water are needed to rinse. Also, I don't know how it would perform on soft brick. Our 1925 brick and mortar both look like new after using this product. PLEASE do not sandblast! You will likely pit and ruin your brick.
LeAnne Honeycutt
Tampa, Florida
---
2006
Another option is to either rent or hire a company to remove the paint using a sodium bicarbonate blaster. A sand blaster may be used, however, there are serious health risks associated with using a sand blaster without any breathing apparatus. Sand, when impacted against a surface, pulverizes into a fine, fine powder, and if inhaled, can lead to a form of lung cancer.

Also, sand is rated a 7 on the hardness scale, 10 being hardest (diamond) and 0 being softest (talc powder). Sand has a tendency to pit and gouge the surface it is cleaning, and if the brick is old, it may damage or destroy the brick itself.

Commercial grade sodium bicarbonate rates a 3.5 on the hardness scale, and will be much gentler on the surface being cleaned. Additionally, no breathing apparatus will be required when using the soda blaster, as sodium bicarbonate particles do not present a health hazard if inhaled. Cleanup of the sodium bicarbonate will be fairly easy, as you can use a shop vacuum to suck the soda up and dispose of in garbage bags as you would with your normal garbage. You can also leave the un-vacuumed soda where it is, as it is biodegradable and will not harm plants or lawns.

Using a soda blaster could potentially be more expensive of an option to pursue, but could save considerable time and inconvenience as opposed to using chemical strippers. A soda blaster will typically clean 200 square feet per hour, requiring 100 lbs of sodium bicarbonate to accomplish the job.

I recommend that those interested in pursuing this option speak to a professional or rental company that is knowledgeable about this type of equipment, and can offer advice, solutions and help with this application.
Nathan Simecek
equipment rentals - Houston, Texas
---
2006
My husband and I are the proud owners of a 1840's Victorian Gothic house. We have a 6' X 8' brick fireplace and, you guessed it, it's been painted so many times it looks like it's been dipped in plastic! I just started to strip it and I'm having some luck with Peel Away [affil. link to info/product on Amazon], but after reading these posts, I'm going to try the sodium bicarbonate after I remove the outer layers with Peel Away. I left the Peel away on for about two days and it does dissolve the paint, but clean-up is still a gooey mess. The only thing that remains after I get the dissolved paint off is what looks like a white wash or just a water based paint so I hope the blasting will be a nice finishing touch.
Heather Carr
- Newark, Ohio
---
2007
Some say oven cleaner will do the trick.
Mark Latiolais
- Breaux Bridge, Louisiana
---
January 19, 2008
I can say to everyone on this site that Baking Soda used as a blasting media is user friendly. With the right equipment and some practice cleaning or stripping paint from any surface with out harming the substrate can be done. We have used this media and the other type's many times and have made a lot of happy people. Remember this? It takes time when in a restoration project go slow, if it were a easy & simple process, every one would be in the business!
Trevor Kovach
- Richfield, Ohio
---
August 21, 2008
I would first try to power wash the paint off. If this does not work settle in on your favorite ladder a get ready for a tedious job. I got a very sharp chisel and slowly scraped the paint off by tapping the chisel with a hammer. Be careful not to go into the brick. Slide the chisel across the brick. You may have to wire brush afterwards and even powerwash again. Bricks are porous and they hold the paint well. Good luck and be patient. God bless
Nick DeBellis
construction - Philadelphia, Pennsylvania
---
April 24, 2009
I have the same problem except it's the floor to the entrance of my house, their is gray paint and a white undercoat. I tried a Klean-Strp Stripper from Home Depot it says 15 minute wait well it took off the gray paint but the white paint just smudged into the brick pores. Does anyone know how to take the paint out of the pores?
Erick Koszyk
home owner - St. Pete Florida
---
January 30, 2015
A. In response to restoration of brick, sandblasting will remove the paint from brick stone and wood surfaces without chemicals. It will eat away some of the brick depending on how hard or soft the brick is. Sandblasting is extremely loud and does create dust, so preparation covering and masking of nearby surfaces, especially glass, is very important.
Kevin West
Active Sandblasting co. - San Gabriel, California, U.S.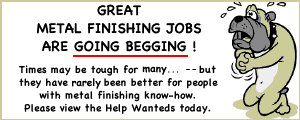 Junior Quality Engineer [Santa Clara, CA]
Plating Process Engineer [Wenatchee, WA]
Plating Supervisor [Chicago]
Plating Quality Inspector [Chicago]